When it rains it pours, I got another oversized postcard from the Hawaiian Gardens.
This one has a few different photos, including the King and Queen's Suite.
The Wonder World Import gift shop.
And the new 9-hole golf course that had been added to the grounds.
Back of the card.
DC
Thanks to all of you who posted this stuff. I wasn't born yet when my Aunt Jane was married to Fred Barton so it's really cool to see the other stuff that this guy was all about. I'll have to ask my mother if she has any of this old stuff from that era. I recall seeing that menu when I was a young kid.
Cheers, Roger R Cunningham.
Thanks for posting, Roger. I would be curious to find out WHEN the Bartons went on their "many trips" to Hawaii and New Zealand that they mention in their menu text as inspirations for the place.
It seems likely that they took the Matson line cruises, as they used one of Matson's McIntosh menu covers for their own place, and it also looks like they decorated some of the hotel rooms with the Matson Eugene Savage menu covers:
See above to the right:

The Matson Line ships went to Hawaii and from there to New Zealand (see Book of Tiki pages 30/31), where the Bartons saw these classic tourist destinations:
http://en.wikipedia.org/wiki/Rotorua
http://en.wikipedia.org/wiki/Waitomo_Glowworm_Cave
Misspellings aside, the menu clearly names the two places above as their source of inspiration:
I doubt there are any of the old brochures/tickets form their trips left, but sometimes people made scrap books of their vacations:
http://www.tikicentral.com/viewtopic.php?topic=33163&forum=5
Very cool story here. My tiki/two cents.
Funny enough, my wife and I have been to the original Waitomo Caves area in New Zealand. We actually have been to the actual Waitomo Grotto (yes I think after all these years they got the name wrong). We witnessed the Glow Worms (which is actually feces from an instect larva). We camped near hangatiki scenic reserve and vistited the Villages of Rotarua.
Check it out:
The boat ride in Waitoma Grotto was a little touristy, so we took a more adventurous route. We repelled into Waitomo Caves and went spelunking hundreds of feet underground for hours.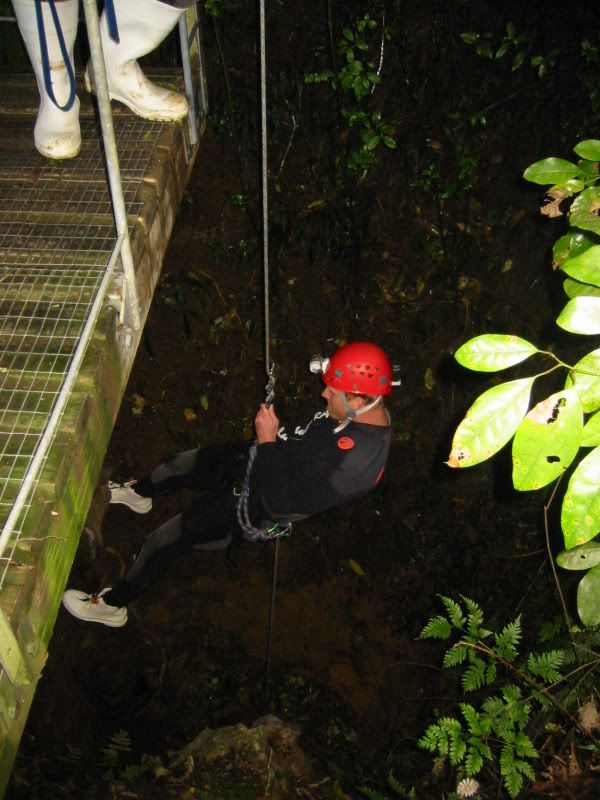 Camping near Hangatiki Scenic Reserve

Me with a giant Maori carving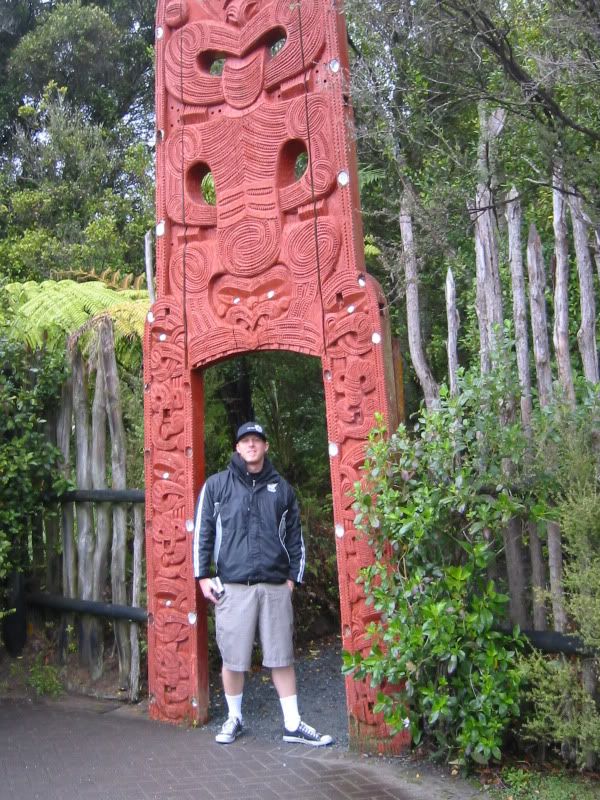 The Villages of Rotarua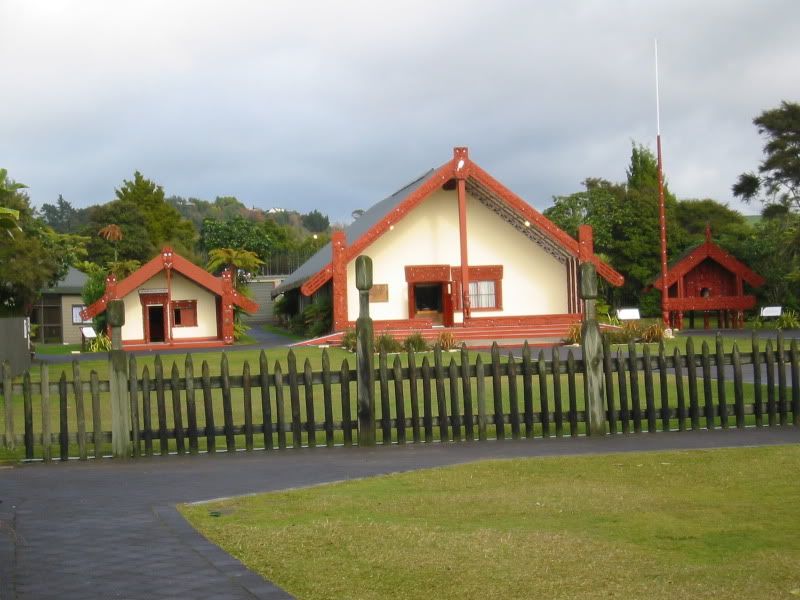 We also had hours of Video from the area including the buried Village of Te Wairoa, but when we got home my car was broken into and the video camera was stolen. This was back in 2006 so luckily we had a video camera and a still camera.
[ Edited by: LapuRocker 2012-10-22 12:32 ]
Rotorua has been a tourist destination for viewing Maori arts and traditions for over a 100 years.
This thread has some nice visuals:
http://www.tikicentral.com/viewtopic.php?topic=41593&forum=1&13
Scored another artifact from the Hawaiian Gardens - the always hard to come by placemat with the Hawaiian words dictionary.
(that also came with a swizzle)
Amazing these flimsy items survive.
DC
Amazing these flimsy items survive.

DC
INDEED!!! Thanks for posting DC
Great score DC. I love this thread and I'm still amazed that living in Michigan I have never found anything in the wild for this place. I'll keep looking anyway :D
Time for a bump on this great historical thread. A never-seen-before napkin from the Hawaiian Gardens and the Huki Lau restaurant!
Looks like they used the same Tiki as Mishima's in LA
DC
Just got this cool matchbook.

Nice score Trav, I got one of those too.
Spotted this cool little take home menu with a chopsticks holder on ebay a while back.
DC
DC, I actually bid on the chopstick menu but unfortunately didn't win it. Great little piece.
Here is an article about the final death knell of the property from 2003.
More than 70 firefighters from nine area fire departments battled the blaze for nearly seven hours.
North Oakland County Fire Authority (NOCFA) Deputy Chief Doug Smith said the firefighters faced a couple of problems with the structure, the first being that the nearest fire hydrant was a half a mile away.
According to Smith, firefighters had to set up portable water tanks in the parking lot and ferry water back and forth to the tanks from the hydrants in town using pumper trucks.
Smith estimates it took them 25 minutes to get their water fully operational.
"During that time, the fire grows on you," Smith said.
The other problem Smith said they faced, was the significant amount of flammable material in the structure. It was a 100 percent wooden structure, and the domed section was coated with foam and plastic causing it to explode when it got too hot, he said.
By the time the last firefighter left, about 4 a.m. Monday morning, approximately 50 percent of the structure was burned to the ground. Smith said there were aspects of the fire that seemed suspicious, particularly that it was started in two different areas. The Oakland County Sheriff's Department arson investigator was at the fire scene all day Monday and could not be reached for comment.
There were no reported injuries in the blaze and damage estimates were unknown at press time.
Holly Gardens was a well-known restaurant for many years, changing hands several times. It was known as Hawaiian Gardens Restaurant and Inn, The Gardens, Huki-Lau Restaurant. It was in its final use, Holly Gardens, a drug and alcohol treatment center.
Holly Gardens, located at 4501 Grange Hall Road was built in 1961 by Fred Barton, an automotive manufacturer, who died in 1975. According to his daughter Barbara Soloko, her father initially came to Holly looking for a site for his manufacturing business, Bars Leak.
Holly was an ideal location for her father's manufacturing company due to the proximity of the many General Motors facilities in the surrounding area, Soloko said.
Barton built Hawaiian Gardens because there were no "themed" restaurants in the area and he loved Hawaii, she said. James Livingston of Ann Arbor was the architect who designed it, she added.
"It was a wonderful place," Soloko said. "I was there at the beginning when he was building it."
The restaurant was famous for its Polynesian food and drinks and the dance floor, which was glass and lit up like a volcano, she said. Real trees grew inside the building and lamps surrounded the lake that sat behind the restaurant, she said. The restaurant was also famous for drawing "big name" bands back in the 60s, she added.
Her father sold the restaurant after a few years and it changed hands a few times after that, Soloko said.
In 1984, it became a residential treatment center for drugs and alcohol and became known as Holly Gardens. The treatment center officially closed its doors on Nov. 15, 2001 due to financial difficulties and the poor condition of the building.
Some past problems involving alleged mismanagement of funds also led to the closing of the nonprofit, state and grant funded facility, which once housed former Red Wing Hockey player, Bob Probert who sought treatment at the facility. The treatment center claimed helping hundreds of people in their battle against drug and alcohol addictions.
According to Holly Township Treasurer Bernice Alexander, the property is now owned by Holly Inter-Lakes Associates in Southfield. The 27-acre commercially zoned property has been for sale since the closing of the treatment center.
"Maybe someone will buy it now," Soloko said. "In its day, it was really nice.
I just looked through this entire thread again. This is one of those threads that was great fun to research and shows how the puzzle pieces fall into place when a bunch of folks join in and start digging. It also shows that info is still waiting to be found about these lost treasures.
I just found one of the swizzles but I wish it had come with one of those napkins!

Some vintage ads from the Hawaiian Gardens in Holly.
DC
Thought I'd bump up this old thread. It's a good study of what the group used to be able to dig up. I think most of the posters have moved on to Facebook.
Nice write up on the Waitoma Gardens, Trav. I was disappointed when I bought the Detroit Tiki Book. It hardly had any of the rich Tiki History in Michigan. Why can't someone do a book like that Ohio Tiki book which has every Polynesian Restaurant known to exist in Ohio from 1934 to present? ;)
I know how you feel Jeff I too was disappointed when Doug Motz left my families diners out of EVERY article he did about diners here in Ohio and his books.
AND Jacks was the OLDEST one in Columbus at the time he was slighting us and right downtown, so he knew of it.
PLUS, Since 1942 we had FOUR restaurants he omitted at that time, so yeah, I know how you feel, times ten Jeff.
Two Jacks, Small fry and Golden Point restaurants since 1942.
So, do you think the author of the Detroit book just did not know of that place or left them out on purpose like Motz did?
Thanks for the input guys. "Detroit Tiki" was written by Renee Tadey. I had the pleasure of having dinner with Renee and hearing about her book while she was still working on it. She is a great lady with an obvious passion for the vintage Tiki history of Detroit. We didn't talk about the Hawaiian Gardens during that visit. I believe at the time the book's focus was on vintage Tiki of Detroit proper. As the Hawaiian Gardens is in Holly MI over fifty miles away it didn't fall into the scope of the book.
And here are a couple rare pics to add to the thread. Enjoy!
[ Edited by uncle trav on 2022-12-05 06:24:43 ]