Pages: 1 15 replies
Does anyone have any info on Hulaville off of I 15, or Exoctic World in Helendale on the way to Vegas?
[ Edited by: DawnTiki on 2002-10-08 18:21 ]
Thanks, I have already been to the site, I was just hoping that there were some people out there who had some stories to share. Hulaville was demolished a couple of years ago when the man who lived on the property died, I am interested in finding the GIANT hula girl that stood guard looking out over the freeway. As far as Exotic World goes, just curious as to what I might expect if I were to visit.
Haven't seen Hulaville, but Exotic World is quite a treat. Don't wash your car before you go because the dust from Wild Road (a dirt road) will get everywhere. (I almost missed Wild Road the first time I went there for rehearsals.) When you pull up the long dirt driveway you'll see cupid statues here and there. Drive to the back of the property where you'll see a couple of old ranch houses and you're there.
Hopefully Dixie (the owner) will be giving you the tour. The collection is housed inside a single-story, ranch-style house. There's a lot to see as it's crammed wall to wall. It's the history of burlesque laid out before you from the Victorian age to present. Plus one room set aside as a souvenir shop. Unfortunately, Dixie doesn't have a lot of people helping her and it's run on donations so some of the stuff looks like it could use a gentle dusting, especially the costume pieces. But it's still great that we have even this much history to look at.
There's also a separate large rec room, that has some photographs of past shows, but I'm not sure if that's part of the regular museum. It's right at the foot of the pool area where the annual show is held.
I live about 20 minutes from it, I am used to dusty roads! A few friends and I have always talked about going out to take a look, but we haven't made it there (YET). Then about 2 years ago (I think) there was a article in the local paper about some kind of Burlesque Convention they hold every June, this just stirred my interest again. Hulaville was a piece of earth that was maintained and taken care of by this OLD, OLD man named Miles Mahan http://www.roadsideamerica.com/roger/QueryTips.php3?tip.AttractionName=mahan&tip.Town=hesperia&Tip.State=CA From what I have been told by locals who knew him he was quite the character. An old Vaudeville performer that fell in love with a woman who didn't return his feelings, I think she married his vaudeville partner. Mahan came out here to Hesperia and bought a plot of land and dedicated it (Hulaville) and the rest of his life to this woman, everything he did, his art, poems were for her. He lived in a ricketty, old, beat up, weathered camper shell on the property, he was a poet, an artist and a performer. I wish I had taken some time out of my OH SO BUSY life to go shake his hand and hear his story. Thanks Vintagegirl, I had a feeling that you might have known something about Exotic World! I need to go out there for a visit before its gone too.
P.S. I don't know how much of my story about Mr. Mahan is fact or Urban Legend, I do know he was a wacky old(I think he was 96 when he died) guy who lived without ANY modern conveniences...no running water...no heat...no electricity....I was hoping that maybe in someone's journey, someone might have stopped by and chatted with him or might know something about where Hulaville's Big Hula Girl is hiding. :D
[ Edited by: DawnTiki on 2002-10-08 23:44 ]
You're welcome DawnTiki. And thanks for sharing about Hulaville. Wish I'd known about it sooner.
That convention you mentioned at Exotic World is the annual burlesque reunion and competition held every year for the past 40-some odd years. Legends and newcomers come out to strut their stuff with crazy costumes and props for the grand prize or just for show. It's a big mishmash of bikers, trailer folk, hot rodders, vintage girls (like myself), grandparents and even the occasional kid all sitting around the pool watching the show on stage. Kinda like a big family BBQ only with Aunt Jeanie and young Miss Ellie taking their clothes off too.
There is an admission, but it's a pretty entertaining show for the price. I would highly recommend going especially if you're nearby and/or can't make it to the burlesque shows in the city.
I think it's the first Satuday in June. A great way to spend a Saturday afternoon...with a burger in one hand and a "shake" before you.
Dawn,
You may want to subscribe to the Tease-o-Rama group on Yahoo. I'm sure you heard about the event in California this year and it was in New Orleans last year. An entire celebration of burlesque.
Kitty Diggins was responsible for organizing the benefit for Exotic World this year. She's absolutely amazing - http://www.kittydiggins.com - and she's a doll to talk to.
Yee-Haw & Aloha,
Tiki Kiliki
---
Yee-Haw & Aloha,
Tiki Kiliki
http://www.tikikiliki.com

[ Edited by: tiki_kiliki on 2002-10-09 11:54 ]
I got to hang out with Dixie Evans for a few hours at the pre-show meet and greet for Teaseorama and saw all of todays star dancers climbing over people to get to Dixie just to meet her.

OH MY GOSH! A recorded interview! What a treasure! Thanks SO much WierdUncleTiki! I did find his Hula Girl, she's now hanging on a wall in Victorville's Route 66 meuseum on D St.
I would love to find his book of poems. This was great! You've made my day! http://www.califrt66museum.org/exhibit.htm
[ Edited by: DawnTiki on 2004-03-31 14:32 ]
My girlfriend and I went to exotic world three years ago. We had a wonderful time! Dixie gave us a personal tour and then we sat on her patio and talked for about four hours. She is the sweetest person I have ever met. You should stop by and see her, it will be worth it! Dan
I wrote a fair bit about Exotic World in one of my Road Trip journals, the 2002 one.
It is on my web site (see my sig below).
Short version:
Go.
I met Kitty Diggins in Nantes, France. It was fantastic.
There were an entire Burlesque show in this festival starring Kitten De Ville, Kitty Diggins, Kitten on the Keys, Mimi le Meaux and the fantastic Dirty Martini.... my wife and I love her...
Wow, you know, actually, I did go out to Exotic World back in I think it was 1990 or 1991, to work on a video shoot. Ended up spending the night there. It was a lot of fun!! Although a very strange experience...surreal perhaps...I've never been to a museum smack in the middle of a desert like this one. A VERY unusual place!
Here's the centerpiece of Hula Ville in its current place of honor at the California Route 66 Museum in Victorville.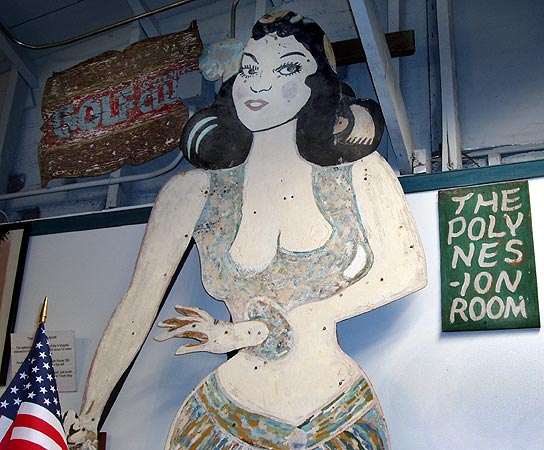 I just finished a blog entry on the place, so its right at the top of http://thelope.blogspot.com/
The specific post is: http://thelope.blogspot.com/2006/02/here-are-host-of-signs-you-may-see.html There are more photos there along with what history I could assemble from sources that did not always agree.
So, can anyone clue us in on the specific identity of the Hawaiian or Polynesian restaurant from which Miles Mahan got the hula girl?
I've read a number of newspaper articles online that variously reported him as taking it from the ruins of a demolished restaurant or scavenging it from a billboard. What most accounts agree on is that he placed it on the patch of land that would be Hula Ville in about 1956.
The small wooden sign near it says "THE POLYNESION ROOM" (sp) but, given Mahan's creativity with found objects, thats no real indication of the name of its origin. Also, thats where the museum put the sign, but I don't know of its placement in Hula Ville relative to the hula girl.
I presume he'd have gotten her near Herperia/Victorville but, who knows?
I found this reference to a "Polynesian Room" in a TC search: http://www.tikicentral.com/viewtopic.php?topic=8316&forum=1&hilite=polynesian%20room but it pertains to a place in Del Mar.
Any answers?
Paul Chassey, volunteer at the California Route 66 museum in Victorville, added this comment to my blog tonight and I thought I'd pass it along here:
Greg, you called the Museum the other day looking for more info on the HulaVille Girl. I spoke to Chick Kirk our Museum President and she had a little more to share. Miles and Chick had a conversation about the Hula Girl and this is Chick's recollection. ( MIles may have told others a different story as I understand he was quite a character.) The Hula Girl was a feature of a Polynesian restaurant and we are pretty sure it was located in the vicinity of Norwalk California, a Suburb of Los Angeles. One of our Museum volunteers confirmed to me that he used to patronize this restaurant with his family many years ago. Anyway according to Chick's story, Miles had been gone to the restaurant at one point and it was no longer Polynesian. He was told the Hula Girl had been sent off to salvage. Somehow he was able to retrieve it and relocated it on his property in the High Desert. When the Museum rescued the Hula Girl and other artifacts from the site, it was mounted on a pole about 14 feet high. The pole had to be cut to fit the Old Girl in the Museum where she resides today.
So, does anyone know anything about an ex-Polynesian restaurant that was located in or near Norwalk?
Pages: 1 15 replies