Pages: 1 15 replies
Does anyone have any info on any events, clubs, sites, gatherings, or links for Taboo Tiki bicycle riders/enthusiasts?
Mahalo.
Taboo Tiki bicycle riders/enthusiasts?
This must be a highly esoteric cult of the upper Tiki priest caste, since these vehicles were well beyond the commoner's means.
Nevertheless, if the ancient Marquesans practiced racing on Tiki stilts, why not develop a Tiki bycicle sport.
Suggestions?
I don't think many people knew about the tiki bikes until they were already gone, and going for big bucks on Ebay. I bought the Kozmipolitan (the big pink dyno cruiser with the martinis) and for a bike that cool, I did not think the price was unreasonable. I have actually seen 2 of the tiki bikes in my little town, with people that you would never imagine owning one on them. You might be able to start a club, but I don't know if I'd want to hang out with them! :)!
I never thought of myself in a higher caste or elite cult...I thought it was a cool bike and didnt think the price was unreasonable for it...Its fun to ride and another way for me to enjoy my love of tikis...I must warn you that staring into the strobing tiki light after consuming a couple of mai tais or zombies could be dangerous. I dont think that its any more beyond the commoners means than an Original Shag or an awesome tiki Bar built by Bamboo Ben is... anyway, I'm a new member and like to ride bikes and was just looking for another way to meet people who like tikis as I do.
I almost bought one on Ebay but then realized I live in the bike theft capital of North America. Got any ideas on tiki-fying an old bike instead?
Im actually working on something to that effect myself, pick up an old 26in frame, looking for a nice center tank piece that I can get painted/ kustomized,thinking about wrapping some bamboo looking straping or rattan stuff around some areas on the frame. Im not to sure how it will all work out but just like a bar, just throwing it together from parts lying around. ( hey maybe a puffer fish horn :wink: )
Tiki Rider 5-0,
If it's biking your interested in, I have a fun little tiki ride me and some friends do every so often.
The Mai Tai Ride: Start at Studio in Balboa - Mai Tai - ride to H.B. to Dukes - Mai Tai - Ride to Sams Seafood - Mai Tai - Ride to Kinda Lahaina in Seal Beach - Mai Tai - call wife to pick our asses up in my truck!
Oooh! One of my favorite pastimes...
Bar Golfing! gone Tiki! Tiki Bar Golfing!!
But we need to add a few holes to get to eighteen! Feel free to stop by the Lagoon Room Links!
Fore!
Shelley
I am the proud owner of the Taboo Tiki Kruiser and that bike brings me great joy!
I got lucky and found it when it was going for a reasonable price. I ended up with 2 last year for Christmas (I was really, really good!) and sold one on Ebay for twice the price -- very nice!
Tee has the Kosmopolitan and we love riding to Dukes, Longboard, and Aloha Grill, having a few mai tais and then slowly ride along the boardwalk back home!
Anyhoo, I love Mr. Bong's Wild Ride idea (although I'll need to get in shape for that ride!) and I'm always up for "Kruisin."
Aloha,
Uncle Arty
PS and FYI: These bikes were made by Dyno, a company that unfortunately and just recently went out of business. It's a shame because the bikes are modern day classics. You can still get a good deal on these on Ebay and at some of your local bike shops (Jax Bicycles in HB comes to mind).
Here is a link to check out the variety of these very cool bikes.
Tiki_Bong
I tried something like that several years ago in Baha on a Roserita-ensenda ride...during the ride i stopped at all the beer huts and cantinas along the way...it took me a leisurely 8 hrs to finish the ride (well behind the pack) but it was alot of fun as I remember.
Which begs the topic, is it illegal to drink and drive a bicycle? What would b\you be charged with? It's not as if they can take your license away.
I do know someone that once got a speeding ticket on a bicycle, though.
Well fishlips
I hate to tell ya, but down here in CA. they(them)can arrest you for being drunk in public and if they are mad about your antics, it can go against your driving record and count as 1 point. One of the reasons I stopped drinking was the ELEVEN times I have been arrested in lovely Newport Beach for public intoxication. They them the one's who are they also took my bike as hostage one time so I would show up in court. They wanted $1500 or 40 AA meetings in 45 days, after 3 I paid. What a loser, still trying to work off bad Karma points.
Are there any bike painters out there who can help (paint) my beach cruiser and tiki it out for me?
I would just screw it up1
Thanks
Freakstick Sancho
On 2007-06-08 21:23, freakstick wrote:
Are there any bike painters out there who can help (paint) my beach cruiser and tiki it out for me?
I would just screw it up1
Your best bet is to take it to your local auto body repairs place and get them to paint it. It will be even cheaper if you can pull it apart, so all they have to do is paint the frame. Less labour = cheaper. They also love it if you can supply them with a actual paint code. The trick is to find a new car in the colour you want. Have a look around and there is some sweet hues on cars. For example the mint green on new beetles is fairly tiki-ish:
The PT cruisers have a gorgeous burgundy colour thats almost candy that would look sweet on a cruiser. Once you've found a colour, ring up the car manufacturer and they can supply you with the paint code. Keep the painter happy and make their job easy and you're more likely to get a good job at a good price.
Once thats done, I'd recommend getting some 'off the shelf' tiki stickers and some custom/personalised stickers made up. For the custom stickers get some text like "Freackstick tiki". Most sign places will do this for bugger all, and you can get a huge range of finishes. Go on ebay and get some tiki stickers from artists like Shag, Von Franco etc. Theres a heap to chose from. Voila! One tiki cruiser :D
I just picked this up on ebay, couldn't justify the cost of the taboo cruisers, but I got this at a good price :D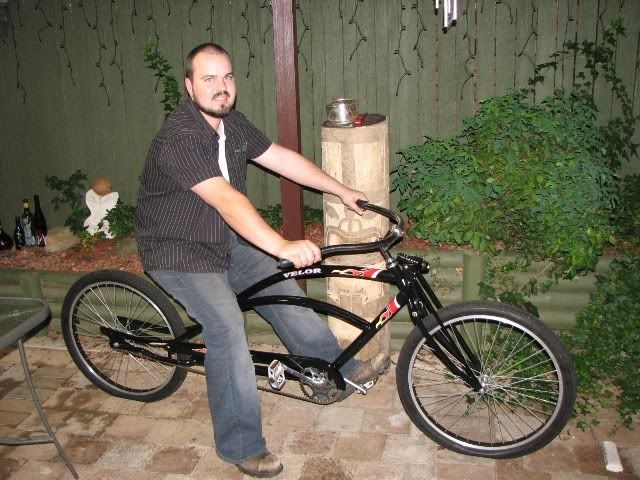 Not sure what I want to do with it yet, but it will be repainted at some stage. Lots of ideas, one is a WWII bomber theme (satin green, stencilled insignias, tiki theme pin up nose art), another is marbelised candy green over a black base.
For anybody who is a serious collector of the Taboo Tiki cruiser.... I have two pieces that were not for the general public that I would consider parting with.
Feel free to email me or pm me for descriptions.
Erich
I have a Taboo Tiki bike that I picked up about four years ago when I was looking for a gift for my wife and stumbled across the Dyno bikes.
My wife got one of the electro glides baby blue (they were out of the Kosmopolitan)and of course, I got the Taboo Tiki.
Von Franco did an excellent job on the color scheme and the accessories, when we ride we get tons of looks!
As for the bike club, that would be interesting...
I have attended a bar crawl in Hermosa/Manhattan Beach that was theamed cowboys and indians. People would dress up as Cowboys or Indians and ride beach crusiers while squirting each other with water pistols.
The trick is to be able to ride the bike after a few stops at bars, I would not use the Taboo Tiki for this, cuz you will most likely hit the floor or one of the other riders.
But a tiki ride crawl would be interesting...
Pages: 1 15 replies