Pages: 1 8 replies
Name:Kozy Corner Trailer and RV Park
Type:other
Street:Route 66 and Antares Road, NE of Kingman
City:Kingman
State:AZ
Zip:
country:USA
Phone:928-681-4298
Status:operational
Description:
This is an RV park which has used a tiki and space theme for about a year and a half. The property features an "Easter Island head" of concrete. The owner says they are renovating several old motel rooms for future use.
On one of the more obscure stretches of old route 66 between Kingman and Seligman, AZ, I noticed a building with a cool old sign in the distance. This is a stretch of 66 that loops quite far from it's successor, Interstate 40, and its pretty desolate.

Recycled signage is not unusual along here.

But, finding anything even remotely suggestive of tiki is unexpected. The owner told me her son made this concrete head...

...which is named "Giganticus Headicus"...

...on the rocket-shaped sign...

...near the building that displays the photo-op ray gun-toting astronaut with the Giganticus Headicus logo.

With the demise of the Polynesian Lounge in Albuquerque, I think this may be the only thing remotely tiki left on Route 66, except for Trader Vic's in LA.
[ Edited by: tikijackalope 2006-02-16 12:24 ]
That head was built recently? Wow. Surprisingly good.
[ Edited by: procinema29 on 2005-06-13 07:02 ]
Hey Everybody!
My name is Gregg Arnold and as the creator of GIGANTICUS HEADICUS, i would like to thank you guys for posting pics of GH on your site. I wish I had looked earlier and WOW! You took some GREAT Pictures!
My family & I went crazy (you probably already thought I was crazy when you saw the head, lol),when we saw that Bill Griffith, the creator of Zippy the Pinhead, made a comic that included Giganticus.And I only found out about that as a result of reading it right here, on your site.
You have a wonderful site here and I wish everyone here great success in everything you do,
Aloha, Gregg
for more info on GH, go to: http://www.giantheadonroute66.com
Aloha Gregg,
Welcome to Tiki Central. I love the Giganticus head. Great job!!! Hopefully I can stop by sometime on a Route 66 road trip.
Keep up the good work!
Cheers and Mahalo,
Jeff
Hey Gregg, thanks for contributing to the diversity of my only trip along that particular loop of Route 66. I also blogged it at: http://thelope.blogspot.com/2005/05/tiki-in-middle-of-nowhere.html You know, last time I looked, the Zippy website sold the original art for most of the cartoons; you ought to buy and frame it. - Greg (my initials are GH, which is just weird in context of the topic)
So you made it into a Zippy comic strip eh? How cool! But try not to get a big head over it. OK I know it was too easy but I figured I'd say it before anyone else did. Thanks Greg and Gregg for sharing.
here's the shot we took of it in 2005.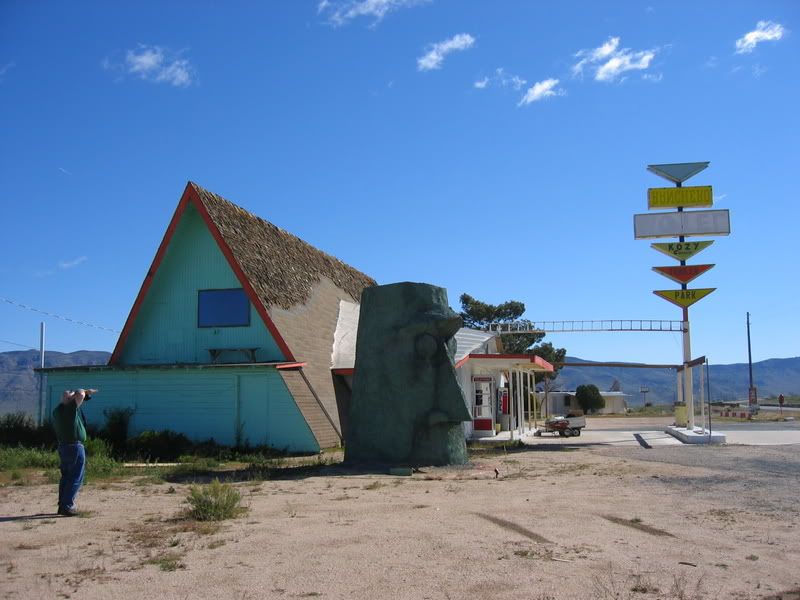 [ Edited by: dinerman 2006-12-29 12:53 ]
Pages: 1 8 replies