Pages: 1 3 replies
Name:Ben Lenhoff's Bali Bali
Type:restaurant
Street:7225 South Chicago Avenue
City:Chicago
State:IL
Zip:
country:USA
Phone:
Status:defunct
Description:
All I have to go by is a menu (I'll scan more pics later).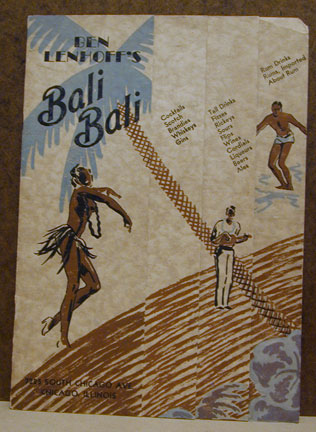 It was located at 7225 South Chicago Avenue, Chicago, Illinois. The menu is early to mid 1950s if that... According to MapQuest, it is a customizing Car Center now...
A web search for Ben Lenhoff comes up blank.
The menu has no food, only drinks. No Mai-Tais mentioned, so it may have been pre-1940's. It has the entire back page devoted to the history of Rum. No mention of any of the famous Rum Gods or bartenders such as Don the Beachcomber or Trader Vic. It does mention the Dionne Quints, which places it after 1934. They fell out of general interest in the mid-1940s, so my thought is that the menu dates from around then. One of the drinks mentions Mary Pickford, silent screen actor and America's darling, as "My Best Girl", the title of her last silent movie in 1927. She retired in 1933, so due to the references of popular culture, I'm placing the menu at 1934-1939.
Anybody else have any info on this location?
Cruised by this location today. There is now a large youth center there which takes up the whole block. Looks like it was built relatively recently.
TT
Here is an image of the menu cover.
Also, looks like the Bali Bali was open at least as early as 1937, according to this article.
Pages: 1 3 replies