Name:The Bamboo House (formerly the Outrigger)
Type:restaurant
Street:1208 6th Ave
City:Prince George, BC
State:
Zip:V2L3M7
country:Canada
Phone:
Status:operational
Description:
A customer sent me this photo of the Bamboo House Chinese restaurant in Prince George, BC. It was formerly the Outrigger and as you can see, they've kept much of the decor intact. I've heard lots about this place but I've never seen a picture...wow! Too bad it a day's drive from here.
Just a note, the customer is Donald Luxton from the Heritage Vancouver Society who did the lecture series on the Waldorf a few years back. He said there might be another one in the near future, I'll keep you posted!!
I found an old thread about the lecture:
http://www.tikicentral.com/viewtopic.php?topic=2406&forum=4&hilite=outrigger%20prince%20george
That is so cool Pepe, maybe we can convince SDT & TA.MKB to stop by if they drive out for an event.
Wow is right! I've only seen lamps like those in postcards, but never hung vertically like that. It's quite an effect, especially in that cavernous A-frame. In my postcards of the Chin Tiki in Detroit, The Hawaiian Cottage in Cherry Hill NJ, and the Kon Tiki restaurants of Cleveland and Dallas, those lamps are hung horizontally and appear singly. Your restaurant looks like an untouched time-capsule from the 1960s. I'd love to see more!
Sabu
Sabu, he's sending me more photos including an exterior shot. I'll post them as soon as I get them!
On 2006-01-23 15:35, Tikiwahine wrote:
That is so cool Pepe, maybe we can convince SDT & TA.MKB to stop by if they drive out for an event.
Prince George is quite a bit off the Edmonton-Vancouver route, so it would have to be something really special to make the detour worthwhile. I think I'd rather expend the extra time and money on a side trip to Victoria and/or Seattle.
I really wanna see how it looks from the outside now. Surviving A-frames that are Polynesian on the inside too are rare nowadays!
Been doing a bit of research on the way to adding this to Critiki... looks like the Northern Health Authority still calls this place the Outrigger Restaurant (they get a "moderate" risk rating, btw), and their business license appears to have both names of Bamboo House & Outrigger... perhaps the name change is fairly recent?
Found these outstanding photos on the Milltown to Downtown website:
"The exotic Outrigger Restaurant at Sixth Avenue and Dominion Street was opened in mid-1965."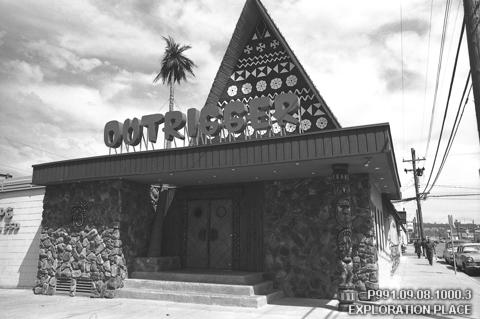 "Modeling a Hawaiian-inspired dress in March 1966 in front of the new Outrigger Restaurant, now called the Bamboo Hut."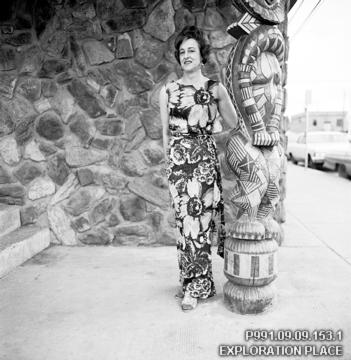 "A special luncheon for Queen Aurora and her princesses at the newly opened Outrigger Restaurant in August, 1965."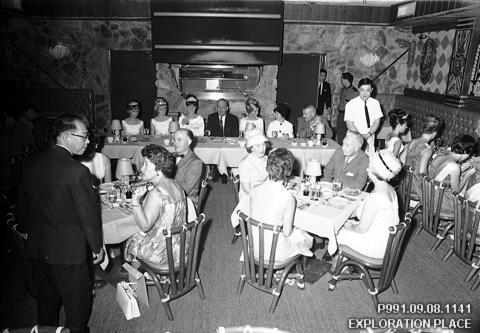 "Elaborate decorative painting on the new Outrigger Restaurant, 1965."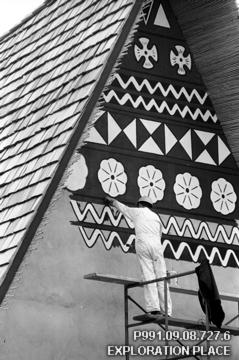 WOW! Those photos are out of this world! I wonder if the pole outside still exists? Did you see the masks inside? NEAT!
OMG!! And the lettering above the entrance - Droolworthy.
Thanks so much for finding and posting those archival photos, Humuhumu!
Sabu
Great photos Humuhumu!!! I'm curious about the palm tree...in Prince George??
Whoa!! If it still looks like that, I'd say it's worth a detour.
Good one Humu...the internet explorer!
At the first photo I thought, because of the wide angle used, that it might be pretty small, but when I saw the guy painting the A-frame, it's really decent sized.
So who's gonna go???
Here is what the outside looks like in 2004.
[ Edited by: Unga Bunga 2006-01-27 12:18 ]
Aaaw...liked the B&W better. But hey, it's still there, it still has the Tiki mask and post, and the interior looks quite original too! I like how the rock walls seem not to be attached to the A-frame (in the B&W). The palm tree looks like it is held up by wires!
TC is so great: I really wanted to see the outside and BAM!, here it is, vintage AND today!
In the original B/W photo, the decorative painting on the A-Frame, the lettering on the roof, and the palm-tree "growing" through the roof really brought the whole facade together into one of the most appealling poly-pop expressions of architecture I have ever seen.
Without those elements, the building looks so ordinary! I bet the original architect would be saddened at how his vision has been diluted.
On the other hand, Thank God so much is still there! And like you said, bigbro, the interior looks pretty pristine. I bet the bottom-most spindle on the column rotted out from the yearly snows and was either kicked loose or was finally sawn off. I'm happy the mask is still there. The column needs to be re-painted according to the old b/w photo.
Sabu
Sadly, I was expecting it to look this way. At least they didn't 'make it go away' like Vancouver did with Trader Vics. Still, good to see some of the elements there, especially inside. What's most unfortunate is that the owners probably don't realize the real potential of such place.
Oh Last Great Tiki of Unlimited Abundance, I'd really like to win a lottery!!!
Hello to all admirers of the Bamboo House - formerly The Outrigger. We are friends with the owners! Did you know that it is for sale? It is a very unique and beautiful building! Almost everything is the same as it originally was. We are going to let them know there are fans of the building! haha We'll let you know what they think.
On 2006-02-07 21:21, PGBH wrote:
Almost everything is the same as it originally was.
?
O tay!
Well the owners were surprised to find out their restaurant was the topic of an online chat! The current owner actually worked at the Outrigger. He then became a partner and finally an owner, at which point he changed it to the Bamboo House. They are actually selling it so they can retire! It is definately a unique and beautiful building with great potential to be returned to its former glory!
Somebody definetely should! ...and if they don't wanna move there:
The Trader Vic's Vancouver A-frame was put on a barge and shipped downriver, too!
On 2006-02-13 14:45, bigbrotiki wrote:
Somebody definetely should! ...and if they don't wanna move there:
The Trader Vic's Vancouver A-frame was put on a barge and shipped downriver, too!
just don't let it befall the same fate as The Polynesia of Seattle
Thanks for the info PGBH I hope you can keep us posted on the fate of this great treasure! My fingers are crossed that they can find a buyer that will preserve the history inside and out. (and retire happy too)
I had seen this post before and thought I remembered those lamps. This postcard must be from the same place when it was the Outrigger Restaurant.
Does anybody know if it is still open as the Bamboo House with all of the great decor still intact?
Nice photo Dustycajun! Last I heard (late last year), it's still there but I'm not sure what condition it's in. The first photo on this thread is the most recent interior one I've seen but that's a few years old.
I too, have not heard anything else yet. I had a friend visit there recently (Mar.) and he said it was still there and the Tiki's on the exterior are still there but it was locked up.
I had emailed the friend of the owner's but have not heard anything back as of yet.
I will let you all know if anything pops up.
NOW...I gotta say, that is an awesome picture of the inside that DustyCajan posted!! There it is in it's full splendor!
As I drooled all over my keyboard, I noticed those very unique lamps on the tables. Those look to be the exact lamps that I picked up from the Tropic Isle estate!! I do not have any photographic evidence of those strange looking lamps being used at the Tropic Isle but these look to be exactly the same.
I will post pictures tonight.
Hey Dusty, if you are reading this can you post a close up of one of the tables?? Thanks ahead of time!! TabooDan
Taboo Dan,
I will get a blow up of the table and the lamp and post it later tonight so we can see if it is indeed the lamp you got.
Where did you get the lamp from?
Taboo Dan,
Here is a post of the lamp from the Outrigger. I have also included the back of the card. After looking at the post from Bigbro with the treasure from the Tropic Isle expedition, it does not look like this is your guy. What a great find that was, congratulations.
Bigbro, thanks for including the link to the old post.
Oh but it is, it is! I have a whole post in regards to this, but must run out now, ouh! ....will post more later today...
Thanks alot Dustycajun!! I will add pictures below and sure enough it IS the same lamp!! Intersting how it ended up down here in Surrey. Not a single picture from the family scrap books have these lamps in them. I wonder if the families knew each other or were related somehow? More digging to do!
The scrap books from the Tropic Isle Restaurant are from early days of the Tropic Isle's life and are pretty much dated up to about 1974 (It opened in 1969). I think these lamps were probably made later then this date but it would be interesting to see if that postcard happened to be dated at all.
The above photo is of the lamp up close without the frosted white glass shade.
The next picture is of the lamp with the glass shade. I assume that the cloth/burlap looking shade would have sat on the top of the glass.
The next picture is a little shot I did in my garage of what I thought a table may have looked like dressed up a bit at the Tropic Isle with their own mugs, drink menu and lamp.
I just realized I should probably put a few of these pictures in the Tropic Isle thread. Looking forward to hearing what some of you think.
The lamp is made of a heavy white ceramic/plaster which has been painted dark brown. It has a hole drilled through the center where a black metal pipe fits into the hole and rests at the top of the tiki where the candle and shade holder sit.
These black metal bases are not very well done and kind of crude. They have hot metal (dried) drips on them and there are holes drilled around the tops which are not done very well at all (Not aligned or in a straight row). Then, there is a brass candle holder inserted into them which is spring fed so when the candle burns the candle will slowly rise. The candles that are in these are all pink. I picked up a box of these candles with the lamps.
As a further picture and point of interest, the original glass lamp shades came in their original box which is in the next photo. On the box it states "Exclusive Candle Corporation".
There was also a Marquesian styled (Fisherman God) ceramic Tiki statue (about 20" tall) that is made of the same material and also painted the exact same brown color.
This too is from the Tropic Isle estate. Not sure where this staute or the lamps came from but I do believe them to be possibly made by local artists. It is hard to be sure.
Mahalo, TabooDan
This post edited to replace photos which had shrunken size.
[ Edited by: TabooDan 2008-09-26 18:04 ]
Dustycajun's postcard close up also seems to show a set of salt and pepper shakers in fornt of the lamp. It looks like there is something tan colored with a dark rim. Kind of like the PMP peanut ones.
Hmmm...something else to track down. As of yet, I have never seen any mugs or anything besides postcards from this restaurant.
TabooDan
Those DO look like the Paul Marshall Products shakers:

..with their backs turned to us.
Next: A lamp origin theory. :)
[ Edited by: bigbrotiki 2008-04-10 20:45 ]
To recap, we just established that the lamps at The Outrigger were the same design than the ones Taboo Dan found when he came upon the Tropic Isle hoard:


I agree with Dan in that the crudeness of these figures makes it likely that they were cast after, or even from the ones at the Outrigger:
When I first saw Dan's lamp find, my Tiki senses went off, and I went back into my archive and found some stylistic similarities which combined, point to one origin:
Here are several of Andres Bumatay's Tikis in front of the Sea & Jungle store. Note the similarity in expression of the one in the foreground to the lamp Tiki. But this example is not really conclusive. Now look at this rendering:
It was really the position of the arms and hands that I recognized, not only from this rendering, but from my very own Bumatay carving, that I had rescued from an antique store in the early 90s. It was in a sad state, and I doused it in resin, which worked to prolong its life for several years, until it finally turned to dust:

...now that's our guy!

Mouth and eyes are a little different, but it is a couple of generations down the line. The body posture gives it away. As a side bar I want to share an ingenious carving concept that my specific Bumatay Tiki revealed to me, I call it the "Slice of Pie" Tiki:
Here is a side view of my Bumatay, (with my Buick in the B.G.) showing that its back was made of palm tree bark. This is the revealing feature of this specific carving concept, which needed very thick palm trunks. I crickled up a crude attempt at a blueprint...don't laugh! :) :

This is another great example of how talented carvers took the challenge of an already shaped piece of wood and created a Tiki within the restrictions of that shape! It'll be hard to find palm trunks that size nowadays, but maybe some folks can try it with smaller logs ....the result simply being smaller Tikis. I would love to see this concept resurrected. :)
Wow Bigbro, that is bang on!! Like you said, different generations but it sure is modeled from that style of Tiki.
Awesome pictures! Too bad your carved one went to dust. That was quite a unique carving. I had been looking for some sort of style that was close but couldn't really find one close enough.
Mahalo, TabooDan
Any time I see a tiki carving holding his nuts, I figure its a Guanko. So Bumatay did a "taking a pee" thing...
Sometimes it looks like a "Hands in the lap" posture, sometimes like a "Puppy dog sitting up" position to me....I have to find an authentic equivalent in my Oceanic Art library.
Looking at my sketch again, I realized that the palm tree pie does not HAVE to be cut into 4 pieces, cutting it into six will make the body deeper (as in ill.3) and not as flat (as in ill.4).
I love this post! Pretty cool how that one postcard sparked this.
Hey Bigbro, Now we gotta find that similar style done for the logo Tiki of the Tropic Isle. I know you said you hadn't seen it before but you have given me hope now!! I am still trying to find something out about it but the chances are looking pretty slim now.
I think that one was definitely locally carved, just like that Tiki panel/beam in Dusty's Outrigger postcard on the left. There were so many local carvers we will never know about, not only up in your parts, but look at the the Atlanta Dobbs House Tikis...and the big Tikis at the Chin Tiki. Those did not come from California, either, we probably will never know who carved them.
Pappy the sailor did some great microfiche diggin' and posted it here, showing that there were many unknown artisans hackin away at their versions of Tiki.
How the Bumatay design got to Canada is open to speculation, too. Sea & Jungle might have shipped a carving to some place, or the Outrigger owners just might have seen it in a restaurant industry mag article.
wow! Really interesting guys! I'm seriously tempted to do a road trip to PG just to check this place out! Dan, we should plan something!
I'll meet you there Pepe & Dan. It's about an 8 1/2 hour drive for me, about 10 hours for you. It can be Hukilau North. Someone should phone first to make sure it's open.
Wow, that would be great, guys! Tiki agents in action! Urban archeologists in remote places! Can you contact the folks from that website and find out if you can get any prints from those B&W photos? I'd love to use the dress being modeled, and the building and its Tapa gable being painted for my next book!
bigbro - photographic prints can be ordered from Exploration Place Science Centre and Museum, email: [email protected] or phone 250.562.1612. A b/w 8"x10" is $20 (you can also get scans). The numbers you want are P991.09.08.727.6 ("Elaborate decorative painting on the new Outrigger Restaurant, 1965") and P991.09.09.153.1 ("Modeling a Hawaiian-inspired dress in March 1966 in front of the new Outrigger Restaurant, now called the Bamboo Hut.")
Wow, this post keeps getting better and better! Great unearthing work you guys!
I have to go to a wedding in Kamloops in June, Prince George is a 6 hour drive north from there. I don't think I can convince my husband and daughter to drive that far, but if someone happened to be doing a road trip in that direction anyhow...
The problem with Prince George is that it is not near anything. I mean, it's an out of the way long drive. Then back again too!
This place is worth seeing in our eyes but to get there and just be able to stare at the outside of the building (which you can do on this post) doesn't really seem worth it.
I have been, and continue, to try to contact the owners but they are not replying as of yet. Maybe it did sell.
Sweet Daddy had it right, a little road trip that way may be in order but there better be a few drinks available up there.
Actually......I just remembered.....there is a rumor of a Hawaiian/Polynesian themed Hotel (or maybe just a room! LOL)up there which may have some carvings and Hawaiian decorations. What the hell???
Hmmmm.....maybe I'll just fly there for the weekend.
I'll keep you all posted.
Edited for language issues!
[ Edited by: TabooDan 2018-03-05 11:55 ]
I'm all for a mini road trip! The four of us would have a blast! I agree, it would only be worth it if we could get in to see the place. Other activities could involve killing each other as we plunder the thrift stores. Visiting Barkerville because I've always wanted to for some unknown reason. Bringing our own tiki mugs to the local pub and pretending it's Trader Vics. Just a thought....
I posted in the forum of boredinpg.com (bored in Prince George) asking if The Bamboo House was still open and I got this reply
"I went and checked, it is very, very closed, and very ghetto looking."
...yet the contents might be in pristine shape. And, with his sense of adventure intact, the staunch urban archaeologist never shies away from ghettoey or otherwise savage environments!
I couldn't agree with Bigbro's sentiments more! Brave on you hardy urban archaeologists and check that place out.