Name:Hawaiian Hut
Type:restaurant
Street:Ala Moana Hotel, 410 Atkinson Drive
City:Honolulu
State:HI
Zip:96814
country:USA
Phone:808-941-5205
Status:defunct
Description:
We spent a quick few days in Oahu before heading to the Big Island on our recent vacation, and tried to check out the Hawaiian Hut one night (kinda late). There was a sold out event there, so we couldn't get in. We went back the next day, on our way to the airport, in hopes of it being open. There was someone inside cleaning, so the door was open, but it hadn't opened yet that day. He kindly let us walk around inside to take some pics. It was incredible !! I can't believe I've missed it all these years. Its the last remaining of the Spencecliff Restaurants, don't miss this place, while its still around. There's a South Seas Revue regularly playing there ( Don Tiki also played there early last year). Pics to follow shortly.
[ Edited by: puamana 2006-04-15 15:47 ]
[ Edited by: puamana 2010-09-01 16:45 ]
Yep, after Chuck's has been razed, it's the last unrenovated vintage place left (besides La Mariana's of course) in Honululu. The quality of some of their carved decor pieces let's one get an idea what was on display in Honululu eateries at the height of Polynesian pop. I remember walking into this small joint called "South Seas" (not the now car dealership by the airport) in the early 90s and it had some of the greatest Marquesan Tikis and weapons hangin around. I think it was a Spencecliff place too. Next visit it was gone.
Ah, the South Seas ! I was wondering what that building near the airport was. I can only imagine what it might have been like in Honolulu, back in the height of the era. Here's what pics I could get of the Hawaiian Hut...my camera batteries were konking out !
Sign for the Hawaiian Hut from the Ala Moana Hotel:

Hawaiian Hut Entrance:

View from entrance:

Inside view over dining area, looking towards stage:

More stage views:

Ceiling, with shell chandelier and outriggers:

Ceiling and upper part of stage:

Left of stage, near back bar:

View of bar area in back:

View looking back outside the entrance door:

Holy $hit! I can't believe Gecko didn't know about this place, but I don't ever recall anyone mentioning it before - including him.
KG
[ Edited by: Kailuageoff 2006-04-15 18:23 ]
Aaaaah, more great images! Check out that Marquesan war club on the top of the "View from entrance" picture, that's what I am talking about! Don't see too many carvings in the other pics though, maybe some have "walked".
Funny thing is, for the first time I recognize that carving by the front door of "Maui catching the fish" as copied from the great Maori meeting house in the Hamburg museum, my home town source of inspiration. It's been published in many Oceanic art books. Strange how an artifact that was sold in 1900 from New Zealand to Germany (the house was considered "bad luck" and lay unassembled for years) makes its way back to the Pacfic in Polynesian pop form.
Reading that article that Randy posted in the Waikikian thread about Spence Weaver's Tiki collection really convinces me that Weaver must have imported Marquesan carvings directly from those islands (probably through Tahiti), the quality of the stuff I have seen in his joints is just too good.
Unfortunately, nowadays it is hard to find pieces of that order even in the Marquesas themselves, every thing is geared towards the quick tourist buck.
Ironic that in the 50s real ancient Polynesian artifacts were unattainable and had to be reproduced for restaurants, and now the quality reproductions of THAT period seem just a rare.
We were told by some local folks in Waikiki, that Spence Weaver gave ( or sold for a minimal cost ) the Hawaiian Hut to one of his long-time employees. That's probably why it hasn't been changed, thankfully !
On 2006-04-15 18:21, Kailuageoff wrote:
Holy $hit! I can't believe Gecko didn't know about this place, but I don't ever recall anyone mentioning it before - including him.
KG

[ Edited by: Kailuageoff 2006-04-15 18:23 ]
[email protected]#$!!! So disappointed I didn't know of it before - I even went to that hotel for the hula show. May be just as well -something different to see on the return.
On 2006-04-15 18:21, Kailuageoff wrote:
Holy $hit! I can't believe Gecko didn't know about this place, but I don't ever recall anyone mentioning it before - including him.
KG
well, heyull! Kama'aina can't give everything away to da haoles!
And yea, just keep repeating that;
"The Hawaiian Hut is the last "polynesian pop" place left remaining, besides La Mariana's"
[ Edited by: lanikai 2006-04-17 00:09 ]
Thanks SO much for this info. We'd been to Honolulu twice and never knew about this place. We caught the show when we were back last month. The reason it's kind of under the radar for us here is they seem to cater to Japanese tour groups exclusively. They don't even have a listing in the yellow pages. I think we were the only Americans there. The show is narrated in English and Japanese. The show was quite good - and I don't usually like stuff like that. Show and one fairly respectable drink was $35 per person or thereabouts, including tax and tip. You can get dinner for sixty something a person. We learned from the Don Ho Show to skip these kind of dinners, but that said, it was a buffet and didn't look that bad. The room is awesome, the staff is nice, the performers are talented. They come around and take cheesy photos of you with and without sexy wahine and then try to sell them to you. A great retro-touristy experience. Highly recommended.
A great retro-touristy experience. Highly recommended.
I'm headed over to Oahu for a quick 3 nighter on January 23rd. I'm gonna try to make it by.
I was a fairly regular at the South Seas Village in Waikiki for alotta years. Was a fantastic place! And great drinks. But their selection of huge and delicious pupu platters was just incredible and one of the best deals in town at the time. We always went there for pre-dinner drinks and pupus...and then always just ended up staying and skipping on our dinner reservations elsewhere! Really, really miss the South Seas Village!
So I'm going to see if I can recognize any of the South Seas artifacts.
[ Edited by: kingstiedye 2006-12-14 20:28 ]
Thanks for the posts about this place! I'd been to Honolulu several times but never knew about it. Fortunately, I found this thread just in time for a trip earlier this month. Definitely a very fun room to see, and the show was good. We just did the cocktail seating, rather than including the buffet. We ended up being seated right by the buffet table; the food didn't look very appealing to me and there is a pretty big price jump to include it. We just stuck to our one-drink each, since the tropical cocktails we picked were really sugary sweet and the only beer they have is Miller High Life (they did serve the Bluest Blue Hawaiian I've ever seen).
There's not much I can add to Puamana's great photos, so here are just a few of mine that are a little different.
Detail of the mural behind the bar:

Little details everywhere

Masks & Tikis

This guy's outside, opposite the entryway

Nice pictures, I went to Leon Russel there last spring, Saw John Mayall there a couple years ago and Also Derek Trucks, some blues promoters having been putting a show in there now and then, It's remarkable that the place has held up for so long.
Unfortunately the nice old Lady that created and ran The La Mariana passed away a couple months ago, I hope the lease isn't in question there. I think there would be a riot if anything happened to the place but I had heard at one time that the state didnt want to continue the lease after she was gone, but I dont see how they could could get away with it, we have so little of the old pop Tiki style left. They cracked down on the Saturday night sing alongs we used to have there trying to force her (the owner) to buy a cabaret license, but the sing along moved, that was something to see, a lot of old Tiki lounge singers would gather about 9pm on Satudays nights and stand around the out of tune grand piano and sing the old Hawaiin songs, usually closed with the national anthem, twas a site to see, they have moved to an old Chinese place now I believe although I think they started at a place called the polynesian terrace and when they tore that down they moved to the LaMariana along with some of the furniture.
On 2008-11-01 02:12, OahuClay wrote:
Nice pictures, I went to Leon Russel there last spring, Saw John Mayall there a couple years ago and Also Derek Trucks, some blues promoters having been putting a show in there now and then, It's remarkable that the place has held up for so long.
Now I like a good rock or blues show as much as anybody, but one at the Hawaiian Hut would just be, well, bizarre. Tikis, tapa, giant shell lamps, Polynesian weapons and ... Derek Trucks. That's just odd. The place is more fitting for a band like Don Tiki (who have played there).
Our visit to the Hawaiian Hut was a highlight of our Hawaiian vacation in summer of 2007. A truly special place that is a time capsule, very much like the Mai-Kai in that respect.
I called the Hawaiian Hut at the Ala Moana Resort to see if they were serving dinner. I was told, they have an All You Can Eat Prime Rib Buffet with Polynesian Floorshow ~ TODAY at 5:30. She said, except for special events, the Hawaiian Hut is usally dark in November ~ but today was a full show! holy cow!! This venue has been discussed on Tiki Central, but I haven't read that anyone had actually been to the Luau.
At 5:20, the front doors were locked, and we were the only people in line. But I had talked to the hostess twice today, and we had reservations.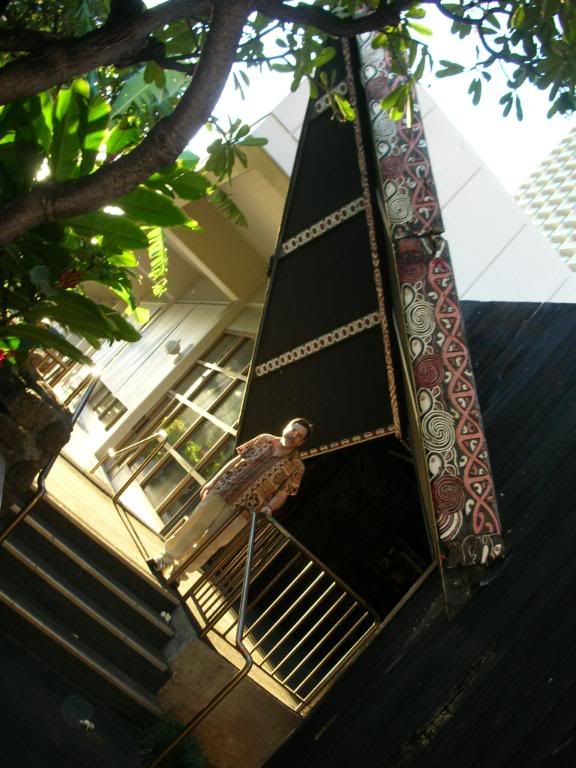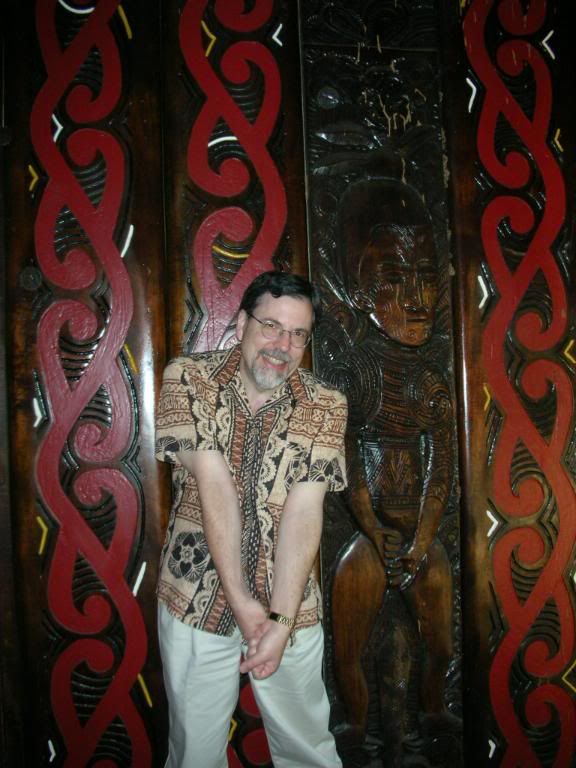 Promptly at 5:30 the doors opened and the manager warmly greeted us. "Don't tell us, we're the only customers" and he said "yes. The new owner shut down for 3 weeks, and all the tour guides are telling everyone we're closed" but he welcomed us in and sat us right in front of the stage. an older Japanese couple came in, and were seated next to us.
Tapa lines all the walls. Wonderful carved moldings accents the railings.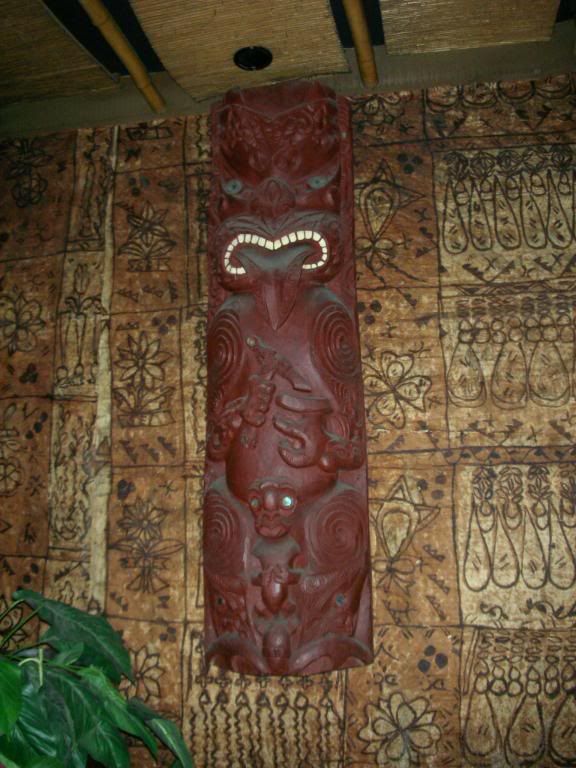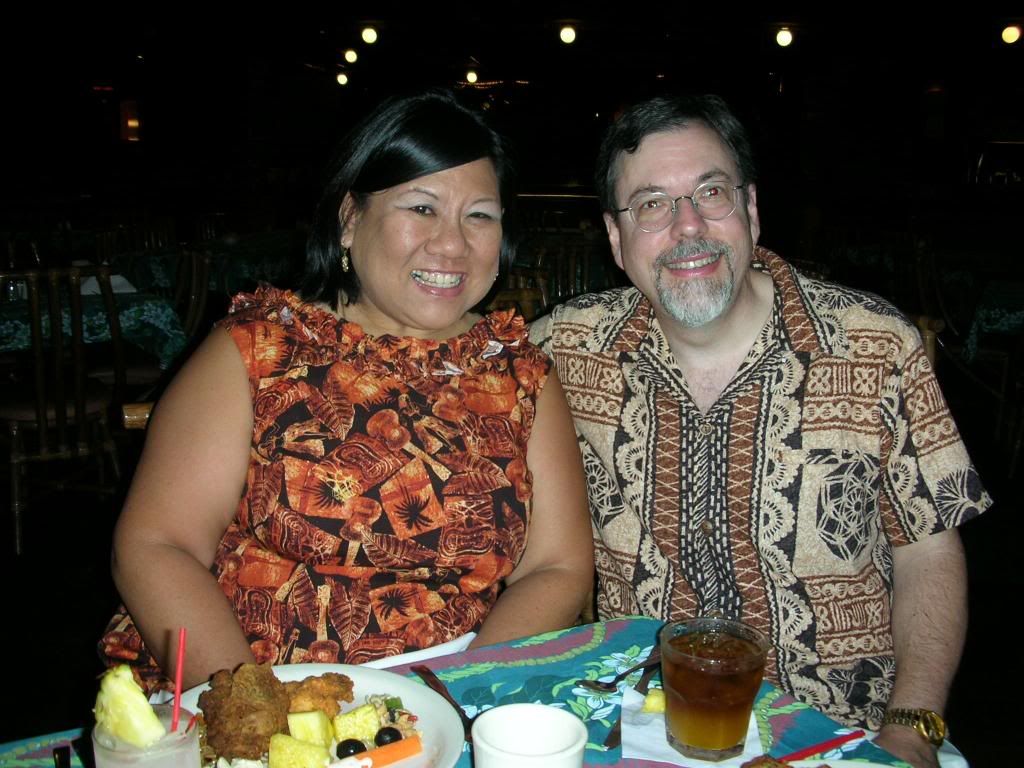 And there is the most gigantic shell lamp I've ever seen. Huge conch and abalone shells hang from a (I'm guessing) 15 foot diameter ring. I couldn't get a great picture, as it was up so high.

The food was, well, ordinary. A couple of pasta salads, Jell-O, fresh pineapple, yakisoba noodles, homemade cornbread and biscuits, salad bar, fried fish and fried chicken (both quite good). The prime rib looked beautiful, a full rack. Unfortunately, it was dry and stringy. . the drinks were god-awful ~ Frank Todd bravely ordered a Mai Tai (yes, it was indeed pineapple-y and syrup sweet). My virgin Pina Colada was undrinkable. It was thick, sweet coconut goo under ice garnished with fresh pineapple (to their credit) and a maraschino cherry that could not sink to the bottom due to the viscosity of the coconut goo.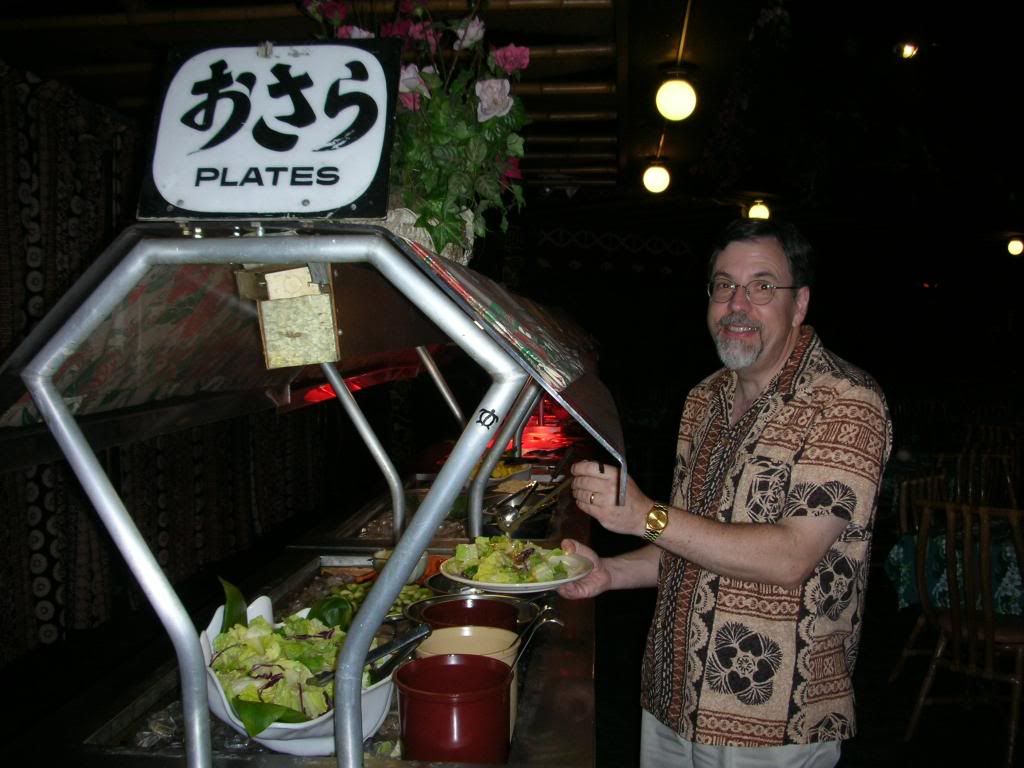 But the floor show. OH MY GOD, the performers gave 100% ~ there was a 4 piece band, 5 dancing girls and 3 dancing guys ~ and one fire-spitting, baton-twirling, body tattooed, Maori Chief who gave an amazing fire dance. THEY FREAKING SET THE FLOOR ON FIRE!!! no kidding, they poured stuff down and lit up a river of FIRE on the ground, INCHES away from us. the heat and smell of kerosene was amazing.
Just like any luau, we "visited The Islands Polynesia through song and dance". There were many costume changes. The 4 of us in the audience were up on our feet a few times. WOW! Crazy, all of this just for us!!
Of course, the "audience participation" portion of the show, ensured we all were onstage, with only the kids there for the late night poetry slam, to watch our antics. The older Japanese couple had a blast wiggling in their hula skirts. The MC lady thanked us profusely for showing up and for all our support. And one of the dancers came down to hug each of us. Frank Todd tipped 50% because we had such a fun time.
The choreographer, Kalo sat behind us for a while, and was called to the stage for a lei and flower presentation to celebrate her birthday!! mega doses of Aloha.
Glad to hear that they are still open. When we went, the place was filled with Japanese tourists. Sounds like they need to get that channel open again, but with the economy the way it is, tourism is way down in Hawaii anyway. I've told a number of people that the only floor show I've seen come close to the one at the Hawaiian Hut is the Mai-Kai show. Did they lower the metal screen when the fire dancer came on? I thought that was interesting, so he doesn't accidentally hurl a flaming torch at us. Unfortunately, it sounds like the food and drinks haven't improved any. I recall my Mai-Tai being so bad I couldn't drink more than a few sips. But... I'd go back for the atmosphere and the show any day.
Disappointing Hawaiian Hut News...
I did not see the Hawaiian Hut listed on the Ala Moana Hotel's website any longer, so I sent email inquiring about visiting the Hawaiian Hut on my upcoming trip in June 2009 for a dinner or cocktail show. Below is the reply I received:
Aloha,
thank you for your interest in the Hawaiian Hut.
the Hawaiian Hut is currently closed. there is the possibility that it will reopen and resume the Polynesian Revue but no definitive news at this time. I would suggest you check back closer to your date of arrival. if the Hawaiian Hut is not operating I will be glad to refer you to a similar show. warm regards, Marty
Sad, but not surprising. It's a great space. A time capsule. The performers give their all. But it's in the wrong place at the wrong decade. I wish them well and hope they can reopen, but I wonder who their audience really is.
Here's a vintage 1960s shot of the Ala Moana floor show. :down:
The tikis in the background seem to be the same ones dogbytes saw on her recent trip:
Also, the carving that bamalamalu posted seems to be very similar to the one that used to sit on the roof:
---
[ Edited by: Sabu The Coconut Boy 2009-07-28 01:15 ]
The Hawaiian Hut is one of the few remaining Tiki style time warps. Does anyone know its status? Phil?
One little factoid: It is the only place I know that used the carvings of Maui by Tene Waitere from the Maori meeting house at the Hamburg anthropology museum for a modern Tiki temple:

Hamburg Maori house with Maui catching a fish in the back
It was probably copied from the B&W photo in the classic book "Oceanic Art" which was used by many mid-century carvers, at Oceanic Arts, and for the Mai Kai, for example.
The photo of the guy with burning feet on page 54 in Tiki Modern is from the Hawaiian Hut show, I made the mistake calling it Hula Hut in the caption. Arrrgh!
Aloha,
Sven,
Yes I do know the status. I was there documenting just last week. It's pau; closed since Febuary '09. A brutal casualty of the recession, Kalo closed the show. The Moana Hotel has taked down the round plastic sign, and the outside chief. The entry A-frame remains and is in horrid weather beaten condition. The bench is still there, yet I doubt it will last long. It is questionable what remains inside, as the Moana Hotel will not rent it out for independent shows for the unforseeable future, or even open the doors to show me...
Scary...it smells like one of those situations where, if they ever re-open in the future, it will only be after "extensive remodeling".
PhillipRoberts....
You need to "rescue" that bench, and any other artifacts you can from there.
History needs to be preserved.
What you would be doing is "preserving" not "Stealing".
On 2009-07-29 15:16, tikiyaki wrote:
PhillipRoberts....

You need to "rescue" that bench, and any other artifacts you can from there.

History needs to be preserved.

What you would be doing is "preserving" not "Stealing".
I appreciate your sentiment but it simply isn't within my code. I take NOTHING but photographs.
What an amazing place, I hope it re-opens intact some day. I have a couple of matchbooks from the Hawaiian Hut.
The cover.
Two Different backs, one with the South Seas review and the second with Tavana's South Seas review and a nod to Queen's Surf.
DC
Sad to say tiki lovers, the Hawaiian Hut at the Ala Moana Hotel is now closed and being renovated for various venues. (Meet someone there who said it will be used as a Jewish church). New owners sold all artifacts/decorations(carvings, tikis, Oceanic weapons, even the rattan tables and chairs). ALOHA & MAHALO Hawaiian Hut for the fond memories!!!
Sigh. One less place to experience the splendor and skill of mid-century artisanship in carved Tiki decor.
Thanks to everyone who visited and posted photos of this place. When reading that another vintage tiki location that this board uncovered has vanished it is like hearing another of an endangered species being found dead by gunshot.
That's is very disappointing news about this vintage tiki temple. We can build all the new places we want but there are only so many original vintage temples left.
It would be nice if they could all be protected, preserved, and given their proper respect as endangered historical landmarks.
It is just a shame. We saw it about six months ago and several of the outdoor pieces had fallen victim to termites. I was wondering if anybody had any leads on where the decor was sold off too? We are calling the Ala Mona Hotel to see if we can track down some of those golden pieces of history before being put on some Jimmy Buffet beach cruise boat.
Just got off the phone with some wonderful people who broke the bad news to me that at the end of the auction they were just giving things away. We have a call into the Synagogue, in hopes to locate some of the items. Will let you all know more as soon as I do. Fingers crossed!
Saw many items being tossed into the dumpster on Kona Street side when the sale ended. Went back to see if the container was still there, NO LUCK - IT'S GONE!!! ALOHA Hawaiian Hut!
Glad I stuck my head in the last time I was in Waikiki, when I stayed at the Hawaiiana.
Now, both are gone.
I think these may be from the Hawaiian Hut. On craigslist now with quite a silly price.
Those are from the Hawaiian Hut. We have been talking with the new owners who think they are sitting on gold. I am sad to say it is going to be a Synagogue. I don't think those tikis can hold the Torah. Does anybody know the identity of the carver? I know they have been repainted. We've been trying to preserve some items from this historic space but at these prices they'll probably end up going to some rich haole who wants to leave them on his lanai....
Wow, after looking at the pictures again on page 1, it is such a bummer about this place. What an amazing Tiki temple.
Very very sad .It always sucks when you hear of places like this closing .When you hear
of all those beautiful carved panels and artifacts tossed ....it's just a crying shame
really .I am even more bummed, because I have never been to the hut.
Such a cool place .
FYI... the seller disclosed he is not willing to ship the pole.
I like the fact that he is advertising the poles as "ancient" :) Well in that case...
They're gonna get much more ancient because they're just gonna sit there.
We have been in contact with the rabbi, and they are selling many individual pieces from the Hawaiian Hut interior. We've just purchased several, and they seem to have become MUCH more realistic/negotiable on pricing. Shipping is still up to the buyer, but I can say they are accomodating us.
Here are some photos I have from the seller, for pieces that are still available. They also have framed tapa and other smaller items that I don't have photos of; you can ask the rabbi's son, Dovid, about them. If anyone is interested in rescuing more memorabilia from this tiki landmark, the seller has asked that you contact them at [email protected]. I'd love to see the tiki room big enough for that shell chandelier!

These are large and small plaques used here as trim

Close-up of the trim plaques

Shell chandelier
![](https://tikicentral.com/uploads/7278/4c045193.jpg[/img
[img]https://tikicentral.com/uploads/7278/4c04520a.jpg)

Multiple available; approx. 7' tall

approx. 6' tall

1 available

approx. 5' tall x 2.5' wide

15 ft wide, two connecting boards
And finally, here's a link to Don Tiki performing live @ the Hawaiian Hut, so you can see some of these items in context:
http://www.youtube.com/watch?v=81a8RrgcUJY&feature=player_embedded
Wow! Look at the resemblance of the carpet.

I am definitely interested in salvaging something from this restaurant now.
Thanks for posting those pics.
Darilyn
I think you should post these items in the general tiki section to get more attention. The new owner said they will start demo in 2 weeks. Not much time to make sure these things get good homes.
Darilyn
You definitely have to rescue a piece or two now -- you already know how it'll look in your room! :) Thx for the suggestion; will repost.
Is the Hawaiian Hut at the Ala Moana Hotel shuttered, or redone and de-tikified?
Masks & Tikis

I saw three of these at the last collector show and the owner said he got them from Hawaiian Hut and was asking $550. Blackburn (Mauna Kea galleries) bought them and had them on Ebay....Listed as being from Tahitian Lanai...


$228.50
http://cgi.ebay.com/ws/eBayISAPI.dll?ViewItem&item=320574221047&ssPageName=STRK:MEWAX:IT
the other 2 were sold earlier on ebay as well....$200+ - 300+
---
[ Edited by: HOUSE OF KU 2010-09-02 02:33 ]
I saw three of these at the last collector show and the owner said he got them from Hawaiian Hut and was asking $550. Blackburn (Mauna Kea galleries) bought them and had them on Ebay....Listed as being from Tahitian Lanai...
Well, they are NOT from the Tahitian Lanai as we know. They are definately from the Hawaiian Hut. I have a photograph of one in the HH in "Waikiki Tiki: Art, History and Photographs." There are many other photos from the Hut. While Spence Weaver was know to import Tahitian items like these stilts, there is no evidence that they were ever there. btw, La Mariana did buy some items from the Hawaiian Hut and are now on display there.
---
Waikiki Tiki; Art, History, and Photographs.
Available now from Bess Press Hawaii.
[ Edited by: Phillip Roberts 2010-12-15 21:45 ]