Name:The Tiki Resort
Type:motel
Street:Canada Street
City:Lake George
State:NY
Zip:12845
country:USA
Phone:(518) 668-5744
Status:operational
Description:
The Tiki Resort is located just South of Lake George Village in New York State. I visited here over the summer and snapped some photo's to share......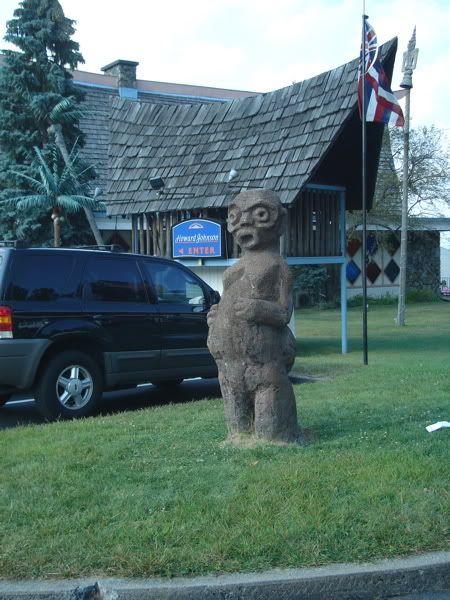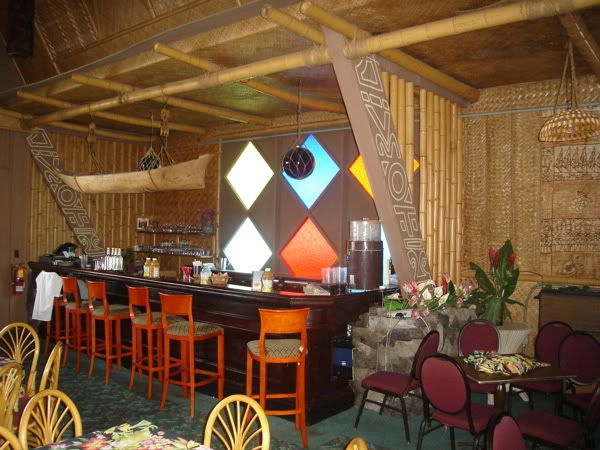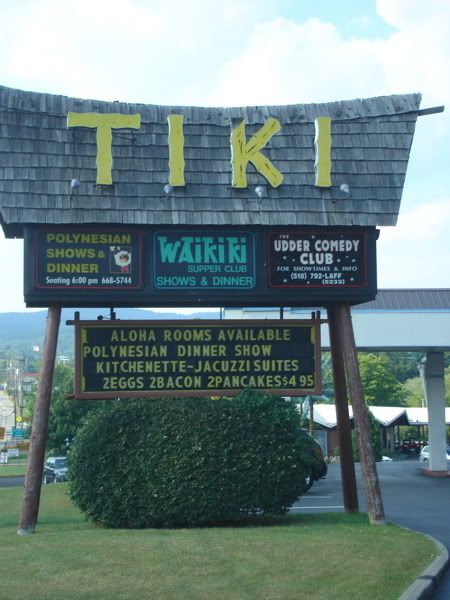 Enjoy! For more info look up page 206 of The Book of Tiki.
[ Edited by: Tikinomad 2006-11-05 09:38 ]
Great to see pics of that place. I read a report about it in Mai Tai, and am glad they are still running their Polynesian shows. And the interior lobby rafters and the colored windows are still the same, cool. Too bad about the porte cochere, reminds me a little bit of what they did with the Hanalei...
And quite a few Tikis, kind of a mix'n'match bunch. Any of the Witco still there?
Yes, There are several Witco pieces inside the luau. I have to scan the pic's I took from inside, I have about twenty more, not digital.
Thanks for this post Tikinomad, this is only a 3 and a half hour drive for me, so I'm going to start planning a get-a-way soon!
Very Cool indeed. There are some real survivors there. Doe the still have the faux palm trees out front?
Yeah some of the fake palm trees out front survived. It's very wierd, all the motels in the area seem to be stuck in a time warp. Untouched from the time they were made.
Thanks for the pictures! I have seen the place many times. Last trip to Lake George we took some pictures of the place, but seeing the pictures here on this posting I obviously missed a lot. I will have to take a closer look next time I am there. I thought the only vestiges of tiki were what was left out front. Was hoping to discover another lounge tiki mug? Its odd and fun to see this hotel there. Drive up to the mountains to find log cabins and stick furniture and be greeted by a moai head, palm trees and tikis!
New to Tiki Central. I must provide a word of caution regarding this locale. While much of the architectural splendor remains and the Polynesian show is quite good; the food and drink suffer terribly! The show is first rate, nearly the equal of the Mai Kai. Be prepared however for an expensive evening of second rate, make that third rate, food and drink. The drinks come in differing fluorescent hues and are served from a slurpee machine. Dinner and a couple of drinks (if you choose to buy a second) will set you back about $75.00. The sole of my Doc Martin was more palatable than the "blackened" prime rib. There is no hint of pacific island cuisine on the menu. The restaurant/bar staff is unapologetic about how much the food and drink sucks, this is a tourist destination after all. Lake George has its charms and is a throw-back to a simpler time. The area is totally worth a visit on its own merits. Adjust your expectations accordingly and enjoy a really nice show.
I must admit, the food isn't great & the prices are touristy but, the show is really great. It is a must see for anyone in the area!
This is a postcard from the old days when it was the "Tiki Motor Inn". There are also a couple of additional pictures on page 206 in the BOT.
Bigbro, what year are those cars?
Okay I've been holdin out - I have been and stay at this place - I did not see the show or have any Tiki style drinks. It is cool place for certain - one note the rooms (for sleeping have nothing to do with tiki at all) AND there is a crazy 80s neon / mirrored ballroom that they use for weddings located next the bar and above the Polynesian show area.
here goes:
Heres the inside of the rooms (this one is on the end of the row closest to the road there is a view from the door comin up)


view from door
ENTRANCE AREA near bar at top of stairs to Polynesian room:


Stage and such from Performing area:


fountain wrapped up:


Hallway:


I think these were once on the OUTSIDE of building

Outside grounds:


Its hard to see but there is door that goes out side right near the mask - inside there is a sprail stair case that leads up to - it (Yes the door was locked!)


the top part with railing is the back of the bar area (smoking?) and below is where the show happens in the waikiki room - Enough A frame shots for ya Sven?- Notice the paint (art) around the edge in the top / back while the front is long gone!


behind this guy is the lake (sorta far off)
Bar area:

oh yeah:
tow truck convention was happening:


there is a Frankenstein museum


and to top it off the same weekend (as Tow truck festival) was ELVIS festival:

oh and there where at least 40 to 50 of them in every carnation!
So from the postcard in previous post from Dusty It looks like the trees have grown and so has the hotel its self. It also appears that the pool may have changed shape but all its tikis have not moved. and the now bar was the reception waiting area and the rock fall fountain area may have been the check in desk?
This was Early June 2007.
edited - to flip photos and add comments PLUS (PLEASE INJOY!)

---
[ Edited by: sneakyjack 2008-04-07 20:13 ]
Very nice...but Jack, you gotta figure out how to fix those sideways photos! You have to put them into your I-Photo or whatever photo program you have and rotate and save them THERE, saving the corrections on your desktop is not enough!
The cars are early 60s...I estimate it was built around 1965. That place is still such a repository of Tiki Style: Some O.A., lotsa Witco, some unknown local sculptors...it's all thrown together, and still there! Good to be forewarned about the bad food and the un-apologetic bad service...but where else do you have that many bad taste Tikis standing around un-apologetically! Like I said in my foreword to Tiki Road Trip:......
Too bad that Witco Porte Cochere is gone, it was similar to the one of The Polynesia in Seattle (Tiki Modern p. 249):
The Witco outriggers are gone....
But the Witco Mask in the gable outside is still there:
And I doubt that Witco Tiki magazine rack in the left upper corner and that stool and table set in the middle of the lobby are still there...
And that Mainlander fountain is probably the only thing left of the once "EXOTIC LOWER LOUNGE" with its nice mural:

...if only SHE would still be playing there:
[ Edited by: bigbrotiki 2008-04-06 16:20 ]
Wow. That lobby area is what I envision my home bar looking like, btu with more stuff in it!
Ill adjust photos asap
I think the witco outriggers are now inside on the wall down stairs - I think I have photos if they are not already posted and the witco Fountain is in the performance area and has rope lights running through it - no workin fountain. Stay tuned and pay a visit I think some of the performers from the Polynesian show work in the hotel so you may see them around.
Bigbro,
Thanks for sharing that brochure. What a great collection of Tiki art and furniture. I think that the mish mash theme works here.
Great, Jack fixed the photos, and added the Witco Outriggers and some other cool pics. I especially love that painting of the Tiki carver A-frame, a master piece of naive Poly pop art!. Now I wanna go there! Seeing details like these, and the Outriggers and so many Tikis preserved has me wondering if this place is still in the original owners hands, please inquire. I will send them a copy of the BOT (if they don't have one).
My guess is not in orginal owners hands but thats only a guess, I say that because Howard Johnson took it over, not to say the owners couldn't have brought in the Ho Jo name and keep it tiki at the same time. My best guess would be to ask the Polynesian show people whats up as they maybe able to trace a time line. I'm also guessing that if there are any TC people who frequent Lake George there are probably "old timers" in the area that "remember when...". I'm supposed to go up that way right after Memorial day 2008. If I do I'll stop in and ask if anyone knows any details and if they do not have BOT I'll let them know about it. Everyone there staff wise is / was very friendly.
INFO about the place:
http://www.tikiresort.com
phone 518 668 5744 and about the shows - 6pm July and August
groups for the show - mid May til mid October Sandy Carr 1888 843 8454
Jack, bring both, BOT for its photos of the place, and Tiki Mod, for WITCO Show and Tell, in case you find a receptive ear (+ eye!). Those tomes always speak a direct language, I would cold-call them, but usually people only think you have some weird agenda if you do it that way. Person to person, with the power of images, (and the fact that they are in book), works best.
[ Edited by: bigbrotiki 2008-04-07 22:13 ]
Will plan to I'll let you know how it goes!
Next up Tarrytown Kona Kai / Marriott - I got nothin but a phone book number thus far!
I was there in August '06.I must say, the Friday night Poylnesian show was excellent. A bit pricey for dinner & show, dinner was okay, not bad, not great, but I will definitely go catch that show again!
[ Edited by: Big Kahuna 2013-09-11 05:44 ]
On 2008-04-08 17:58, Big Kahuna wrote:
Not much Tiki left
...??! That's odd, I counted about 16 different Tikis and Tiki masks in and around the property in the photographs on the previous page... that is a staggering number by today's standard! Plus a main building with an A-frame, and two smaller structures that are A-frames...plus a bar clad in Bamboo and rattan, with supercool mid-century modern diamond shaped colored glass windows...plus a waterfall...and murals...and FAKE palm trees.
The urban archaeologist is grateful for any and all traces of Tiki style nowadays, and re-inserts any missing elements into the mental picture of what a Tiki temple once looked like. Here we have an extraordinary amount of Polynesian pop remnants, most Tiki Hotel lobbies and grounds (if they are still standing) share white plaster walls and easy-maintenance generic landscaping. That there are so many Tikis standing and that so much other stuff has survived must mean that some people there care for it.
Going over the pictures again, I noticed two things: Stylistically, the stone/concrete Tikis sometimes remind me of some of the gods at Tiki Gardens in Florida. Were they perhaps done by the same sculptor? And that "Waikiki" typeface looks so damn familiar to me, but I just can't place it.
I think Jack's notion about the Polynesian dance group being involved is actually a good suggestion. Just like Tikis, mainland Polynesian performers are part of an almost extinct species, and they do have a reason to protect their habitat. At the Hawaiian Inn in Daytona Beach, the boss of the resident dance troupe, Wayne, is an integral part of preserving the style of the place.
I'm sorry, maybe I should have been more clear. The room with the dinner show has squat. I do remember some outside but, I hadn't yet become Tiki obsessed & I actually could have missed some! Or maybe I had a Roger Clemens moment & "misremembered"! Anyway, if you're in the area, I think it's a must see!
WOW! Looking at those pictures, either they brought some stuff back out or I completely brain-cramped. I will definitely go back soon with my Tiki Goggles on & give an accurate report back. If you've got little kids, this is one of the best areas in the country for kiddie park , roadside Americana. They've got 2 complete vintage kiddie parks: The Magic Forest, complete with a diving horse! & The original kiddie park, North Pole, NY is about an hour north. The Six Flags has quite a bit of The Enchanted Forest still intact & there are arcades, haunted houses & mini-golf galore. Top it all off with steamboat rides on the lake & you have a perfect Roadside Americana Kitsch vacation for all to enjoy.
Lake George Elvis Festival
May 29, 2008 - Jun 1, 2008
A good weekend to go and stay and Ho Jos Tiki hotel - They had a Sat eve Polynesian show in 2007.
And like stated above don't miss the ride on the Minnie hahah (its a steam paddle boat that does an hour tour around the lake)!
Wow, I'm just seeing this post and it reminded me of the LP I have called HURRICANE, Cover SHAKES UP THE COCONUTS. Back side is Hurricane Hits Lake
George! Shows a photo of the Tahitian Lounge & Tiki Motor Inn. My photo's suck. But here goes.
Back side reads,
You asked for her -- Here she is, "the tempest of the Adirondacks." A whimsical whirlwind of entertainment is yours as the one-and-only "HURRICANE" unleashes a storm of laughter that will raise havoc with your funnybone!
For 40 minutes, her cyclonic shower sweeps you off your seats with a whirl of mirth and merry-making.
Since 1964, her original, rollicking wit has kept fun-loving audiences coming back for more at the TIKI in Lake George, New York. And no wonder! She's more fun than a barrel of coconuts!
As this sample of her robust repertoire shows, she isn't called "HURRICANE" for nothing. So spin Hurricane's spontaneous wit at your next party... Just for the fun of it.
You gotta love it!
tikipaka, if there's any chance of me getting a digital copy of that, I'd really appreciate it!
I doubt I have much of a chance at finding it in the wild.
My band is playing at "OHANA" at the Tiki Resort, and I'd love to be able to carry on some of the Hurricane's tradition!
The Granite Tiki
tikipaka, if there's any chance of me getting a digital copy of that, I'd really appreciate it! I doubt I have much of a chance at finding it in the wild.
My band is playing at "OHANA" at the Tiki Resort, and I'd love to be able to carry on some of the Hurricane's tradition!
Sorry, :( I can't do it in digital but I can make you a cassette and you can do the digital. Just let me know and I'll need your address.
Tikipaka..
The best scenario for you to get a digital file of your "Hurricane" LP, would be to get it to Captain Quad at the Velveteen Lounge - he has all the technology to make a digital masterpiece! ...best of all he is close by to you (somewhat) in New York
It would be great to get it digitally recreated for the big OHANA event this year!
Will do, sounds like a plan. We haven't seen Kelly & Paul since we got together for their Holiday Affair! :( They're the hostest with the mostest! :lol:
And we live like right around the corner! Having other personal issues right now, but soon..
Best of luck with 'the issues'. Let us know if we/ I can help in any way!
tikipaka, jpmartdog is right on the money!
By all means, and in whatever time frame you want (we have plenty of time) if you can get it to Captain Quad, he's the man! Plus I see him once a month at our FOM meeting so he'd be perfect!
Thanks so much in advance,
Carl
PS. Who knows? Maybe Captain Quad already has it in his collection. :)
[ Edited by: The Granite Tiki 2009-01-11 09:19 ]
Here is a very sporty ashtray from the Tiki Motor Inn that I saw on ebay a while back.
DC
there is a nice vintage postcard of the tiki motor inn of lake george on ebay right now for anyone interested....
Interesting that the Hawaiian Inn in Daytona Beach used the same ashtray...
..but as we all know from the photos in the BOT, the Tiki Motor Inn brochure featured the Tiki as their logo Tiki of sorts:
I wonder if there are any other Tiki Motor Inn print/ ceramic items that show this Tiki. Anybody found a match book yet?
On 2009-12-10 06:28, bigbrotiki wrote:
I wonder if there are any other Tiki Motor Inn print/ ceramic items that show this Tiki. Anybody found a match book yet?
Bigbro,
Nice ashtray comparison.
The Tiki Motor Inn also used that Tiki logo on the back of the postcards. Here is a shot from one I just sold. Never seen a matchbook, but there has to be one out there.
DC
Here is another postcard I have from the Tiki Motor Inn.
Close ups of the interior and exterior views.
DC
Some info on the original owner of the Tiki Motor Inn aka Tiki Resort......
Charles R. Wood (1914-2004). Known as the "Father of Theme Parks, " Charles Wood founded Storytown, USA in 1954 in Lake George. An opportunist and brilliant businessman, Wood continued building on the park throughout his life, later renaming it The Great Escape and Splashwater Kingdom. Wood built Gaslight Village, the Tiki Resort, the Blacksmith Shop, Cavalcade of Cars, and a wax museum, all in the Lake George area. He served as the President of the International Association of Amusement Parks and Attractions in 1977 and was inducted into its Hall of Fame. Wood became one of the area 's greatest philanthropists, contributing to The Hyde Collection, the Charles R. Wood Theater, and an unprecedented $1.4 million to the cancer center at the Glens Falls Hospital. His greatest act of charity was the opening of the Double H-Hole in the Woods Ranch in Lake Luzerne, a camp for terminally ill children that he co-founded with Paul Newman. Charles Wood survived five heart attacks throughout his lifetime, but he lost his battle with cancer on September 30, 2004 at the age of 90.
Near Gaslight Village, Charley opened the Tiki Resort, a Polynesian-themed motel, restaurant, and nightclub that he remembers nostalgically. In contrast to fairy tale Storytown, the Tiki nightlife was a little outrageous, with the adult repartee of Sophie Tucker-style Hurricane Hattie and the boldly displayed physical assets of the Hawaiian performer, Kaena. The bartender, says Charley, was a woman named Lani, whom he describes as having "the biggest bosoms in the country. She made a mint of money. She'd put her boobs right up on the counter and say, 'What can I help you with?'"
Charley opened another steak house called The Blacksmith Shop with a motif that combined western with Lil' Abner. "I had fun there, because the girls were nice, and I put these short skirts on 'em and made 'em a Daisy Mae," says Charley. He also opened the Cavalcade of Cars and a wax museum.
From the Lake George, NY official site
.......He later sold the Tiki and the Blacksmith Shop to Howard Johnson's in the late 60's. OGR
Here few images of the logo, the front of the place, and the interior from a brochure I just got.
DC
On 2009-12-10 11:38, Dustycajun wrote:
Here is another postcard I have from the Tiki Motor Inn.

Close ups of the interior and exterior views.

DC
You know, I regret putting my Tiki Motor Inn postcard on eBay, but now that it has a bid on it, I guess it is only mine for a few more days until the auction closes. I'll have to do a good scan before it sells and goes away! :(
While in Lake George for Ohana Luau at the Lake, I happened upon a few copied of The Lake George Mirror local tourist newspaper from the 60's & found these fabulous ads for The Tiki:
The owner is talking about possibly painting the door to the supper club like the picture above, too, which would be great! :D
Great finds. They really describe "Tiki". Love the upside-down mistake in the first one. And the "confrontation" in the 3rd.
Carline,
Very cool find. Where did you find the papers?
Would love to see the doors painted like that again.
DC
Going back year after year now for "Ohana", it's amazing how the owner keeps adding more! I think he really takes our devotion to heart when spending money on appearance.
And hearing a classic exotica record on the jukebox that you know you contributed is a kick!
[ Edited by: The Granite Tiki 2013-07-12 15:40 ]
On 2013-07-12 14:06, bigbrotiki wrote:
Great finds. They really describe "Tiki". Love the upside-down mistake in the first one. And the "confrontation" in the 3rd.
YES!!
I was wondering if anyone was going to notice that one - AWESOME! :D
On 2013-07-12 15:38, The Granite Tiki wrote:
Going back year after year now for "Ohana", it's amazing how the owner keeps adding more! I think he really takes our devotion to heart when spending money on appearance.
Indeed!
Seeing how excited he was this year with the arrival of the 2 new Oceanic Arts lights that arrived during Ohana for the indoor pool was a treat!!
And hearing a classic exotica record on the jukebox that you know you contributed is a kick!
For sure!
I've got a pile of Hawaiian 45s to donate - just need to burn them to MP3's first, then they'll belong to The Tiki's jukebox!
On 2013-07-12 15:10, Dustycajun wrote:
Carline,

Very cool find. Where did you find the papers?
Oh - found those in a local antique store.
I was in there looking around. Went through all of the old tourist brochures & postcards, to no avail. When I was getting ready to leave, the person working there asked me if I was looking for anything in particular. I said anything to do with The Tiki Resort. She recalled seeing some ads in the local tourist paper from the 60's that they had & there they were. A great find :)
I stayed here back in June. Cool place. Still has a few of the old tikis around. Great murals in the basement hall and the fountain in the lobby was working. Only four of us in the bar that night. Bartender was very nice. The drinks were nothing to write home about but after a seven hundred mile drive anything was good. I made a detour to specifically stay at the motel. I'm glad I got a chance to visit.
Some more news clippings from the Tiki Motor Inn.
This is super cool, the artist Lewis Van Dercar who did the mural and Tikis at the Luau in Miami also sculpted the Tikis on the grounds and painted the mural in the Tahitian Lounge at the Tiki Motor Inn.
In 1964 the Tiki Motor Inn started helicopter service.
Lanai and Okai back at the Tahitian Lounge in 1966.
Hurricane Hattie in 1966
DC