Pages: 1 3 replies
Name:Tiki Atoll
Type:apartments
Street:Buena Vista just above Huntington
City:Duarte
State:CA
Zip:
country:USA
Phone:
Status:operational
Description:
A Tiki themed Apartment building. No tikis visible. Looked like a fair number of units. Tight gate security prevented any further investigations.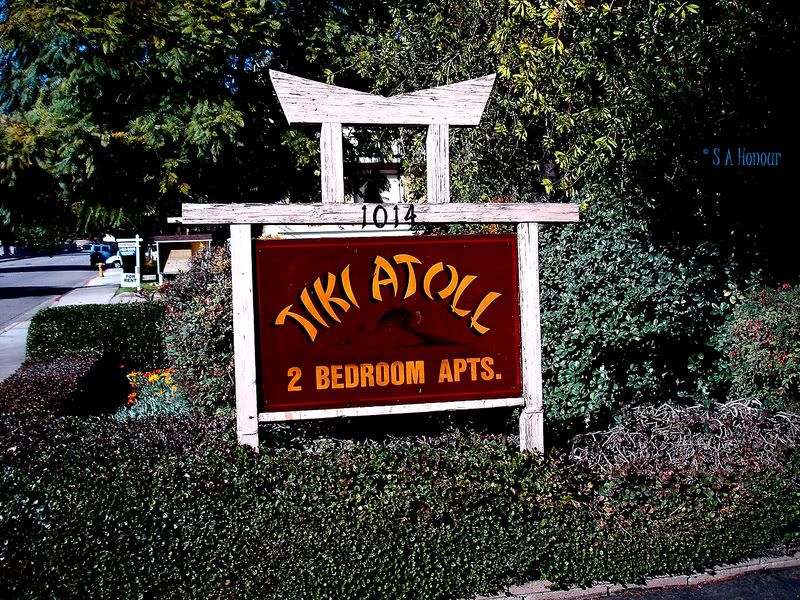 Entry sign.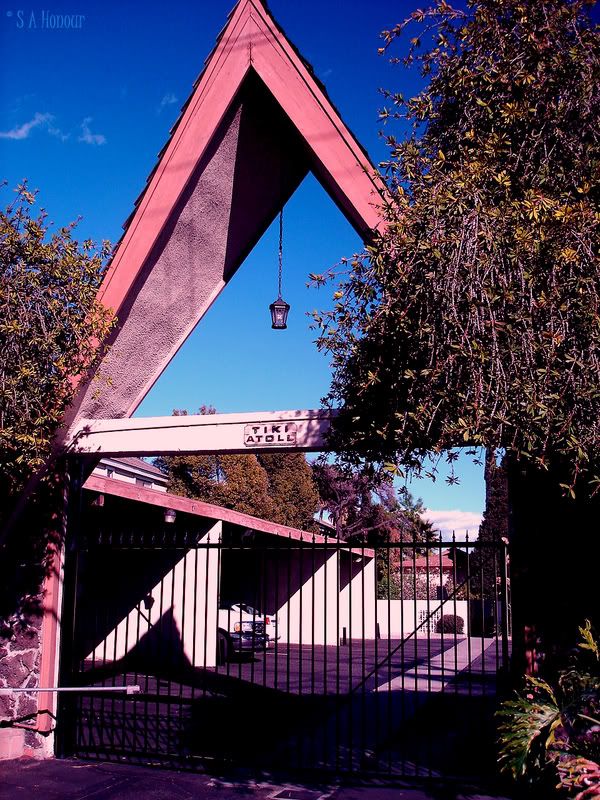 Entryway. I imagine that the hanging lamp was probably an orb style lamp at one point.
Anybody been on the other side of the gates and seen what lies on the otherside?
Wow, that pink really goes well with that blue sky....I can see it now, that could become a Southern Tiki redneck prejudice about the West coast: "Yep, they got their A-frames PINK in Califor-nie-a!"
Nice sign and name, for sure!
The pink is actually an artifact of the camera and the time of day.
Its actually a tannish pinkish colour if I recall correctly.
But I do dig the pic.
The buildings had the obligatory semi a-frame design, etc.
But I couldn't see any tikis. The parking lot is laid out in front
of the building complex, so I couldn't get any kinda of good view.
I stopped by the Tiki Atoll this morning.
I couldn't get in, but when I swung back by this afternoon I found that someone had propped the gate open. Not much to see, but it was nice to satisfy my curiosity.

There was a little A-framy barbeque.

The pool had been drained. It looks like they are landscaping the area around it. I hope they get this fountain going again.

Pages: 1 3 replies