Pages: 1 16 replies
Name:Mahi Mahi - Blue Hawaii
Type:restaurant
Street:81 White Bridge Road
City:Nashville
State:TN
Zip:
country:USA
Phone:
Status:defunct
Description:
There are a couple of threads on here about the place, but I thought it should be added to this thread and be more structured.
A classic tiki bar in Nashville that was an Eli Hedley project. It became a Chinese restaurant which I drove past many times without knowing, and was torn down a short time ago before I got to explore it.
You can still see two small pieces of the Mahi Mahi to this day at the Omni Hut in Smyrna. There are two carved Moari panels hanging next to the entrance that once hung in the Mahi Mahi.
[ Edited by: Swanky 2015-10-14 11:27 ]
[ Edited by: Swanky 2015-10-14 11:27 ]
Bamboo Ben corrected me and let me know that it was an Eli Hedley work. He says OA has the files for the project in their vault. Maybe we can get a look at them in May.
About time for some images on this post. Great story by Swanky on this one.
Matchbook

Napkin
DC
Here is the mug from the Mahi Mahi, made by Oceanic Arts.
DC
Amazing find Liz !!!! Nice to see another relic for this location.
There are a few mugs marked "Blue Hawaii". A Moai, surfer boy, etc., but I don't think anyone knows what location they were for. We just have no proof of anything. Some think maybe they were for a drink. A Blue Hawaii drink menu would help, but there has not been one found.
Thanks Trav!
Swanky I posted these on this thread because I thought it was the best match. If you ever find out what was served at which location please be sure to post an update (I know you will!).
This has always been one of my favorite mug styles--I love the Aku Aku version that looks identical.
Nice , heavy mug that is easy to hold and a great design.
[ Edited by: SandraDee 2014-03-10 14:34 ]
Spotted this cool ad from the MahiMahi with a nice rendering of the building.
DC
Back of record jackets says:
We would like to express our thanks to the beautiful Mahimahi Polynesian Restaurant in Nashville, Tennessee for allowing us to photograph the front cover of this album "on location" in their restaurant and further allowing us to use one of their lovely wahines, Josie weaver, for our model.
Hawaiian Hi-Fi Radio
http://www.live365.com/stations/kaiwaza
[ Edited by: Kaiwaza 2015-08-28 14:28 ]
got this image from Bob at Oceanic Arts with the caption: Mahi Mahi Nashville by Eli (Hedley)
Very cool to see an interior shot.
The full info on this and the Omni Hut's connection is on This thread.
I spent yesterday at the Omni Hut doing a shoot with Turner South for a "Tiki Blue Ribbon" show. I was very much looking forward to it so I could talk with Jim Walls, the man who created the Omni Hut. I wanted to see what he knew of the other places in Nashville, the Surf Rider in teh Andrew Jackson Hotel, the Mahi Mahi of which I have seen a postcard and a mug, and the Blue Hawaii from which I have a matchbook and a mug. I knew where the Blue Hawaii was from the matchbook. I also wanted to know all about his inspirations, etc.
He told me he was a pilot in the Air Force and was stationed in Honolulu around 1938-1940ish. He only worked 4 hours a day, so in his spare time, he was interested in food. He found things he liked and would go back again and again until he could find out the recipes and secrets of the dishes. He worked at one of the luaus on Waikiki Beach until the airplanes put the steam ships out of business and this luau. He worked at some Asian restaurant thatwas famous. Joe Young's? I am not sure. All these places he was gathering recipes as well as all over the world. He was in Panama and all over. He just liked it and had no plans of opening a restaurant.
He decided to retire and his choises were in Savannah and Smyrna which was home of Ft. Stuart. For technical reasons he chose Smyrna. So, he started his restaurant of "Chinese Cuisine." He showed me the first sign there for that. But with the decor, everyone said "you can't fool us, this is the best Polynesian food we ever ate!" So, 6 months later he renamed it the Omni Hut, because it was a nice short name. Open since 1960, he was the first Asian restauant in the area and is the oldest in the state now.
He brought a box of stuff with him. There were clippings and menus. They had nothing from the old days. The clippings were all from 2000, after they re-opened from the fire. The menus were all there from the beginning. They have not changed except the prices and colors occasionally. There was a red one he didn't bring:
Then I saw something black at th ebottom of the box that looked older. I dug it out quick and nearly lost my breath:


A Mahi Mahi menu! With the tiki from the mug on it!
I opened the menu and inside was the postcard:


I'd seen this in BK's collection. Awesome! Wait!
Next I see 5 X 7 black and white photos!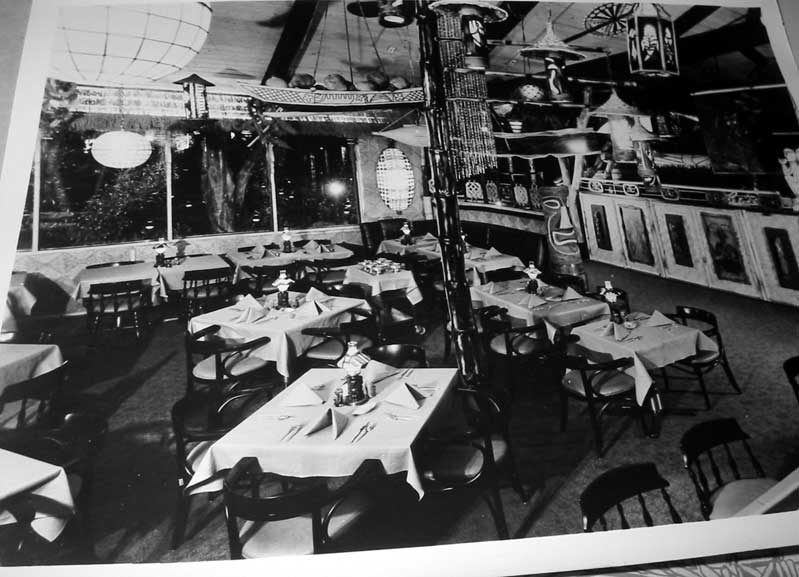 The interior of the Mahi Mahi!

The architectural drawing of it! Looks exactly like the postcard image!
So I had to ask him what he knew about the Mahi Mahi. "I owned it!" Wow! And I looked at the postcard again:

95 White Bridge Rd. Same as the Blue Hawaii!
It turns out, he did not build the Mahi Mahi. He bought it either in the late 60's or early 70's (his sons gave different years) and got a lot of debt when he did. He hoped his good food would make it profitable. It did not. A year later is was foreclosed on and the bank took all property and auctioned it off for pennies on the dollar! All they had was this stuff in the menu. Sort of...
After that it was bought again and it bacame the Blue Hawaii and had new big tikis erected out front. Last anyone knew it was the Golden Dragon Chinese restaurant.
The things they did manage to sneak out the back door before the bank came in were these two Maori panels that hang in the entry of the Omni Hut today:
I realized 95 White Bridge Road was 2 miles from my sisters house in Nashville, so this morning we went there. I was so excited. I wanted to scour the groungs for tiki stumps or whatever. Here is what I found:

Too late! It was demolished moths ago. My sister says I had asked her about the building before. I must have passed it dozens of times over the years. CRAP! CRAP! CRAP!
Part of the puzzle is solved. I am sending pictures of my Guanko tiki for the family to look at and see if it jogs their memory.
Here is Jim.


I hate that my picture is blurry. I met most of the family and they inspired me. I am going to let you all know what that means later. I wanna help these guys make Omni Hut all it can be!
Here are more images of the menu:

Just a few drinks

Excellent job, and great photos, Swanky. I drive by an empty lot once a month or so and kick myself each time for not having taken photos before it too was demolished and cleared. Which reminds me, there are still a lot of classic mid-century motels with neon signs in my part of the country. These need to be photographed before they also collapse in rusted heaps or also meet their demise through demolition. I think there are already web sites for these, so I keep telling myself I do not need another hobby and that someone else has these covered. But there is great fun in driving down backcountry highways and finding stuff on your own.
Does anyone still use a "wrecking ball?" I can't think of a single demolition in the last 10 or 20 years where they didn't use tractors with claws to rip apart and rough-sort material at the same time. (I know, I know, this question should actually be posted over on Demolition Central...)
I dug up a bit of information on the Mahi Mahi transition. It started out as the Mahi Mahi built in 1968-1969 by Wriking Food and Beverage Systems and was intended to be a multiple location franchise restaurant like Trader Vic's.
Here is an article on the inception in 1968.
The Wriking co ran the restaurant through 1970. Here are a few ads from that era.
1970 was a little too late for the franchise concept, so Omni Hut Enterprises and Major Walls bought the Mahi Mahi.
The did not fail for the lack of trying, offering everything a private Luau Club, fashion shows, Hawaiian Luau feasts, authentic Hawaiian music, and even a buffet after church.
Funny thing in looking at the ads is that the address changed from 95 White Bridge Road to 81 White Bridge Road.
It turns out that Omni Hut Enterprises also opened a restaurant in 1969 called Ports of Paradise. The menu that Swanky posted above is from there.
So by 1970 they were running three Polynesian style restaurants.

I think that this was too much cost to bear; the Mahi Mahi closed in 1970 and the Ports of Paradise was sold off in 1971.
What a roller coaster ride, at least the Omni Hut is still with us today.
DC
Great digging DC!
The Ports of Paradise location looks undeveloped, but non-descript. A liquor store now. I have never found anything from there and can't recall now if that menu was the inside of the Mahi Mahi menu or a different menu. It did not say Ports of Paradise on the front.
Mr Walls said he inherited a lot of debt with the Mahi Mahi and that was the reason for the failure. Those renovation costs I suppose.
Wow, Jerry Byrd!
---

Like "Mai-Kai: History & Mystery of the Iconic Tiki Restaurant" the book
[ Edited by: Swanky 2016-04-01 05:13 ]
Here are a few ads from the Blue Hawaii that occupied the Mahi Mahi building after it closed.
1976
1978
And a matchbook.
Wonder if this really was the location that had the Blue Hawaii mugs. I think I have documented at least 8 other Blue Hawaii Tiki style restaurants.
Also a little confused on why the address changed from 95 White Bridge Road to 81 White Bridge Road.
DC
Pages: 1 16 replies