Pages: 1 36 replies
Name:Mt. Fuji Inn / Mai Tai Lounge
Type:restaurant
Street:7215 Blondo Street
City:Omaha
State:NE
Zip:68134
country:USA
Phone:(402) - 397 - 5049
Status:operational
Description:
The Mt Fuji Inn is a traditional Japanese restaurant. Below it, in the basement, is the Mai Tai Lounge; a small, Polynesian-style bar with five Tikis. The decor looks original to the early 70's (photos to follow), as are the drinks. The place has been around since 1967 and even had a mug embosed with their name available for a while. Their website is: http://www.mtfujiinn.com
The rumor is that this may be it's last year of operation.
[ Edited by: SilverLine 2007-10-31 14:27 ]
When my wife and I were in Omaha a few weeks ago we were surprised to find the Mt. Fuji Inn and Mai Tai lounge still in operation. There was nothing about it in Critiki and nothing here in Locating, so we figured it was long gone. Not true! We stumbled on it just as they were opening and Mike, the bartender/manager let me take some shots.
I've since read some fairly harsh reviews of the drinks and decor at the Mai Tai Lounge but I've got to say, I thought it was cool! Considering that the number of extant VINTAGE Tiki establishments in the Kansas-Missouri-Nebraska-Iowa area number exactly ONE and this is IT, the Mai Tai Lounge is a step into history we in the Midwest don't get to take often.

The exterior and entrance to the Lounge look pretty much unremodeled since opening 40 years ago.

The worn, vintage tiki door pulls are still there at the door at the bottom of the stairs.


Inside was VERY dark, but my flash fixed that! Are those Orchids of Hawaii light fixtures?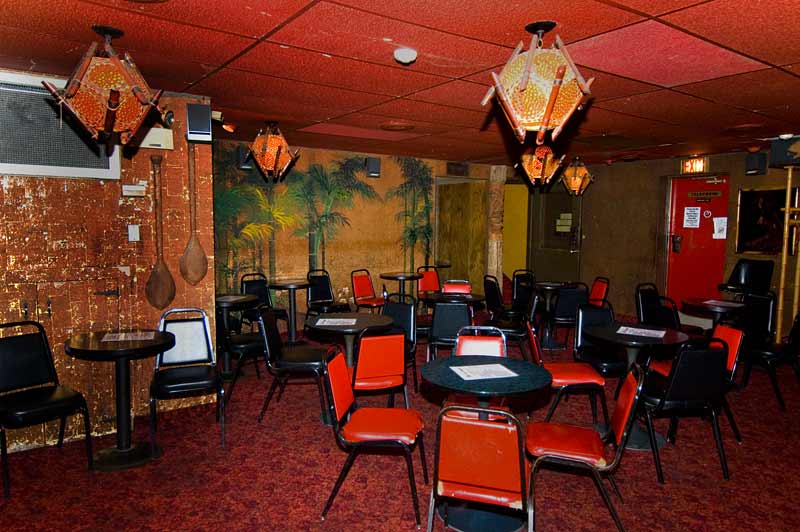 If you go down the interior stairs from the resturant, you pass this tiki as you enter the Mai Tai Lounge.


There used to be a huge fish tank with a shark in it behind the bar, probably visible upstairs as well. Now there are just these small fish tanks.

Mai Tai-Mike with one of the few remaining but damaged mugs (no longer available for sale).

As I said before, there is talk of closing the Mai Tai within the year. This would be a shame, IMHO. 40 years is a long run and there aren't many that can claim that kind of history. If you're in the neighborhood, stop in for a drink (while you can).
---

Classic Silver Line Boats
[ Edited by: SilverLine 2013-10-20 11:19 ]
From Tiki Road Trip 2:
"The Mai Tai Lounge is in the basement of Mt. Fuji Inn restaurant. The interior of the restaurant is interesting for its history: it was once a nightclub featuring a swimming pool in the center of the room, which was home to a dolphin and a young lady who would swim and frolic together. Patrons in the basement bar had a sub-aquatic view of the marine life via a series of glass panels behind the bar. In the early 1970s, the pool was drained and covered by a slightly raised platform, which is now a part of the main seating area of the restaurant.
Mt. Fuji Inn is still owned and operated by the Japanese widow of the original American owner, who died about twenty years ago. The family's service is friendly and attentive, with some staff having been on hand for decades. The food is on the good side of serviceable, but the sweet and sour chicken is far too sweet. The sesame chicken is far more enjoyable. The Mai Tai Lounge stays open a little later than the restaurant. A tiny section of the pool was left intact and turned into an aquarium (still viewed behind the bar). One will spot exactly two Tikis in the Mai Tai Lounge, both are wooden poles about four feet high. There are also three black velvet nudes on the walls, and while not Leetegs, they're fairly good renderings. A few Orchids of Hawaii lanterns hang from the ceiling. Modern rock plays on the jukebox. The place has that musty sort of basement smell, the result of decades of booze mixed with cigarette smoke that has nowhere to go. The Scorpion and the Mai Tai at the Mai Tai Lounge are indistinguishable, both are far too sweet (a running theme here?).
South of Blondo on 72nd, look for a fun neon sign on an authentic vintage diner - Bronco's Hamburgers - "Serve Yourself and $ave!". On Dodge Street, just east of 72nd, look for more classic neon on Wolf Brothers Western Store.
...looks like the velvets and the jukebox are both gone, but glad to see (I guess) that a few small new Tikis were added.
Every time I have visited this place, the drinks have been truly miserable.
But as the above poster points out, it is the only Tiki for several hundred miles, so let's hope they hang on.
Maybe some of the local 'ohana can help give them a facelift, like what those awesome cats and kittens in Portland are doing at The Alibi?
---
Get my newest book, Big Stone Head at: http://www.bigstonehead.com
For Tiki Road Trip, Left Orbit Temple, global travelogues, and more, visit: http://www.tydirium.net
[ Edited by: tikibars 2010-08-01 21:03 ]
Finally made it to the Mt Fuji Inn... great place Mike the bartender is doing his best to hang on to whats left.... for the mid west... its great!!! if you are in the area stop in..
Drinks were great!!
Thanks Mike
Hi, new member here. Just getting into Tiki culture also. Wanted to let everyone know that Mt. Fuji Inn is still alive and kicking as of March 21st 2009. Although Mike the Bartender is still all gloom and doom about the place closing. I hope they hang around for a few more years. My March trip was enjoyable. The drinks and dinner were good.
[ Edited by: WestADad 2009-03-31 06:19 ]
[ Edited by: WestADad 2009-03-31 07:08 ]
I'm gonna be going here in the next week or two... Is anything left of the place? From what I've read, the velvets are gone, the pictures look like they've given up trying... Is it still worth it? I guess I'm gonna go anyway but I just wondered if anyone had been recently, and if so, what they thought.
(UPDATE) Okay, I went there on Saturday and, I'm not gonna lie, the food was pretty good. Not the best I've ever had but for a mom and pop (it really is) joint, the food's good. Downstairs... needs a facelift. A new coat of paint on the door would make the Mai Tai Lounge a lot more inviting to newcomers and some new vinyl on the chairs would really be all it takes. The joint's not too bad for Omaha tiki. Yes, Mike's grumpy - rightfully so - but get him talking and he's a funny dude and so is everyone else. There was a pretty decent mix of young and old folks there and with the word spreading amongst Omaha tikiphiles this place could rock once again (so in other words start hanging out at the only spot you got, kids!). They're proud of the place, but mostly what it used to be. If the Mt Fuji Mai Tai Lounge turned hip again you think Mike would put a smile on his face again? I bet so. And maybe they could get some more mugs going for the patrons (ask them about the guy that used to make the mugs and what happened to him). It wouldn't take much, kids. Get this place back up to speed!
[ Edited by: fnord_2005 2009-05-25 10:55 ]
I live in Omaha, and visit there a few times a month. I hadn't heard about the closing, but it is always busy. I will see what news I can come up with for everyone!
I will be at the Mai Tai tonight from about 8pm, if anyone is around, please come out!!
Last night the waitress assured me that the Mai Tai was NOT closing anytime soon.
Hopefully looking at Sept. 25, 2010 for a Mt Fuji Meet-Up for Mid-Western tikiphiles.
Sept. 25 looks do-able for us! Hopefully it works for everybody else.
We were in Omaha yesterday for a quick visit and had to take the opportunity to visit the Mai Tai Lounge and eat at the Mt. Fuji Inn. Last time we were there we ordered off the Cantonese side of the menu; this time we went with Japanese offerings. Delicious!! Of course, Mai Tai Mike was downstairs tending bar and the Zombies flowed! In all, everything was wonderful, as we've come to expect from this iconic establishment!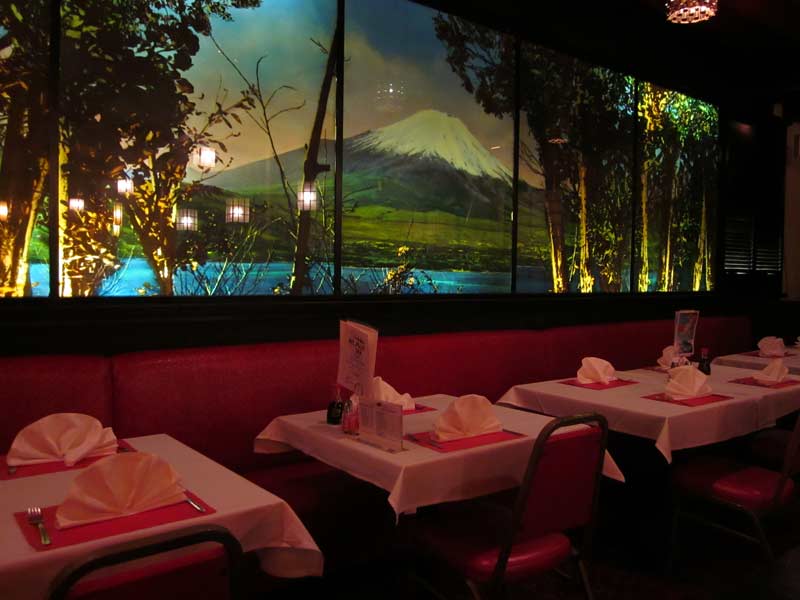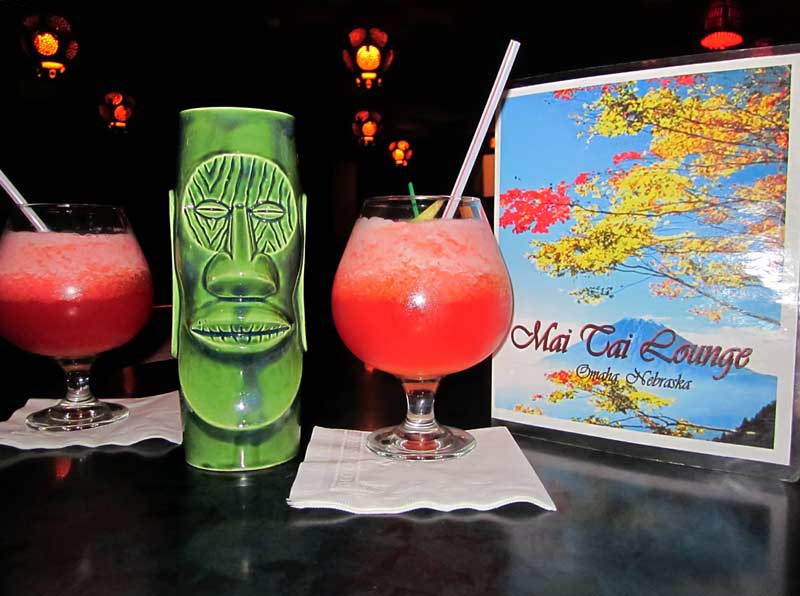 BTW, we found the Moai mug at a local antique store just before going to dinner!
---

Classic Silver Line Boats
[ Edited by: SilverLine 2013-10-20 11:19 ]
Mt Fuji is in the news, still kickin' and alive. Mai Tai Mike, still a grump.
I think a pilgrimage is in order! Can't believe I've been going there for 24 years. I hope for another 24!
My friend and I met a group of people at Frankie's in Vegas tonight. They are from Omaha (in town for a Wedding) and told me about this place. They love it (and frankie's). Not sure when I will ever get to Omaha, but I will check the Mai Tai out if I am in town! :)
Published Monday November 26, 2012
DINING NEWS
Mt. Fuji Inn to close
The Mt. Fuji Inn, at 7215 Blondo St., is closing.
The restaurant's owners said in an email that health issues, declining business and a lack of staff are prompting the closure. Its final day of business will be Dec. 31.
The restaurant will still be available for private functions or large parties by reservation only. The Mai Tai Lounge, in the basement of the restaurant, will remain open Tuesday through Saturday and will still serve Asian appetizers.
Wow! What a depressing day. :(
http://www.wowt.com/news/headlines/Mt-Fuji-Inn-Restaurant-To-Close-December-31st-180902971.html?ref=971
I had a long talk with Mai Tai Mike on November 17th. He warned me the restaurant was closing and he's not sure how long the lounge will stay open. He talked of opening a bar of his own somewhere else in the city possibly.
He mentioned that one of the owners husband has late stage cancer. Between that and trying to keep the restaurant going, it's becoming too much. If they sell the place to someone, the new owner would be forced by Omaha to upgrade the whole place to today's safety codes. That could be prohibitively expensive considering the reduced attendance.
I'm grateful I had a chance recently to spend time there, been going there for 25 years and I will miss it.
I'm so sorry to hear about the closing of Mt Fuji. I first went there in 2009 when I was sitting with an aunt for the last few days of her life at a nursing home. When others could sit with her, I went to Mt Fuji for a change from that generally gloomy scenario. The owner showed me how the raised platform in the middle of the dining area used to be a pool, into which I am told the portholes in the basement Mai Tai lounge looked. In 2010 I took a friend there when we were in Omaha for a Roger Waters concert. Earlier this year, I took my then-girlfriend and my mom to Mt Fuji when we were in town for another show. I'll still go to the Mai Tai lounge when I'm in town as long as it remains.
Stopped into the Mai Tai Lounge over the weekend. They are still open! Mai Tai Mike was there on Friday. They were pretty busy Friday and Saturday. Sadly they are now out of Coconut Snow for their Chi Chi's and the replacement ingredient made the drink taste funky!
You can still get a delicious pupu platter from the kitchen even though the restaurant is closed.
Our weapons of choice were the Mai Tai, Scorpion, Fog Cutter and Chi Chi!
Please go if you're in Omaha!
That's GREAT news! I was worried that I wouldn't make it back in time, but maybe we still have a chance.
So glad to hear this as well. I had just noticed Facebook merged the "Mai Tai Lounge, 7215 Blondo Street,Omaha, NE" page with that of an Omaha Thai restaurant, "Mai Thai 2 Aksarben Village", so I was wondering if they were still there. The Mt Fuji Inn/Mai Tai Lounge website is still up with no mention of the restaurant closing. It wouldn't hurt Mai Tai Lounge to put a web presence out there. tikiphiles know they're there but even locals who aren't regulars might be confused. I just mentioned them on my Facebook and a few central Kansans now want to go.
On 2013-10-28 16:01, SilverLine wrote:
That's GREAT news! I was worried that I wouldn't make it back in time, but maybe we still have a chance.
Saturday Oct. 19, 2013. We FINALLY made our way up to Omaha and dropped in on the Mai-Tai Lounge. It's really a laid back and fun, friendly place. We had a very, very nice time. Mike and the gang really made our visit special right from the time we arrived. I parked the car and was snapping some photos outside when Mrs. 8FT started talking to some folks in the parking lot. Turns out it was Mike the bartender and he quickly figured out I was one of those "tiki central guys". There weren't any other patrons...yet, so he took us inside and gave us a neat tour of the whole place. So here are some pictures of a very memorable evening:
Entrance to the parking area is through a neat Japanese archway. They told us that some vandals recently set fire to it and it had to be repaired.

A closeup of the neon sign at dusk. It doesn't light up anymore.

The door has been repainted since the photo earlier in the thread. Let's go inside!

Here Mike shows where the access to the dolphin pool was.

Just down these stairs which are under the restaurant dining room floor.

A couple of views of the dining room.

Here's a view of various lamps in the stairwell between restaurant and bar.

And a closeup of one of the Orchids lamps down in the lounge.

A peek into the backroom of the restaurant provides a glimpse of the few remaining tiki mugs in the house.

Here's the back bar.

How about some black velvets? They have 3 of them.

And of course the tikis:

Mike started off behind the bar and then as the crowd grew he moved around the room visiting with the customers making sure everyone was having a good time.
He had us laughing all evening and we were glad we chose to sit at the bar because we were treated to a show along with great drinks!
Here Nate takes over and crafts a row of Mai Tais.

So here's to the Mai-Tai lounge in Omaha, NEBRASKA! Thanks, We WILL be back.

Wonderful! Thanks for posting all these pics!
On 2013-11-06 21:05, 8FT Tiki wrote:

This door pull looks identical to one of the pulls which once graced the front doors of the Jade Tiki Restaurant in Bloomfield Hills, MI.
http://www.tikicentral.com/viewtopic.php?topic=1099&forum=5&vpost=610662
I wonder if it's a massed-produced item?
Yup, they were lathe-carved, I call them "Mae West" Tikis. Here I am holding one that I field-colllected at "The Tikis" in 1994, with Danny Balsz in his bike outfit. It's the one pictured in the Book of Tiki:
AWESOME adventure 8ft! We have to make sure this place never closes!
On 2013-11-07 19:11, bigbrotiki wrote:
It's the one pictured in the Book of Tiki...
There it is! Bot page 187. Mae West tiki. :lol: Although difficult to tell, the pair from the Jade Tiki look like they might be his & hers. Paul Novak tiki?
The Mai Tai was put up for sale a couple weeks ago and they no longer answer the phone. I'm going next weekend to see if it's really done this time. Many years of great memories going there.
Update: Mai Tai Lounge is still open. Still busy on the weekends, opens at 4:30pm.
[ Edited by: WestADad 2017-03-13 11:58 ]
Humu is reporting that the Mai Tai Lounge is finally closing at the end of October.
https://news.critiki.com/2017/09/30/mt-fuji-inn-in-omaha-is-closing/
I was in Omaha on December 26 last year, and we drove there after Laka Lono, but it wasn't open. Maybe I can make a trip back before the end of the month. Too bad I'm observing "Sober October."
Saw this on Facebook, the auction is in April. That neon sign needs to be saved.
Hey Omaha, the Next Iconic Omaha Landmark Auction will the Mt Fuji Inn / Mai Tai Lounge on Sat April 21st. Details coming soon!
Mt Fuji Inn opened in late 1969 and was Omaha's first Sushi and Tiki Lounge.
Don't miss this opportunity to own another piece of Omaha History! #Omaha #Auctions @theauctionmill
DC
I really hope someone saves that sign. I live in Kalamazoo Mi. and have seen many many classic signs lost over the years. Our local history museum has done a good job of saving some smaller classic neon signs from older businesses around town. Hopefully someone or a group will recognize the importance of the sign and save it from going to the dump.
I never made it to the Lounge, but I have learned that when he was living in Omaha years ago, my brother used to frequent the place, which made me very jealous. However, I have recently acquired a mug for my collection at a very good price when compared to other auctions on eBay.
It sounds like after Mt. Fuji closed someone tried to turn it into a bikini bar but met with backlash from neighbors. This three year old video from the local ABC station about the denial of the feud includes some glimpses of the inside, but it appears to be the upstairs and not the lounge.
Proposed bikini bar near 72nd, Blondo plans move forward after liquor license was denied https://youtu.be/8sXMbhq6jIw
As far as I can tell it never came to fruition, and the space was occupied by Detox Sober Lounge for a year before closing in August 2022.
Omaha's new Detox Sober Lounge to offer bar experience without the booze https://www.wowt.com/2021/08/03/omahas-new-detox-sober-lounge-offer-bar-experience-without-booze/
https://detoxsoberlounge.com/relocation/
[ Edited by Hamo on 2022-09-28 19:40:52 ]
Pages: 1 36 replies