Pages: 1 29 replies
Well, there was rumors that it was going to be a DON the Beachcomber, but, it's snot.
No tiki to speak of, but there is a Thatched hut bar on the deck.
Do any of you old farts remember The Beachcomber at Crystal Cove? (sister website)
It is still there, but not like it use to be.
One of the original "beach bums" hideout.
Ben, I'm sure you have been there.
It is still worth a visit.
I was there a few weeks ago, I think it was the first day they were open. The bar is called Malibu Beach Club and it is to one side of the pier and the restaurant is called the Beachcomber and is on the other side (the old Alice's Restaurant). The Restaurant is not open yet, and when open will not have a bar in it. You need to go to the other side for the bar. They have some tropical drinks on their menu. This place is not tiki at all but is very nice with a nice ocean view, the bartender Jim, was a nice guy and made the drinks just as we asked. There was a TV screen in the middle of the bar and it was showing old home movies of Malibu Pier and the beach front homes from the 50's. I will go back again.
Last weekend after the Tiki Farm parking lot sale I detoured here for a late lunch on our way home. The food and drinks were great and the cocktails were served in tiki mugs. I viewed to Beachcomber's web site and printed out a map. Thinking....... it was open. The Malibu Beach Club was very comfortable and provides blankets and heaters. Parking rate is $10.00 paid in advance. The restaurant validates 1/2 $5.00. The day we were there the nice lot attendent just let us park for free since we told him we were eating at the Beachcomber.
Okay, I've been pulled in on a "consulting" level on this project, having met with the owner multiple times over the last few months. I'm not sure what I am or am not at liberty to say but let me just suffice it to say that everybody here will be very happy with what will be developing at the Beachcomber in Malibu.
You all know this is the old Alice's Restaurant? The inspiration for Mr. Arlo Guthrie.
Good News Makedmug...
The fact that you're consulting can only mean that, if nothing else, they got a great coach....hopefully they will take the advice.
It would be nice to have another Tiki establishment here in LA...we don't have too many.
It will be good to have tiki return to this area. Of course, the Malibu pier is very close to the Malibu Beach Inn, which stands on the site of the old Tonga Lei/Don the Beachcomber. I have no illusions that the new Beachcomber is going to be anything like the old one, but it will be nice to go back to the beach for a decent cocktail with any kind of tiki vibe.
On 2008-04-25 10:17, Unga Bunga wrote:
Do any of you old farts remember...
Excuse me? I resemble that remark...
Some peoples kids...
There has been no TiKi in Malibu other than Dukes for years, it will be about time. I cannot wait!
Arlo Guthrie..didn't he play with the Sex pistols?
The Beachcomber and the Tikiyaki Orchestra on Eater.
BUSTED !
I would have posted this gig on here, but it was a fundraiser gig in Malibu...which...as you would expect adds up to a Big $$$ ticket price. $75 person, $40 for kids....that price included all you can eat food and drink, but I didn't feel right posting it here, cos' that's alot of money.
Having said that, the "Tonga Lei" room, which was built by Bamboo Ben, with contributions from Holden at Tiki Farm, and Tiki Ray, is a private Tiki Room, which holds about 10 people in a round booth, is beautiful, and worth checking out. Thing is, you have to rent it out, but I'm guessing that the bar staff will let you have a peek. Lots of collectibles and mugs by Squid, Ken Ruzik and others....
We played as the Tikiyaki Orchestra "lite"...basically sans our percussionist and steel player. Those who saw us at the Mai Kai...same deal. It was awesome playing with the sound of the waves pounding the pier underneath us...pretty trippy feeling the pier shake on the bigger waves.
The Beachcomber is basically the 30's style Beachcomber that was there originally. Nautical/Yacht club style. The Tonga Lei room is in the bar area, and the owner bought the name just for this room. The original Tonga Lei was a few hundred feet away, and is now the site of a hotel.
The owner is the guy who owns all the Ruby's restaurants on the piers in SoCal. They will be opening the Ruby's on the Malibu Pier soon. This was the grand Opening of the Pier party.
Thanx to Holden and Bamboo Ben for suggesting us for this gig to the owner. It was a fun day.
Here's a few pix from the day.
The Tonga Lei Room
Mai Kai Bowl as the centerpiece.
Push the button on the Tiki and see what happens !
Gangsta style....The Tikiyaki Orchestra...only way out is in a Box !
My view all day.
Mr and Mrs BOO!
Tiki Ray and His contribution to the Tonga Lei Room.
RUMMY likes Vodka too !
[ Edited by: tikiyaki 2008-06-30 17:56 ]
So there is tiki and a selling point to rent out the room, but unfortunately, no tiki love for the masses.

RUMMY likes Vodka too !
wonder how the tropical rum drinks are there??
I'm not a fan of the Vodka,
but you know what they say about Vodka?
A: its the alcoholics booze of choice.
:wink:
Jeff(bigtikidude)
[ Edited by: bigtikidude 2008-07-01 11:36 ]
The room looks fantastic! Very well done!
What are those designs in the table? It looks like gemstones or pendants under glass.
I like pooping more than I like Vodka!! Jonpaul is cool people though!
On 2008-07-01 14:59, TikiSan wrote:


The room looks fantastic! Very well done!

What are those designs in the table? It looks like gemstones or pendants under glass.
San,
We filled the compartments with small black glossed rocks & then flanked them with vintage postcards, matchbook covers, swizzle sticks, hula girl travel tokens, tiki pendants, shells, etc.
There are some pics of the room over in my myspace pics area.
http://www.myspace.com/bambooben 5th page
I'll add some more after next week.
Holden is the " Tiki Curio King!"
Mad props to Mr. H !!!
...and, to Mr. D for enjoying "Real Tiki."
The future of "Real Tiki" is Bright!
p.s. No time to finger out the new shutterfly......
The room looks killer! Great job to all involved.
No fish tank?
Killer Work Ben, as always.
Can't wait to see that place in person.
Jeff(bigtikidude)
ha ha ha !! Classic.
ok you got me, he is a Bruddah,
so we gotta cut him some slack.
;-0
Jeff(bigtikidude)
On 2008-07-01 15:59, The Sperm Whale wrote:
I like pooping more than I like Vodka!! Jonpaul is cool people though!
Man, that room does look incredible! Must be a fantastic experience to eat and drink there, much less perform! I derive a great deal of inspiration from room surroundings, and that room looks most inspiring!
This incredible room is surrounded by the Pacific Ocean with Pam Anderson running down the beach in a red swimsuit and Dave wants a fishtank added . WTF ? Maybe if Ben cuts a hole in the floor and puts down thick plexiglass you could see the surf go by .
On 2008-07-02 08:55, Daves Not Home wrote:
The room looks killer! Great job to all involved.

No fish tank?
2 fish tanks coming soon.....
.....and, a few more things!
On 2008-07-02 11:52, TIKI-RAY wrote:
Maybe if Ben cuts a hole in the floor and puts down thick plexiglass you could see the surf go by.
I like it.
LOS ANGELES TIMES
Malibu Pier Club, Beachcomber Cafe turn back the clock
The new restaurants tap historical plans to fit in with the restored Malibu Pier.
By Rene Lynch, Los Angeles Times Staff Writer
September 3, 2008
IF YOU were building brand-new restaurants at the land end of Malibu Pier, chances are they wouldn't look like the just-opened pair that currently boast that priceless view of the surf.
That's precisely the point, said James Newland, supervising historian with the California State Parks, who helped oversee the restoration of the Malibu Pier, which recently reopened to the public...Highlights of the evocative details at the restaurants include porthole windows and other maritime touches, a tiki-themed bar inside the Malibu Pier Club that is made of authentic period decorative pieces, historic photographs that line the walls...
http://www.latimes.com/features/food/la-fo-journal3-2008sep03,0,7586161.story
http://www.latimes.com/features/food/la-fo-find15-2008oct15,0,7897613.story
---
THE FIND
The Beachcomber Cafe: a cozy perch along the Malibu Pier
The Beachcomber is small but big-hearted, with friendly service, amazing views and food like Mama would've made if she'd cooked for a movie star.
By Susan LaTempa, Los Angeles Times Staff Writer
October 15, 2008
LOOKING seaward from Pacific Coast Highway in Malibu, there's almost no sign of the Beachcomber Cafe, but if you're astraddle a surfboard in the ocean off Surfrider Beach, you probably have a pelican's-eye view of what's so special about the place -- its million-dollar location.
The Malibu Pier, part of a state beach and well on its way along a revitalization path, has a deceptive kind of curb appeal. The '30s-era tile-topped entrance tower always catches motorists' attention, but unless you park and walk past the midcentury Sport Fishing Pier sign, you won't know that it's now an appealing spot for strolling, fishing, cocktailing, sunset-watching -- and dining.
But locals, including weeknight-appearing actor-celebs, have discovered the Beachcomber, a casual but pricey eatery that opened in July in the space once occupied by Alice's Restaurant. It's that rarest of waterfront restaurants, one that's as cozy (indoors) when the fog rolls in as it is breezy and bright (indoors and out) on sunny afternoons. It's small, full of booths and windows, and boasts remarkable views of waves, surfers and sky.
It's a neighborhood spot, but it's convenient to some pretty affluent neighborhoods, so it's not, for all its cannily nostalgic ambience (vintage photos, green vinyl booths, copper-faced kitchen wall), a snack shack. That's still to come, from the same restaurateurs, Doug Cavanaugh and Ralph Kosmides, to a space at the ocean end of the pier.
It's where you want to take your dad-in-law for his birthday after a drive up the coast or through the canyon pass. He'll get good service, a fine meal and a terrific martini, and he won't have to mess with a cadre of dark-suited managers or the din of a crowd stuffed shoulder-to-shoulder into banquettes.
Instead, he'll be warmly greeted by hosts who'll explain the setup. Lunch and dinner menus are served inside and out; for breakfast and bar menu items, seating is outside under umbrellas on a wind-sheltered, glass-walled terrace (dad-in-law can, of course, show up in his Tommy Bahamas). There are vegetarian options as well as a menu statement that ingredients are local and organic whenever possible.
:) :) :)
The restaurant's bar, called the Malibu Pier Club, has outdoor seating as well as a small indoor bar with a wonderful tiki-infested party alcove (the Tonga Lei Room -- actually a single booth; reserve for parties of up to 10 to 12).
:) :) :)
Breakfast or lunch here is a sensational beginning to a show-'em-the-town itinerary. Whether you're planning a day at the Getty Villa or a hike up Solstice Canyon, stop here first for photo ops and good modern-cafe selections -- portabello scramble, Greek omelet, brioche French toast -- and up-to-the-mark coffee. There are some signature eye-openers on the drinks menu too.
Lunch is a good choice for the cost-conscious. Starters such as the appetizer of tiny ahi tacos, delicious with seasoned diced tuna in wonton chips, or the very respectable fried calamari with green goddess dip can be shared before lunch entrees that include standards such as Cobb or Chinese chicken salads or a soup 'n' salad combo with luxe touches (the soup's a tomato-Gorgonzola bisque, the Cobb is made with filet mignon, the cole slaw is spicy and crisp).
From the dinner menu, there's an over-the-top rich wild mushroom and truffle mac, a crisp-crusted concoction of mixed fresh mushrooms, Parmesan cream and pasta.
At dinner, the bread basket boasts terrific small pretzel rolls that will probably disappear before your Longboard cocktail (Chambord, vodka, orange and cranberry juices). Entrees are upscale comfort food -- maybe a bit too upscale for some. The steaks (rib-eye or filet mignon) are expensive ($45 and $37 respectively).
Better bets are the clay pot chicken -- a savory and tender coq with a satisfyingly rich jus -- or the mild but flavorful seafood pot pie -- lobster, scallops and shrimp with chunky potatoes, carrots and peas. Just like your mama would have made, if she had been private chef to a movie star.
In fact, the little touches, courtesies and amenities that make diners happy here -- respectful visits from the manager and chef, a pretty confetti of diced tropical fruit on the coconut cake, superior brewed coffee, tables with marvelous views -- are what we're always hoping for (and paying for) when we eat out. The Beachcomber isn't inexpensive, but it's too much fun to think of it just for special occasions. Luckily, the management (which also has the Beachcomber at Crystal Cove State Park) seems to be on the customers' side about that.
The refreshing attitude (as opposed to the corporate cynicism you encounter at so many ocean-view, harbor-view or pier-adjacent places) plays out at every level. Blankets are available for folks who want to gamble on fresh-air seating, curious passersby are welcome to stop by for a cup of coffee (not a meal) -- and all are invited to join the light-hearted appreciation of a landmark.
The Beachcomber
Location: 23000 Pacific Coast Highway, Malibu, (310) 456-9800; http://www.thebeachcombercafe.com.
Price: Bar menu: cocktails, $9 to $12; appetizers, sandwiches and salads, $10 to $16; hot coffee/liqueur drinks, $8; desserts, $9. Lunch sandwiches and salads, $13 to $17; pizza, $14; dinner soups, salads and appetizers, $6 to $16; entrees, $19 to $45; desserts, $9. Corkage fee, $15, four-bottle maximum.
Best dishes: Blueberry multigrain pancakes, tiny ahi tacos, clay pot chicken, seafood pot pie, coco-mango yum-yum (coconut cake with sorbet and fruit).
Details: Open daily from 7:30 a.m. to 10 p.m., until 11 p.m. Friday and Saturday. Closed Thanksgiving day, Christmas Day and at 3 p.m. on Christmas Eve. Validated lot parking (valet) in pier lot, entrance just south of the pier.
---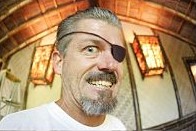 Bamboo Ben
Custom Tropical Decor
I build stuff for you!
Google search me and see!
[ Edited by: RevBambooBen 2008-10-18 08:43 ]
Pages: 1 29 replies