Pages: 1 17 replies
Looking at all the great works on the forums is really inspiring. More and more I've got the urge to start carving. I did a candle awhile back, got a couple small pieces of wood and tried some small stuff. Nothing I'd really want to show off though.
But the other day at work I found a couple pieces of 4x4 posts by the trash. Something cut off a sign to change the height or something...
Anyway, I saw 'em and had been looking at the forums and figured I have to do it. So sat hit, I went over and grabbed some chisels (stanley 5 piece set $25) and a 12 lb ball ping ($13) and started creating some tiki.
I belive it's probably cedar. Good for posts, not really sappy but there are some grains that almost seem sappy.
It's a little rough but I think it'll come out alright, it's been a fun weekend. Maybe 4 hours into it? I have some stain I'm recycling from work too. I'll probably use some darker stain in the deep spots, sand it a bit and coat the whole thing with a lighter coat, not even sure what stains I have lol. Probably 4 hours left carving at least.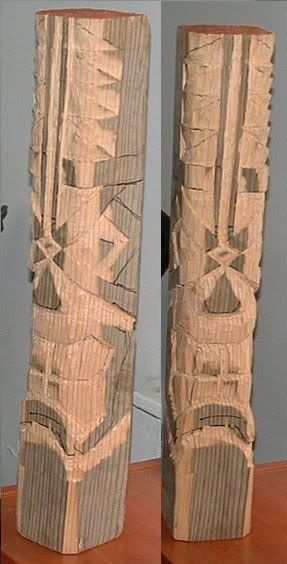 [ Edited by: Badd Tiki 2009-04-12 17:29 ]
[ Edited by: Badd Tiki 2009-04-17 17:36 ]
Them posts are very hard to carve , brittle you can say. Good luck and keep posting.
Deffinately brittle. I accidentally took out a few chunks I didn't mean too. Carved away most of them but on is on the 'headress' part and is probably there for good.
Oh well, learning to be more careful now.
Go on to ebay and get yourself some basswood turning blocks for less then twenty bucks. You should be able to get some depth to your cuts without the frustrating splitting. Basswood is a soft wood with nice tight grain. You can get basswood from hobby stores as well. Another reason why wood splits is dull tools and carving against the grain. Good luck and happy carving.
Maybe you have a local Woodcraft store near by you if you are lucky for Baswood.
[ Edited by: drasticwagon 2009-04-13 16:42 ]
Haven't looked for any wood yet but did look for some round and v shaped gouges. No luck, gotta order online, the closest place I found is a few hundred miles.
Carved a bit more last night, then took some 400 grit to it to try and smooth up the edges (areas where I'm chipping stright down for depth).
It actually smoothed up pretty nicely, and quickly.
Then I realized I'm gonna probably have to dig in more where the teeth, eyes and head are so my nose sticks out.
I'm actually alright with this wood, I'll probably try a piece of redwood next. The 4x4's are pretty good size for me (no workshop), big enough to use chisels on.
I haven't had any major probs with the wood. Just getting used to chiselling (haven't done any for years and years) and what the wood will accept. I started a little quick and sloppily. Next one I'll be more careful with, but I think with the relief I want to add I have a bit of room to redo/clean up most of the mistakes I've made. If not, they just give it character right?
Found some basswood pieces. $10 for a random pack = to 1/2 board feet.
4 pieces about 2x2x4. They had large pieces about 10" tall and wider but they were $30. Gonna look online.
Did this guy with an x-acto #11. Getting tough to get much deeper.
He's not done though, might put another face on the back corner, maybe make him a candle base.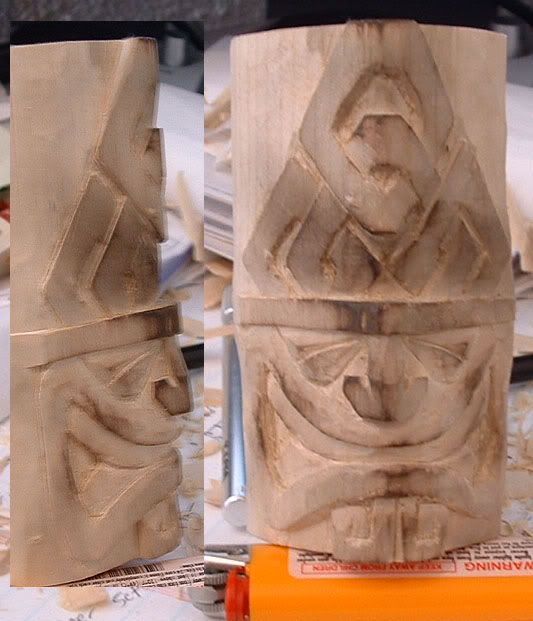 I'm enjoying this. Got some good ideas but still practicing.
Worked on my small head a bit more. He was carved on a 2x3 ish piece of basswood, wasn't sure where to go so I figured I'd just practice and use the other side for another face. I did the first face pretty square but due to the shape of the piece the second guy was gonna be offset or assym.
I decided to fill the space and incorporate the assym into his face some.
But after filling my memory card with pics I STILL couldn't get a good shot of him. Oh well, he's not done yet either.
Got some pretty good relief I think. But everytime I try to go just a little deeper I put a nick into him somewhere else.
I guess neither one is really 'tiki'. Maybe a little too human on the first one, I tried to make the second a little less human.
without further ado...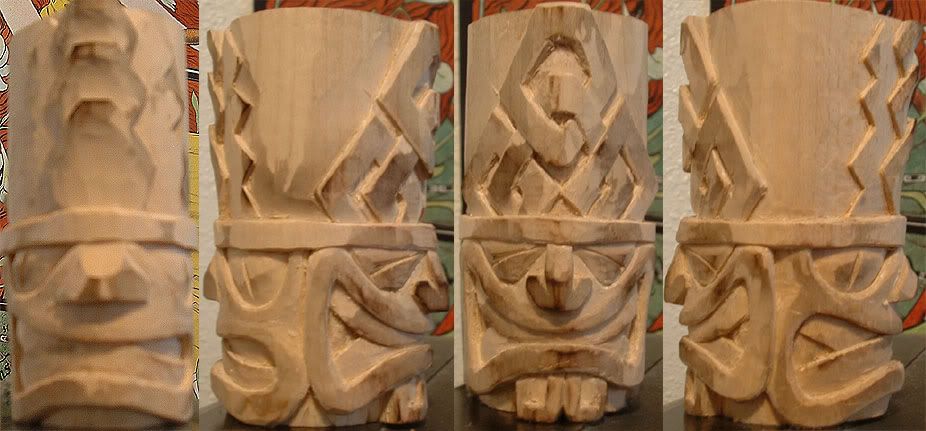 This Janus tiki is very cool! Like the hairdress... Well done!
Looks tiki to me nicely done.
Thanks.
I had to look up what a Janus was :)
Did some more work, this face is done, don't wanna screw it up, already had a major incident with the chin.
I figured out how to get in pretty deep in a few spots. So much easier when you go with the grain :wink: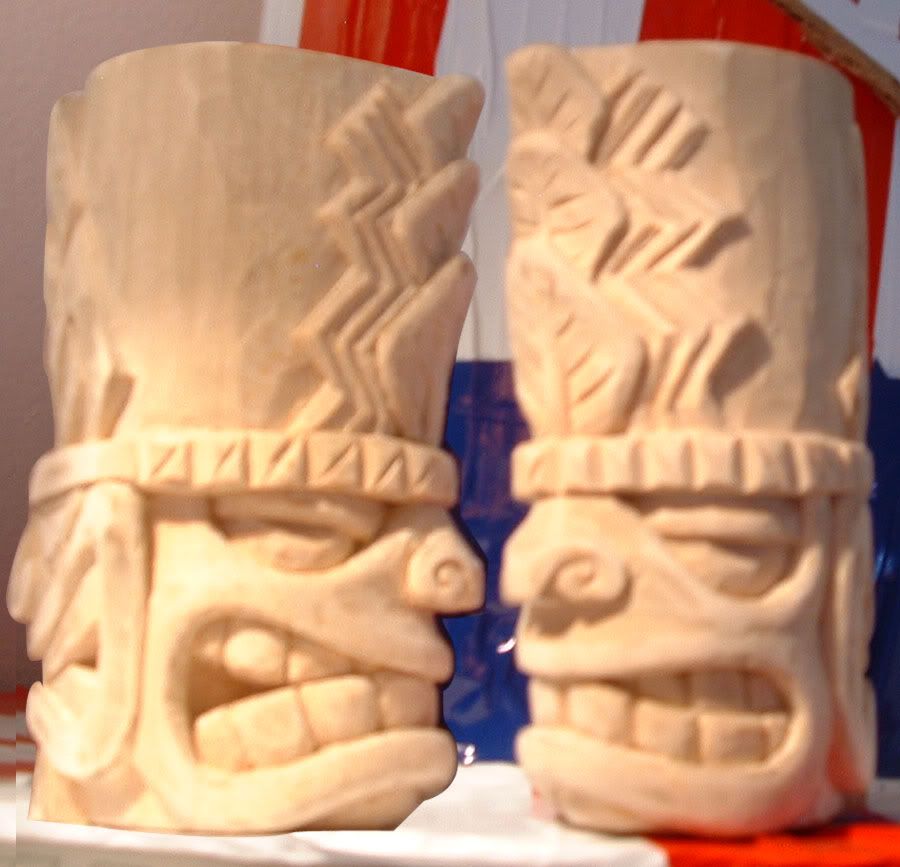 [ Edited by: Badd Tiki 2009-04-18 18:27 ]
Looking Much better with the deeper detail, big difference. Keep this up and you will be a Master before you know it!
Did some more work on this guy. Carved out the first face ALOT more, too much in the eyes, then not paying attention I cut the eye slits the wrong way :(
Completely changed his personality. Maybe I was trying to give him the wrong one, or maybe he became unhappy after I carved the back of his head? Did some headress work on both of them.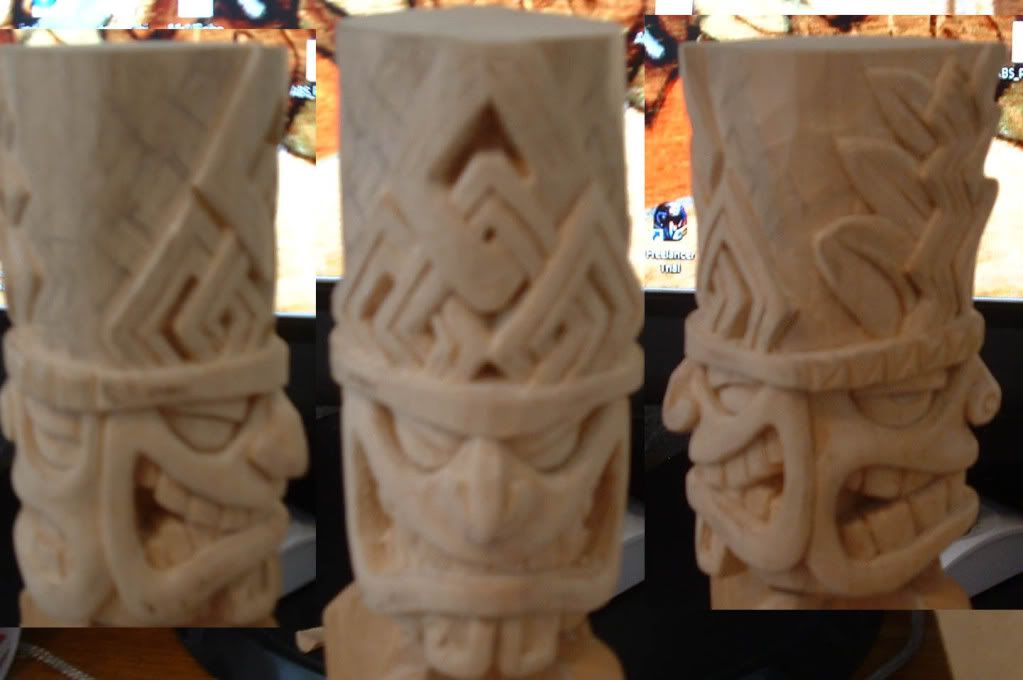 My main work area (I think small tikis are gonna be best :) ) and my tools. couple xacto handles and blades, #5 xacto with saw attachment.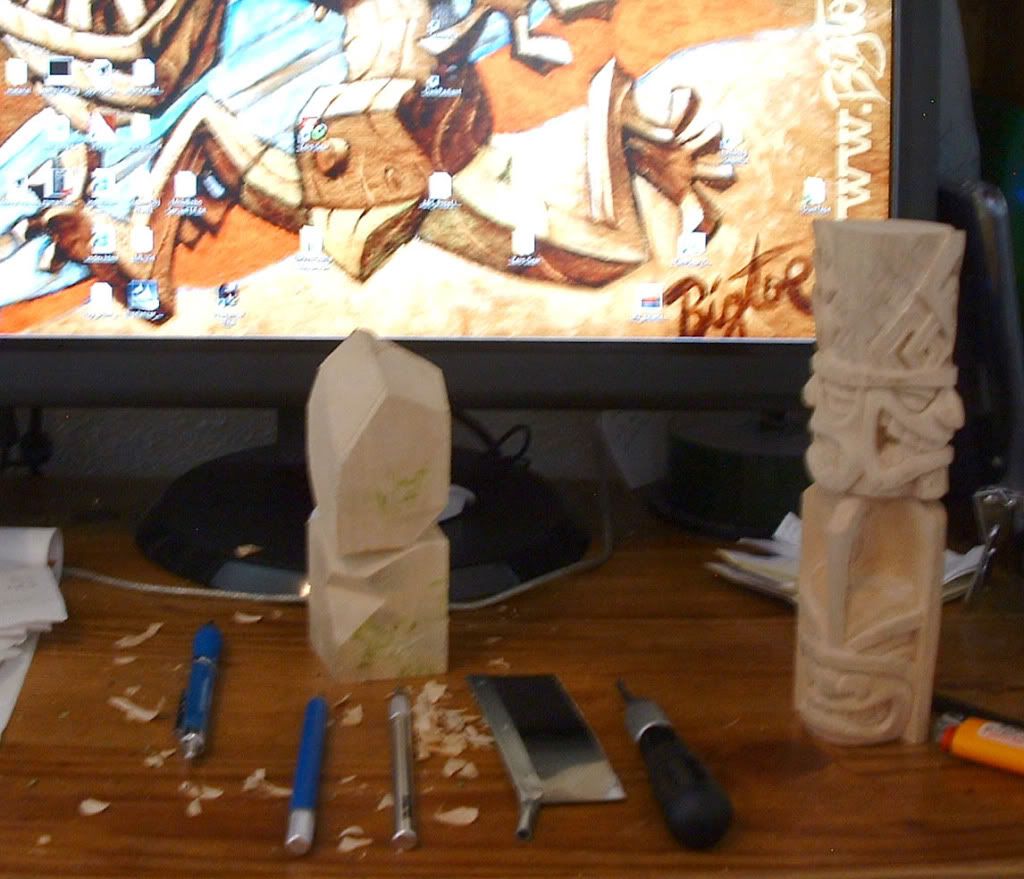 Great carves. Looks like your getting used to the knives. Get rid of that cheap, large, black Xacto handle and upgrade to a wooden handle. It is stronger and will last MUCH longer. The Xacto handle are made in aluminum for light duty. The wood handle feature brass mechanisms and hold the blades much better. Here's a link:
http://www.treelineusa.com/traditional-carving/warren-handles-and-blades
Thanks guys.
and thanks for the link Aloha, I just grabbed that plastic one since it was only like $6 to see if I like it. It's (the blade at least) is good for hooking into the edges of the eyes. But The handle is just too big for that size of work I think.
The other handles... not really happy with them.
The cheap aluminum one has a twist lock right at the blade. That SUCKS! If I carve anything in a curve clockwise it loosens (since the blade it tied into the lock mechanism).
The 'gripper' blue handle is better, the lock is at the end of the handle and more independent from blade forces, but you have to clamp tight. Which leads to the plastic handles cracking...and not tightening at all.
I have actually been thinking of starting a thread regarding tools, good and bad.
On that not I'm looking for something better. I generally like the simple blade/handle interchange thing but there's gotta be something better.
I've been considering ordering some 'palm carving tools'. would be nice to have some good u and v shaped (whatever they are called) chisels.
There are also straight handled ones. I'm really not sure which I'd like better so I might get a small set of each then just add some depending on that.
[ Edited by: Badd Tiki 2009-04-30 13:58 ]
Wow is right you are getting some great looking features here.
Haven't done much for awhile. I did get my video game map 'tiki island' playable in a new indie game Zero Gear.
But I've been getting bored with digital work, don't have anywhere good to carve wood, my last keyboard got filled with wood chips and it's hard to clean the carpet...
But I got an urge to start doing some paper mache and masks. I want to get around to doing some Tiki masks specifically, but I had to start with my favorite bug, the Preying Mantis. Not really Tiki but I gotta show it off. Still needs some yellow glazes and some darks but it's close. Couldn't get a goo pic wearing it, but it's snug and comfortable, will make some arms before halloween. Funny I got the urge during Mardi Gras but didn't even knpow Mardi Gras was happening.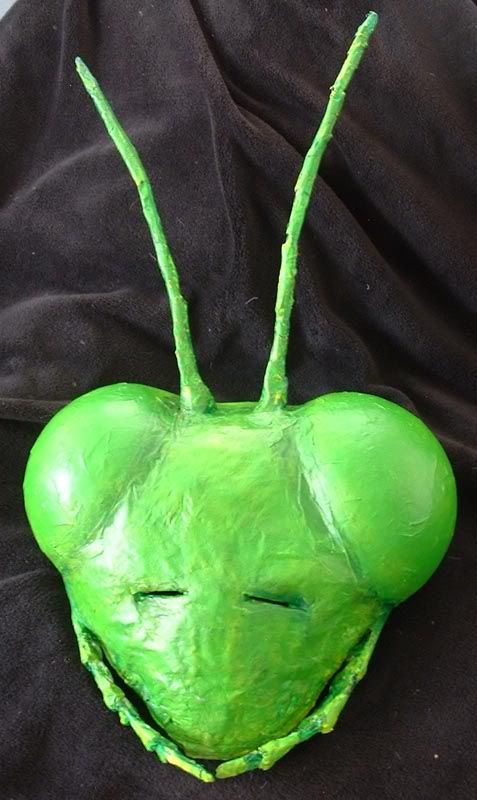 But on a more Tiki note, I started my Tiki Art Swap - Shrunken Heads last night and feel inspired to do some painting. Done water color in the past but never a serious acrylic painting (oils are too messy for now). But I didn't just want to paint, I wanted to incorporate a little more 3d action into it.
So I picked up a canvas today, some brushes and some more paints and started on the 3d part. Hard to get a good shot of moist newspaper...
It'll be 4 tiki warriors, dancing around a fire. A shot from front and side...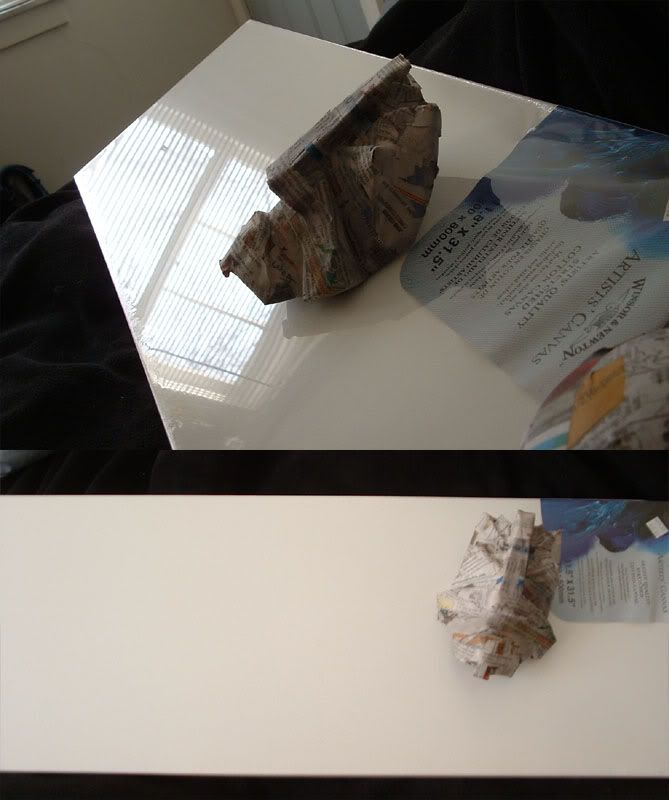 I get really inspired everytime I check out every one's artwork here and I really think Tiki Central has got me back on track to digging my hands in, getting dirty and working on some fine arts, so Mahalo!
Pages: 1 17 replies