Pages: 1 10 replies
Name:Hawaiian Inn
Type:hotel
Street:6200 Gulf Boulevard
City:St. Petersburg
State:FL
Zip:
country:USA
Phone:
Status:defunct
Description:
Polynesian themed hotel with restaurant, show and lounge.
This place was already mentioned breifly in this thread:
http://www.tikicentral.com/viewtopic.php?topic=4134&forum=1&hilite=hawaiian%20inn
but all the pics are gone and there wasn't a whole lot of info, so I figured I would relocate it to Locating Tiki.
The Hawaiian Inn was opened by Frank Cannova in late 1974. Its building used to be the Desert Ranch hotel which dates to the mid 1950s. The lobby was decorated with tiki masks and outrigger canoes. They had a restaurant called the Kon Tiki Supper Club, which had the traditional Polynesian floor shows such as hula and fire knife dance, and there was also a separate lounge. In November 1978 a fire gutted the restaurant and lounge, and it remained closed until May 1979 when it became the Beachcomber Resort.
I found a boat load of their advertisements :down:
As well as this photo of one of their luaus on the beach :down:
And here are 2 postcards from one of DC's older posts :down:

And lastly, a matchbook cover :down:

St. Petersburg is turning out to be THE Polynesian pop capital of Florida! Moai, could you please put together a list of all the places in St. Petersburg and its suburbs and post it here?
Mo-Eye
Great research as usual.
Here is another postcard from the Hawaiian Inn.

Also a nice little discussion from Bosko on Mr. Fatu the Elvis impersonator that headlined at the Hawaiian Inn.
On 2008-08-10 17:32, TIKIBOSKO wrote:

I doubt this has come up here but (if it has sorry) the swanky 70's fellows above performed at the Hawaiian Inn's "Aloha Lounge" the Elvis-ish guy is "Mr Fatu; the man of action" and the other guys are "The Samoans; the men behind the action". Mr Fatu "the most dynamic singing star to come from the South Sea Islands" is a native of Samoa and thus a late 70's Tiki establishment looking for a contemporary Elvis impersonator he is the only logical answer.

There is a live record floating around out there and it rocks, if you are into Tiki and Elvis it's a must have.

My very best alohas,

Bosko
DC
I dug up these matchbook pics from the web. On the back of the matchbook it says "CAMEO" on the bottom. I'm wondering what this refers to.
Abstract,
Cameo is the name of the match manufacturing company.
DC
Just came across a few old newspaper archive photos of the Hawaiian Inn in St. Pete:
---


Rendering dated Sept. 9, 1974
---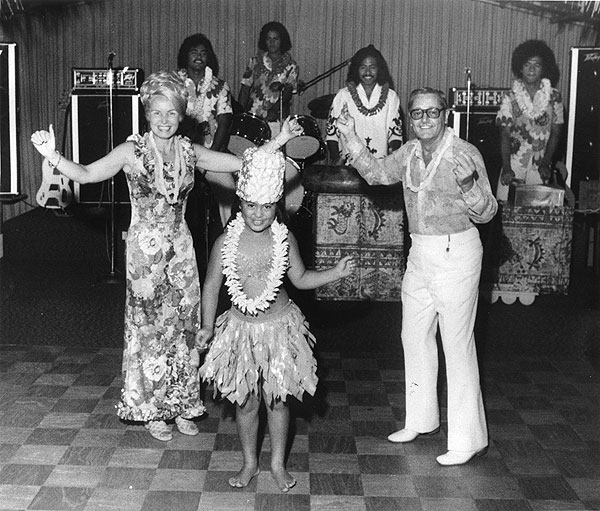 Luau show dated July 14, 1975
---

Photo of exterior renovations dated March 13, 1979
With this article glued to the back: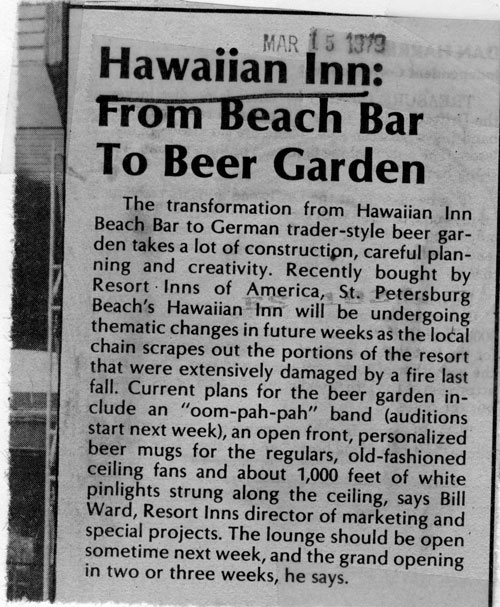 ---
I guess the fire was the death of the place. I guess St. Pete was just hopping for more oom-pah-pah bands...
Great finds, Jon. I of all people should be happy about this development...but I am not: I guess I am more Tiki than German now! :)
But it does remind me of this fun thread a couple of years ago where we discussed the similarities of both of these American pop culture phenomena:
http://www.tikicentral.com/viewtopic.php?topic=25094&forum=1&vpost=323389
(apologies for possible derailment imagery, which is not intended as such)
Dove head first into a pile of glassware at a thrift store today, emerged with this...
I recently came across this LP "Welcome To My World" by Rose Netane & The Tonga Islanders, who, according to the liner notes, were featured nightly at the Kon-Tiki Supper Club at Frank Cannova's Hawaiian Inn on the beach at St. Pete, Florida. I'm sure there aren't too many of these around. The LP is in good condition, but sadly, many tracks have skipping which I can't correct.

I also uploaded a few tracks from it onto my Youtube channel "Hawaiian Leisure Hour" and my Live365.com radio station "Hawaiian Hi-Fi"
Hawaiian Hi-Fi : https://live365.com/station/a52179
Kon-Tiki Theme: https://www.youtube.com/watch?v=c7vNaIpXo9Y
---
"Hawaiian Hi-Fi" Radio on Live365.com
https://live365.com/station/a52179
"Kaiwaza" Youtube Hawaiian Record Collection videos
https://www.youtube.com/user/Kaiwaza
"Hawaiian Leisure Hour" Youtube Hawaiian vinyl music
https://www.youtube.
[ Edited by: Kaiwaza 2017-12-15 12:29 ]
On 2017-12-15 12:28, Kaiwaza wrote:
The LP is in good condition, but sadly, many tracks have skipping which I can't correct.
As a DJ and record collector, I highly recommend trying out Gruv Glide. On top of removing a TON of surface noise, I have also had skips disappear entirely. Not saying that it's a foolproof skip fixer (oh, my kingdom for one...) but it might be worth trying out to see if you can rectify some of them and reclaim a tune or two.
Pages: 1 10 replies