Pages: 1 3 replies
27.06 Swing and Sway in Hawaii
the first Munich Hawaiian open air Beergarden Party!
Biergarten Muffathalle, Zellstr. 4
21.00 till open end!
(when it Rains it will be on 4. July)
Free Entrance!
Polynesian Dance Show:
VIVIANA DEL RIO und MANA VAITAIO (Hula, Otea & Haka etc.)
Viviana is back from Tahiti and has a great new show together with the Tahitian dancer Mana Vaitaio who will perform for the first time in Bavaria!
Live:
ATOMIC BIKINI
http://www.atomic-bikini.de
Hapa Haole Songs & Hawaiian Rock'n'Roll from Munich
& DJ LEMON SQUEEZER (London Luau, Rhythm Riot, Summer Jamboree etc.) plays:
Hawaiian Rock'n'Roll, Swinging Hapa Haole Songs, Tamouré, Calypso, Surf, Exotica & more
http://www.myspace.com/hularock
---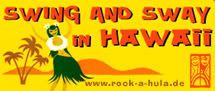 [ Edited by: lemonsqueezer 2009-06-11 10:13 ]
VIVIANA DEL RIO

MANA VAITAIO

Sie bump! 'cause today's the day!
Good Luck DJ Lemon Squeezer! Hope it's a big success.
Haben Sie ALOHA!!!
-Andy
Pages: 1 3 replies