"Aloha ladies and gentlemen and welcome aboard your United Airlines flight to Hawaii. I see the captain has turned off the no cocktail sign so order up a Mai Tai. You may now stagger around freely and enjoy the flight."
"Aloha and welcome aboard"

United Airlines began service to Honolulu Hawaii on May first 1947. Along the way they have had a strong relationship with Hawaii, Trader Vic and even Tiki. I thought it may be fun to have a place to post the many items that United has
put out over the years. So if you have some good stuff in your collection please post some pictures.
Now grab your tickets.
(Chicago to Hawaii 1965)


Jump On the Stratocruiser and lets go.

Out the right side of the aircraft you will notice beautiful Diamond Head

Here a few things from my collection. United Trader Vic's Service menu.


Inside of the menu.


A great little in flight menu with great graphics and an insert about Hawaiian culture
Front and back.


Inside.

The loose insert.


Back.

That's all I have but it's a start.
Thanks for flying with us...watch your step when exiting the aircraft...buh-bye now..buh-bye :D
---
"Anyone who has ever seen them is thereafter haunted as if by a feverish dream" Karl Woermann
[ Edited by: uncle trav 2009-11-06 14:37 ]
Trav,
Here are a couple of menus I have
This one has a downstairs Hawaiian Lounge on the StratoCruiser aircraft. Now that is one swinging lounge - free drinks and smoking promoted!
The menu is from United Airlines Royal Hawaiian service. Mai Tais are now $2
Also the Trader Vic's United Airlines Postcard.
Here is another post with a pretty comprehensive listing of Trader Vic's and United Airlines.
http://www.tikicentral.com/viewtopic.php?mode=viewtopic&topic=20153&forum=16&start=0&hilite=united%20airlines
DC
Picks
Here are just a few for starters Stan Galli Hawaii travel posters.
I will have to come back and add the rest as I don't have pics of all
the rest of the decanters .

I have this 3D relief map , this is not my map depicted here
Photo courtesy of Atomic warehouse

Very well known image of 1960's Disneyland's Enchanted Tiki Village vintage chrome post card
United Airlines promoted on the side of A frame

United Airlines 1967 four page pamphlet
[ Edited by: 1961surf 2009-11-09 08:43 ]
Great stuff guys. Here is a vintage shirt from the 70"s. Not mine but It's a nice shirt.

Bill, great posters. Trav, love that shirt.
I have this postcard showing the arrival scene at the Hawaii airport. Travel was king back in the day!
I found this at a junk sale for $1.00 its dated 1960 on the back nice and big 4 X 3 probley giving out as a promo
CJ always finding the goods on the cheap....nice map.
Here is another map from ebay, it comes in a really cool Menehune frame.
An ad showing another arrival scene.
DC

I love this one...
"Two Tourists Drown in 20 Foot Surf."
Looks like a dry hair paddle out.
Great collection of advertising, though!
All I've got is this:

United Airlines was the official airlines for Disney in the 60's and early 70's.
There were signs thru out the park at Disneyland promoting air travel with
United Airlines .Here is a kids menu depicting the Enchanted tiki room on the
back cover of the menu.

Not from my personal collection, photos courtesy of World Toy.
1961surf, That menu from the enchanted Tiki Room is classic. Here are a couple of photos of the statehood commission flight from Hawaii to Washington. The first photo is the flight crew in Hawaii and the second photo is a group of veterans ready to welcome the flight in D.C.
Trav look at the two Hawaii UA travel posters in your last B&W photo , those are
true classics as well as highly collectible.Great photos man.
[ Edited by: 1961surf 2009-11-10 18:25 ]
Nice photos Trav.
United Airlines also sponsored the Hawaiian Open golf touranment. Here is a Tiki decanter from ebay.
DC
You know Scott, they even have a postcard of this decanter. :)
Bigbro,
A postcard? Never seen that one.
Here is one of my all time favorite paper items from UA - that great menu cover that was featured in a two-page spread in the Book of Tiki. This one was posted by TikiThomas. I have been looking for one of these for years.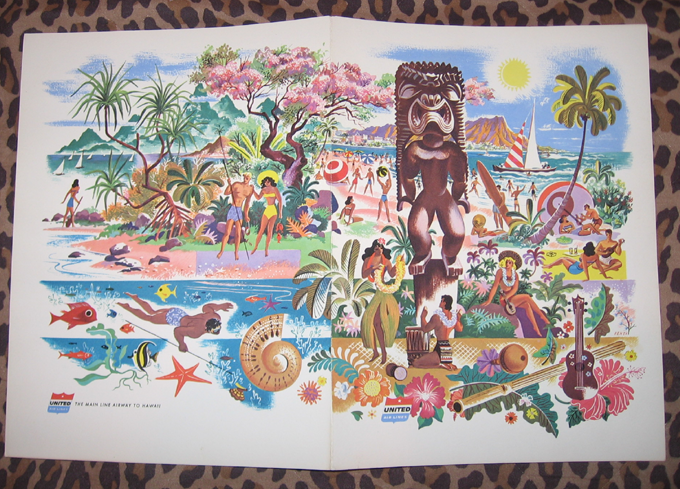 Here is another UA to Hawaii ad, this one has got that groovy 70s vibe goin on.
DC
[ Edited by: Dustycajun 2009-11-13 23:37 ]
That menu is amazing!
I have a placemat that's not quite as cool:
And here's that decanter postcard:
---
[ Edited by: Sabu The Coconut Boy 2009-11-14 01:15 ]
Lovin this thread .Hey Dc you beat me to the punch.I have that UA menu unfolded
perfect condition and had forgot to post it , so you saved me the task ...good job.
[ Edited by: 1961surf 2009-11-14 18:34 ]
Hey, I have that decanter....is that pretty common ?
Found this today...

United Airlines 25th Anniversary Hawaiian Service token from 1972.
PTD
PTD,
Nice coin, always fun to find a Poly Pop Numismatic item. I have seen them from Aku Aku and Don the Beachcomber - any others?
Here is the Hawaiian Open decanter from the 1972 for the 25th anniversary of UA flying to Hawaii.
DC
Great thread. I know there is a lot more known items to ad to this thread and I wonder if there is still some United Airlines stuff out there waiting to be discovered?
Here's a couple Hawaiian Open, United Airlines, Suntory Royal decanters. 1986 and 1982 and some advertisement pics for them I found on the internet.


They made a lot of decanters. I like the ones of tikis the most.
United tiki keychain

Buzzy Out!
Here in the United Airlines 25th anniversary promotional Tiki
Here is a different version - the Hawaiian High Way
These things always seem to go for a bundle on ebay.
DC
On a side note: And WHICH famous Tiki revival image was inspired by the above Tiki?
That's right folks, the influential Capitol Martin Denny cover by Mark Ryden:
And while I am at it, here the origin of the other two elements in that art work, taken straight from a BOT mock up I had given to the artist in the mid-90s:
The A-frame from the recently mentioned Kona Kai/Hale Tiki rendering, and this 1992 photo I snapped at the Tropics Motel in Palm Springs:
And now back to our scheduled United Airlines flight, there are more travel agency display Tikis to be posted!
Alien Tiki,
Great decanters and matching ads. That's a nice combo to have.
Here is the little 6.5" United Airlines Tiki that was posted on Marketplace a few weeks ago. Never seen one of these until then.
DC
Ho-kay, since nobody else is doing it, here is the big 2.7 foot version. I am not pulling him out of its set dressing tough! (Please ignore the foreground on the right :) )
Bigbro,
Isn't that the one that Diego use to play with?
DC
What: The foreground on the right, or the Tiki? :D
On 2009-11-19 14:37, Dustycajun wrote:
Bigbro,
Isn't that the one that Diego use to play with?
DC
No, you mean the ceramic fountain one, which I used as a measuring stick for him:
If it wouldn't have been stolen out of my front yard, I could shoot a pic of it now next to his knees, I would guess, since he shot up to 6.5 feet now, way over my head.
Swanky has the complete set up, with the Ti leaf basins for the the waterfall....
[ Edited by: bigbrotiki 2009-11-19 14:49 ]
Thanks guys. This is the stuff I was thinking of when I started the thread. I passed up one of these statues a few years ago for twenty bucks! Still kicking myself in the ass for that one. I hope to start a list with all of the styles and sizes of the United Tikis... hey that sounds nice "The United Tikis" I'll have to give that more thought. Thanks for posting.
---
"Anyone who has ever seen them is thereafter haunted as if by a feverish dream" Karl Woermann
[ Edited by: uncle trav 2009-11-19 18:08 ]
Cut out cardboard advertising stand up Tiki:

The United Tiki coasters:

... and I know they are not Tikis, but the Menehunes are wonderful too. The "Uncle" came in the full size and also a small bank size:

and like the Tiki decanter, there is a postcard for the Menehune decanter:

-Duke
Speaking of which, there are a pair of Menehunes on sale in SF on craigslist:
http://sfbay.craigslist.org/eby/atq/1478122492.html
A little too rich for my blood...
PTD
Cool, never seen those coasters. Am I interpreting it right, the slogan alludes to Hawaii being an island state of the U.S.?
On 2009-11-23 08:01, Psycho Tiki D wrote:
A little too rich for my blood...
PTD
That is actually a really good price for vintage originals, they typically bring that much EACH on eBay. Those look to be in really great shape too. Fair piece of change for sure, but a bargain compared to what they usually go for.
The reproductions are amazingly accurate. Right down to the sarong and plastic leis.
-Duke
On 2009-11-23 08:01, bigbrotiki wrote:
Cool, never seen those coasters.
Yes you have.
Page 158 of Tiki Quest. :)
-Duke
On 2009-11-19 14:13, bigbrotiki wrote:
Ho-kay, since nobody else is doing it, here is the big 2.7 foot version. I am not pulling him out of its set dressing tough! (Please ignore the foreground on the right :) )
Yeah Sven I posted the same 31" tall UA Tiki already earlier in the thread .
Double Oops! for boutiki and 1961surf, I do miss things...sometimes. :D
i found this in my travels this weekend..i suspect it's the last variation united made of these maps....it looks mid seventies style to me...made of vacuum formed plastic with a cardboard backing. it's quite larger than the others ones that feature carved relief frames around them...anyone have any more info about this??
It would be interesting to line up all the United and Primo maps in chronological order to see the devolution of design in America. I mean what went wrong in the 70s? Matchbooks, menus, swizzles...all lost detail, artistry, and pictorial quality. And then they stopped making them all together...
I forgot I had this one, it's a little water damaged but still quite fun. It comes in a nice envelope that I suspect was given out the every passenger (probablly in the pouch of the airline seat) with a Luau Party Planner catalog where you can get the best tiki supplies money can buy.
Inside of the menu.

Holy crap Ernie is an undercover Menehune!

Here is another mod Tiki poster from United Airlines.
DC
Naugitiki that is a very cool brochure.I have never seen that before.I would say that
is one that is definitely hard to find.Thanks for posting .
A few more of the United Airlines Hawaiian Open decanter types from ebay.
I love this Tiki Drum from 1980.
The outrigger from 1981.
DC