Pages: 1 15 replies
The King of the Surf Guitar is back in good health and - thanks to the diligence of disciple Laramie Dean - will be touring this spring and summer with a special retro surf show.
South Florida is lucky to have not one, but two dates right on the heels of Hukilau 2011. If you're already coming to town for Hukilau, it's definitely worth sticking around for.
Get more info on this and other upcoming events at the new source for all things retro and Tiki in South Florida:
http://www.atomicgrog.com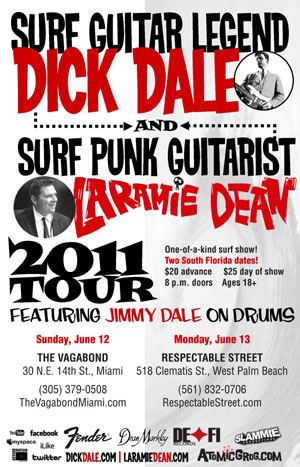 Cool. That sounds like a great Sunday event. Maybe he could be added to the Hukilau line-up? Always thought he was the perfect fit.
Swanky, can't tell you how much I went back and forth trying to make this happen for The Hukilau. They ended up taking a show in Atlanta for more money on a prime Hukilau night of entertainment but the negotiations took a ton of time. We talked of doing it at the Mai-Kai but then Hukilau attendees would have to pay additional - even those that had already paid a full access pass.
It would have been great to honor this legend in proper form....
We've heard Laramie Dean several times when we went to Surfer's Sports Pub in Cocoa Beach. He played a few numbers with Agent Orange. He's an amazing surf guitarist and a really nice guy. Can't wait to see this.
Secret Agent Man & myself plan on going to the WPB show.
Would have loved this to be part of Hukilau!Too bad!
We'll have some Dick Dale ticket giveaways for Hukilau attendees and perhaps another surprise or two. Stay tuned.
We have heard a rumor that there will be two more Florida shows - Orlando & Melbourne. Has anyone else heard this or have any info?
If there's an Orlando show, please post it here. His web site doesn't even show a South Florida show in June.
I just saw Mr. Dale last night at the Hard Rock Cafe, Las Vegas. Great time. He plays what ever comes to mind and his band just follows him. He played some of his greats plus Pipeline, Rumble and Summertime Blues. I guess when you've played the guitar as long as him, you can play just about anything you want. BTW his band is very tight with his son on drums and an awesome bass player. I never knew he plays left handed with the strings strung like a right handed guitar. Very interesting style. Check him out if you get the chance because you never know if you'll ever get to see him again.
Ok- straight from Laramie Dean's website (link below) They will be in Orlando on the 11th (during Hukilau) and in Melbourne on the 15th.
We will be going to Melbourne show for sure but it sucks that they go to Orlando during Hukilau. Would love to get a big group together to go to Melbourne show.
Well, that's a real downer because I won't be able to go to either show. :(
I've created an event on the Brevard Tiki FB site for those interesting in getting together for the Melbourne show.
It looks like Dick and Laramie will be doing a meet-and-greet at The Mai-Kai on Sunday, June 12, (exclusively for Hukilau attendees) before their Miami show. More details to come.
This historic tour has been in the works for more than seven years and finally became a reality after Dick Dale's recent recovery from cancer. Check out the story here:
http://www.slammie.com/atomicgrog/blog/2011/05/25/historic-dick-dale-tour-was-7-years-in-the-making/
My Local Buzz TV is giving away 4 pairs of VIP tickets to the 2011 Los Angeles Guitar Festival!! Enjoy premium seats and the chance to meet the performing artists backstage after the show...follow My Local Buzz TV on Facebook or Twitter for contest details.
This could be your once in a lifetime chance to meet surf guitar legend Dick Dale!
DICK DALE & LARAMIE DEAN MEET AND GREET
Exclusive for Hukilau attendees on Sunday, June 12, at The Mai-Kai
4-5 p.m. only
Bring your vintage albums for Dick to sign! The surf guitar legend will be stopping by The Mai-Kai for a special one-hour event along with fellow L.A. surf guitarist (and Hukilau alumnus) Laramie Dean. There will also be a raffle for free tickets to their South Florida concerts Sunday and Monday.
Dick Dale and Laramie Dean shred all doubts on recent tour
If the two South Florida dates are any indication, touring is the best medicine for the ailing guitar legend. Dale's performances left no doubt about his abilities.
Check out our review, including photos and video, from Dick Dale's recent two-night stand in Miami and West Palm Beach:
http://www.slammie.com/atomicgrog/blog/2011/06/24/dick-dale-and-laramie-dean-shred-all-doubts-on-recent-tour/
Pages: 1 15 replies