Pages: 1 18 replies
So the wife & I are driving back down 101 from our 1 year anniversary - and we stop at the Kon Tiki hotel - just to check it out. I mean with a name like that, you figure they gotta have something polynesian, right? Nada! Just a typical Howard Johnsons looking place with no tropical decor to speak of... We asked the lady at the desk "Where's all the tiki? You are Kon Tiki, right?"
"Well - that's just our name - but we don't have anything like that..."
"No tikis at all?"
"No - I think the restaurant next door used to have some. It used to be called Trader Nicks."
"Really? (Me getting excited)"
"Yeah - but now it's called STEAMERS."
We just got back on the freeway to smogville...
So - BigBro - do you know the history of it & if it was ever themed???
I'm sure bigbrotiki has info on this place, and I have a postcard with a mosaic of photos of the original place. I'll try to scan it tonight. Sadly, it was once done in polynesian decor, along with the Trader Nick's restaurant they mentioned. Even the sign was great before they standardized it into what it currently is (bland).
I'm sure Bigbro has lots more info on both places-the little I know has to do with only Trader Nicks(which was the restaurant). The only time I got to check out Trader Nicks was about a month before it went out of business(I didn't know they were closing). The restaurant still had some tikis mixed in with some nautical items. I heard it was a lot nicer before several mini remodeling jobs over the years. About 2 years(or so) ago when they closed they had a "garage sale" selling everything including whatever you could peel off the walls. I couldn't make it and therefore missed out on the few tikis and others goodies that they had left
Actually, there was a guy on the OLD Tiki Central who reported that he got lucky at that sale...(or wait, was that in a post to Otto??)...
Anyway, sorry to say, I myself did not see Trader Nicks until the early 90s, when it already had been largely de-tikied. The peaked A-frames were neat, and yes, the Kon-Tiki sign was originally Asian font in a pagoda sign, but judging from the look of the high rise hotelroom complex, that never had much to offer in decor.
[ Edited by: bigbrotiki on 2002-07-11 01:01 ]
Trader Nicks used to be our stop over on trips to LA. The out side decor was more Tiki than the actual bar, but it was a nice way to "de-L.A." (No offense to our southern Tikis) They used to have Tiki theme tee shirts and stuff at the Hotel lobby, but last time I stopped, (which was just days after nicks was torn down) it was fairly Tiki free. I asked what had happend to Nicks, and they said, "oh they tore that down, they are going to build a nicer place called Steamers" Nicer place? NICER PLACE? Great. I asked if they had any more Tiki Tee shirts etc, and the person got a far a look, and pondered the word Tiki as though it they had never heard it before. "Tiki?. Tiki. Hmmmmm" I left as they stood pondering. I stood at the chain link fence and looked at the lot where Nicks once stood, and then hocked a big luggie on the "Steamers, coming soon!" sign. I have not, and most likly will not, ever find out how "nice" steamers is. T.K.
Thanks for all the info everyone! Anyone get any pictures of Trader Nicks before it went away...?
Wow! It looks like it was great once... Just wish your scan was bigger!
The scan was much bigger. It just got smaller in Shutterfly. Is there a way to upload it to Tiki Central?
Well, seeing as how I work at Shutterfly, hopefully I can answer at least part of that--
The way we display pictures is optimized for the mass user base, and their (regrettably small) screen size. Also, it's designed so you can look at snapshots (like those of vacations or friends), and order prints of ones you want. So for careful scrutinizing (such as of the Kon Tiki postcard), it's not the best. Your humble moderators are working on a photo gallery for Tikicentral.org. Some people here (Tikifish?) have figured out ways to post images. Fish?
I love Shutterfly as a way to show photo albums that don't take too long to view, as Mig explained.
The postcard is hard to see detail on as there are 4 pictures on it. I found that after scanning it and increasing the brightness it was clearer, but that would only come out in a 200-200K JPEG. I hope to be able to post a high res. version later today on Yahoo.
This is an old thread.I just happened to be passing by this place a few weeks ago. Does anyone have any post cards of the original buildings they can post? It looked great from the highway as I was passing by. Sad to know it is all gone now.
Wait...it's GONE ? are you sure ?
It was still an operating hotel a year or so ago.
Sorry didn't mean to say it's gone, I just saw the sign from the fwy. I was reading this thread and it is not tiki anymore.
Here is all I can come up with..
The sign.


The only shot I have of the a frame


Older exterior shot


Note the palm tree has grown

Some interior shots


This is the only stuff I could salvage. Some posts from the exterior

A long sleeve t-shirt from the 90s


Sweatshirt and t-shirt that I think they still sell. I got these a couple years ago.

We stay at the Kon Tiki a couple times a year. Rooms are modest and clean. They all have ocean views.
I guess I'm late to the party on this one... (been m.i.a. for a few weeks playing catch up)
Since this is literally in my neighborhood I thought I'd chime in here
First, here's a photo I found (courtesy of http://www.joefletcherphoto.com )
On 2002-07-11 01:00, bigbrotiki wrote:
Actually, there was a guy on the OLD Tiki Central who reported that he got lucky at that sale...(or wait, was that in a post to Otto??)...
Anyway, sorry to say, I myself did not see Trader Nicks until the early 90s, when it already had been largely de-tikied. The peaked A-frames were neat, and yes, the Kon-Tiki sign was originally Asian font in a pagoda sign, but judging from the look of the high rise hotelroom complex, that never had much to offer in decor.
That was my friend Chad. When the owners decided to renovate it happened stealth-like. Chad happened to see it going down, so he asked the construction guys who were doing the demo what they were going to do with all the stuff they were tearing out. The crew told him they were told to dump it so he grabbed the door handles and some other ephemera.
The inside was always more nautical than tiki as I remember it. We didn't go there very often, I was a kid when it opened, my Dad always said it was too expensive so we went to Carl's Spanish Seas instead. But I remember my Mom and her friend telling me that they saw Robert Mitchum there when he was filming Midnight Ride, he apparently hit on my Mom's friend and they were as giddy as schoolgirls telling the story. The bar was also the local hangout of the Mayor and the City Council Members. It also attracted a lot of older guys in leisure suits. My friends and I went there when I turned 21, we were swarmed by the leisure suit gang. I don't remember any tiki mugs at the bar (this was in 1983) but I don't have any, nor have I seen any mugs from Trader Nicks around the thrift stores around here. I think they had the PMP type with the Trader Nicks logo screened on the back if memory serves me right.
It was bought by he corporation who own McLintock's Steak House in Shell Beach, they wanted to make it a high end seafood restaurant. My Dad is friends with one of the owners, he said the Nick's interior was too "tacky" they wanted to class up the joint. So it became Steamers and they really did make it nice inside. It was really neglected before, most of the tiki was gone so it was just nasty, dusty, frayed grasscloth and splintered bamboo. It did need a lot of tlc. Obviously they stripped the Polynesia from the place, but the food is great, the view is amazing (my friend and I sat at the bar and watched the whales breach while migrating to Mexico) and the drinks are both tasty and high octane.
There are pictures of the inside of Steamers on their website http://www.mclintocks.com/locations/steamers.asp
So the restaurant is no longer tiki, but then, it never really was. The hotel remains the same.
Great photo! Love that "lagoon with native hut" landscaping. I bet the pond was not in that pool-blue color initially, and that boxy 2nd floor with the neon on it (dwarfing the A-frame on the left) was added as an afterthought. I always loved those little pointy A-frames on the right, a unique, totally extraneous embellishment not seen anywhere else in Polynesian pop architecture.
Too bad no good image from its early early days survives, it would have gone in the book.
Matchbook from my collection, which was originally from my step-mom's collection. I will have to call her tonight and see if she has any pics. Looks like she was there in April of 1975.

I stayed there. I have a video I did with my PSP. It is not about the inside. You don't stay inside.
They had T-shirts last year! 2 hot tubs over looking beach. Free day spa use with room. The rooms all have kick ass views. Just a walk down the beach to all the bars and shops at Pismo. There is a Tiki shop in Pismo, it is small. Tons of Pirate stuff now in Pismo and they had 2 gigantic tikis in the surf shop.
I had know idea Steamers used to be a tiki place. I love Steamers! There is one here in Ventura ca.
PS: I can't spell worth shit and I was a little drunk too. This was our trip.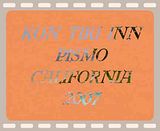 Pages: 1 18 replies