Pages: 1 22 replies
Name:Pantley's Pagan Hut
Type:restaurant
Street:no street address supplied, oceanfront location
City:Depoe Bay
State:OR
Zip:
country:USA
Phone:
Status:defunct
Description:
The Pagan Hut was located in the seaside town of Depoe Bay, OR. It was
owned and operated by Pantley's Motel Apts., on the ocean. I believe that
the Pagan Hut ( & Pantley's Motel Apts.) may have changed owners at
one point; the motel became the King Surf Resort, and the Pagan Hut
became the Pikake Hut ( see matchcovers below).
I haven't been able to find out much about the Pagan Hut (what might be left
of it, or in its place) if anything. Curiously, none of the matchcovers or menu
has a street address listed. Does anyone have any additional info ?
Here's a menu from there:
and their drink offerings :

also a small table card, advertising their " Pagan Specials"

and 2 matchcovers, one from the Pagan Hut, and one from the Pikake Hut.
Both have the same tiki on the matchcover:

I believe Sabu has a nice postcard from there, and will post sometime soon.
[ Edited by: puamana on 2003-08-28 12:27 ]
Seamus lives out near Depoe Bay way and I vaguely recall a mai-tai fueled conversation about the place in which he shared considerable knowledge about the Pagan Hut. Seamus, I look forward to your comments....
No Way..... My grandparents live in Depoe Bay. Small Small World. I should see if they can hook me up with some of this stuff
Here's the view of the bar - one of my favorite interior postcards ever. Love the mood of the lighting and the modernist barstools.

Unfortunately, I was going to bring the actual postcard to work so that I could get you the address and the text on the back, but left it sitting on the hall table. I'll post all the details tonight when I get home. Thanks puamana, for those beautiful menu and matchcover shots.
Sabu
WOW!!! Thanks so much for posting this stuff. I live about 30 miles south of Depoe Bay, and have never been able to find any artifacts from The Pagan Hut. I met a guy who worked there when he was a kid. He said it used to be a wild place. Celebrities like Pat Boone and Dan Blocker(Hoss Cartwright) were rumored to frequent the place- which in the tiny town of Depoe Bay, would definitely cause a stir. I asked the old guy if he'd keep his eyes open for any memoribilia from the place, but so far no luck. A good friend of mine who's family used to vacation there when he was a kid vaguely remembers the place and even swimming in the pool. The place is gone. There was an RV park on the site, but now it's timeshare condo's. It used to be a great fishin spot off those rocks too, but now it's off limits. Bastards!
Any more info or pics would be greatly appreciated. I might just have to do a reproduction of that trademark mask!
Here's another view of the Pagan Hut interior :
Amazing. If only I could step back in time for a visit...
Thanks, and Keep 'em coming!!
I've got a Pagan Hut matchbook as well, slightly different, but same logo, only mine says "Pagan Hut. Relax. Dine and Dance" on the front, and lists the address on the back as-
Pantley's
SW 10th and Stark
Portland, ORE
CA 7-5093
Inside the cover it says-
"For Exotic Atmosphere
-x-
Polynesian & American
Foods"
And the matches are printed to look like sticks of bamboo- brown and tan with green heads (like treetops! Cool!)
So was there another location of the Pagan Hut in Portland, or is this some other strangely listed address for the other one?
[ Edited by: Sabina on 2003-11-19 19:35 ]
Depoe Bay isn't near Portland, and there was another Pantley's Pagan Hut up in western Washington, so this was likely another location. Good find, Sabina! And puamana -- that's a GREAT interior shot!
Interesting that there was another Pagan Hut location in Portland ! There was also a Bali Hai at 10th & SW Stark ( vegastikidude posted a photo of a menu from there awhile back on the Tiki Finds thread). Seems like Portland had a nice group of ( now defunct) tiki bars/restaurants : Pago Pago at 525 SW Stark, Aloha Room at the Heathman Hotel, Trader Vic's at the Benson Hotel.... that's all I can think of, in terms of places that are now closed. Anyone know of any others ?
I have a friend checking into this. Perhaps the Bali Hai and Pantleys are one in the same. Like first one and the other? Can anyone get an actual specific address? I'd like to know what's there now.
a very long time ago, puamana wrote:
...Seems like Portland had a nice group of ( now defunct) tiki bars/restaurants : Pago Pago at 525 SW Stark...
I just came across a reference to the Pago Pago in a book called "Portland Confidential". There's just one picture of it, in black and white. I'll post it sometime soon. Apparently Pago Pago started just after the war and closed in the mid fifties. I'd love to know more about it. Anybody have anything?
TikiMaxton, thanks for posting this info about the Pago Pago, please do post the photo of it ! I haven't been able to find out too much about it, so it was great to read what you found. I have a postcard and menu from there, I'll start a new thread for the Pago Pago in Locating Tiki, and will post photos there.
Here's a recent postcard find, from the King Surf Resort, which I think was the later incarnation of Pantley's.
Interestingly, the Pagan Hut is still mentioned on the back ( not the Pikake Hut, as a listed on the matchcover) :
I have this same postcard that puamana posted
But the back of mine refers to it as the Pikake Hut, not the Pagan Hut.
The little paragraph on the back of mine says:
"Let the PIKAKE HUT thrill you with the beauty of it's tropical jungle atmosphere... entertainment nightly. For relaxing, enjoy the unusual exotic concoctions from the chef's famous secret recipes."
here's a coaster:
i went back to the estate sale, hoping to find what i left behind (yes, i didn't grab ALL the tiki stuff, foolish, eh?)
but i did get this brochure. looks like they are some of the same postcards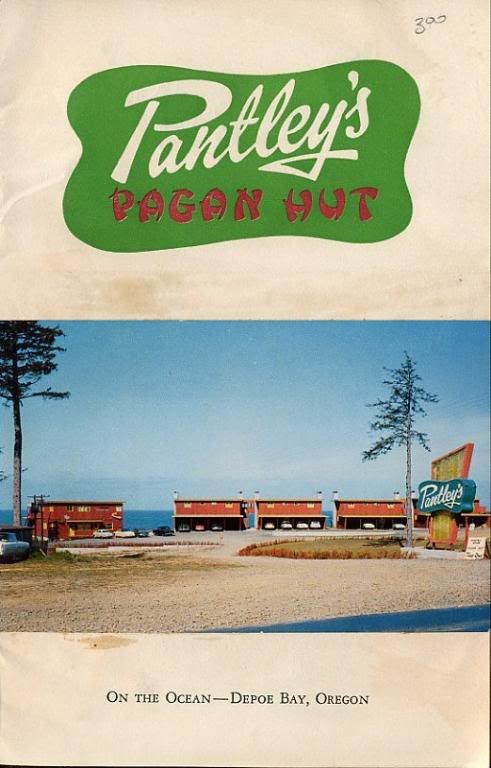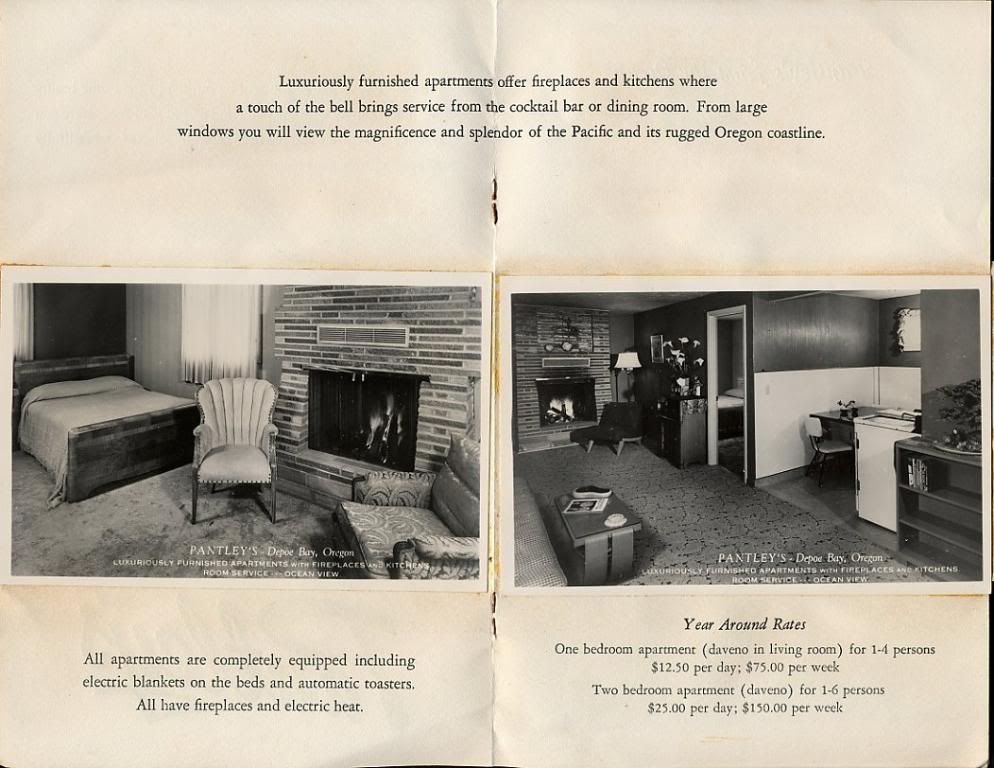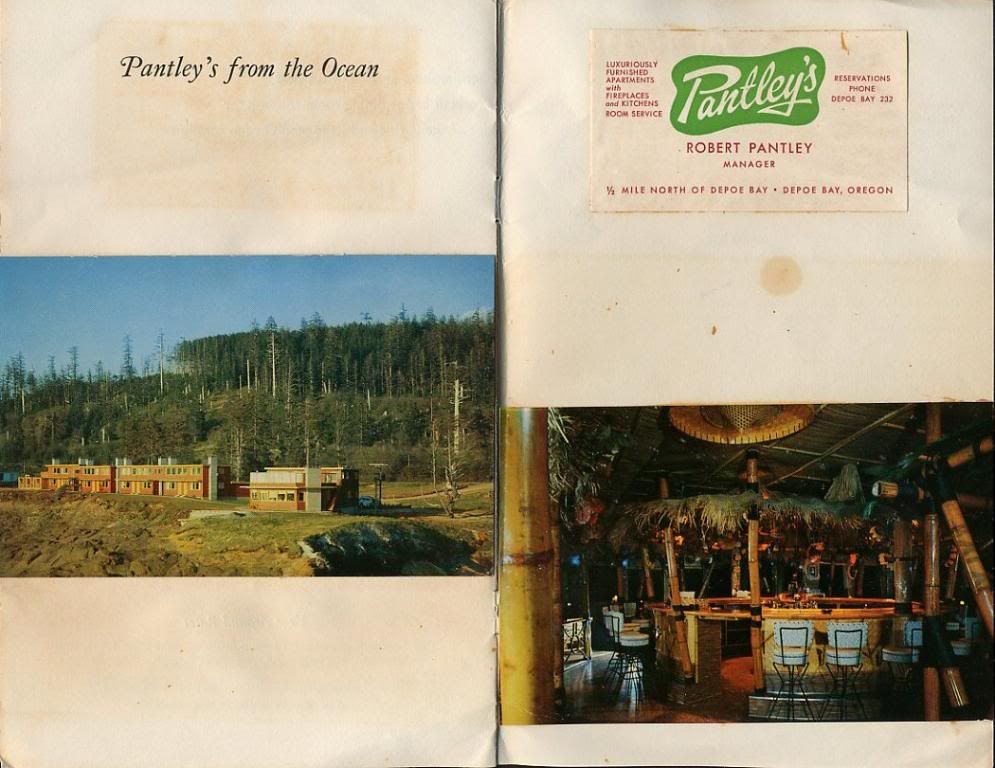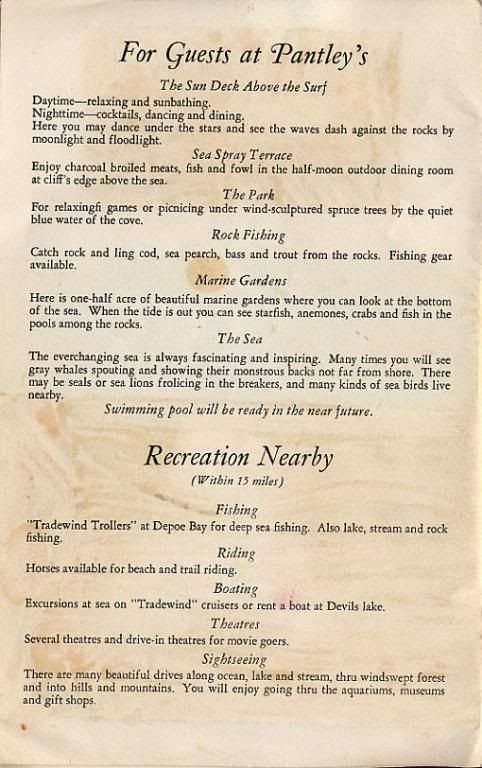 Another view of the interior - I think somewhat older than the other ones in this post as the chairs are bamboo instead of the more modern white vinyl looking ones.
DC
Well this is interesting. I saw this matchbook on ebay and it refers to the restaurant as the Pupule Lanai. Given the old style phone number, I would say that this was the first name of the place.
So we have the Pagan Hut, the Pikake Hut, and the Pupule Lanai!

What the hell does Pupule mean?
DC
[ Edited by: Dustycajun 2010-01-10 10:08 ]
Yet another style of matchbook from Pantley's seen on ebay.
DC
A shot from above of the motel.

Seems I've read it before somewhere, but on a recent dig through antique shops near the area I asked about Pantley's to a shop owner and he waved down an older couple who said they remembered that the owner Pantley was known for doing push-ups(to impress customers) while his girlfriend sat on his back.
Thought I'd post a postcard from here that I have... I think it's the one that Sabu posted that was lost in the crash.
And Puamana's cocktail menu that can still be found on Arkiva Tropika saved on Wayback Machine.
it seems to have ended as a the Surfpoint Inn and at some point the bar/restaurant was ruined by storms with waves crashing through it.
Pages: 1 22 replies