Pages: 1 2 replies
Name:The Tanela Restaurant, Shrewsbury, MA
Type:restaurant
Street:526 US-20
City:Shrewsbury
State:MA
Zip:01545
country:USA
Phone:
Status:defunct
Description:
A very much defunct facade that apparently used to house a night club back in 2003. Posting this location as I did not find any official record of it existing on here besides maybe 1 or 2 mentions in the Aku Aku thread.
[ Edited by: PockyTiki 2020-02-27 13:50 ]
[ Edited by: PockyTiki 2020-02-27 14:12 ]
Took a lot of digging to find any information on this now defunct and rotting facade. What kickstarted my digging was my work day today. I drive a truck to pay the bills and my route for the day happened to take me down US-20 through the Shrewsbury/Worcester area. I come up to a line of cars, causing myself to slow down. As I slow down I glance over to the right and catch a glimpse of what appeared to be a derelict pagoda-like building.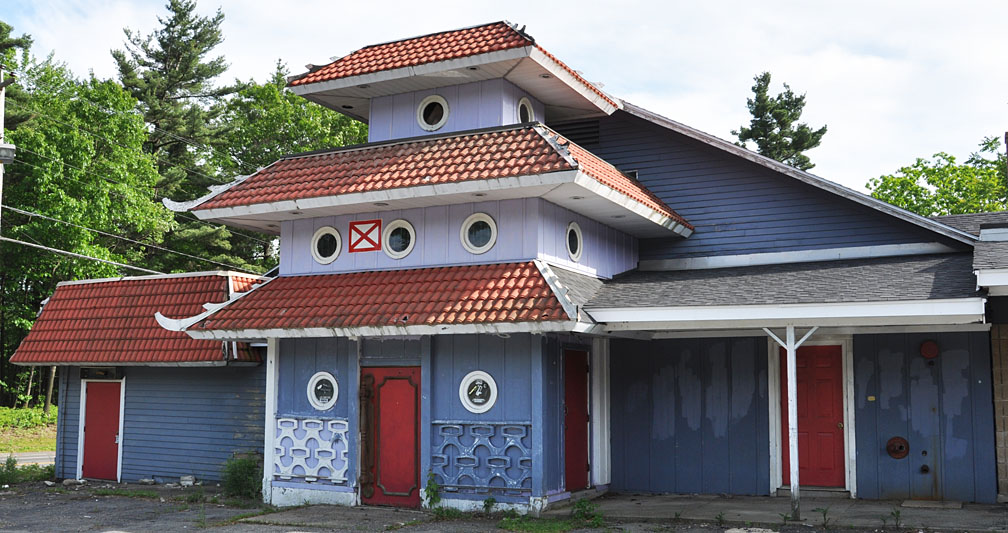 "Whoa! I wonder if that ever used to be a 'go-to' Tiki spot back in the day!"...The traffic starts to crawl forward a bit and low and behold this mighty moai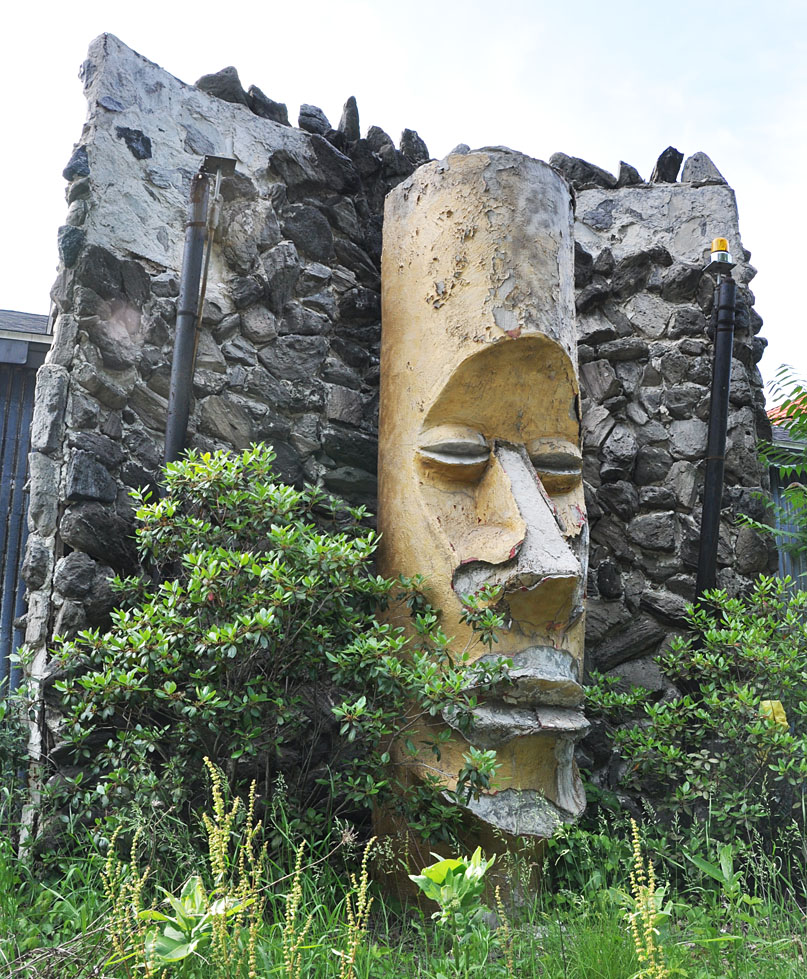 I did not take that photo, as I was driving, but the stylized moai (I believe to be themed after the Orchids of Hawaii mug) was still very much there in February of 2020. If I recall it had at some point within the past 10 years been painted a pepto bismal pink. Yuck.
Hopefully other members here can shed some more light on this very sad state of affairs. I attempted to look up any and all realty information on the property after arriving home from work to inquire about that concrete behemoth but no luck on my end.
I would also like to give credit to "RoadArch.com" for having these photos of the Tanela on their website.
EDIT I completely forgot to add one of the weirdest things about this find for me. Over the past week my fiance' and I have been prepping some items for our 2021 tiki wedding. One item that my fiance' has been very excited about are custom candles that we are making. I molded one of our tiki mugs in silicone and my fiance' has been cranking out some super fun candles.....I bet you can't guess which mug we used...
---
[ Edited by: PockyTiki 2020-02-27 13:58 ]
Very cool. The tiki looks to be about twelve feet high. Classic lava rock wall and poles that may have been for gas torches can be seen. I found that the business was incorporated in 1971. That was a tricky point in time to open a large Polynesian themed place. Looks like that corporation was dissolved in 1983. I couldn't dig up much more than that online. Someone in the local area could take up the torch and hit the local library or historical society. Doesn't take much time and is a hell of a lot of fun in my view. Would be awesome to see some more history from this place.
Pages: 1 2 replies