Pages: 1 29 replies
I found this in Modern Man July 1966 issue. It says lunch business was slow, so he tried this and food purchases jumped 450%. He tried the same thing in Denver and the cops shut it down quick.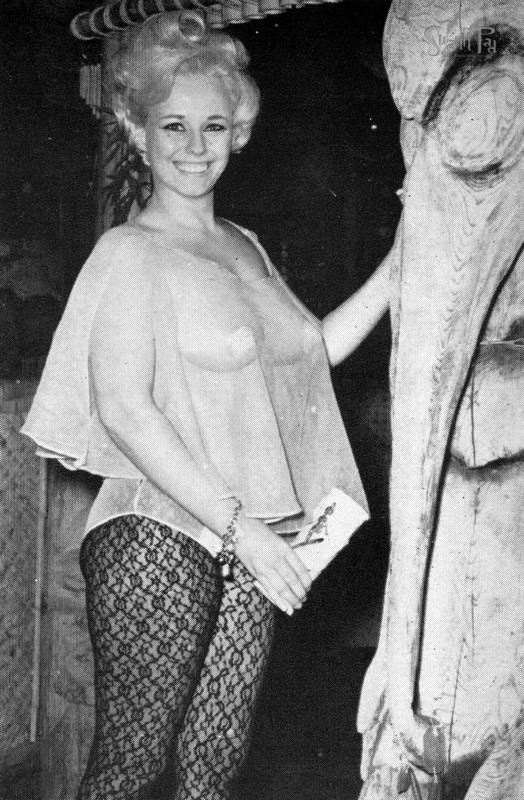 ---

Mai-Kai Memories Series Custom ceramic mugs coming Winter 2011!
[ Edited by: Swanky 2011-10-03 06:27 ]
[ Edited by: swanky 2011-10-03 15:33 ]
I neglected to add that the guy being fed is the owner, Harry Jew. Yes, Harry Jew.
Probably a good place for a stiff drink!
Thanks for sharing these great pics Swanky. I used to be a G-man (guns, girls, guts), now I'm strictly a T-man (tikis, tatas and Tiki Kai)!
Mahalo Nui Loa,
SWJ
Ok, now this place needs some more documentation!!!!
Some TCer has to start doing some investigating! What happened to the Tikis? Where is Harry Jew? This place is worthy of a memorial!!!
More info...
http://www.gildedserpent.com/articles19/aziza10column902.htm
(you gotta check out this guys band!)
"Starting in 1968 I went on road tours with Guy, his musicians – usually Pete Peterson on drums and Joe Dabney or Bert Pellish on piano – and another girl – a singer or dancer. Our first stop was always Albuquerque, where we appeared at the Tiki Kai Supper Club (which has since burned down). Despite its Polynesian name, the Tiki Kai booked many big name acts from across the spectrum of entertainment, and bellydancing had never before come to New Mexico. It was a very nice restaurant with an adequate stage, but the women's dressing room had a good-sized hole in the floor, covered insecurely by a rug – a trap for the unwary – I don't know why they didn't fix it."
From
http://www.abqjournal.com/venue/personalities/personalities05-30-03.htm
Then, Baker decided to put together his own band and he began touring the country with a show that featured the Polynesian sound that had become popular in post-World War II America, mainly because of returning GIs who had discovered the music. Albuquerque was part of the tour.
Later, in the 1960s, Freddie headlined at the popular Tiki Kai lounge on Central. That's where he first noticed Jane, a member of the Ong family that had owned the Chinatown restaurant on Gold Street in the 1950s. Jane said she already knew who Freddie was, and that her brother-in-law went to Las Vegas, Nev., where Baker was playing, and persuaded him to come to Albuquerque to be part of the Tiki Kai.
"The whole town was alive then," he said with a note of nostalgia.
Of his relationship with Jane, Freddie said, "She's a hard worker, knows the business; I couldn't have done anything without her."
Suddenly, Jane appears at the table. It's time for Freddie to get back on stage.
[ Edited by: TikiGardener on 2003-12-06 13:24 ]
That first one might just be worthy of a frame.
On 2003-12-06 14:01, FLOUNDERart wrote:
That first one might just be worthy of a frame.
Caught ya peekin'!
Those photos are great. Thanks for sharing Swanky.
On 2003-12-06 14:01, FLOUNDERart wrote:
That first one might just be worthy of a frame.
Love the composition of that second photo.
Could the eyes get any wider?
:wink:
A nice compliment to the trend found ealier here
Okay, how geeky is this? I was checking out the lamp on the table and the decore in the background............Oh and the girls are nice also.......
On 2003-12-06 14:01, FLOUNDERart wrote:

That first one might just be worthy of a frame.
Cool pics! I also especially like the first one but the magazine text in small type kind of ruined it, so I simply edited it out :)
To set the record straight, the article says Harry was the owner of both the Tiki Kai in NM and Denver. Only in NM was the topless thing allowed.
Here's a few highlights of an article that ran in the Rocky Mountain News (Denver newspaper) on April 17, 1966.
TOPLESS COCKTAIL WAITRESS IS FOUND GUILTY, FINED $100
County Judge George Manerbino Saturday found a 'topless' cocktail waitress guilty of performing a lewd act and fined her $100. The judge ruled on the appreance of Miss Elizabeth Madrid, 23, in a transparent baby doll pajama top and breif red shorts while waiting tables Jan. 19 at the Tiki Kai Lounge, 4151 E. Colfax Ave.
....Manerbino heard the case-and witnessed a showing of Miss Madrid's brief costume in chambers-March 9. He delayed his decision in order to study the problem "outside the vacuum of the courtroom".
.....Manerbino said; "It cannot be said that the efficiency is increased or that the flavor of the cuisine is enhanced because of her dress or lack of it. As a matter of supposition, it is more likely to have a distracting effect upon her efficiency when one considers the taunting disposition of some patrons.
.....Miss Madrid and another 23-year-old waitress, Miss Judith G. Finchum, were arrested by Denver police while waiting tables at the Tiki Kai Jan. 19. Charges against Miss Finchum were dropped, however.
The two girls had been working at the resaturant only about a week, coming here from another Tiki Kai in Albuquerque where the topless look had been in fashion for some time. An offical of the Denver Tiki Kai said that business had increased 100 percent during the brief apperance of the two girls.
Okay. We now have 2 topless tiki bars I know of. Or, well, lingerie wearing waitress tiki bars. So that makes it officially a vintage, original tiki bar practice. So Brad, when Hale Tiki opens and if business is slow, especailly at lunch, go old school and follow the traditions of grand old tiki bars of the past. You're lunch crowd may increase 450% too! But, you could make it a bit more legit and put them in grass skirts and topless, or something like that.
On 2003-12-08 07:40, Swanky wrote:
Okay. We now have 2 topless tiki bars I know of. Or, well, lingerie wearing waitress tiki bars. So that makes it officially a vintage, original tiki bar practice.
Thanks for sharing those pictures Swanky!
Tiki Bob's in San Francisco had lunchtime lingerie shows in the 1960s as well. I saw pictures of it somewhere but I can't recall where. It was either here on Tiki Central or in a girlie mag in my collection. If I can find it I'll post pics.
It was here. I posted the thread on a previous message in this topic I think.
Lizzy Madrid! Now that's a bonefide cocktail-waitress name..
Hey, which one of those guys is Bob Crane?
By the way, those big ones are Barney West Ti..Ti...TIKIS, I mean.
Great find, guys.
How do I get these picture icons to open?
Dial the wayback machine to 2003... I'll fix them maybe tonight.
Finally - the topless thread shows its stuff!
CN
[ Edited by: Club Nouméa 2011-10-03 18:06 ]
[ Edited by: Club Nouméa 2011-10-03 18:12 ]
Pages: 1 29 replies