Pages: 1 10 replies
Hey All,
I was at a Salvation Army this past weekend, and after I got over the fact someone swiped a mug (that I don't already have) right out from under my nose, I found this...
At first glance, and from a distance, I thought it might be some kind of small jar. But as I looked at the lid, I noticed two small (straw?) holes.
I've never seen anything like this, but I'm diggin' the sun & moon motif on the sides. The label on the bottom says, "A Fairyland Import. Hand Painted. Japan" Anyone care to shed some light on this little ceramic wonder?
-Z
---
Thank God The Tiki Bar Is Open
Thank God The Tiki Torch Still Shines...
[ Edited by: feelin' zombified on 2003-12-15 17:26 ]
Sorry, I can't help you to identify this mug, but this is one of the coolest mugs I have ever seen.
That's a beauty. I might have overlooked that one.
You've got the tiki eye for the thrift find!
I don't know what it is but I really like it. Nice find.
What mug got swiped out from under ya?
I have a cigarette lighter that looks like that. Maybe it's a cig container or an incent burner?
Nice find.
On 2003-12-15 19:06, Kono wrote:

What mug got swiped out from under ya?
4th row down, 9th mug from the left. Snagged by an older (early 70's maybe) asian gentleman.
-Z
Anyone ever see a green Fairyland Import Lantern Bowl?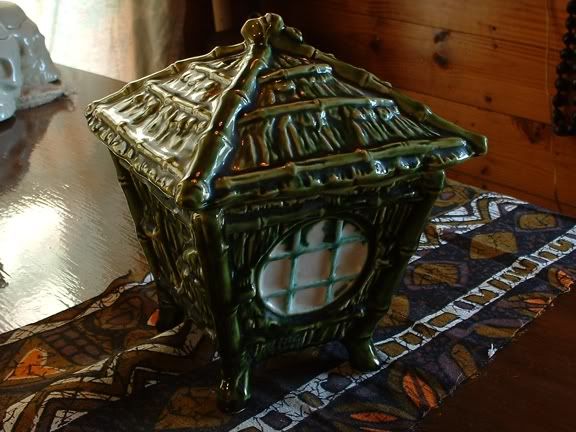 I apologize for the photos, not all of my lights are hooked up at the moment.
When the sun comes through the window this afternoon I'll try to take some better shots.
I was just too excited to wait. The only flaw with this bowl (?) is that it had a piece broken and glued back by the previous owner. But that wasn't enough to pass it up. I think this is a rare one. I hope. There was no sticker on the bottom, but I remembered this thread from a few years back
That's a great looking piece! I don't know anything about it, but now I want to see photos of the first mug, too...
As promised, here's another shot showing the richness of the colors: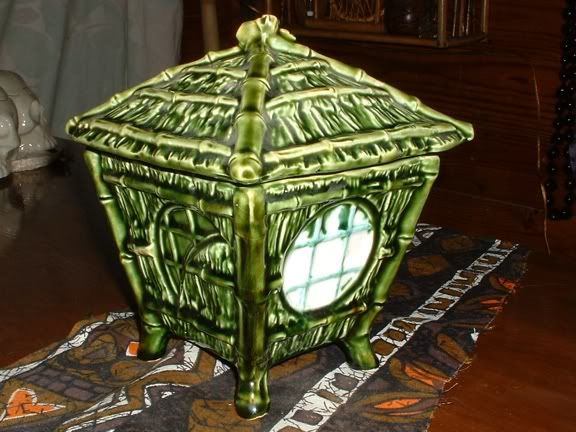 i didn't buy this coz i thought it was too expensive and too creepy, but i thought some of you might have an idea as to its origin. i searched and could not find any earlier threads about tiki masks with glass eyes.
thoughts? is it a recent knockoff? it looked like wood instead of resin/plastic, but it did not seem to have much patina.
Pages: 1 10 replies