Pages: 1 9 replies
Check what i found...
This is a french commercial from the 60's about a chocolate bar named tiki...
Sorry the picture is bad.
The translation is : "What is similar between a sea bath and a tiki"
WOW! Thanks for sharing this neat find.
So, uh, what is similar between a sea bath and a tiki?
Cute girls with runny eye shadow?
Here's a new commercial I found about this chocolate treat.
This time, it says : "She's having a bite of a tiki, she thinks she's in Tahiti...she forgets she's bored and tired"
That's just fantastic. I learn something every day here!
It makes me want to go buy some Hawaiian Host chocolates, I think they make a variety of products but are known for their chocolate-covered macadamia nuts. The box, as far as I am aware, has always had a very prominent TIKI image on it...
Oh my goodness. I went through the thread too quickly and didn't realize that the Hawaiian Host thing had already been mentioned. D'oh!!
But now that the subject of tiki chocolates is being discussed, does anyone know if any Tiki-shaped chocolates exist, or have existed? It would seem to be such a no-brainer, considering all the molded chocolate confections in the world. Sea-shells, seahorses...tikis would seem to be such a natural.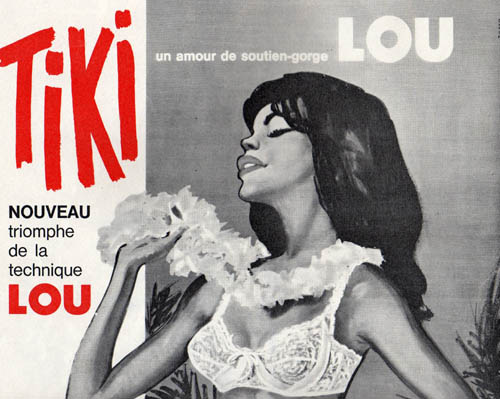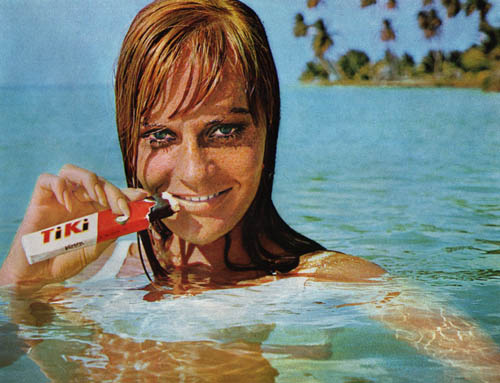 Expect more, I have a friend who has a museum of funky French consumer products, like soda bottles, etc... and after I showed him this page, he was able to find a few quality images. We have large photo files. If you're interested, just email me, and I'll be happy to forward them to you.
[ Edited by: RemyC 2005-07-08 00:57 ]
That girl is kinda cute - but kinda freaky too. In a bad way. Wouldn't the French prefer New caledonia since it is a French colony?
Tiki = cool
chocolate = yummy
tiki chocolate = useless! I wouldn't want to eat it. Think about this people! Wasted chocolate!
Pages: 1 9 replies