Pages: 1 37 replies
Name:Tiki Port, Hyannis, Massachusetts
Type:restaurant
Street:
City:Hyannis
State:MA
Zip:
country:USA
Phone:
Status:operational
Description:
The Tiki Port restaurant is on the main road through Hyannis, Massahusetts on Cape Cod. It is a Chinese restaurant and lounge that must have started life as a full-blown tiki restaurant. Most of the tell-tale signs are still there... a few tikis, a lava rock entry way, some bamboo lights, and a tropical mural behind the bar. Unfortunately, the hostess seemed completely clueless about tiki, the bar didn't appear to serve tropical cocktails and the patrons were not happy that I took their picture at the bar. It was about 3 pm, so maybe they thought I was a PI for their wife or employer. Here's the pics:


KG
[ Edited by: Kailuageoff on 2004-03-15 08:14 ]
Cool pics.
Your report seems to contradict Tiki Road Trip which reports "No Tiki. Tropical drinks."
Did you stay to try the food?
I asked if they had a drink menu and they said they did not. I wish I could have stayed for some chow but didn't have much time, so I just took the pics and left.
As for Tiki Road Trip, it's a great book but James admits alot of the information is based on internet posts to his Tiki Bar Review Pages that he has not personally confirmed. Hopefully, someone will go back there and see if the food is any good and whether they serve a decent Singapore Sling.
KG
Not to bag on these finds (all Tiki discoveries are inherently good!), but just to put it in perspective:
This and the "Hawaii Fountain" restaurant look like they were furbished straight out of the 80s "Orchids of Hawaii" catalog, which had a big section on Chinese Restaurant wall panelling and decor
.
The few Tikis in it were were exactly these odd looking fiberglass casts and painted in those god-awfull colors, and the lamps were kind of bulky, all in all representing 1980s "Tiki Devolution" to me.
There was no love left in what Orchids had to offer by then.
[ Edited by: bigbrotiki on 2004-03-19 15:03 ]
Bigbro:
You're right about the blur between tiki and Chinese up there, but the tikis at Tiki Port are wooden not fiberglass. They did look like they were recently painted though. According to Wayne at the Hawaiian Inn, Massachusetts was full of Chinese/Polynesian places in the 60's and 70's and most of them featured entertainment. That's why he and Teauila located their show there in the 70's.
When I was in Mass. last Fall, I actually found a Chinese place called Orchid Hawaii. The building was new and was ugly, even by non-tiki standards.
[ Edited by: kailuageoff on 2004-03-24 12:44 ]
On 2004-03-22 08:09, Kailuageoff wrote:
According to Wayne at the Hawaiian Inn, Massachusetts was full of Chinese/Polynesian places in the 60's and 70's and most of them featured entertainment.
Massachussetts & it's neighboring states needs a close perusal for Tiki. I have a hunch that it's one of the great unexplored areas of Tiki where restaurants and bars came and went without anyone taking much interest. Perhaps someone could do a little research - look through some old phone books, speak to some old-timers in current restaurants etc and try to come up with a focused idea of the Tiki scene in New England. Kailuageoff is on the right tracks here.
Trader Woody
I have a little information about a few places in MA, as I spent my first 22 years there....
I've eaten at the Tiki Port (7/02). Decent, if unremarkable, Chinese food. I'm pretty sure I ordered a Polynesian drink--Mai Tai or Singapore Sling or something. I was pretty much ignorant of what made a good drink at the time, but I remember it was potent. I echo the sentiment about the waitstaff.
I'll post more about a few others (The Aloha in Hingham, MA, Lake Palace in Pembroke, MA, and Golden Palace in Hanover, MA) ASAP...work beckons.
Scott
New2tiki,
Please do tell us more about Mass. tiki when you have time.
KG
I was at Tiki Port just last year and they had a cocktail menu with maybe a dozen tropical drinks. I had a headhunter served in an Orchids tiki mug, and a Mai Tai. Neither were great but both were very strong. There was also another place close by I stopped at. Tiki Isle or something, in Sandwich I think?
Kailuageoff,
I live in Massachusetts, so I know pretty much everything there is to know about tiki up here! The Tiki Port in Hyannis and Tiki Island in Medford, MA are owned and operated by the same family. I have been to Tiki Island a few times and they also have tropical murals and painted wooden tikis. They did list the drinks on their menu and the food was mostly Cantonese/Polynesian and some Szechuan. The strange thing about this place is that there is no cocktail lounge! The furniture is typical of the 70's Chinese restaurants; bright green vinyl. I asked the waitstaff how long the restaurant has been in business, and they said that they have been in operation since 1980 or 81! I'm not certain that they are entirely accurate. I have a friend who owned The Ming Jade restaurant in Newburyport, and I am going to ask him how long they have been open. I'm sure that he will know.
There's a place in Sandwich, Mass. called Tiki Hawaii and it's a chinese restaurant. Is it worth going there? Any tikis?
Hello Tiki People,
I think that the status of Tiki in MA is dismal at best. I live here near the boston area and although I do not claim to be an expert, there just doesn't seem to be the influence in this part of the country that there was in CA and FL. It gets cold up here and you would think that we would want some winter get aways that reminded us of the tropics!! Tell me if I'm wrong. Closest thing to real tiki is the Kowloon (check out my post). I will try and add some pics. There main dining hall is called the Tiki Lagoon!!.
On 2004-07-15 14:21, TikiGoddess wrote:
There's a place in Sandwich, Mass. called Tiki Hawaii and it's a chinese restaurant. Is it worth going there? Any tikis?
Tiki Swizzle Stick, I live in Newburyport so I can relate to the fact that there are not as many tiki bars and restaurants in this area today. Of course that was not the case thirty years ago. There is one restaurant right off or route 1 south before the 129 rotary on Moulton Drive; the Bali Hai. This place has been around for 40+ years and they have some cool original Polynesian decour. They don't really have any tikis, but the restaurant theme is very Polynesian with the puffer fish and tiki lamps, the huke lau pictures on the walls, and decorated drums hanging from the ceiling in the lobby. The drinks are super good and super strong, and the most you will pay for a specialty drink is $4.00! The menus are actually really cool as well; dating back to 1973. You should definately check this place out!
On 2004-03-14 15:59, Kailuageoff wrote:
As for Tiki Road Trip, it's a great book but James admits alot of the information is based on internet posts to his Tiki Bar Review Pages that he has not personally confirmed.
Just a clarification here (I just saw this post for the first time) - I telephoned every single place in TRT that I wasn't able to personally visit. So to some degree, all of my research is 'personally confirmed' - even if I didn't personally confirm 'in person'!
In the case of Tiki Port, the woman I spoke to on the phone insisted that they had no tropical drinks or Tikis on the premesis, but I am pleased that you have disovered that she was clearly quite mistaken.
Thanks for doing the legowork, KG!
Oh, and he reason I discovered this post was while looking for references to the Aloha in Hingham, Mass...
I regret to report that it has closed.
Tiki Port in Hyannis has had tropical drinks on their menu. I haven't been there since 2004 but drank a few at that time; good! They had a mountain and wishing pond at the entrance grotto, and a tiki as well...
Here is a link to a Hawaiian woman (my ma) drinking the Scorpion Bowl at Tiki Port, while my Dad enjoys perhaps a Fogcutter...
http://reorient.com/photos/tikiport7-00.jpg
Anyhow, I'll be there next week and will report. Still just now in Sweden...
[ Edited by: rippa 2006-04-24 20:06 ]
Tiki Port Hyannis
as of April 2006
Yes, there are tiki (always have been). Not an extravaganza, but some path and doorway frames.
Yes, there are tropical drinks (they've always been there). Drinks are strong, big, rather cheap ($3-6) and many are served in tiki mugs or bowls.
Food is 'Cantonese + Polynesian, Mandarin American Cuisine' - I like it. Yumbo.
Here are some links to pix.
aloha!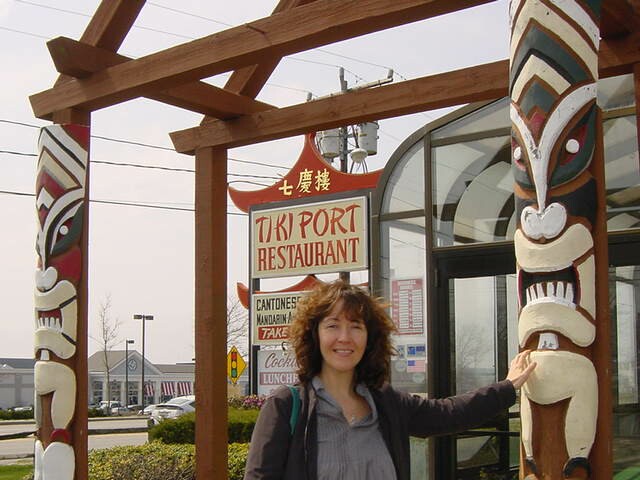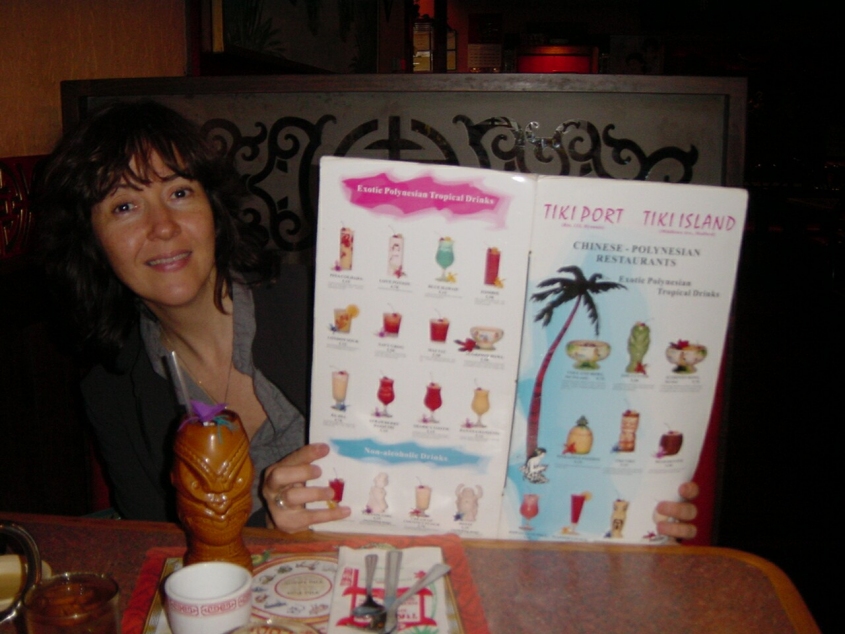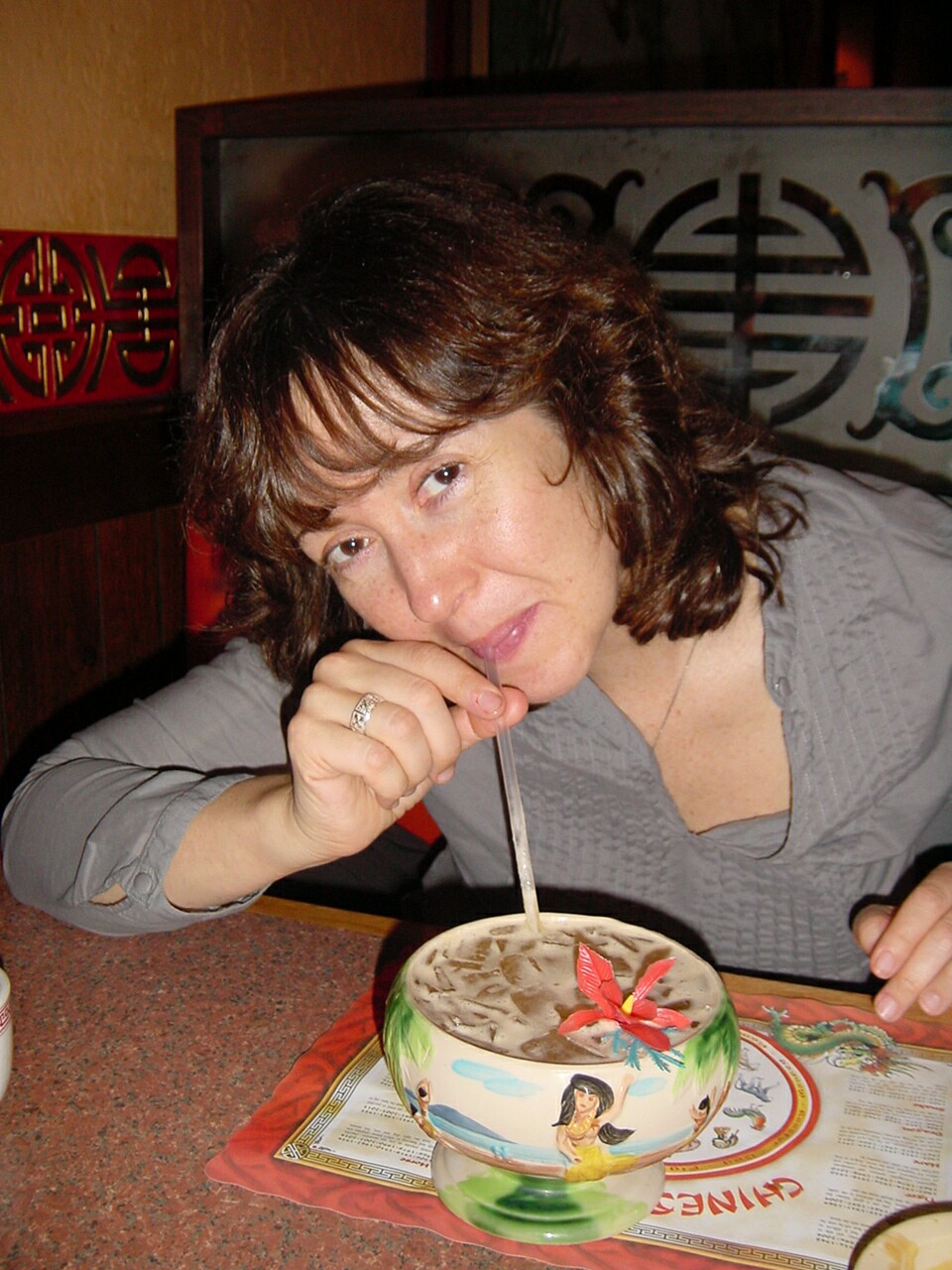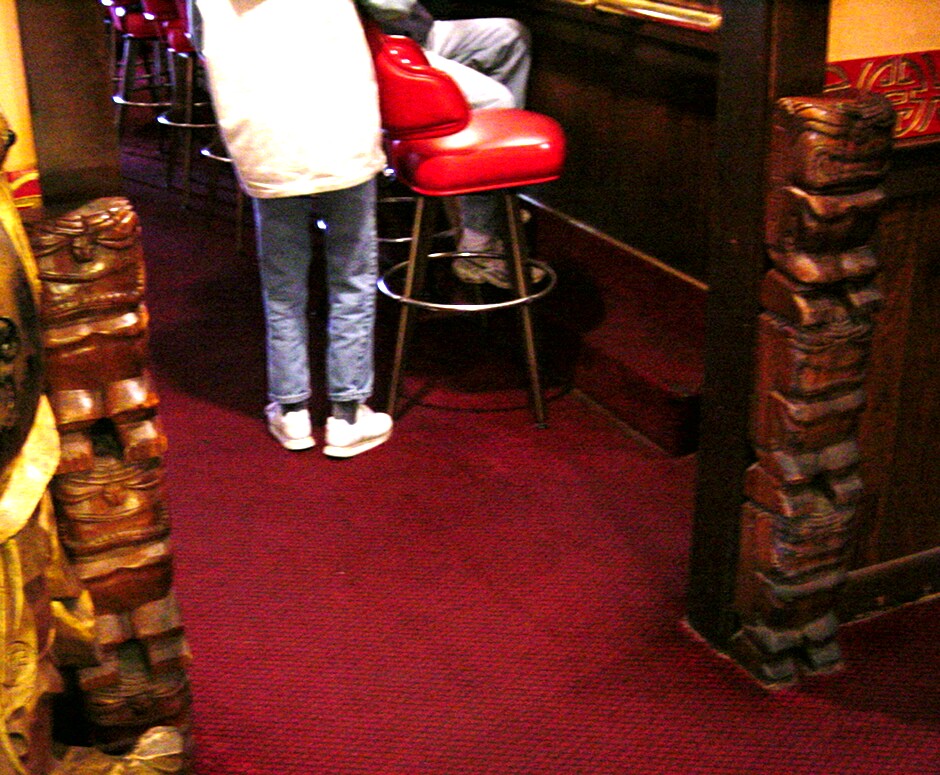 [ Edited by: rippa 2006-05-05 01:32 ]
On 2006-04-25 02:35, pappythesailor wrote:
I'm in.--let's go!
I should have called you last week - I'm back in Sweden now...
Hey Pappy - I'm up for this sometime soon. Maybe a late May trip??
On 2006-04-27 09:26, johnman wrote:
Hey Pappy - I'm up for this sometime soon. Maybe a late May trip??
if you guys are talking VERY late may, i'd be in. i've never been to that area of MA.
Wow, that's like two hours away. That qualifies for an overnight stay - little weekend on the Cape. I'll check in w/ HQ and see how the end of May looks.
Waitiki visited the Tiki Port back in Feb. after the Nantucket Luau. We did indeed find the drink menu to be decent, and the drinks to be respectably strong.
Decor was nice, but not that authentic, compared to, say, the Mai Kai. The ambience was more a chinese restaurant with a tip of the hat to Tiki.
The bar itself was more a locals hangout. It is Hyannis, after all.
Last night, we reconvened at the Tiki Island for comparison, and other than some tikis with glowing red eyes (red lights behind), and a mural of an island with tikis, hula girls, and in the distance, a cargo ship docked at the "TIki Port," a volcano in the background on the other side, it was a similar atmosphere. Food and drinks were almost identical to the Tiki Port.
Mmmm. Now sitting on a mountainside in far-off Korea.
Authentic or not, overwhelming or otherwise, please enjoy the escapism of tiki. The chance to locate an oasis (of almost any sort) should not be scoffed at.
Those Tiki Port snacks and drinks are tasty, cheap and hard to beat. Perhaps finer dining these days involves quorm or couscous... sometimes one might stick-out yer pinkie and sip at the finer things of life. But the Tiki Port has been turning out good grub for 30+ years.
Count your blessing...
aloha from afar!
I wanna go. Johnman? Bargoyle? Rain?
Aloha Pappy - I'm game sometime. Hyannis is a pretty good hike for us so we'll probably hold out until, hate to say it, Spring. The Miss and I will turn it into a little getaway to the Cape and I'll bundle in Tiki Port.
Rippa thanks for the pics - the place looks good and will definitely deserve a visit.
Well Pappy, the next time I'm due in town I'll drop you a note beforehand. As of now, I watch torrential rain on a cloudtopped mountainside near Sinchon in Seoul. Could be worse (I'm reasonably cozy and fed) but would greatly appreciate the food & drinks that $20 would elicit from Tiki Port.
aloha!
You know what's weird, is there's a pickup truck that's parked down the street from my place right now, and on its door it says TIKI PORT, HYANNIS, MA. With the phone number on it. What a weird/strange coincidence. By the way, if anyone needs a good accountant for tax time, I know of one who is just a block (or so) away from Tiki Port's sister restaurant, Tiki Island, in Malden.

Napkin
I liked it.
Last post 2009 from Zeta, the international Tiki explorer and ambassador of Tiki in Spain, who liked it.
Anybody been in the last 3 years?
Here is a postcard I just got showing some photos of earlier days.
Close up of the lounge
Dining room with bamboo and tapa and some cheap Tiki masks

Chinese room.

Logo
Back of card.
Agents report.
DC
I was there in August. It's pretty much unchanged. Food & drinks were good. Plan to go back this summer.
On 2012-05-01 18:25, Big Kahuna wrote:
I was there in August. It's pretty much unchanged. Food & drinks were good. Plan to go back this summer.
BK,
Thanks for the report.
Snap a few photos and grab me one of those cool napkins next time your there.

And see if they have any of these matchbooks floating around.

I'll pick it up from you on your next visit to the Rumpus Room!
DC
I'll be back at Rumpus Room in November, but I don't remember seeing that napkin. I'll do a better sleuthing job, this time. I promise!
Here's the few picks I took, DC.

Agents report.
Will try to file a new update soon!
Have pics on file from several past trips. Happy to report that matchbooks and napkins are standard and plentiful -- we got you covered in that dept, DC. There is still some tiki, the menu is still big and elaborate and "old school," the drinks are still strong and list of exotic libations is long.
Thanks for the update and picking up some extra swag! Look forward to seeing the photos.
DC
Pages: 1 37 replies