Pages: 1 28 replies
Name:Hale Tiki
Type:bar
Street:660 Broad St.
City:Augusta
State:GA
Zip:30901
country:USA
Phone:
Status:operational
Description:
A new, classic tiki bar.
First, you are greeted from a distance by the massive and awsome neon sign.


At the door, you find the Witco fountain.


Inside is a 24 foot bar with a thatch overhang and lauhala and bamboo on it. Behind the bar are 4 large mahogany tikis, lots of decor and a line of bottles to make the Grog Log a reality.


Prices for the varied traditional drinks are $6.50-$7. They also have regular drinks and beer. Drinks are served in specialty mugs with the signature Concubine in the Hale Tiki signature mug. Garnishes are ornate and always there. Scorpion Bowls are also available.
It is a non-smoking bar.
On inside are 2 main rooms and 2 small alcoves. All covered floor to ceiling with tapa, bamboo and a wide variety of fish floats, carvings and flotsom.


Music is traditional Exotica and island music with some lounge in there too.
The place looks as though it might have been there for decades.
Lots of TC donations on the walls.
If this is just the start, imagine what it will be like in a couple of years!
Ramada in is next door and you can get a discount rate by asking at the bar.
As I'll be driving to fla and back this spring and fall, I'll have to get directions!
Great photos,Swanky the place looks like I want to be there now!
Those photos are great advertising. It looks like I'll be at Charleston AFB in SC for a week and, if I can lay my hands on a car, may get over to see Hale Tiki. What are its hours? What is the phone number? What sort of food is available? Thanks.
[ Edited by: tikijackalope on 2004-05-14 05:23 ]
I think the hours are 5PM-2 or 3AM M-Sat. No food is served there, but plenty within a couple of blocks.
Very Cool! Thanks for the tour, Swanky!
I made a weekend trek from NY to Hale Tiki, and left feeling it was well worth it. The atmosphere/decor/drinks are awesome. If you need an excuse for a tiki roadtrip, Hale Tiki is a good one.
Wow, that place looks great!
Seeing a post from Brad today reminded me to post some pics I shot last month at Hale' Tiki's grand TC opening. I'll try not to duplicate whats already been posted. This huge guy lords over the room which is back and on the right. I think he's about seven feet tall.

This one hides in the foliage near the Witco fountain up front.

Two more logo-like tikis on the left end of the bar.

This one looks over your shoulder if you are in the back alcove.

Close views of the four big tikis behind the bar.

There's much more: tiki poles, smaller tikis, masks, flotsam, weapons, etc. To top it off, they were just starting to play exotica when we left. The sum of all of this is greater than the parts and adds up to an atmosphere that is both primal and relaxing. Even a relative tiki novice like myself can tell that Hale Tiki is more of a must-see than many surviving haunts of the classic era. Even if you don't drink, its worth sipping a pop and basking in the ambiance. I saw a bit of the restaurant side when Brad was digging out a t-shirt for me and if it opens too, we'll have to drive across a few states again and eat there.
Is there a phone number that someone at Hale' Tiki actually answers? The only number I have found listed, 706-823-5712, has rung to a fax machine the last few times I've tried it during business and non-business hours.
I know it's last minute, but the Wahine and I are going to Hale Tiki tomorrow night, Saturday Sept. 4th. Likely be there about 8 or 8:30 until ?????
Any TC's free and need a fix, come on by and tip a Mai Tai (or 7).
Mahalo,
Scott
It's a bit short notice for me, but yeah, their Mai Tais are awesome. Save room for a Pain Killer as well.
Maybe you should try to bring some mugs for the folks that are missing them...ha ha...
Enjoy! Let us know how everything is down there!
Aloha.
Let me be the first to say...Rumors of Hale Tiki's demise are GREATLY Exaggerated.
I found the OTHER thread regarding this establishment the night before I left for Augusta, so it was with more than a bit of trepidation that we headed there. I had spoken to Brad once or twice about some decor items while he was building the bar, but really didn't know him at all.
I had NOTHING to worry about. Those of you who helped build/decorate/plan Hale Tiki...you should be very proud. What a beautiful spot!
Now I've visited places that are struggling before, and I know the signs....maybe the garnishes aren't as fresh as they could be, or other corners cut....none were evident here. In fact, just the opposite! I couldn't believe how professional the bar staff was, the drinks were literally AMAZING, garnishes were fresher than I could probably come up with at home, decor, atmosphere, music--everything was just awesome!
I had five cocktails--Mai Tai, Concubine (the house special), Suffering Bastard, Blackbeard's Ghost (a new addition, served in a skull mug...very cool!), and more than my share of a Scorpion bowl. They were all truly wonderful.
All of that alone would've made the visit worthwhile....but, fortunately for us, we were there the night AFTER first Friday (a downtown celebration in Augusta--apparently draws a lot of people) and the crowd was fairly light---which allowed us to visit with Brad and his Wahine quite a bit...
I have to say, they were unbelievable hosts!! As soon as I introduced myself (and Andrea, my Wahine) we were greeted like Ohana. Brad was an extremely gracious host, showing me all around, both out front, and in the back--we really felt at home.
They both went WAY beyond what was expected, for me.
We had a wonderful time, and will be visiting Augusta many more times in the future.
Anyone who lives in or visits the Southeast US is crazy not to give Hale Tiki a try. You won't be disappointed.
Mahalo for listening.
Scott
Does any know what's going on with Hale Tiki's website? It seems to be defunked. Is the establishment still up and running?
i believe the establishment continues to operate; a bit of flack over the merchandise they offered on the site may have led to the site being "pulled off the air..." this is purely my interpretation of the situation.
Hale Tiki is still operating and apparently doing well. I was in the area this week and looked in. Decor is still fabulous despite the departure of the two big tikis.
JTD
The emails to renew his domain went to his military email and he never saw them. So the domain became open to grab before he knew it and it is now owned by someone else. That's why the site is down.
But Hale Tiki is doing fine and there are plans to open the restaurant side very soon, start a Hale Tiki rum through another distiller and perhaps open a second one in Alabama.
JTD wrote:
Decor is still fabulous despite the departure of the two big tikis.
What departure?
You guys will like this. I have not ordered anything from Tiki farm until now. Their is a limited supply of Hale tiki mugs up for sale. Cheap prices. I probably should have bought two thinking about it now.
On 2005-01-24 10:13, teaKEY wrote:
You guys will like this. I have not ordered anything from Tiki farm until now. Their is a limited supply of Hale tiki mugs up for sale. Cheap prices. I probably should have bought two thinking about it now.
You should order more often from us. We appreciate the order!
Mahaloz,
Holden
Mike and I spent a dreamy evening at Hale Tiki back in December. All I can say is go and make up your own mind. As for us, we'll be back anytime we're within a reasonable (which for us can be quite a distance) drive.
First and foremost I have to say, despite being modern, it doesn't feel like it recently opened, it feels a bit like stepping into a nifty little tucked away Tiki treasure as if it had been open from 'back in the day'. It is the best of the modern interpretations I've seen and as I've said, a standard against which other recent Tiki spaces can be judged. Quite simply, they got it right.
From the moment you first see the magnificent Yellow Neon outside, to your entry through the anteroom, and on into the bar itself, you are in for an evening in paradise.
Absolute kudos to everyone who made this modern Temple what it is! From the TCers who did the build out (in record time!) to the TCers who contributed artifacts, you have helped make this gem what it is today. Clearly Hale Tiki is built on the efforts of many people and TCers and so the credit goes to all involved.
Once we arrived, Brad and John- who bartended for us that evening- were the consummate hosts in every way. Far from any noises of Hale Tiki's demise, they are in the process of an expansion into the restaurant side of their building (which is amazing in and of itself!) and hope to be serving food before much longer. The archeology of the building is its own tale, best told by Brad :)
Brad gave us the grand tour of the space, bar side, (artifact by artifact, mind you!) restaurant side- in which we got a real feel for the 'before' aspect of their space, and even into other parts of the building- like a small back courtyard that Hale Tiki may someday expand into. They've got a GREAT space- and plenty of room for growth through the years.
They're less than a year old, and doing well- which is quite a feat for a new business, doubly so considering they play real exotic music with a little rat pack thrown in, and serve drinks but no food and are strictly non-smoking.
And oh, the drinks! Properly made, everything fresh. Fresh juices, quality rums, Tiki mugs- a good selection of them in day to day use, Hale Tiki napkins and swizzles, all add up to the real thing. There's a good selection on the menu- and they were planning to expand the drink menu soon. Try the concubine, the house drink :)
The crowd was great, regulars coming in late in the evening, a relatively young crowd. As the evening went on, Drums, bongos even the 'last call' slot drum ened up in the back room with the tribe yelping and druming their hearts out- a spontaneous disorganized somewhat drunken concert of sorts. Not exactly Denny, Lyman, or Baxter, but live music in a Tiki venue none-the-less.
Without going into detail (as Brad has a few surprises up his sleeve) I'll simply say he's unbelieveably generous! We spent the evening being treated like Tiki royalty.
I have a full album of pix up on my site- http://www.sevenpleasures.org/gallery/Hale-Tiki
[ Edited by: Sabina on 2005-02-03 20:40 ]
[ Edited by: Sabina on 2005-02-03 20:44 ]
A couple of the better pix-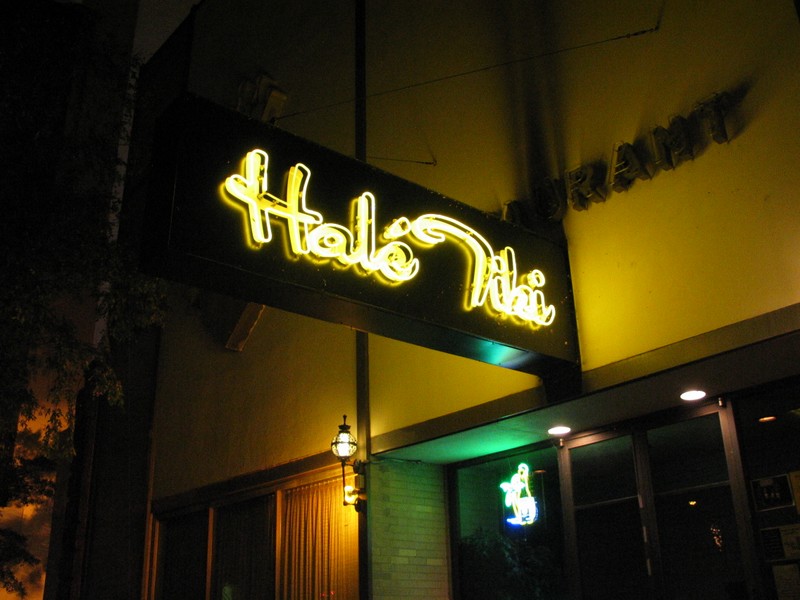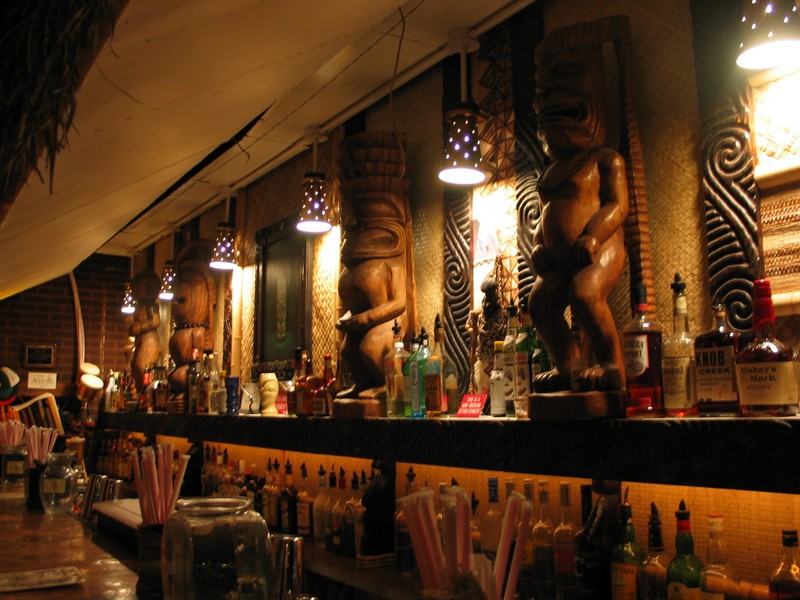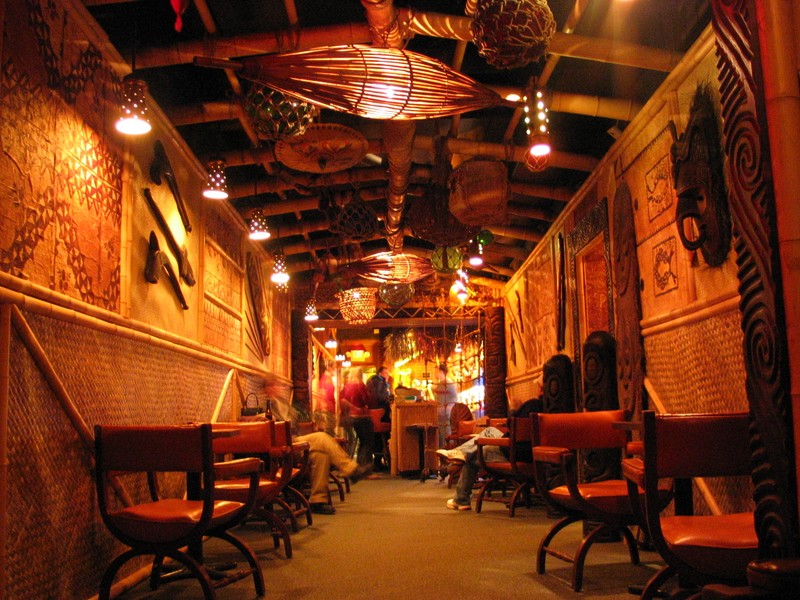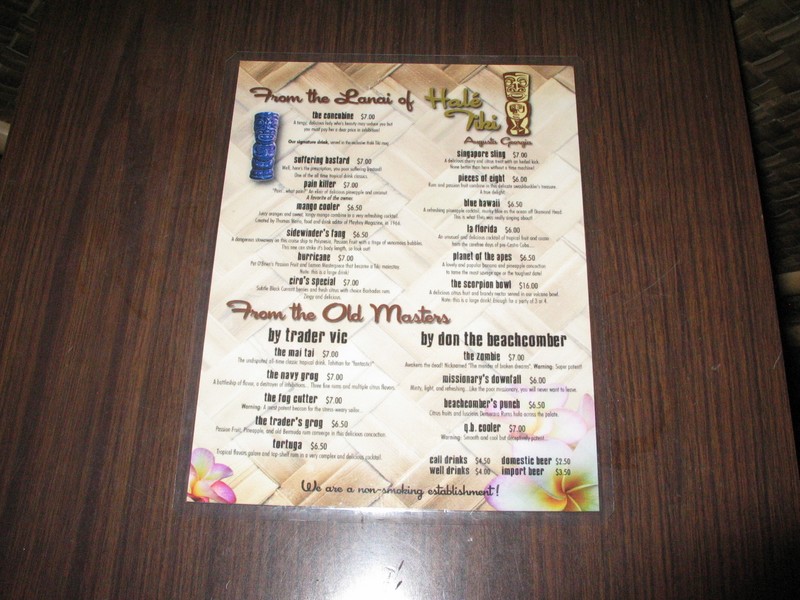 [ Edited by: Sabina on 2005-02-03 21:02 ]
[ Edited by: Sabina on 2005-02-03 21:03 ]
I have a business trip to Atlanta later this month (Feb 25), and would like to drive to Augusta afterwards. Are there any recommended hotels that are within close walking distance of the Hale Tiki?
Vern
Vern:
As luck would have it, there's a decent Ramada Inn (Literally) Right next door. Easy stumbling distance. I've gotten a $60.00 per night rate with AAA or Gov't or something...I think Brad has an agreement with them for a decent rate as well. It's an older property, but clean enough, and the perfect distance.
Scott
My tiki experience is small relative to most of the TC'ers I read postings from....but that said I'll share my opinion on Hale Tiki from a neophytes perspective. I first learned of the bar in an indirect way via ebay in the spring of 04. I purchased a Hale Tiki napkin and a swizzle stick from a seller for about a $1.50 and was pretty happy thinking I'd bought something from a relic of the 50's that I never knew existed in my home state. To confirm my suspicion, I did a search on the internet only to discover that to the bar was brand new. Alas an opportunity shortly followed in July to make a trip (timed with the running of the Southern Nationals (a big drag boat race on the Savannah River- an event worth seeing in its on right). There something obsessive and otherworldly about guys who risk their life, spend their savings, and travel across the country to go 230 mph in a 16 ft boat for a few seconds (all for a grand prize that will not even cover expenses for the weekend).....sounds a bit like the quest for Tiki.... but I digress.
As others have already said, the place is stunning and obviously the product of many contributed hours and offerings of liked minded Tiki fanatics. The owner/barkeep "Brad" was beyond gracious, taking the time to talk Tiki, Augusta and even politics (you know we were drunk at that point). A pearl in a somewhat out of the way place,,,,,Defintely worth a visit!!
As for the departure of the once guardian Tikis carved by BK......that's unfortunate
My best to carver and barkeep
Hale Tiki IS the best place to go on Broad Street. I have lived in Augusta for about 7 years now, and this is the only place I truly enjoy EVERYTIME! There are a group of people you can always count on to be there, so even when you are flying solo, you know good conversation will exist. Also, lots of new faces recently. Friendly atmosphere, but best of all, for the Tiki Bar hunters out there this is a GEM! With the addition of the hot dog man right out front, you can't go wrong. I hope to see everybody there Friday, September 2nd. Turner South will be there filming for their show Blue Ribbon. We will be sitting out front and make sure to say Happy Birthday to Billy!!!
---
(Edited for political content)
[ Edited by: Basement Kahuna 2005-09-17 04:59 ]
Hot Dog man??? Sondz cool!
Next time there, ask Brad where the fuck is my bag of socks!!!
hale Tiki was mucho fun !! nEEd to enjoy it one of theese daze.........
Pages: 1 28 replies