Pages: 1 12 replies
hey all,
i've made a minor crusade to discover more about the mysterious Mainlander in Clayton, Missouri, origin of the coveted mugs.

image courtesy Mike: mahalo
first i asked my uncles, who were swingin dudes in the st. louis area in the 60s. this got me some leads, pinpointing a two-block area.
last week i was bored out of my skull writing specifications for a project, so i was inspired (mostly by johntiki and his search for the elusive hawaiian room in the emerson hotel, baltimore) to look at the local newpaper archives in st louis online, the post-dispatch. unfortunately the online archive only goes back to about 1980, so i had a certain wall to work with. but this is what i came up with:
The Mainlander
address: 7700 Bonhomme Avenue
Clayton, Missouri 63105
This is currently the site of "Bonhomme Place," a seven-story, 114,000 square foot building completed in 1989.
"From 1894 to 1954, the Crispus Attucks School operated there, educating the black children of the area." i believe that this groundbreaking institution was somehow dissolved by societal and educational changes in mid-50's america.
"Later, there were popular supper clubs on the site, including the Mainlander and Lautrec's, which was destroyed by fire in 1978." so the tiki establishment was no longer when the building was destroyed.
based on the narrative above, i would suspect the mainlander was est. around 1954? unless the building lay fallow until the mainlander moved in...
Mr. Marion Miller, who is currently a piano player at Nordstrom department store in West County Shopping Center (Missouri), played for several months at the Mainlander in 1960.
The "maitre d' at the old Mainlander restaurant in Clayton for many years before he retired" was Conrad F. Castillo, who died in 1997. "Mr. Castillo was born in the Philippine Islands. He came to this country when he was a teen-ager and served in the Navy in World War II as a personal aide to Adm. William "Bull" Halsey." he is survived by a wife, several brothers, several children and grandchildren.
finally, Clayton Historical Society: 721-2236
where to go from here? well i guess postcards and menus would be helpful. but i want to
contact the maitre 'd's wife? brothers?
interview marion miller?
go to the post-dispatch and look at microfiche of the paper 1954, 1960's and then 1978.
see if the clayton historical society has any information?
a snag is that i will probably not be visiting st. louis this year, so if any of you have the jones, the info is above if you are so inclined. am i nuts?
mahaloz!!!
---
[ Edited by: Johnny Dollar on 2004-06-17 12:40 ]
That mug has a bit of Steven Crane style to it.
Check with your locality's Main Branch library & talk to the Research or Reference Librarian. Many librarirs have access to digital newspaper morgues & magazine back issues.
On 2004-06-17 09:25, freddiefreelance wrote:
Check with your locality's Main Branch library & talk to the Research or Reference Librarian. Many librarirs have access to digital newspaper morgues & magazine back issues.
yeh u mean you can contact them online? the kicker is that i don't live near the site, i only visit the area when there are family events (big midwestern family situation)
I meant go to the Baltamore Main Branch Library, they may have access to St. Louis newspapers or magazines (through digital collections or microfilm) with mentions or pictures. The librarian may have connections to St. Louis area librarians.
ooo, never thought of that.
dr. freddie, you are a great resource... if/when we meet i got a LOT of drinks to buy you...
:drink: :drink: :drink: :drink: :drink: :drink: :drink:
---
[ Edited by: Johnny Dollar on 2004-06-17 09:58 ]
Good research subject, J.D. Considering that the logo Tiki of the Mainlander is based on the Witco fountain (BOT p.179), the place probably did not open until the late 60s, and it must have been not around too long, or there would be more postcards/ephemera floating around...
Yet they were open long enough to have two different sizes of their logo Tiki mug out there, one being slightly larger.
I am dieing to see interior or exterior fotos, it seems highly likely that they had more Witco decor.
J$ - good research! It's amazing that you could find pertinent information about the place 1000 miles away and yet I've hit a snag with my investigation on a place 30 miles from home! I've yet to hear back from anyone confirming or denying the postcard I posted in the Hawaiian Room topic is actually Baltimore's Hawaiian Room at the Emerson or New York's Hawaiian Room at the Lexington. We should mix up some drinks, smuggle them into the Pratt Library and make a day out of doing research on our two elusive archaeological projects!
hey j-tiki, dat would be really cool. as wit you the house projects are big worries, but perhaps we could try and set up a day. e-mail or pm me (although i leave soon today)
peace, j$
I'm curious as to how the witco mainlander logo came to be- did they get permission/licensing from Bill Westenhaver, or what? Keigs?
i recently won this matchbook (matches removed by previous owner)

detail...
i was curious about the vintage of this matchbook, as the clues regarding the address are thus:
the address has no zip code. in the u.s. zip codes were implemented july 1963 - not mandatory until 1967.
the telephone has an EXchange instead of area code. area codes were intially assigned in the u.s. in 1947.
i'm not sure what that tells us. but is it likely a matchbook produced for a late 1960's bar would have no zip code AND no area code? maybe, maybe not.
NOTE ~ the inside of the matchbook lists the bar at the Mainlander as the HUKI-LAU BAR. "south sea potions" !!! anyways, if that jives with anything anyone else has found, i would love to know.
---
addendum:
for comparison, three images: thanks to JonPez for the fountain link...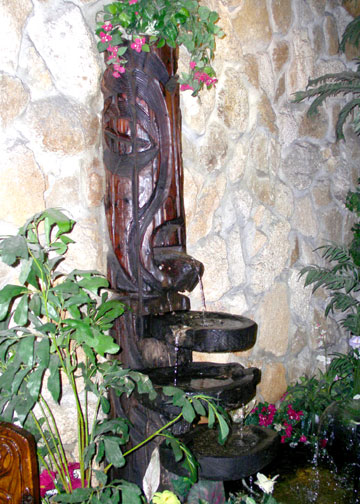 [ Edited by: Johnny Dollar on 2004-10-20 10:05 ]
Try a standard researchers' tool: old city directories. If St Louis libraries have such collections, someone might check the whole range of suspect years for the address of the Mainlander. One catch is that much city directory info is gathered by questionnaire, so if a property owner decides not to bother, the info is missing.
Also, county property tax rolls might be useful. You might be able to look up the tax valuation for 7700 Bonhomme Avenue over a number of years; these sometimes list the property owner. If you correlate this with the span of years that Huki-Lau/Mainlander operated (based on other data), then a change in ownership during that span may imply the time the name changed, assuming a new owner changed the name.
Of course, none of that is as cool as finding someone who worked there, but cold data can be the framework upon which anecdotes are hung.
Pages: 1 12 replies