Pages: 1 7 replies
There is a website I found a few years ago, titled Avocado Memories, where a man named Wes Clark takes a fond look at some of the photographs from his family album - mostly of his 'parent's failures with interior decorating' while growing up in the Los Angeles areaduring the 1960's.
Of particular interest to this list is that Wes's father was very much into the tiki/Hawianna spirit, enjoyed Martin Denny, and tried to turn his backyard into a tropical paradise. He only partially suceeded - and it is a bit fascinating to see the slow backyard decay over the years - all documented with family photos.
The following link will take you the the first of the backyard photos .... click through the series .... about 8 photos later you will see some very interesting back wall paintings of tiki gods, circa 1961, in the L.A. Silverlake region.
http://www.wesclark.com/am/am_15.html
There is also a page about a backyard tiki hut that Wes's father built in the early 60's.
http://www.wesclark.com/am/tiki_hut.html
Interestingly enough, I later discovered that Wes Clark now lives only a few miles from my current home. I've met him, and plan on inviting him over to see my own current tiki room.
Vern
It's really great to see the "real thing"; photos actually taken in the 1960s of tikis in the common man's backyard. I just stumbled onto another such place this weekend. My cousin and his wife, who live in Signal Hill have a neighbor who's split-level 1960s modern house has a full tiki pool-room on the first floor. Maybe some day he'll invite me in and let me take photos.
I checked out the links you provided. The tiki painting on the patio wall looks like it was taken directly from the menu or matchbook of the "Islander" on La Cienega Blvd, in Los Angeles.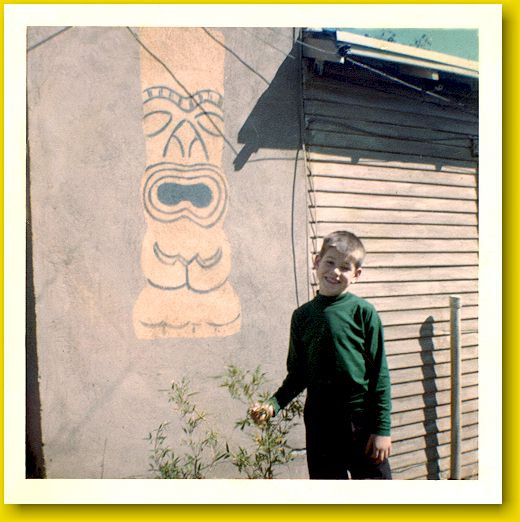 Wow - I just wasted an hour (on the clock!) looking at this site - so very cool!
I can totally relate to the feel of this site (even though I grew up in Orange County in the 1970s) - when I found the page with a picture of "The Farm House" - it brought back so many memories! It's funny how things like that remind you of your childhood - we just don' t seem to have things that make an impact like that anymore...
I just discovered the "Avocado Memories" site and spent at least a good hour going over it and reading the text. It really is a wonderful site--a celebration of all the little things that people do. It's maybe one percent tiki and 99 percent other stuff, but I found it all uniformly interesting. It's even got Aurora monster model kits in it!
Recommended, for sure.
Funny you mention Wes Clarks avacado memories. . . My chain of discovery went something like this. . .
Had interest in Drive-in Theatres and local things that were lost. . .
which led me to
"Evil Sam's Drive in theatre" web site, where I wrote several articles about finding the history of drive-in theatres and digging up pictures and such. . . which led me to. . .
Mike Ransoms Tulsa TV memories. . (Some of my work on drive-ins is on his site) which led me to. . .
Exotica music. . . which led me to . . .
University of Kansas, Retro Cocktail hour AND Tulsa Tiki finds. . .
At this point, I take an interest in Tiki and find this site. . .
Strange. . .
Wesley Horton
Skimmed through the text and what fun pictures. Pretty amazing how 10 years of persistence really ups the voyeurism pleasures for a select few. Great sight!!!
VampressRN,
I think I can safely guess your profession. Funny, I do the same thing! Perhaps we should collaborate on a nursing intervention for tiki. . .
Ineffective social life R/T "lack of tiki exposure"
interventions are simple. . .
Visit Tiki
if any questions see #1 above.
Regards,
Wesley Horton RN
Ask and you shall receive, we have a pseudo-hospital at Tikiitis
I didn't so much mind that avocado color, but I didn't care for the goldenrod. :D
Pages: 1 7 replies