Pages: 1 12 replies
I was reading trough a Time magazine yesterday (it was a late October issue) and they were talking about streetart a.k.a graffiti. I have gotten into more and more over the last few months. http://www.time.com/streetart
One of the guys mentioned was a guy by the name Tiki Jay or Tiki Jay one. The article said that he make little concrete tiki statues and the secures them around the city. There is a link to his website and shows some Moai that he paints. http://
Anyone have any pics of other tiki graffiti?
[ Edited by: teaKEY 2005-11-15 14:24 ]
I'vegot a few examples of Moai grafitti slated for inclusion in Big Stone Head.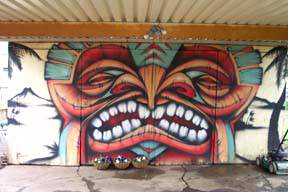 Well spotted dude. I love a bit of the ol street art myself ( I hate tags with a passion, but love street art, especially stuff that makes you think). My favourite was where they took down an anti-graffiti sign, and sprayed an exact replica of it back onto the wall where the sign was. I love the irony.
I have posted a few of my stencils on the stencilrevolution website. Look under Hewey (funny that, hey?)
Heres a TC thread on stencil art:
http://www.tikicentral.com/viewtopic.php?topic=16109&forum=13&hilite=stencil
Heres some of my stuff. None on the "street" though, not that kinda guy myself.
On 2005-08-14 19:58, hewey wrote:
A stencil on a record I did for my girl.


Stencil shirt I made for myself.


Stencil on my garbage bin, based upon a Finkdaddy carving. Overspray everywhere because I couldnt have been bothered to hold it down properly.

hewey, cool shirt..! you ought to sell those..
Cool links Teakey. Thanks for sharing 'um.
Hewey-I really like the purple tiki over spray and all. I have not messed around with a stencil in quite a while but your post brings back my memories of homemade Social Distortion and Dead Kennedy shirts.
I bet you could spend days experimentin' around with addin' other mediums and materials using the stencil technique and come up with some nifty effects. I have a buddy that has done some really cool art using paint cans and watrer. Let us see more of what you guys come up with.
Chongolio
---

" I believe that our Heavenly Father invented the monkey because he was disappointed in man."
... Mark Twain
http://www.Lost-Isle.com
http://www.piggod.com
Um... I kinda avoided posting anything about my artwork due to the fact that much of what I get about stencils from other artists is that is is either just "Graffiti" or it is "not quite art". I personally have been cutting stencils off and on for years, and yes, I still partake in less-than-legal activity.
I'm currently working on a few pieces that are tiki (or "tiki inspired" depending on your viewpoint). The initial characters are done (approx 15" X 6") and I'm working on background stencils to complete "pieces" utilizing them.
I sent artist proofs of them on vellum to Crazy Al for his auction. Unfortunately, due to the hurricane I couldn't get actual work there so he had JPEGs for those of you who were actually there.
Here are the pics so far:


*detail close-up:

Hewey- I too love the overspray as well as the "misting" effect on the purple piece! Tres-cool! I'm really glad I'm not the only one here doing this kinda thing.
I saw them in the crazy al post, I figured they were proper prints, they so pretty and neat. Nice work. They sprayed? I would love to see some of your other stuff (legal, and not so legal).
Nope, not prints but I really appreciate the compliment. Mahalo! I spent a lot of time... seriously, some of my best work to date.
Yes, each color is individually sprayed.
5 stencils in total: background, primary shading, detail shading, shadow (black), and highlight (white). The registration is a nightmare but I learn new tricks every time I paint.
I'm currently working on quite a few things, but I promise I'll post pics. Including some of the single and dual color stuff that's up in public.
On 2010-08-27 16:19, Zeta wrote:
Stickers seen in Mexico City in 2006

Titiki (france)
Dr. Rabias (Mexico)
Pirataz (Spain)
At the Amazon campus being expanded in Seattle they took the street art from around their site and brought inside for wall art.
Finally, Moai found in Amazon, maybe Thor Heyerdahl was on to something!
From the Frost Park Chalk Off's in Tacoma about 2008 to 2010 or 11. The work of Mark Monlux.
I don't know Mark Monlux but I'll have to contact him and talk with him about his art.
aloha, tikicoma
As seen in Wynwood neighborhood of Miami
Pages: 1 12 replies