I wasn't sure of where to post this considering me finally making it to Florida isn't exactly an event but here goes...
I'm finally gonna make it to the Mai Kai and I had a couple questions for the locals... Where is a cheap place to flop in Ft. Lauderdale within close proximity? Would anyone want to meet up for a drink... I'm going to do the whole floorshow and all because I know I'll never make it to a Hukilau and this is my one opportunity to check it out! Should I make reservations early... as in now? I know there's been info. posted all over TC about the Mai Kai but I couldn't find the specifics I was looking for! I'd love to hang out with some other Tikiphiles so please join me!
---
---
Johntiki
[ Edited by: johntiki 2006-01-18 20:57 ]
[ Edited by: johntiki 2006-01-19 16:00 ]
Hey John,
There's a hotel stumbling distance from the Mai Kai...used to be a best western or something but is now independently owned. I cant remember the name, but the people at the Mai Kai game me the name/adrs/phone number. Give em a call. (Its like a block up the road just past the Spearmint Rhino)
As far as hanging out, wish i could, but I'll be stuck up here in CT. Hoist one for me, and have a blast!
I will be there a few weeks after you. We are staying at the best western oakland park in for 2 nights . I looked at a map and its website says its walking distance from the Mai Kai.
I'll be there on Feb 17-18. It's my birthday and the wife and kids are treating me. (My wife rocks!!) It's also my first time there and I, too, need to find a close hotel that is hopefully a little more interesting than your run-of-the-mill HoJo without breaking the bank.
Rodeo - thanks for the tip I just got a return e-mail from the Mai Kai and they recommended the Best Western Oaklandpark as well and I just booked my stay! We all should have organized this a little better and we could have had our own mini Hukilau!
:)
I stayed there during da Hukilau. They have a sad, tiki-less "tiki" bar. Don't let the bedbugs bite!
On 2006-01-19 13:57, pappythesailor wrote:
Don't let the bedbugs bite!
Now what the hell is that supposed to mean?! Should I be concerned with bedbugs at this hotel? Please clarify!
Aloha johntiki,
I think a small gathering can be arranged. I will do my darnedest to be there. I'll PM you shortly. You'll love the place.
Do you know Scott tiki and his lovely wahine Jen? They were wonderful to meet when they were here last fall.
[ Edited by: I dream of tiki 2006-01-19 18:31 ]
On 2006-01-19 18:30, I dream of tiki wrote:
I think a small gathering can be arranged. I will do my darnedest to be there.
Oh, bummer. Hate to miss a gathering. I can't really change my dates since the 9th is a Thursday and my kids are in school the next day.
Gator - that's perfectly understandable! I'm actually getting a four day reprieve from child care duties to make it down to Florida! My buddy Joe, who is making the trip with me, is also taking a vacation from his wife and daughter. We're both excited and floored that the wives gave us the go-ahead for this trip! :) Anyone else think they can make it out?
On 2006-01-19 15:59, johntiki wrote:

On 2006-01-19 13:57, pappythesailor wrote:
Don't let the bedbugs bite!

Now what the hell is that supposed to mean?! Should I be concerned with bedbugs at this hotel? Please clarify!
Since you asked, my bathroom was pretty skeezy, the room smelled like mildew and the coffee tasted like ass. Although that last may just be a FT. Lauderdale thing. The water there was pretty icky. (But I wish I were there to go to the Mai Kai with you!)
I can deal with skeezy bathrooms - I'll make sure to wear some flip-flops in the shower! I'll also bring my own can of Lysol to battle the mildew smell and take your advice on avoid the assy coffee - it's only a place to flop for a few hours before heading on! But the mention of bedbugs had my skin crawling! :)
We tried to make a reservation at the Best Western on the 18th and it was all booked up. Lots of other hotels in the area are full that weekend too. There must be a convetion or something. So we're going to come down on the 25th instead. We could've probably found a hotel somewhere, but I don't want to deal with a lot of traffic and crowds. We're set for the 7pm performance at the MaiKai on the 25th (early show due to our kids being with us). Woo hoo!
Hey John,
I'll try to make it to have a drink with you. I needed an excuse to go back there to pick up some rum barrell mugs to send off to TCers in far off lands. PM me before you come down with the details of when you'll be arriving there.
Joe
I'm coming down from nyc 12-18th to miami.
Johntiki - my apologies for not responding sooner - I don't have the luxury to check Tiki Central daily! I am thrilled that this will be your first visit. We will have us a mini Hukilau indeed!
The Best Western Oakland Park is actually where Sven Kirsten stayed upon his first visit to the Mai Kai in 2005 so it looks like we're starting a tradition.
Welcome! I'll PM you my cell number so you can get in touch with me!
JT, It'll be great to have you down here. I'd definitely be into joining everyone for a little gathering. You'll have to make a point to catch a drink in the Molokai before getting seated for dinner, It's amazing.
Sorry, I can't help much with the local info as I'm fairly new down here myself.
I look forward to meeting ya!
---
[ Edited by: HelzTiki 2006-01-22 05:13 ]
I am getting psyched for this trip! Thanks for all the hospitality thus far!
Does everybody know you need a dress shirt to get into the Mai Kai? Or at least you used to. The only time I stopped there to visit, they wouldn't let me in because I was wearing a T-shirt. I didn't have extra time on my trip to go shopping just for a dress shirt just to get into their damned restaurant, so I had to pass. I imagine it's a great place inside, but such a policy seems pointless to me and surely must cost them money in lost business. The weird thing is they didn't care about what type of shoes I was wearing, which is what night clubs are so concerned about. Go figure.
The Mai Kai has never required formal attire or that of a dress shirt. Normally when I go with friends the guys wear Aloha shirts, same for the dress code at Hukilau. Unless you're extremely casual I can't really see them saying anything to you. The more the Aloha wear the better!
On 2006-01-21 20:45, tiki_kiliki wrote:
The Best Western Oakland Park is actually where Sven Kirsten stayed upon his first visit to the Mai Kai in 2005 so it looks like we're starting a tradition.
Thats cool , we need to start a " I stayed at the best western oakland park om my first visit to Mai Kai " Club. Sven could be our leader.
I am as excited as you are John , 30 days and counting for me!!!!
I'm counting down the days now... a week to go! Just wanted to bump it up in case someone missed it and might be interested.
[ Edited by: Chip and Andy 2009-06-05 17:34 ]
We'll myself and the Mrs. are definitely planning on being there to at least catch a drink in the bar (Unfortunately, we can't stay for the whole evening). So if that works, count us in for 2, I've been needing a little Mutiny in my life.
:drink: Yay!
---
[ Edited by: HelzTiki 2006-02-02 18:41 ]
[ Edited by: Chip and Andy 2009-06-05 17:35 ]
[ Edited by: Chip and Andy 2009-06-05 17:38 ]
JohnTiki, I definately plan on attending to just the Molokai bar. Ms. Tiki Kiliki is a very strong possibilty. We'll just pull up chairs to the reserved table. Looking forward to seeing everyone there. :drink:
M
[ Edited by poptiki on 2022-10-12 05:34:27 ]
Wow! This is shaping up to be one hell of an event - I'm counting down the moments until Thursday! I'm blown away by the response from the Florida ohana! Mahalo everyone - I'm looking forward to meeting y'all!
Stump Grinder and I will try to make the Molokai, cant do the show...sorry its a school night...
Dang. I'm going to have to bow out of Thursday night. I just got offered a job that I can't turn down through the weekend. Everyone have a ball. Johntiki, I toast to your joyous time at the Mai Kai and in South Florida. :drink:
We're definitely in for the Molokai...
So what time is everyone planning on arriving? I know dinner is at 8, and happy hour is in there somewhere...
[ Edited by: HelzTiki 2006-02-08 15:41 ]
Johntiki, I am SO happy for you that you're going to get down to see it! Seeing this thread made me so happy for you- a well deserved much awaited pilgrimage!
If you're there in time, be sure to check out the happy hour from 5-7 in the Molokai Bar (the 2nd drink is on the house). Take your time and let the Magic of the Mai Kai enfold you. Relax in the bar, stroll the gardens before dark, then enjoy the show and return to the gardens by torchlight after dark- the Tikis are so different from sunshine to shadows! You'll want twilight to examine the details, torchlight to feel their wonder.
If you pace yourself just right through the drink menu, you'll end the evening with a magnificent Kona Coffee Grog complete with fire ritual-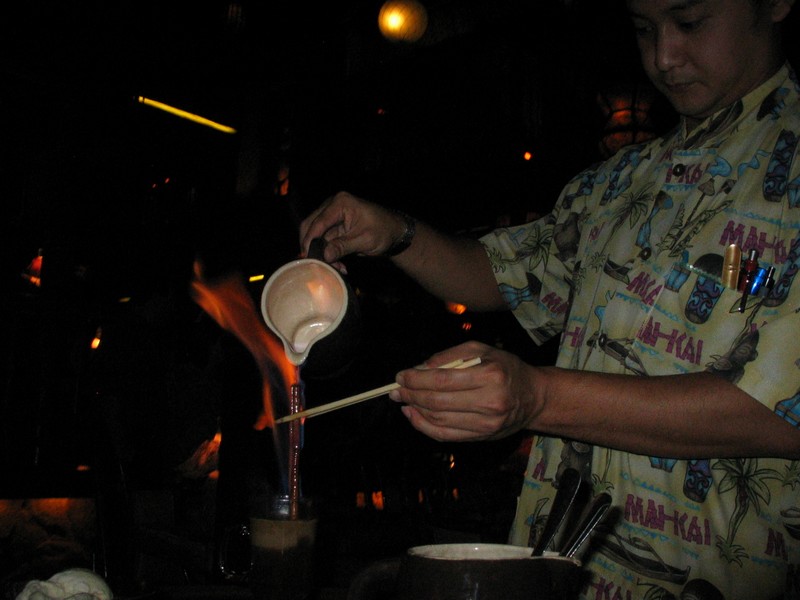 or Bananas Bengali-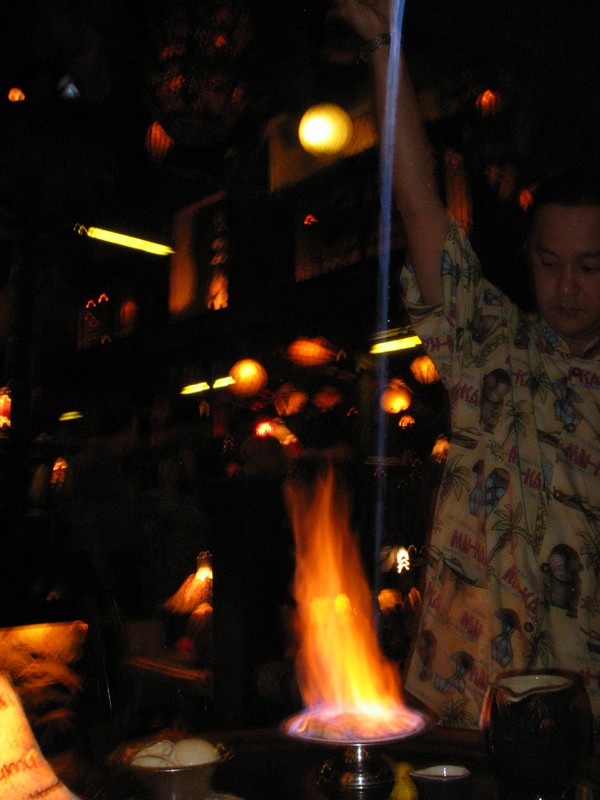 (you can see a bunch of pix from the fire rituals here- http://www.sevenpleasures.org/gallery/Mai-Kai-2004-Hukilau)
Enjoy!
Thanks for the tips Sabina - I'm getting real psyched! See everyone tomorrow night!
any updates? John, you okay?
He's probably recovering from the magical Mai Kai!
We want some pictures, not some belly itchers!
[ Edited by: Chip and Andy 2009-06-05 17:38 ]
[ Edited by: Chip and Andy 2009-06-05 17:38 ]
M
[ Edited by poptiki on 2022-10-12 05:36:13 ]
Let me preface my comments with this statement; you can tell you've had a good night when you wake up 10 minutes before the 11 AM checkout time!
WOW! That was without a doubt one, if not THEE greatest night of my entire life! But before I comment on anything else I want to give some praise to the Florida ohana, you guys and gals are some of the most welcoming and friendly people I've ever met in my entire life – everyone was so warm and accommodating that after about 3 minutes I felt like I'd known them forever – we really felt at home and I can't thank everyone enough!
The Mai Kai is awe-inspiring! Everywhere you look there is another treat for the eyes – the high ceiling above the dining room filled with floats and lamps, the Leetegs, the carvings, the waterfalls, the waitresses in the Molokai… you get the picture! I haven't been to a lot of world class tiki bars but the Mai Kai is the best I've ever seen and I can probably safely say I'll ever see! The drinks are top-notch – after all these years I finally got to drink out of a non-ceramic pineapple! Did I mention the waitresses in the Molokai Room? They are stunningly beautiful – I had heard and seen photographic proof of that fact but the folklore doesn't do this matter justice – my friend Joe nearly flipped when we placed our happy hour drink orders! Pia and Kern were amazing – I felt like a VIP and was overwhelmed and honored by the treatment we received – getting to see their rum collection was like getting a private tour of the Sistine Chapel! The food was out of this world! The floorshow was jaw droppingly stunning – how do they move their hips like that?! My time on stage was awesome – in all honesty I would have probably been disappointed if I didn't get to show my stuff to the Finn's! The Kona Coffee Grog was an awesome nightcap, even though the night was just getting started! The gardens with its wealth of tikis and tropical foliage had me feeling like I was in the South Seas thousands of miles away from Florida!
When it came time for everyone to go their separate ways I actually got kind of choked up… I felt like I had made some great new friends and unfortunately my magical visit to the Mai Kai was over! The rest of the night was filled with more drinking at a few way less charming places but so as to not incriminate myself I'll stop there! As for the rest of the weekend, it was fun but it couldn't hold a candle to the majesty that was my Thursday night visit to the Mai Kai with my Florida Ohana! Thanks for everything!! I'm sincerely envious of those who have upcoming pilgrimages to this Heaven on Earth! I vow to return again someday!!
Who SAYS Disney's the happiest place on earth?! The Mai Kai is truly a one-of-a-kind place. Glad to see everyone had a great time!
Wow! I was already looking forward to my first pilgrimage to the Mai Kai (in 11 days!), but after your description of your experience, I'm counting the minutes! Did you order a Mystery Bowl? Do tell...
[ Edited by: GatorRob 2006-02-13 19:37 ]
On 2006-02-13 06:56, Kanekila wrote:
Who SAYS Disney's the happiest place on earth?!
The Mai-Kai beats Disney with one pineapple tied behind the bar.... Last time I was at Disney, I couldn't find a decent drink in the whole place. Not even a glass of wine.......
Of course, I was at Disneyland.....
GatorRob, unfortunately I didn't order the Mystery Bowl. But because I didn't, it leaves me one more reason why I need to return! :)
My first visit is tomorrow! WOO HOO! :D
On 2006-02-27 10:55, johntiki wrote:
GatorRob how was it??
Spectacular! First off, I was completely blown away by the sheer size of the place. You can read about it all you want, but seeing is believing. The mood, the music, the lighting... everything was perfect. I won't re-hash what everyone has said about this place already, but it was everything I hoped it would be. We spent time in the bar, had a great dinner and watched the show. And blew a LOAD of cash! Holy cow! All of this don't come cheap, but it was worth every penny. And I'd do it again (and will!).
My only real disappointment of the evening (and it's a minor nit-pik) was with the Mai Tai. I should have searched TC first, because others have described it. Had I read that, I would have ordered something else. It was not the classic recipe, but had grapefruit and pineapple juice and precious little rum.
We got there early (had the kids with us)at 2-for-1 happy hour. Maybe they hold back on the rum at happy hour? Downed two of those quickly with no "happy feeling". Let me tell you, two of MY Mai Tais will definitely get you happy. Later over a pupu platter, I had a 151 swizzle. MUCH better.
Question: Do they still serve the Mystery Drink? I couldn't find it on the menu.
Overall, a memorable night. I was glad my kids got to go and they had a great time, but next visit I'm hoping it's the wife and I with some adult friends so I can spend more time in the Molokai bar!
[ Edited by: GatorRob 2006-02-28 07:44 ]