Pages: 1 10 replies
Help us celebrate Chip's birthday at the Mai Kai Friday January 19th at the Mai Kai. The fabulous Haole Kats will be playing in the Molokai Bar.
Last year was the perfect age, 36. You can have sex with someone half your age legally. Now you are over the hill, baby.
Happy Birthday, Chip!
Andy
Wishing you a Happy Birthday....have fun!!! :)
Wish we could be there guys! Have a great time and HAPPY BIRTHDAY CHIP!!
(I can now legally buy a drink for someone half my age. How depressing is THAT?!?)
Wish I could be there at the Mai Kai with you guys tonight! Happy Birthday Chip!
TT
Chip,
Oh my, I almost let this day go by... Mai Kai! What a perfect way to say good-bye to one more year of fine living. So raise a glass, toast a toast!! Hope your Birthday is or was a fine and happy occasion!
Happy Birthday & Many more!
Tikisgrl
Happy Birthday Chip!
Hope the Mai Tais were smooth, the Pu-Pu was sizzlin and the Haole Cats were happenin!
Jpmartdog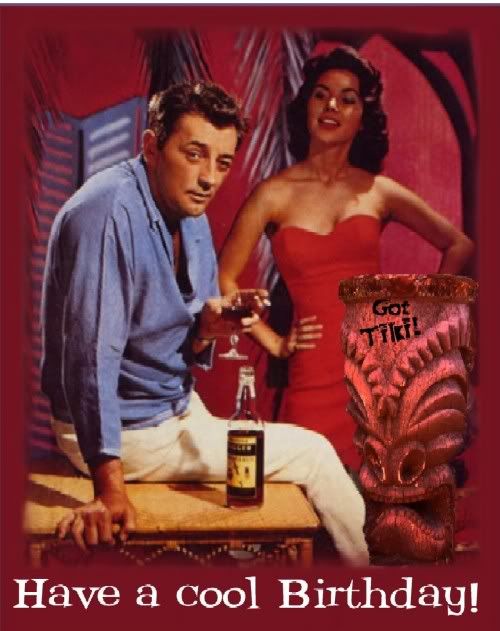 Thank you all for thinking of me. I had a drink for each and every one of you. And that is exactly why it has taken so long to get to the pictures.....

Drew is going to kill me for posting this one......

A conga line that only makes sense when you count up the emtpies....
More here.
And Quince-at-Danny's, you should have some great photos of the weekend, share!
We had a GREAT time--Florida Tiki People Rule! Almost like it was my birthday too (it was actually). Here's some pics We took some at Pia's after-bar, but they, um, didn't turn out. "Operator error." (And by "operator" I mean "drunken" and by "error" I mean "fool")

Haole Kats!

Varla gettin' intimate with the 151 swizzle

Quince getting his drunk on

Chip--getting his birthday lei
Here's some additional pictures from the Mai Kai during our 3 nights there:
I'm green with envy!
Photos are great. Can't wait until the next Minnesota Ohana gathering to hear about the trip and see the rest of the photos.
~glen
Pages: 1 10 replies