Name:Trader Vic's/Polinesio
Type:restaurant
Street:Between Calle 23 and 25, Vedado
City:Havana
State:
Zip:
country:Cuba
Phone:
Status:operational
Description:
Now that the Beverly Hills (1955) and the Chicago Trader Vic's (1957) are gone, this the oldest intact Trader Vic's in existence (1958). It was barely finished when Castro took over, and only open for a few months as Trader Vic's. Curiously, it's decor was used for the amazing 1964 Russian propaganda film "I am Cuba"-
http://www.youtube.com/watch?v=qUINE6CrrDc
I am not sure when it re-opened as the Polinesio, but other than the name (and the Tapa wall paper) little changed. Yet I am worried about it's fate. The fact that it has remained untouched is thanks to any communist country's habit of not fixing anything, but for the same reason, the lobby entrance from the Hotel it is situated in has remained closed for some years now. Some plaster fell off the ceiling of the stairwell or something, and instead of fixing it, they just closed the access. This means that one has to walk outside the Havana Libre Hotel and around it now to get to the restaurant, so there is little or no tourist business in there, it stays empty. I hope that, just with the rest of Havana's mid-century gems, any new owners will realize what a rarety they have and restore it to its authentic glory.
The Polinesio is located in the basement of the Habana Libre Hotel, which used to be the Havana Hilton. There is a whole chapter dedicated to this mid-century modern gem in Peter Moruzzi's "Havana before Castro" book (see Tiki Marketplace).
As stated above, the restaurant can now only be reached from the outside, and the entrance is so far back that this sign is the only thing visible from the street:
The fact that hotel bars must be supported by the guests makes its situation dicey. Once you see the entrance, it is quite impressive:
As you enter you first see the bar:
...which has the classic circular hut ceiling the Chicago Trader Vic's used to have:
The dining rooms are quite large. Funnily, since there was no Tapa available in Communist Cuba, the solution to replace it was to paint Tap patterns on the wall:
On the ceiling, we can make out the classic "birdcage" lamps Trader Vic's used in all his early franchises:
...which were borrowed from here to decorate the nightclub set in I am Cuba:
In return for having sent over my Book of Tiki some years ago, I received some gifts from the manager:
The old Polinesio menu, basically the classic Vic's design, with slight alterations :) :
A previously unseen skull mug:
...and a Starboard Light glass, here filled with the appropriate libation, in my glamour shot from Pete Moruzzi's new book!:
What great shots, Sven!
Major Mahalos for posting!
The place -- even in it's present state -- has a definite magic to it. I DO hope the "Polinesio" doesn't go the way of Chicago and BH!
Cheers! :drink: :tiki:
Thanks for the awesome post with great pictures! What a spectacular place!!
Here's a postcard from this Vic's when it first opened:
It's so cool that it is pretty much unchanged! Hopefully it will remain that way!
Those pictures are, once again, SO alluring. Can't wait for the book to arrive in my mail.
WOW! Amazing! Bigbro those are some great images. Taboo Dan, where did you find that postcard?? Never seen it before. Time for a trip to Cuba!
Great photos Sven!
Maybe the Valencia group patterns the new LA Trader Vic's this way?
Hey DustyCajun,
The postcard was just on ebay. I lost out on it.
This is only the second time I have seen it.
I believe there is a picture of it in one of "The" Tiki Books but can't remember which one.
Okay found the picture. It is in "Sippin Safari" by Beachbum Berry on page 162. Cool shot!! What an awesome book that is with great pictures, receipes and ton's of cool information.
TabooDan
What a great post, I love the pictures!
Ma halo Big Bro!
I had originally posted these on the new Havana book thread but they seemed more suited for this one.
This is a nice three card postcard set I picked up with illustrations of the Habana Hilton and Trader Vic's
We returned from a trip to Havana Last week.
Visiting this place was something high on the list of intentions whilst there. We stayed at the fantastic Nacional Hotel just a short walk form the Habana Libra (about 5 mins). This restaurant is not in the "old Havana" that is popular with tourists. And i wonder who would even find them selves in such a place if not by accident.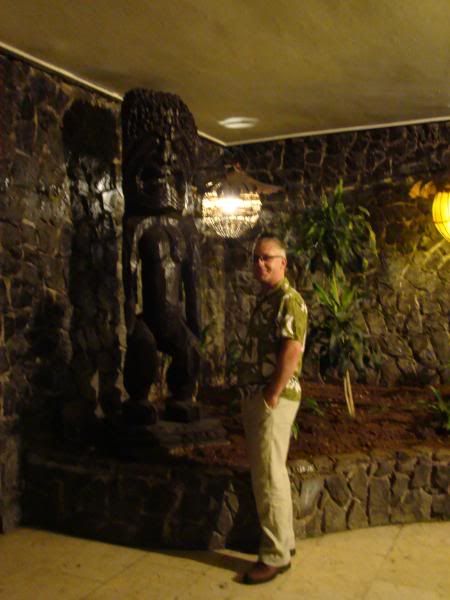 London is the only other Trader Vics i have been in . And i am lead to believe we are quite lucky here in the UK to have such a good example with original decor and atmosphere.
Like Havana in general there is decay , Its like time stopped and at that point nothing much progresses. The evening we went was a Monday and the restaurant had just a hand full of other people dining. The large man who greeted us lead us passed the Chinese Ovens and to a Table.


With his slicked back hair and sports jacket, he reminded me of a character straight from a '60s TV movie.. He handed us a Menu each and proceeded to list all the items that were in fact unavailable.. We had a Daiquiri...


As has been mentioned before this is now a government run resturant. The food was poor and the ridiculous over filled Daiquiri gave me brain freeze...
BUT .. hey this place is in Havana, and i loved it !!! The decor is very similar to TV London. I'm pretty sure the furniture is the same. With deep red carpet, Carved pillars and posts, all i am guessing the original TV layout.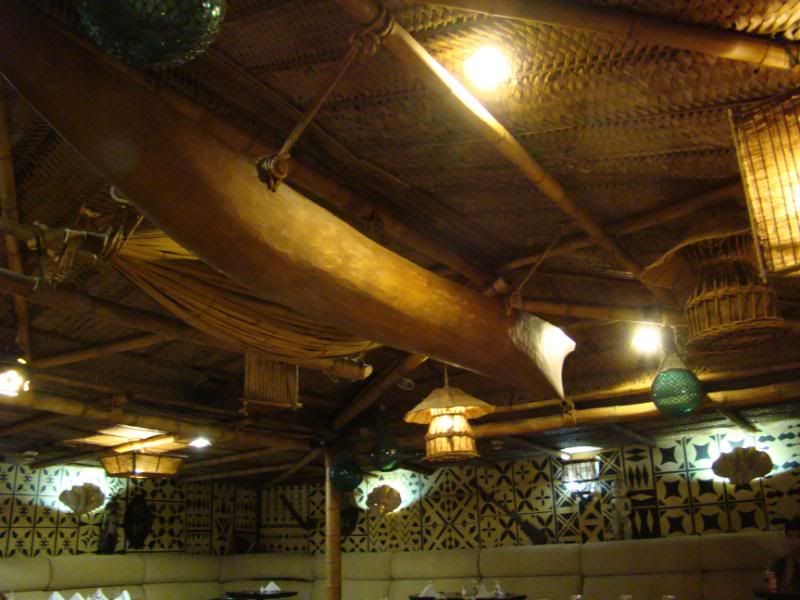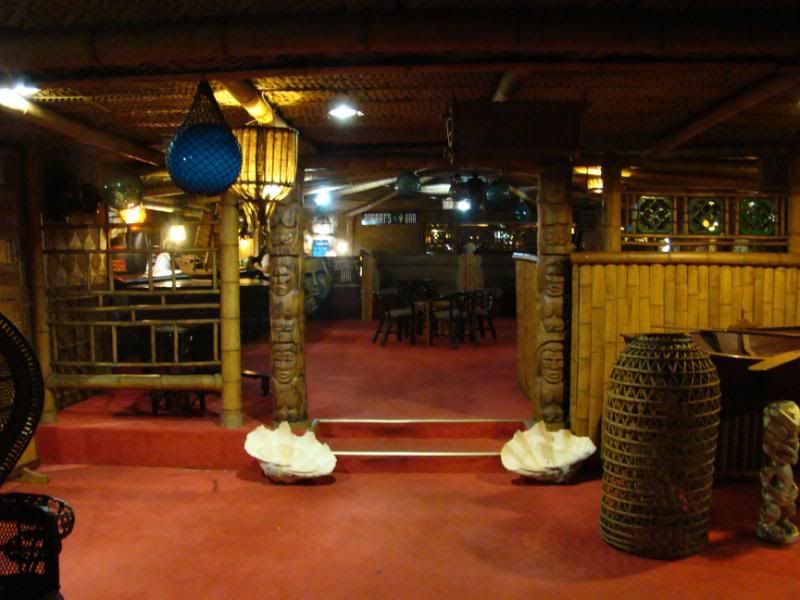 My plate: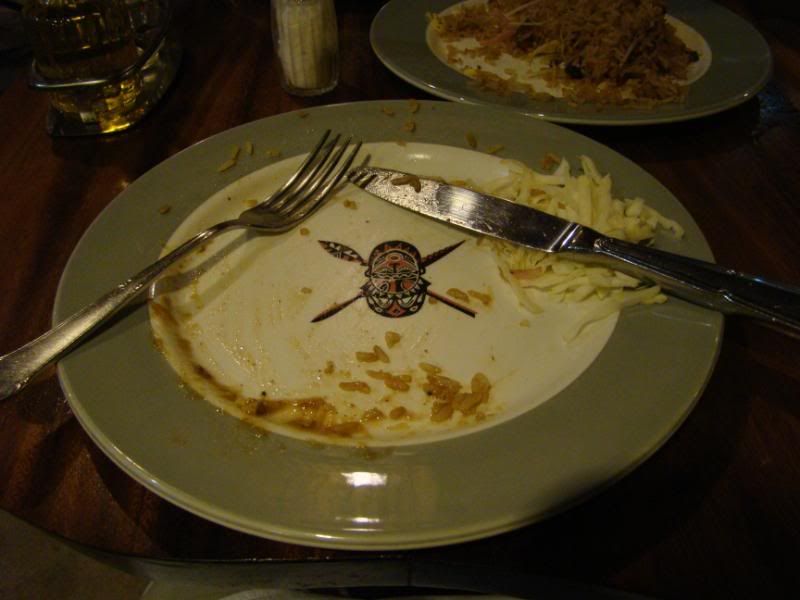 It survives within the bubble of Cuba. A time warp. Like most things there, with nothing much new being built or encouraged the old is only seen as functional. We brought our nostalgic eyes to most of this. But i wondered whilst we sat there what the other ,I'm guessing, local customers made of the place.
Interestingly enough as we left and i scouted about the place taking pictures i found 8 framed photos hung togetehr on the wall. They were Before and after shots. 1958 and 1996. This hinted at the fact that for the past decade or so Cuba or at least Havana has become aware of its cultural history with regard to Hotels and iconic buildings that have been destroyed and remoulded in many other parts of the world when such buildings ceased to be profitable.. ( Vegas mainly )
If you like Mid-century modernist archetecture. Art Deco buildings that people actually live in... Hotels like you wish Vegas still had . A 1958 Trader Vics. And you want to be driven around in a convertable 52 Chevy .. Go to Havana if you can.... YOU WILL LOVE IT !!!
Indeed! And get this book :D :
http://www.tikicentral.com/viewtopic.php?topic=29208&forum=12
..because it has maps and photos of many of the remaining 20th Century sites in it.
Soooon all this will be easier to explore for Americans, too...finally!
Thank you for some of the detailed photos. You gotta love how they, in lieu of real Tapa, hand-painted the Tapa patterns on the walls. The fact that this place is so empty and the bar/restaurant is only "so so" is in part due to the sad situation that the main stairs that are leading down from the Havana Libre lobby (where there are signs to the restaurant!) have been closed for some years now, because some plaster fell from the ceiling over them. As things go in communist Havana, if something brakes, it doesn't get repaired soon, but sits there. The entrance from the street level is hard to see, and there is little foot traffic on that street, so no one sees it and it is often empty.
[ Edited by: bigbrotiki 2008-11-06 07:25 ]
I think you've discovered the secret (too late) to keeping old Tiki hot spots from closing. Let the government run them and they don't have to turn a profit!
Great pics, thanks for posting them. I would love to visit this place, and Havana in general, sometime. (Let's hope you're right Sven.)
This picture begs a few questions: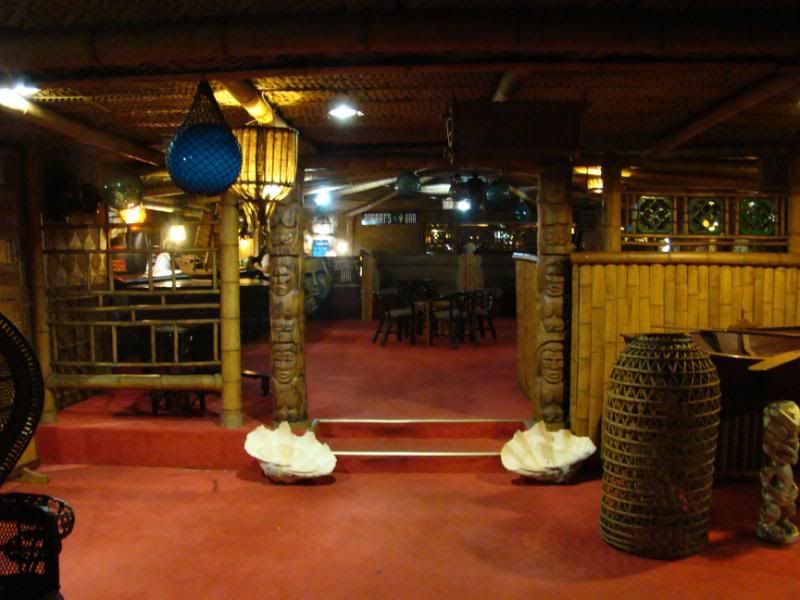 Why are those gorgeous shells lying on the floor?!
Those carved poles look unconventional for a Trader Vic's. They look like little Fidels.
Bogart's Bar?
Hahaha. Those shells probably used to rest on shelves behind the booths. Maybe they hide some unseemly carpet/column base damage. The Bogart poster proves that, as Trader Tark pointed out, they understand that the place has "nostalgic" value. Nostalgic = Casablanca = Bogart!
(This might be in part due to the fact that I had a friend bring them a copy of the BOT in 2003 or so)
These naive columns are very early Trader Vic style, that style was also used at the FIRST Trader Vic franchise in Seattle, which opened in 1949, two years before San Francisco (which then already had the better Tahitian/Marquesan columns). Here is a pic of the Seattle gift shop, quite pre-Tiki in style:
I am not sure if I posted about his here before (search-checked but could not find), but I recently discovered that, while the bird cage lamps I pointed out above, AND these table lamps:
were both borrowed from the Havana Trader for the set of "I Am Cuba", the huge statues are African:

....and were copied from photos in this book:

...a Czech book which was published here under the title "Exotic Art":

We believe that those idols could have hailed from this club:
...which also could have provided the I Am Cuba "club entrance" location, because its address, and the view below, place it right across from the Hotel Capri:

[ Edited by: bigbrotiki 2008-11-06 08:31 ]
Hi, and thank you for your interest in my pictures. I am sure it was this site that first drew the Polinesio to my attention.
Yes i am familiar with the Book.. "Havana Before Castro" my copy has been on order since September. I was hoping that it would arrive before my trip. But things seem to have got annoyingly held up here in the UK. The excerpts you posted on here (Sven) were fortunately enough to go on, so we easily found both the Havana Libre and the Riviera. Thank you for your recommendations :)!! I am still looking forward to the books arrival. The only thing is it may now highlight things i wish i had seen.. Dohh..
The large clam shells may have at one time been wall lights as some were still present on the wall back lit. I too noticed the unusual pillar carvings. I remember not being that keen on their style. But I now wish i had payed them more attention. I am no TV expert and as i said before i only have first hand experienc of London. But i think I'm right in saying that most of the pillar and fixed decor carving was alot shallower than usual. I am judging by photos I've seen.
There was a smattering of wooden statues in the area near the front door. None seemed to be displayed with any great attention to decoration..
Some more photos: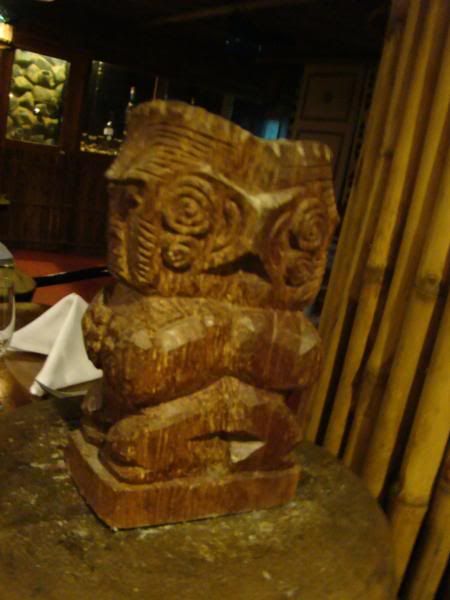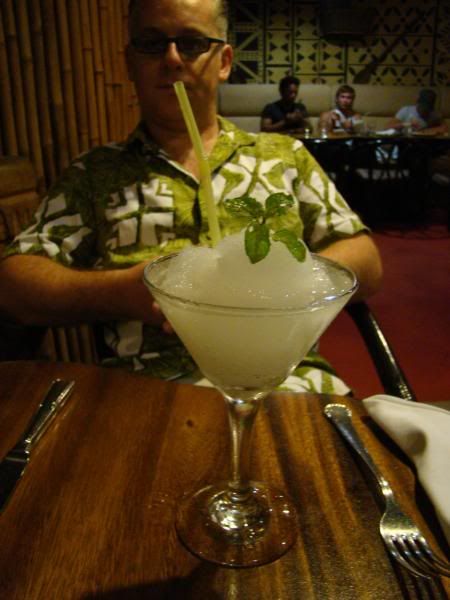 I have lots of other Havana/Cuba Photos that i am happy to share.. Perhaps i should Post them on one of the other "Cuba/Havana" threads..
Tark
I love this, I so want to go. It's just amazing! Thanks for sharing.
I love this, I so want to go. It's just amazing! Thanks for sharing.
Friends of mine just returned from their honeymoon in Cuba. I suggested they go to the Polinesio and they did (what a surprise - no one ever does the stuff I tell them). Here are some of the pictures they took. I haven't talked to them since they've been back so I can't add any info to the images yet.
I do know that they and their friends ate chicken paella with "a salad with lovely fluffy leaves", grilled chicken (from the Chinese ovens), and an assorted meat dish (in a the bamboo dish). Don't know if they had any cocktails. I'll try to get more details of their experience.
How good to know it is still unchanged! :) Thank You, S.D.T.
Every time I look at pictures of this place it's like looking in a museum or time capsule. Amazing how much is the same after all of these years.
I went fishing in Key West a few years ago and the boat skipper said he used to take fishing parties out and stay in Havana for a couple of days before the Bush admin. Need to get that gig going again so I can head down for some Marlin and dinner at Polinesio.
DC
I was able to visit Cuba in September with a friend through a local travel group that had a special permit with the Treasury Department. Because we were all from the U.S. we had to be on an organized tour as part of a "people to people cultural exchange". I had never done a tour but it was much better than we thought and allowed us to see things we may not have seen on our own.
We flew direct from Los Angeles to Havana (4 1/2 hours) on a chartered United Airlines jet. We were scheduled to stay in a hotel a few blocks from the Habana Libre (Havana Hilton), but a few weeks before we left we were notified that we were going to be staying at the Habana Libre where the Polynesio is. We spent 4 days in Havana, 2 days at a beach resort, and back to Havana for our last 3 days. After our bus, and or walking tour, we were on our own after dinner. Each night in Havana we started at the Polynesio for drinks before going out for local music. The bars and clubs are open until 4am and we had to be on the bus by 9am so we ended up getting less than 40 hours of sleep in 8 nights (didn't want to miss anything).
We tried to talk our group into joining us but most were not interested. since our meals were included, we were always full and never tried the food there. The place was empty almost every night with the exception of two or three tables. We were usually the only ones in the bar. Most of the drinks were pretty good.
Here are some photos from the Polynesio

I won't post much of the interior as nothing has changed from the other posts.

This is a picture from a sign they had in the hotel near the stairs (open and all is repaired) leading down to the exterior entrance on a side street to the Polynesio.

They had mugs that were not for sale at any price. I really wanted the Rum Barrel (the drink in it was very good and was called the "Tiki") The bartenders said that they only had 10-12 of each design due to breakage and theft. I saw no Port or Starboard glasses. The glass pitcher that they served the Mai Tai and Daquari in has the Trader Vic's logo.

The bartender brought out this fog cutter mug to show the difference between it and the one they have been using for a while. It was smaller and he said that was the only one of the original fog cutter mugs from 1958.

The guy in the middle was bar tending the last 2 nights we were there. Osvaldo Sainz is the manager and has worked there since 1986. After talking to him for a while (still couldn't wrangle a mug) he brought out a family photo album and allowed me to take photos of some of the images. Most of these are from the opening night of the Polynesio with lots of movie stars, Bautista's wife and some I don't remember. All I had was my iphone so here you go...

Ernest Hemingway

I asked Osvaldo who the gentleman was in this photo and it turns out to be his Grandfather, Jesus Sainz who worked there from 1958 to 1983. Osvaldo's Father, Enrique Sainz also worked there from 1960 to 1989.
Here are some shots of original post cards from Trader Vic's

We finally got a few people from our group to join us the last night
Nice pics!
Interesting to see the Havana Club Seleccion de Maestro in the very last pic; that product replaced the Barrel Proof a couple of years ago. I've got some Barrel Proof left from my 2008 trip to Cuba, but I haven't been in a position to A/B it with the Seleccion.... yet.
Good to hear the location is still surviving in its original state, despite its apparent, on-going low customer attendance.
Did they fix the stairs going down from the hotel lobby, or did you have to walk out of the hotel and around it to find the entrance?
Did you use Pete's book as a guide for other places?
Bongo Fury,
Great photos! I really appreciated seeing the images from the scrapbook, inlcuding those two never-seen-before postcards.
DC
The stairs are fixed. Our US tour guide was going to see if they could work a deal to do a dinner at the Polinesio for future trips instead of the below average buffet on the second floor. Barely OK for breakfast so we skipped the included dinner at the buffet and a few of us got a taxi to here... http://www.tripadvisor.com/Restaurant_Review-g147271-d1965867-Reviews-La_Guarida-Havana_Cuba.html
All the other restaurants on the tour were very good. My favorite Rum was the Ron Vigia Gran Reserva 18 year old. The Havana Club Selecion was #2. I didn't like the 15 year old as well but I wouldn't turn it down.
So cool Ron! My bro couldn't get to any places I suggested (except for Partagas :D) due to his status.
edit: turns out it was Partagás, not Cojiba.
---
[ Edited by: Mr. NoNaMe 2012-12-20 19:21 ]
Ah! When we get down there, I gotta look through that album! The Thorntons would leave the Mai-Kai on Friday and spend the weekend in Cuba. They had a Bautista regime police chief as their guide. Maybe they were there for that opening!
My good pals Notch, Mondo, Scott and I had an opportunity to spend a few days in Cuba a few weekends back. We expected to like it, but didn't realize just how much. I think the interest level hit obsession a few hours in. After checking into the Hotel Nacional, we headed directly to Il Polinesio.
The place was empty. There was one other couple that came in during our time there. A lot of the goods seemed to still be in tact from the pics Bongofury posted last year, maybe a few items less. Nonetheless, it was pretty amazing to see a relatively untouched, original tiki restaurant from the heyday of Tiki. AND it's in Cuba!
The very friendly bartender informed us that they were only serving traditional Cuban drinks due to a lack of supplies for the other drinks on the menu, so we had our first Cuba Libres of the trip!
I took pics with the only camera I had, my iPhone. I apologize for the quality, but from all the other pics posted, you get the gist of what it looks like.
Notch had a cool idea to bring in an original Suffering Bastard to leave behind at the Polinesio. We all signed it and hope to be able to visit it someday down the road! Fingers crossed that Il Polinesio's doors will still be open.
Suffering Bastard with his new Cuban brothers and sisters

Here's a shot of the menu to show the drinks they used to have. Hopefully they'll receive the needed supplies to put these back into action.

We only made the one visit to the Polinesio during our short stay in Havana. There was too much see. And like Bongofury mentioned, we got very little sleep because we, too, didn't want to miss anything!
¡Salud!
Woody
Nice Woody :D. That place does look great. Cool idea with the Suffering Bastard mug. Looks like you guys had a great time. Mahaloz for sharing the photos.
I was watching your trip on FB. Looks like a blast, especially for a bunch of guys who appreciate classic cars like you all do. Thanks for the clear shot of the classic Trader Vic lamp... you should make some of those. I'd buy one for sure! I've always wanted one...
[ Edited by: Trad'r Bill 2013-04-17 22:47 ]
Very good guys, did Notch bring the Pete Moruzzi book? I am very happy to see the trip came to such a successful fruition!
We actually have 3 copies now amongst the 4 of us. I've read it through twice. Excellent book! We did have a copy with us which helped out in our journeys. Did you see our pics on FB, Sven?
Stephen and Bill, I think Cuba is calling you guys too. Do it!
They might see a spike in business when US travel opens up shortly.
I have no idea how I have missed this whole thread, but I am sold and planning it all out in my head before it all changes too much.
Freeland, my thoughts exactly!
My wife CeCe and I spent a couple of evenings at Polinesio recently. I will try not to post any pix that are similar to what's already posted. The place is so unchanged that it almost felt like being in a holy shrine.
Theres a large sign to the right of the large tikis that flank the entrance from the street. Sorry for the poor quality -seems my camera took quite a beating at Jose Marti Airport . This sign is already a victim of vandalism and/or theft.

Detail from sign in previous pic.
Barney West tiki in dining room furthest from bar.
More to follow

These were said to be Barney West tikis but I was unable to verify the claim.
You win, I don't know what the prize is, but you win. :) How were the drinks, the food, and were they friendly?
Hey Ace, Always good to hear from you. The drinks were excellent, especially since many ingredients for tiki and vintage drinks are hard to come by at this time. Osvaldo the barkeep/manager likes to create drinks. The 'Specials" that he made for my wife were excellent. I had Mai Tai's and he kept apologizing cuz he did not have any orgeat. I kept drinking em cuz they were very good although I suspect that I would have liked swampwater given that I was in such a magical location wid the love of my life. Regarding the food-we only had Pupu's.
They were okay. The staff at Polineso were awesome and amazed at our interest and knowledge of tiki (Mahalo Tiki Central). The chef and the waitress on duty came over to talk with us. They have a deep interest in the U.S.A. and had many questions. This was also true of the people of Cuba that we had contact with. I like to mingle with the locals wherever I go. Imo, Cubano's have a huge thirst for all things American. Because of my fluent Spanish and my brown skin, the Bartenders and waiters at the Hotel National (were we stayed) kept jokingly calling me Cubano and said I had to stay.
I was told that Cuban food was bland. I found it to be very tasty even though to my surprise chile is not used in Cuba. Very little beef, lotsa pork, chicken, and fish. Dark beans(delicious) , rice, and plantains with every lunch and dinner. Best of all a bottle of Havana club 3 is set at your table in case your mojito or Cuba Libre needs fortifying. I had "Crystal" and "Bucanero" beer at various locations.They are the #1 and #2 beers in Havana right now. I preferred the #2, Bucanero. I also tried some of the Havana club 15 which was excellent however I actually liked the HC 7 yr. mo betta old which is what you get when you order rum neat at the Hotel National. One small piece of ice makes it perfecto! Went to a tobacco Farm at the west end of the island and my wife who never smoked in her life had a freshly rolled Panatella stuck in her mouth. After a few puffs she said that it was very pleasant. Everywhere we went the Cuban people were simply gracious-can't wait to go back.
[ Edited by: nui 'umi 'umi 2015-11-01 21:47 ]
That sounds wonderful, N.N. - I have to caution though that it all depends on Osvaldo working there the evening you go, which is a hit or miss thing. He knows my book(s), and is very grateful for having guests who appreciate the Tiki tradition, his father worked at the hotel.
Otherwise, you can also encounter indifferent waiters and bad Mojitos. But that is, as I have stated often, not the reason why we go to such places.
[ Edited by: nui 'umi 'umi 2015-11-01 21:44 ]
Osvaldo is a gem. Sven, now I why Osvaldo has such a passion for and knowledge of Tiki. The Book of Tiki-of course! BigBro wrote earlier "I have to caution though that it all depends on Osvaldo working there the evening you go, which is a hit or miss thing. He knows my book(s), and is very grateful for having guests who appreciate the Tiki tradition, his father worked at the hotel."
This is no ordinary shaker-it's a pic of the shaker that Osvaldo's father used at the then Trader Vic's a half century ago.

We've been discussing taking a trip to Cuba this spring or early summer with another couple. For those who have gone recently, can you give any tips on the most hassle free way of traveling? I assume we can go under the guise of doing academic research to get permission from the government but how deep do they actually look into that? I've read you can slap together a travel blog and that's sufficient. If that's the case, how long does the process take til they give you the OK to travel? Being in Texas, we're contemplating just flying into Cancun and then Havana from there. Flights will be around $500 per person and we can bypass some of the hoops getting into the country. I've also heard that at this point Americans who are stopped or detained are basically just held for a while and left to sweat it but no real harm will be done. Seems a few people here have gone in the past couple years. What say you?
Mike, our recent trip to Cuba was organized by Kkjz radio out of Cal-State Long Beach here in California.Our tour was a jazz music appreciation visit. Hotels,Visa's, Itinary all taken care of by the station and Havana Tours (offices in L A and Miami). We already had passports which you of course gotta have.
Flying to CanCun and then to Havana will save you a ton of moolah. Staying at private residences you'll pay as little as 25 bucks a night as opposed to several hundred a night at for example the Hotel National. The govt. run Hotel National is the "flagship " in Havana. There was a minor water leak in our room the first night and we were forced (upgraded) from a basic room to a luxury suite. I checked the rate chart and the basic room goes for about 200 dollars-The suite is upwards of 400 a night. It was a true suite and so big that we never used the separate sitting room. THe hotel has several bars (lotsa rum) and dining rooms and chock full of history. Plus you are only a couple of blocks from Polinesio in the Havana Libre Hotel, formerly The Havana Hilton. Polinesio is a must-see. If you can , Pack a couple of your duplicate mugs as gift's for Osvaldo the manager/barkeep at Polinesio. He's a gent and a tiki frteak. Small flashlights with extra batteries,nail polish etc. are much appreciated by the hardworking Cuban people.You'll get a wonderful warm feeling when you slip these little gift's in their hands.
Don't worry you will know exactly when and who to give em to.
Not a big selection but absolutely the best prices on rum and cigars at the duty free shop at Havana's Jos'e Marti Airport.They put it in a tamper proof bag and you take it on the plane in your carryall. If you have a connecting flight in the U S you'll have to move the rum to your under the plane baggage. Caution though, some friends returning from Cuba Via Mexico had their rum and cigars confiscated by a custom agent who told them he was unclear on the rules so he was taking them just in case. We had no problem in Miami although the agent was puzzled why "anyone would want to go to Cuba".
Good luck and please keep us posted.
Btw, feel free to P M me with any questions.
[ Edited by: nui 'umi 'umi 2015-11-13 00:46 ]
Remember, there is a lot more to Cuba than Havana! It is like going to New York and claiming you have seen America.
Cuba, outside of Havana, is incredibly safe and friendly. Although so is Havana, just a few Jineteros looking for a quick buck.
Hire a car, get off the beaten track, drive for hours without seeing another car down 8 lane highways and country roads.
Stay in the "Casa Particulaires" with local families who will treat you like their own. The food will be fresh and way better than anything you will find in Hotels.
The Cayos are nice to visit, but mainly Western Hotels. Make sure you book with a travel agent (usually at a desk in the Hotel) rather than at the desk, it will be a fraction of the price.
cheekytiki, great advice, thanks so much for sharing. You're bringing me (and probably others) closer to making a visit to Cuba a reality.