Pages: 1 26 replies
Name:Tahitian Inn
Type:motel
Street:601 South Dale Mabry Highway
City:Tampa
State:FL
Zip:33609
country:USA
Phone:
Status:operational
Description:
The Tahitian Inn was built in 1954 by the twins Joe and Frank Pupello, and it has always stayed as a family run motel. Still operational today, but it has been heavily remodeled. There current website had a number of vintage images on it, and I found a few extra, including a matchbook from one of Dusty's old posts. I found a 1968 article about a string of robberies that happened at the motel, and I just thought the detective's name was quite fitting - Tyree.
People always seem to get this place confused with Hawaiian Village because of the similar theme and they are somewhat close in proximity on Dale Mabry. Tahitian Inn is suppose to have an excellent Sunday brunch.
Wowie...this place looks great.
Awesome signage,and nice MCM design.
One the the top ten motel signs for color and light. I have this postcard with that great night time shot.
Here is a close up of the matchbook art and the back description.
Here's the Corporate America version of the sign today.
DC
Sad to see what this place has turned into.....
Stucco, Taco bell Tuscanny, "upscale" Spa/Hotel
that is ugly all day......however i like the fact that the little old sign for the office had spears that illuminate too, just like tha main sign out front... what a nice design detail leftover from it's heyday....
man... my parents used to take me there. the new place has a great little restuant, but is is nothing like it was in the past.
Here's a nice little slimline matchbook.

A postcard showing the rahter lush pool area.
DC
I was just cruising around & found this part of the forum, and I thought I'd share my little contribution to the local tiki scene...
these are the tikis I did at the Tahitian Inn here in Tampa, where I live.
Still owned and operated by the original family that has owned it since 1952.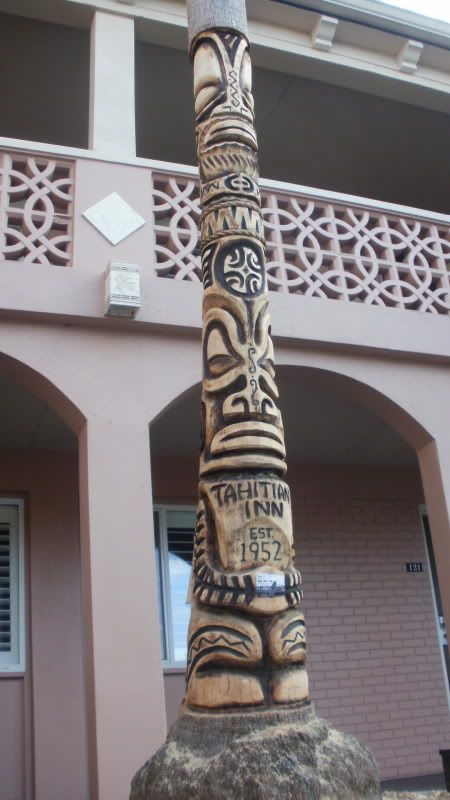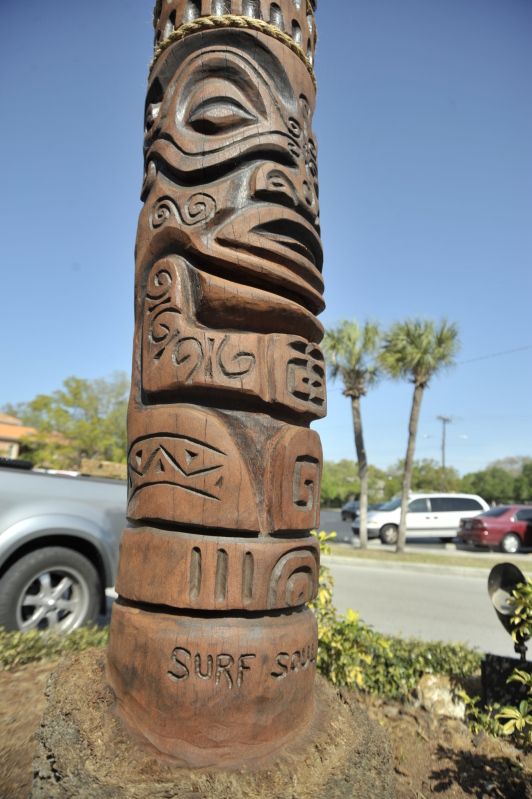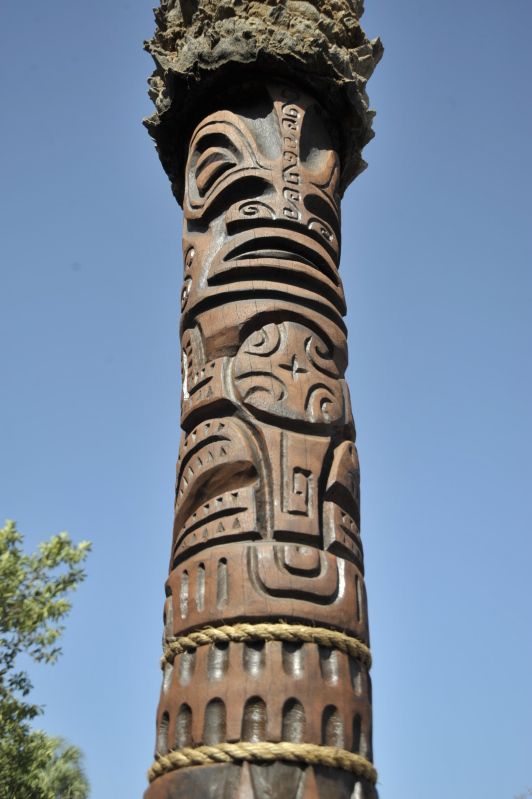 Wow, with the logo font in the sign shape - nice work, Mahalo for returning the spirit of Tiki to a classic site!
I have some kinda good news...
It's been a year since I did the big tikis at the Tahitian Inn...
2 weeks ago I went back to speak to the owners of the Tahitian (who, by the way are the original family who started it in 1952)...and they were very happy with the customer response to the tikis over the last year, and I am putting a proposal together (at their request) to do a lot more of them over there for the next year, making it into a little bit of a tiki spot...
I'm very thankful that that owners are happy with what I did there before and are considering taking it to the next level...this is a place that's 5 minutes from my house...and their commission of the weeping tahitian & big tahitian were pieces that a lot of people consider to be some of my best stuff, so I feel quite a bit of loyalty to these folks. They were treated me & paid me well, and the job helped me build a bit of a local rep.
Anyway, talking about replacing all of the generic tiki-bar catalog stuff they've purchased in the past for authentic stuff more reminiscent of what one might actually see in Tahiti...
Hopefully this will happen and I'll have some nice stuff to show you here soon, and I can do what little I can to honor & preserve our local history, as well as further something authentic...
[ Edited by: pjc5150 2012-11-08 17:11 ]
[ Edited by: pjc5150 2012-11-08 17:14 ]
On 2012-11-08 17:08, pjc5150 wrote:
....Anyway, talking about replacing all of the generic tiki-bar catalog stuff they've purchased in the past for authentic stuff more reminiscent of what one might actually see in Tahiti...

Hopefully this will happen and I'll have some nice stuff to show you here soon, and I can do what little I can to honor & preserve our local history, as well as further something authentic...
Way to go! Fighting for quality in the Tiki Revival, one Tiki at a time! I am looking forward to your pictures.
Does the family have any old photos or artwork from the hotel's heyday?
actually, yes.
there are several old black and whites on the wall of the old place...
I'll try to take some pics of them & post 'em here...
ok, so today I did a little restoration on one of the 2 tikis I did at the Tahitian Inn last year. I named this one the "weeping tahitian", because it was sapping out so badly it actually looked like it was crying. I couldn't even stain it...
Anyway, it finally stopped pouring out, so I cleaned it up a bit & stained it yesterday and today...
I think the owners are happy because, as promised, I came back & did a little maintenance on it free of charge & made him pretty again. I always stand behind my work, and now they know that. Hopefully that will help me get the rest of work I'm proposing over there...
before:
after:
Beautiful work, and great detail - kudos to you pjc5150 - hope they will give you the opportunity to further transform the decor of the Tahitian Inn into what it really needs to look like - you are on the right track with what it should have there. It's a shame that down here on West Coast of FL there are no real old-school vintage Tiki Bars - I'm seeing mostly cheesy, weak, and like you said: catalog bought tikis, and they mix it in with a sleek background. Need more bamboo, floats, nets hanging from the ceiling, etc... The Tahitian's "Kon Tiki" bar needs to revamp their decor - their logos suggest old-school Tiki, but that doesn't come through in the bar.
Way to go, Jeff. They need to add more of your tikis. Next step is to get them to start pouring some authentic cocktails.
I think that, pragmatically speaking, it is all a matter of the education/taste level of the the customer base at any given location you are at. It is no use to be pouring 1934 Zombies when the people that live in the area not only cannot appreciate them - it has happened that local folks just don't like the taste of craft cocktails, and WANT their Mai Tais red and sweet and weak.
One has to be slowly and subtly subversive to show people what is good, and that what they think is, is not the end-all.
You couldn't be more correct in your assessment sir. And thanks for the kind words guys.
So yeah, Tampa isn't exactly on the cutting edge of "tiki culture", and probably never will be.
Here's the way I see it: a big part of Florida's tiki history revolves around polynesian themed motels / hotels, and the Tahitian definitely falls into that category. The bottom line is we're hangin' out at a hotel pool bar that is mostly frequented by out of state tourists who aren't necessarily interested in "correctness". One of the main factors making all of the things I have planned for the Tahitian possible is simply the fact that the owners take a lot of pride in their establishment and it's history, and they think the tiki stuff is cool & very "on theme".
As far as the "real deal" is concerned, myself and some other locals folks are planning a once-a-month "Tiki nights at the Tahitian" where we'll do the whole tropical drink thing, probably have some cool music, and I'll bring some tiki stuff and do live carvings (and invite any other carver to do the same - it ain't all about me). Several key people have kinda jumped on board to help out & make it a cool experience, one of whom is a local radio personality & tiki-phile, and who's husband heads up our local exotica band "the stolen idols". I think that with all the people that have stepped up, it's going to be a cool event & the start of something good.
I think that once the owners see what we're doing, it's going to have an effect on them. I think they're going to like it, and I think they'll want more of it. But change doesn't happen overnight....it's a process.
The first "Tiki nights at the Tahitian" gig is tentatively planned for 1/24/13...and I would invite anyone and everyone here to attend...
I set up a little facebook group in an effort to bring our "fractured local scene" together, and where anyone can join up and be a part of the ongoing conversation about this and other local tiki stuff........... http://www.facebook.com/groups/352104094880192/
Way to go. Lead by example. Build it and they will come - or not, but have fun trying :)
As long as we kinda create a place where we can do our thing once a month, or weekly if it works out, and they allow me to do some more tikis there, I'll be a very happy & appreciatice guy.... If it turns into something bigger & people tune in, well that's cool too. The more the merrier.
Anyhoo, here's a few of the black and white photos hangin' up inside showing it's former glory....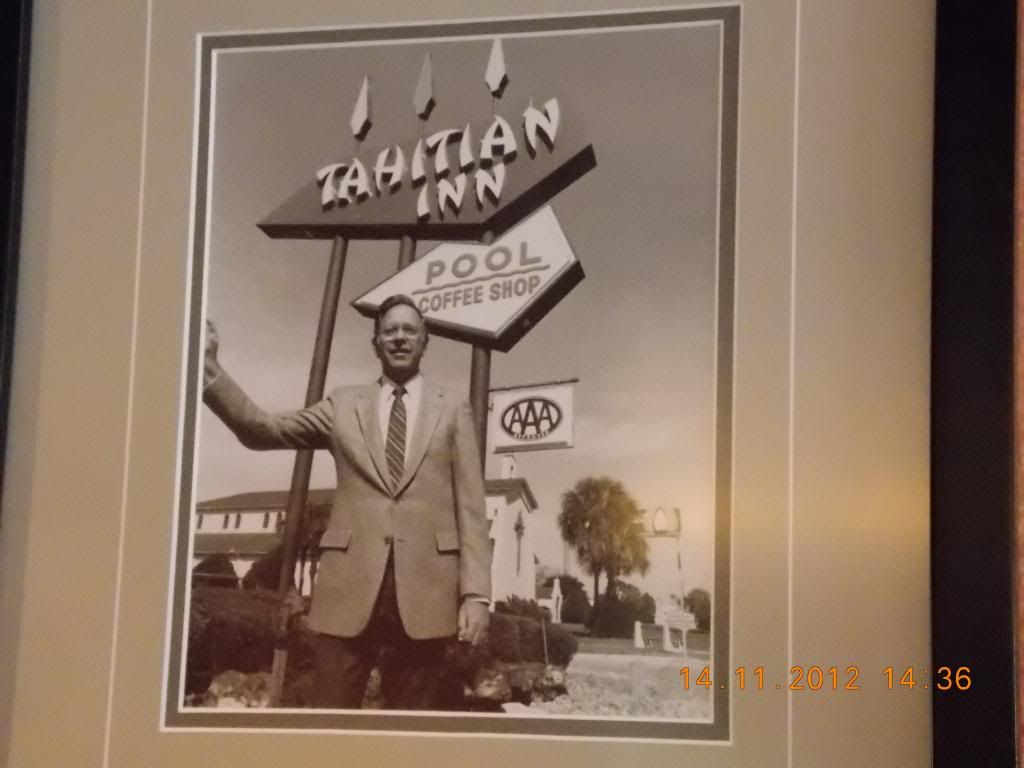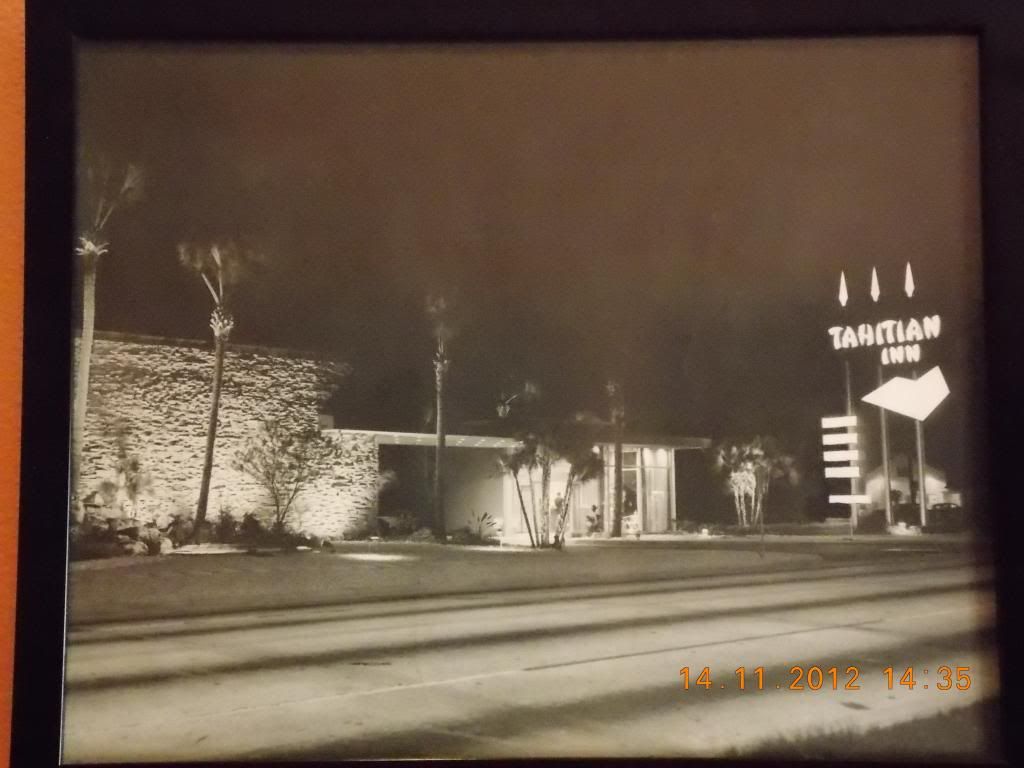 see that last one? with the stonework? well one of the buildings in back still has that same stone exterior, and part of what I'm proposing is doing a couple of big masks to put up on that wall...
nicely stylized and very impressive.
Pages: 1 26 replies