Hi I have always been interested in monsters, skeletons , tikis, totem poles etc.. since I was a young boy. I always wanted my parents to buy me a totem pole ( a huge north american one ) they said they would when they went on holiday but it never happened. Anyway I noticed this website about a year ago, may I say it is excellent. I recently bought a chainsaw and decided to give a tiki a go here are the progress pics so far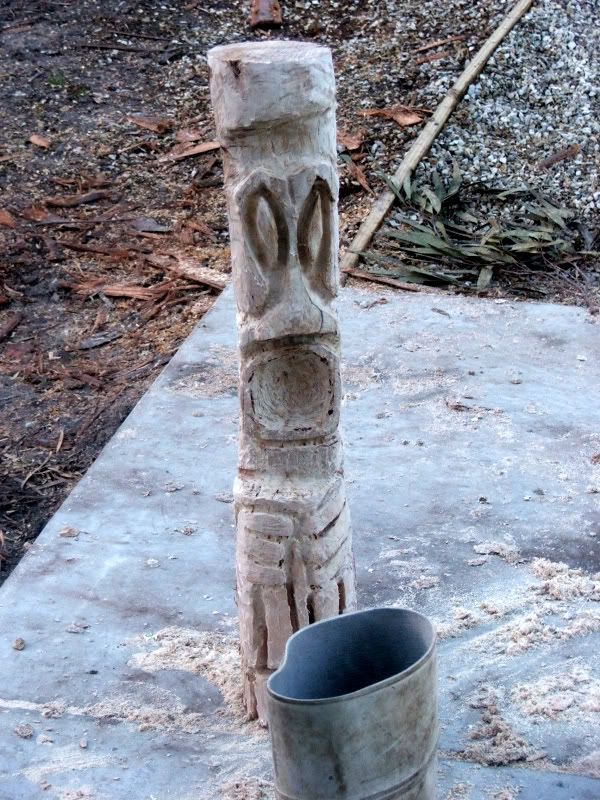 Used a chainsaw initially and dremel for more detail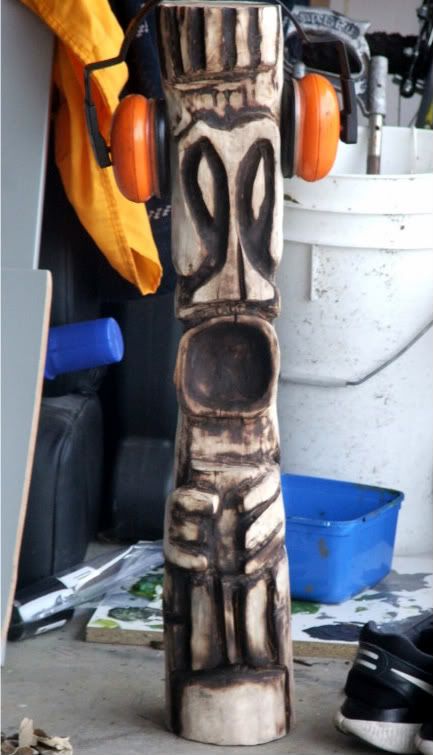 The wood is a type of Eucalyptus (white peppermint) second photo is after torching and sanding
I think I might stain it with a Jarrah stain
Comment and advice greatly appreciated
[ Edited by: nomolos 2009-08-24 05:35 ]
[ Edited by: nomolos 2010-07-16 07:12 ]
[ Edited by: nomolos 2010-08-09 07:16 ]
[ Edited by: nomolos 2010-08-27 07:27 ]
[ Edited by: nomolos 2010-09-15 04:11 ]
[ Edited by: nomolos 2011-05-04 03:57 ]
Welcome to you Nomolos! Intéresting first tiki, perhaps a little bit too burned, but it's just a question of taste...
Keep carving with fun and don't forget to share your progress!
J.
after staining with a merbau stain
not a great photo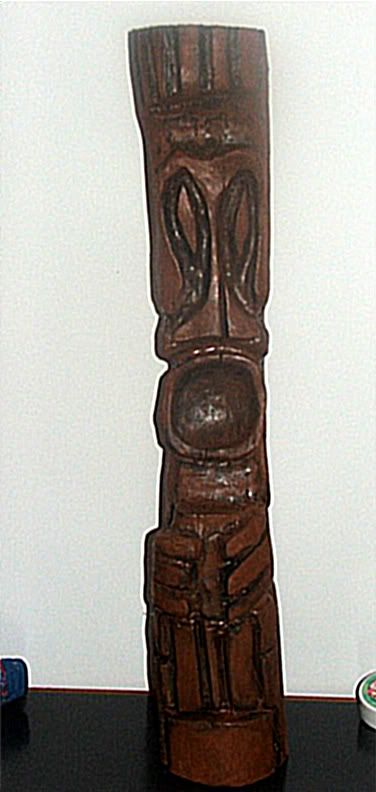 Started on 2nd Tiki, this carving stuff is addictive!!
It's a tough piece of wood - parts are really soft and crumbly other parts hard and splintery.
As parts crumbled away I had to change the design, fluctiuating from liking it to disliking. Any advice about next steps to take appreciated.
Cheers
Sol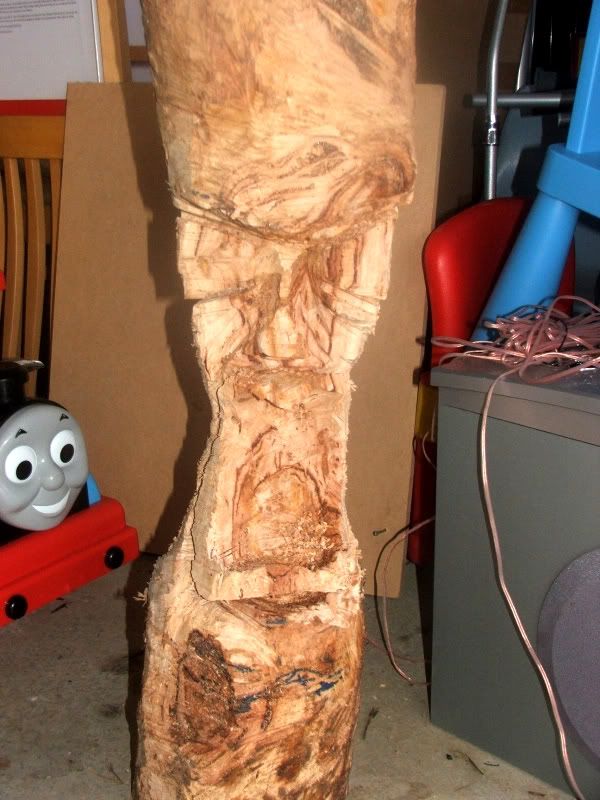 On 2009-08-05 00:08, nomolos wrote:
Any advice about next steps to take appreciated.
Cheers
Sol

Take it to the OC Beach Burn IV and start over.
Dude, Thomas the train is totally checking out your tiki's ass!!!
That is just wrong.
.
On 2009-08-05 10:52, pjc5150 wrote:
Dude, Thomas the train is totally checking out your tiki's ass!!!

That is just wrong.

.
Yes he appears to like what he sees
Hey bro, just sent you a PM.
Tiki in the garden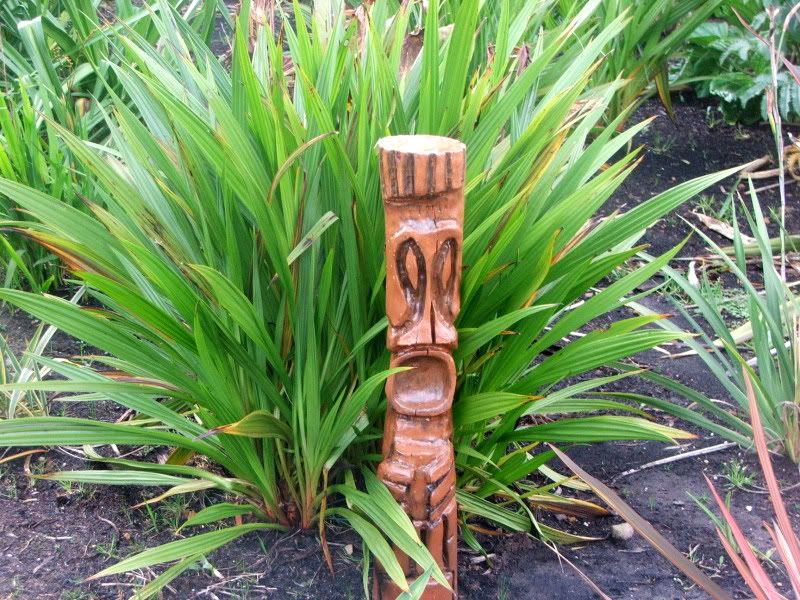 New Tiki project underway...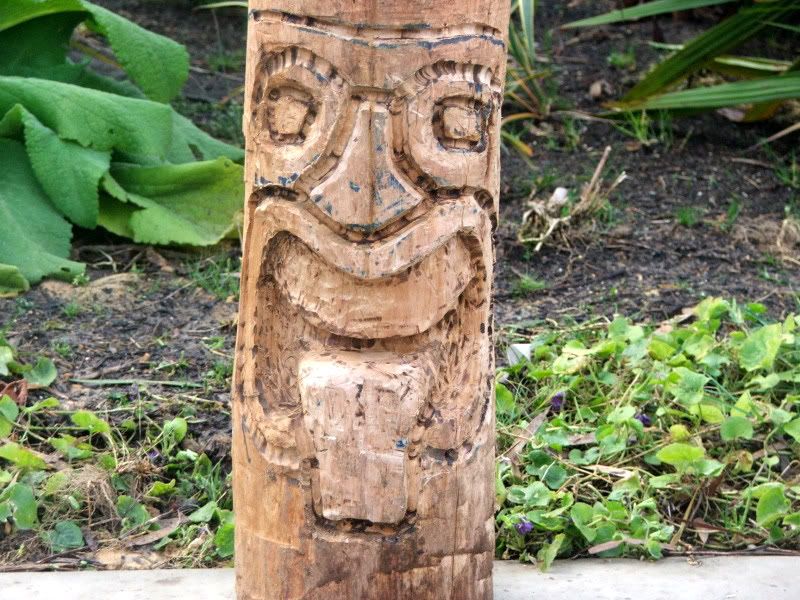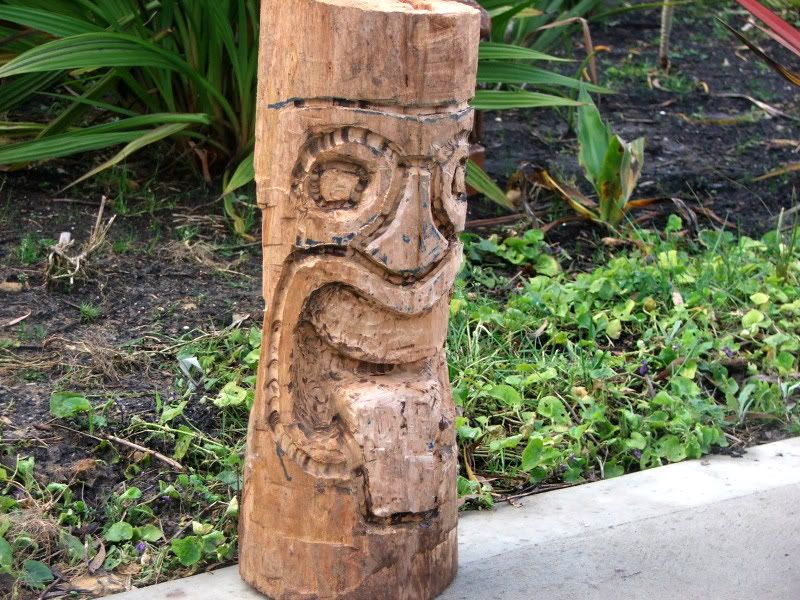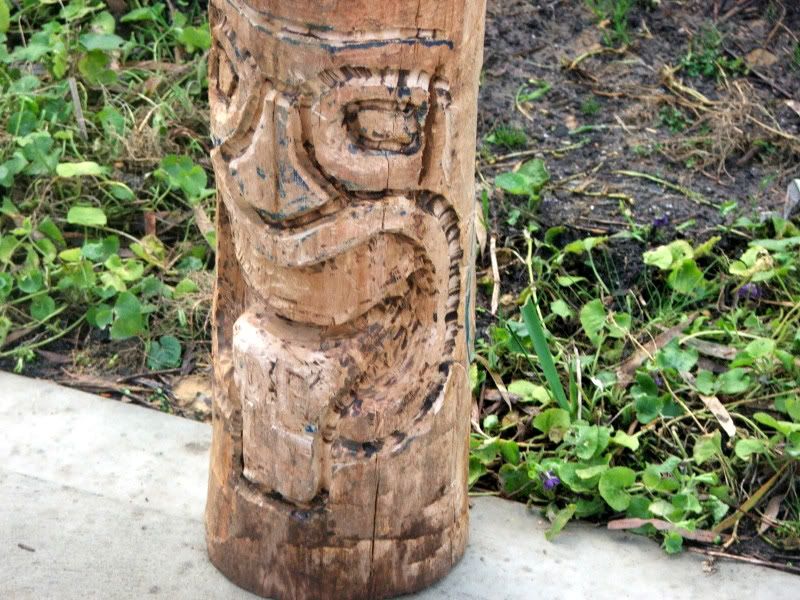 Good start and neat piece of wood. What is that?
Lookin a lot better.
You are already showing good progress.
Keep it up!
Welcome to TC. Nicely completed piece. Stain really brought the features out and he's displayed enjoyably. Great start! Keep up the carving so we can see more of your work.
Thanks for the encouragement everyone
Big T, the wood is Eucalyptus Pulchella a native tree here in Tasmania
Had a bit of an accident, I got an arbotech woodcutting blade and attached it to my angle grinder and it was hard to control and put a big gash in my tikis nose.
Had to do dramatic cosmetic surgery
see pics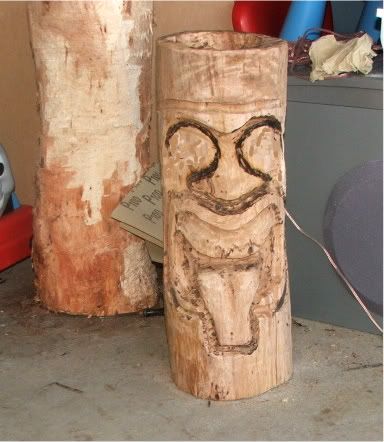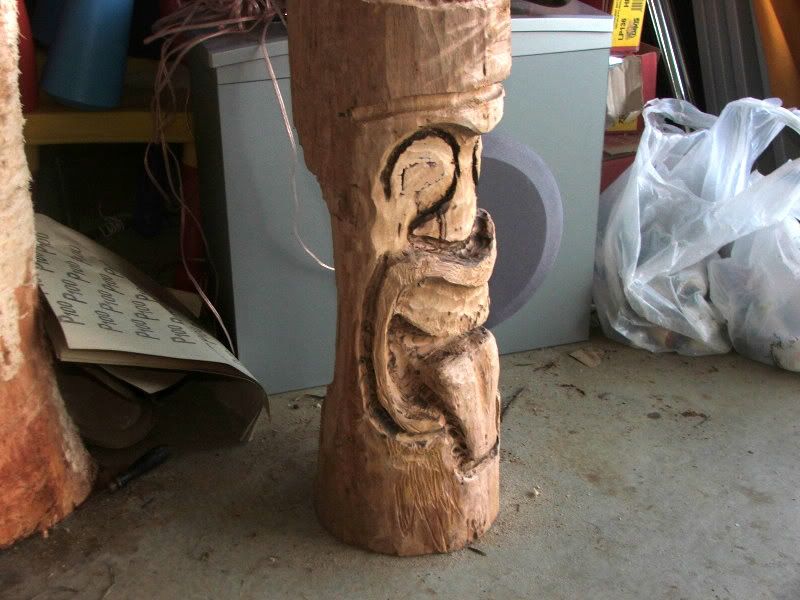 WOW, Good thing it was the Tiki nose that got the gash. Those blades are Very dangerous and you need to use utmost caution when using them. To tame it down a bit and give You more control, use a "Router Speed Control" from HERE and DON'T get the red one as it doesn't deliver the torque required from the angle grinder.
Once you get the speed down to a manageable level you will be amazed at how much more you can do with the thing
Keep working on the tikis, they are looking better!
Thanks Ben - They are dangerous I cut my pants slightly, did not go into my leg luckily. Much harder to control than the chainsaw!! I put it down after that and wet back to the die grinder. I'll check that link.
Do you think it may be possible to make another nose from a separate piece of wood and glue it on?
Cheers
Sol
Bummer. But luckily, no injuries to you. I'm not sure a patched on nose would match. Maybe just go with a flat nose design?
Unfortunately those router speed controllers don't seem to be available in Australia
Can't seem to get the nose right after the accident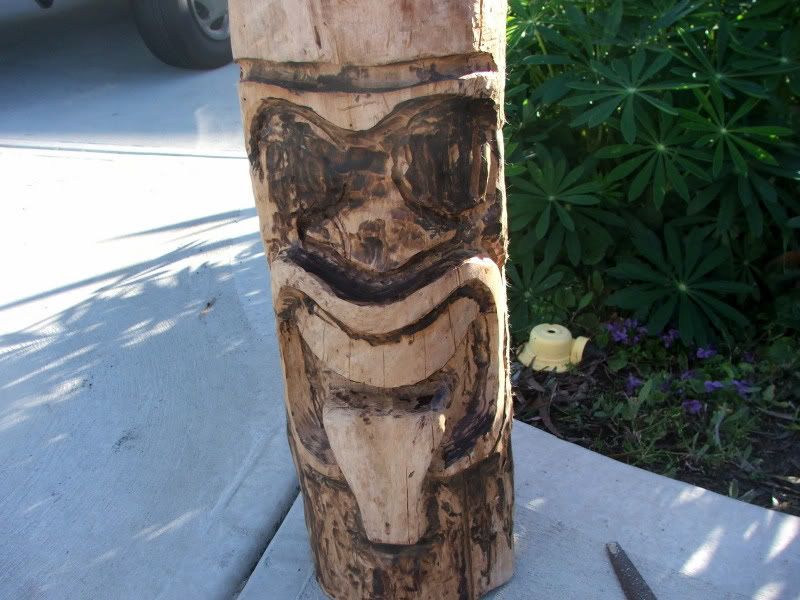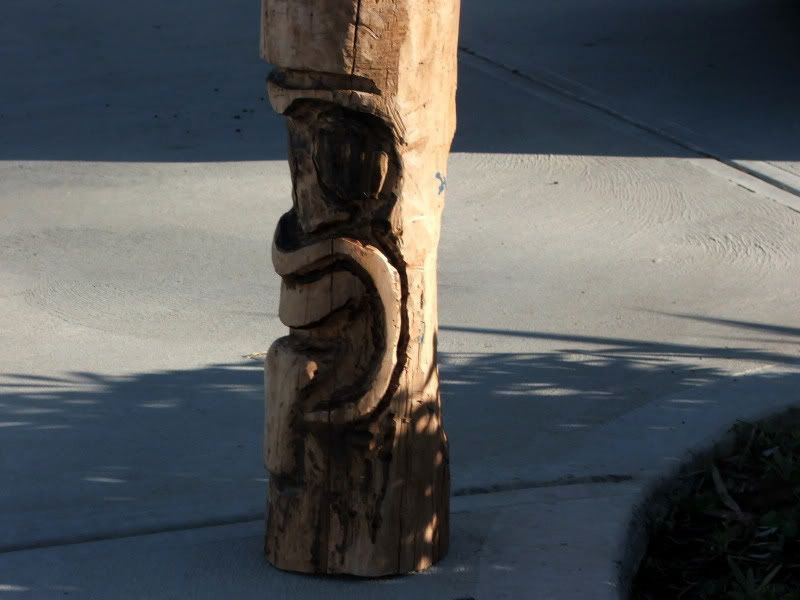 Have done a seperate nose, got a split in it so glused and viced it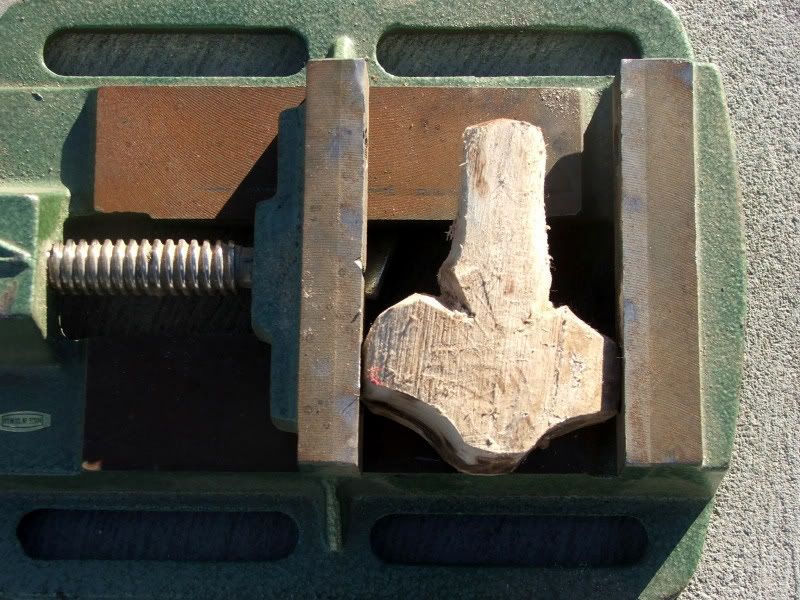 Also found some old tools that were my father's - I could only identify a few such as the mallett, borer and chisel can any tool experts tell me what the others are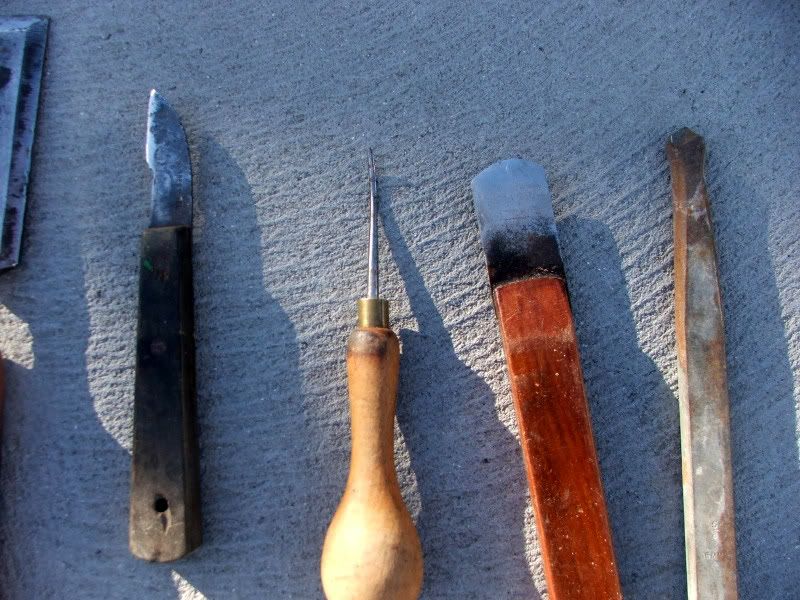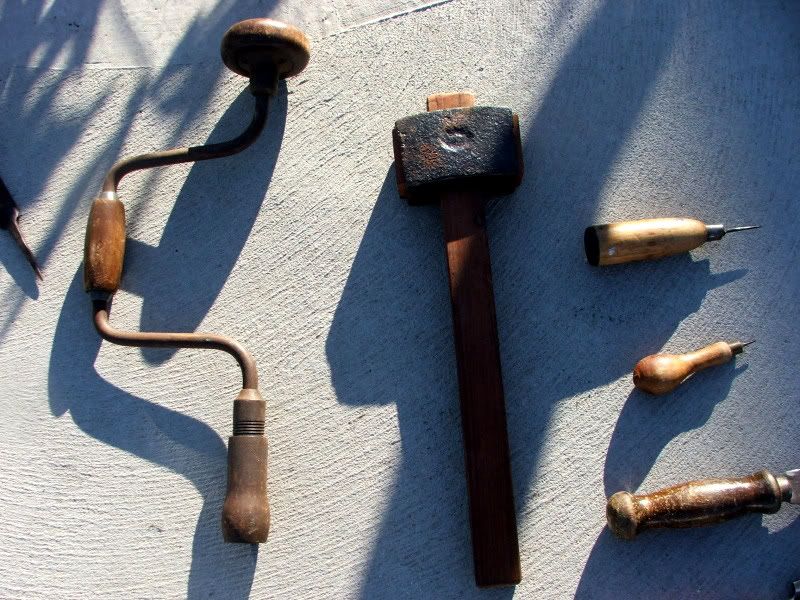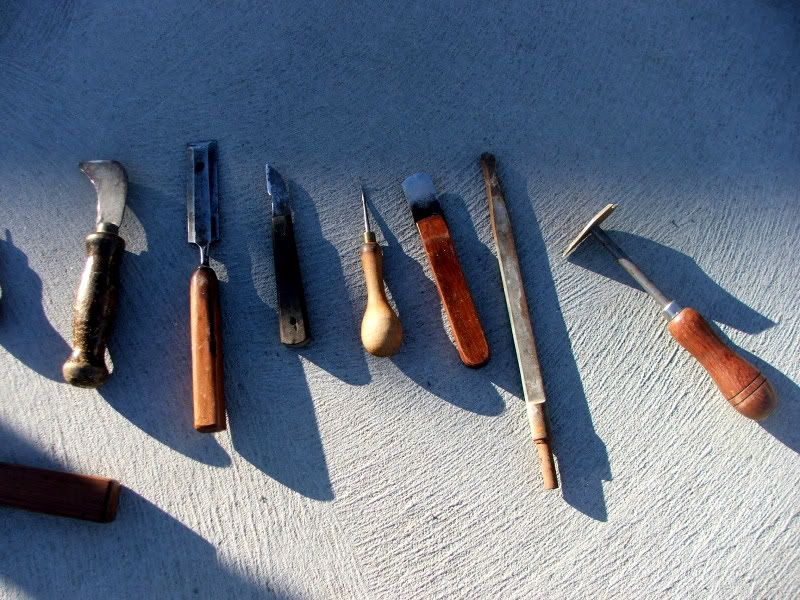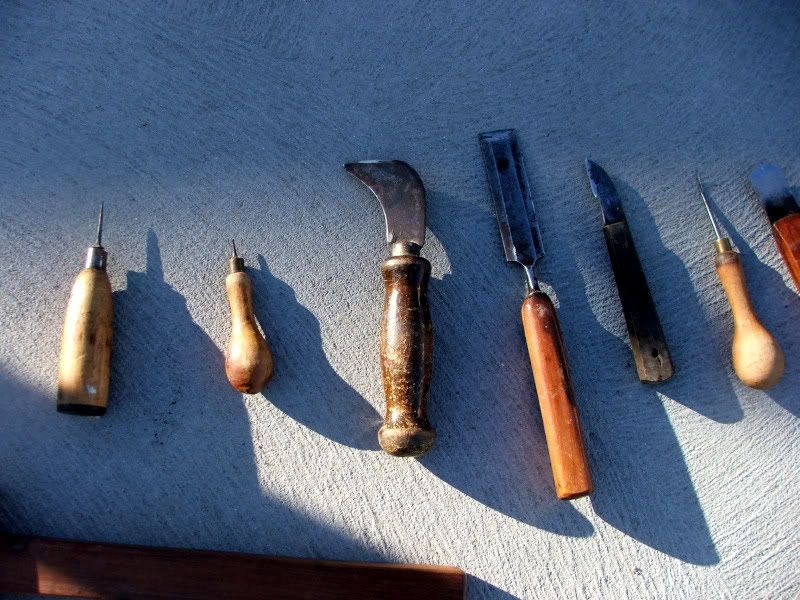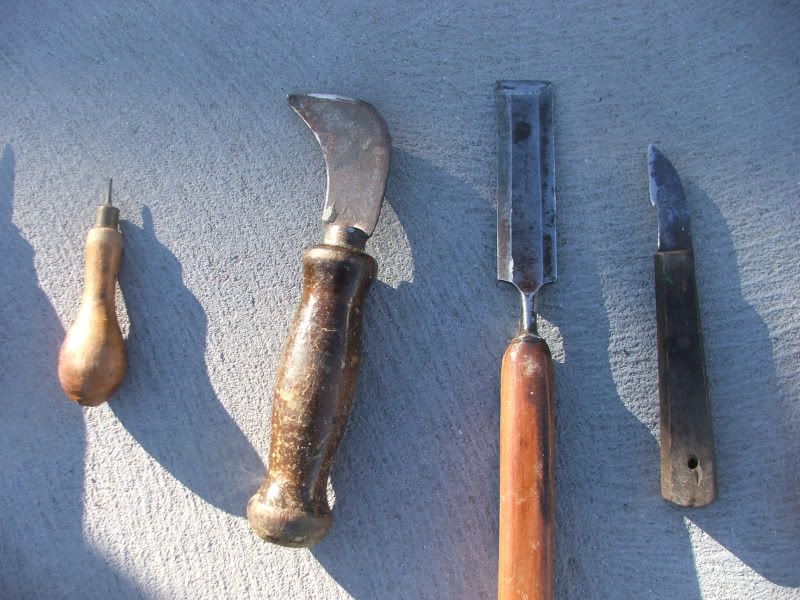 On 2009-08-23 06:01, nomolos wrote:
Also found a few holes in the wood, with yellow curry powder looking dust, think it may be termite work.

Found a little white grub in it and I suspect it was a termite.

++++++++++++++++++++++++++++++++++++++++++++++++++++++++++++++++++

For my next project I got a 6ft log of Celery Top Pine - any one else used this?

http://islandspecialtytimbers.com.au/shops/ist/pages/special-species-timbers/celery-top-pine
Good collection of tools there. Clean and sharpen them all up and keep em close by.
Your little white grub is probably some kind of wood boring beetle. Termites look like white ants.
With nose temporarily blue tacked on - may do something similar with the eyes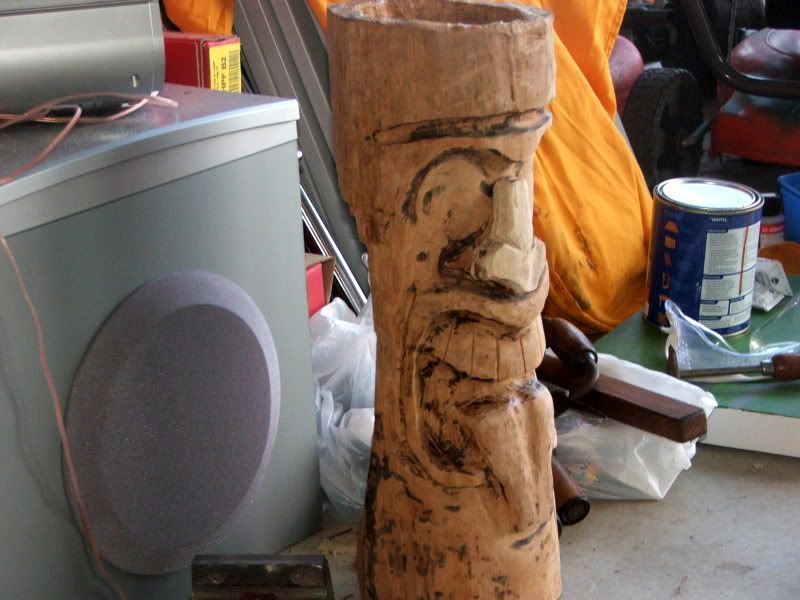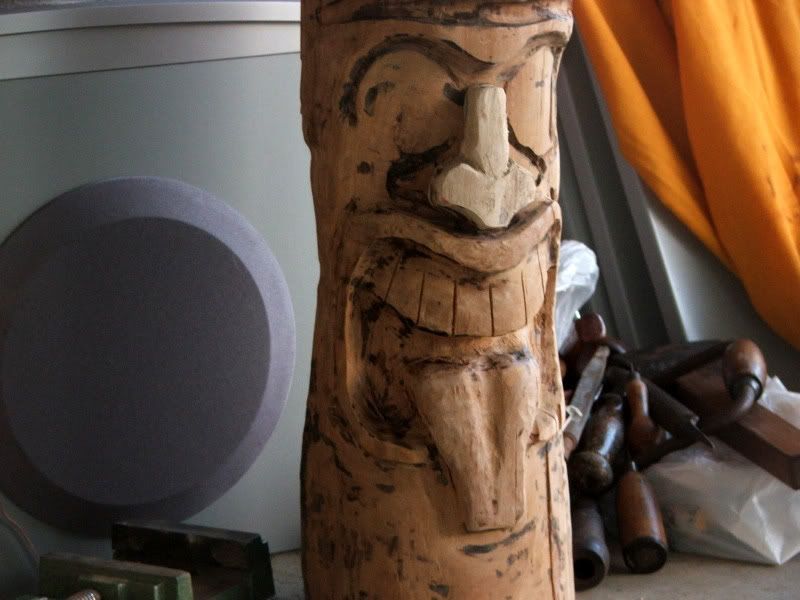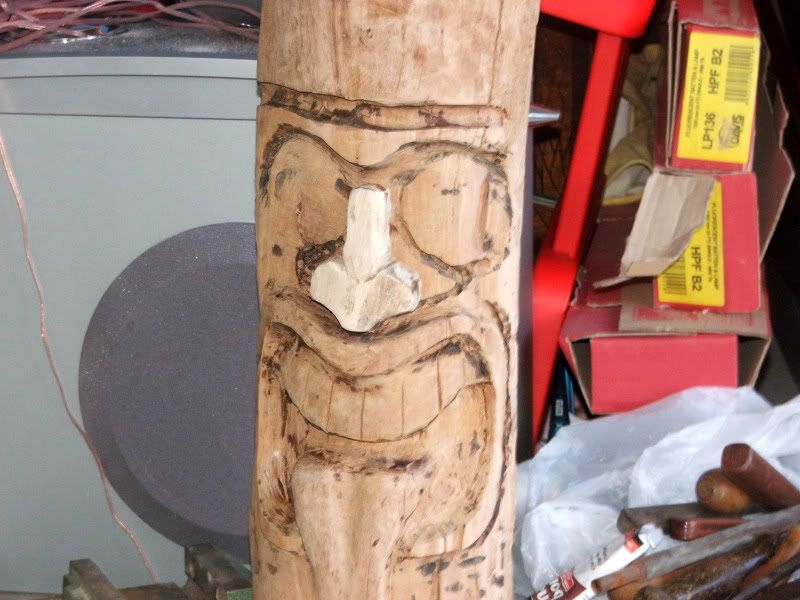 here is a pick of the celery top pine log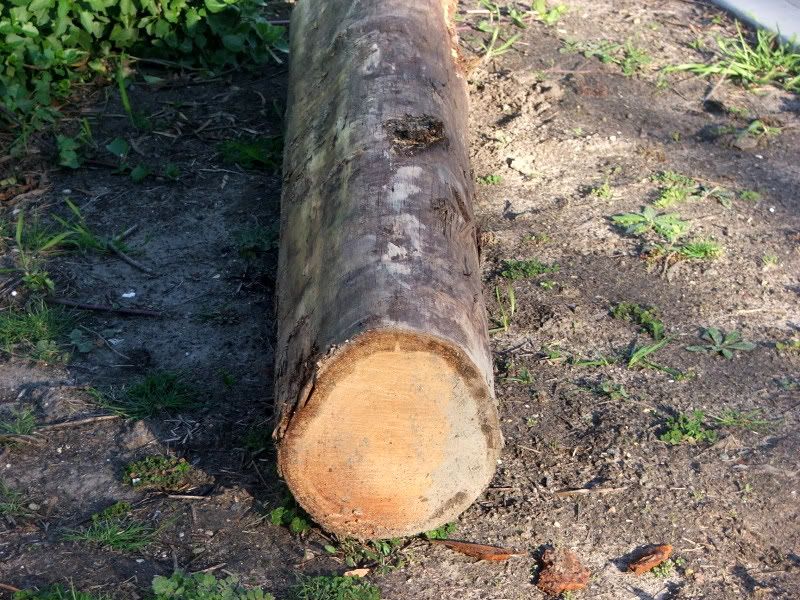 Big T - I think I was wrong with timber description first tiki and the nose is definately white peppermint gum, the tiki is I believe actually Tasmanian Blue Gum - Eucalyptus globulus globulus. This was a log I found in the bush and thus I was initially thinking it was peppermint gum
A successful nose job!
Nice!
more photo updates of the tiki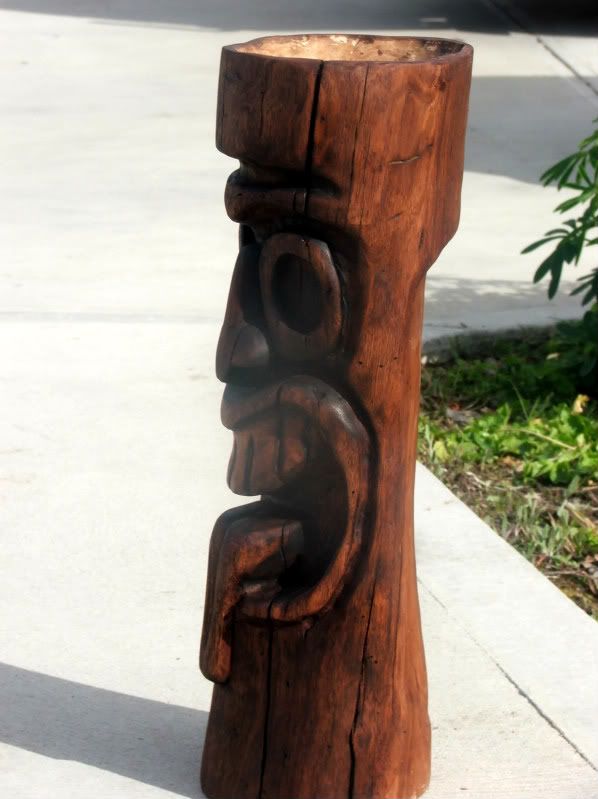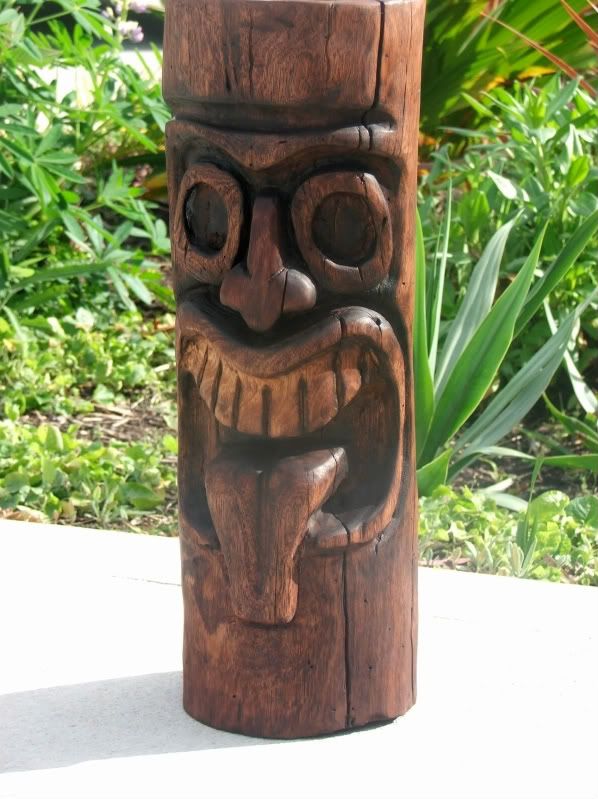 [ Edited by: nomolos 2010-07-03 07:45 ]
Welcome Good start you have going on here.
You are going pretty deep into the wood early.
Keep it up.
More updates
Fixed up one of his eyes, now just a bit more sanding and some engraving then to stain with a teak or walnut stain.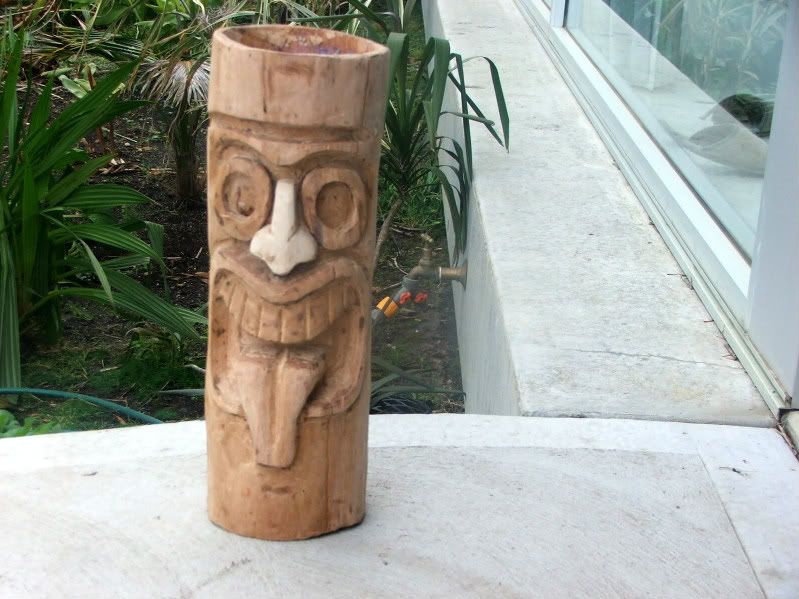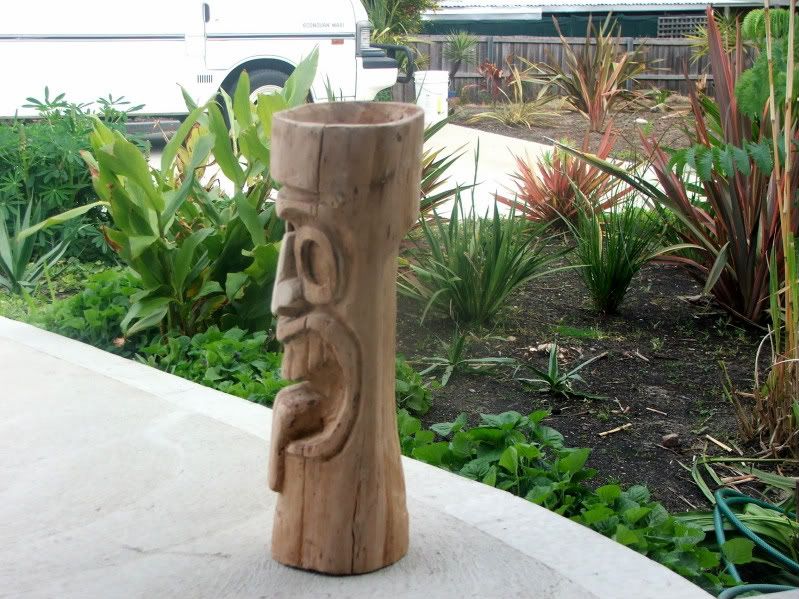 e
Well I wouldn't have beloved it, but the patches look really good. The whole tiki looks really great. Nice job.
Thanks BigT - I am happy with the way it has turned out so far. I only went with the patch as a last resort but it seems to work
Excellent Nose job, You considered going into plastic surgery? :)
Huge improvement on this 3rd piece Nomo!
Looking good.
I like the hollow head too. Been thinking about doing one like that.
On 2009-08-23 01:20, nomolos wrote:
Also found some old tools that were my father's - I could only identify a few such as the mallett, borer and chisel can any tool experts tell me what the others are

Tools look like, R-L: Carpet cutter, Carpenters Chisel, Chip carvers knife, Leather punches, Wood Scraper, Can't see it, Wood Scraper. The round wood scraper would be used to help scrape out the inside of wood bowls etc. Nice old hand drill.
You tiki came out really great! I was having some doubts about the plastic surgury but you pulled it off quit well. Nice work and keep up the carving.
Thanks for the encouragement everyone, I did a bit of torching today but it it went quite black - will have to get a wire brush and remove as much as the charcoal as possible. Thanks for the info on tools ... found some more old tools more photos soon
The eyes are also plastic surgery jobs but I used wood from the same log thats why they match better, hopefully the stain I apply will make it all look the same.
Just a query if anyone can help is how to make the teeth a lighter colour maybe a liming product?
Cool bunch of tools there, it's amazing what you can do with the tools at hand. Well done .
lookin good,Aloha, Mooney
After putting linseed oil and flaming it I used a brush to remove some of the charcoal, looking at it now I don't think I will engrave any patterns as I like the aged look of it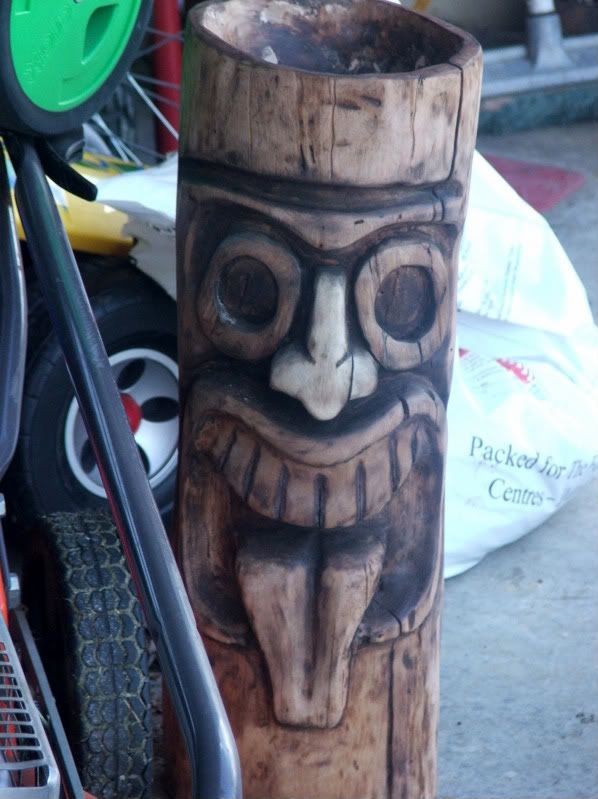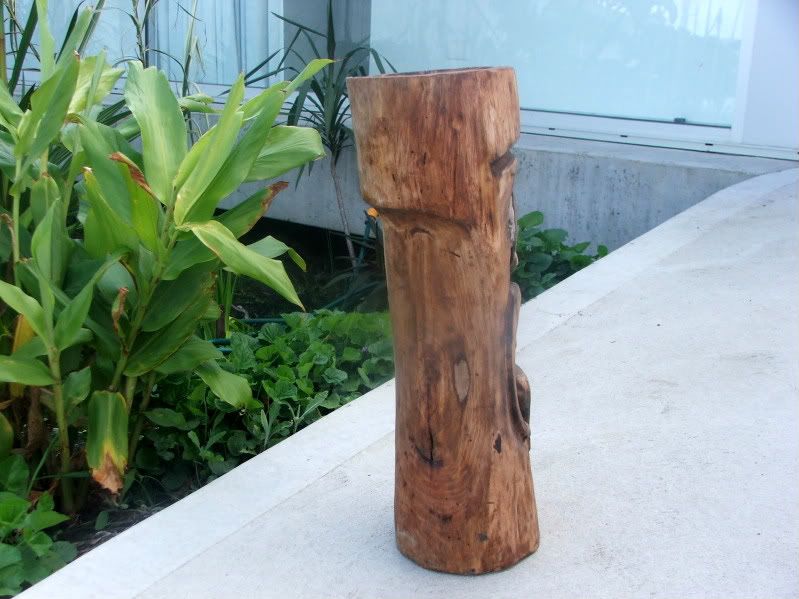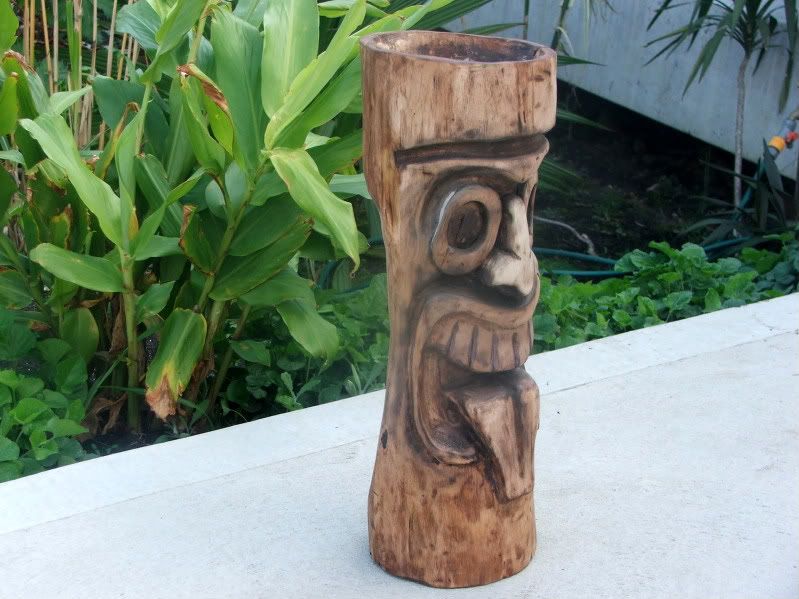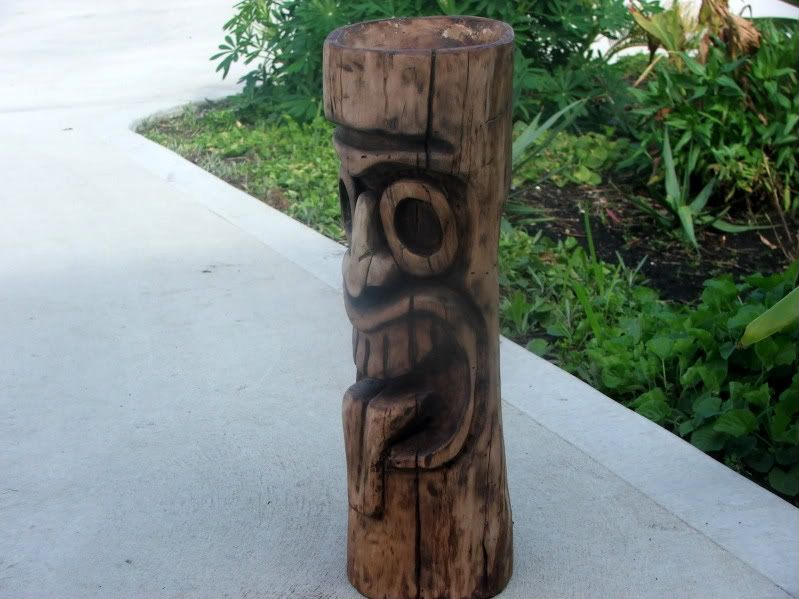 [ Edited by: nomolos 2010-07-16 06:58 ]
With stain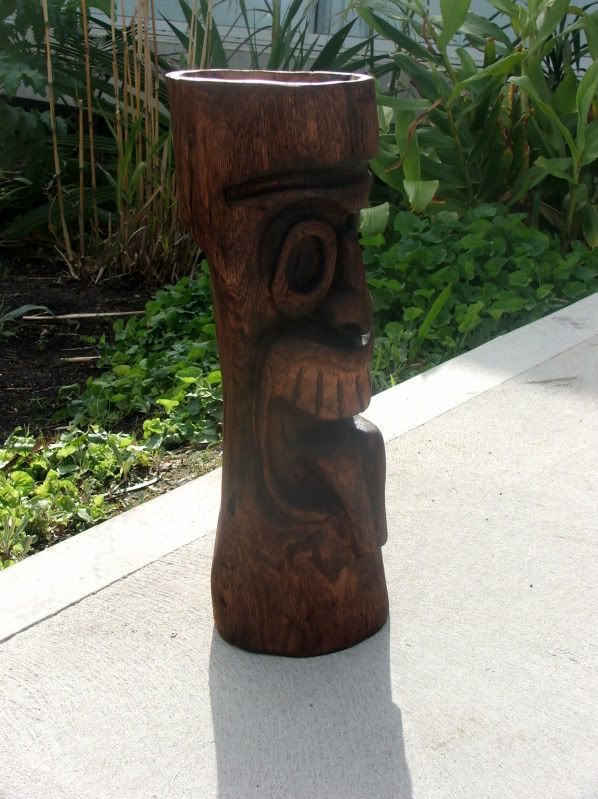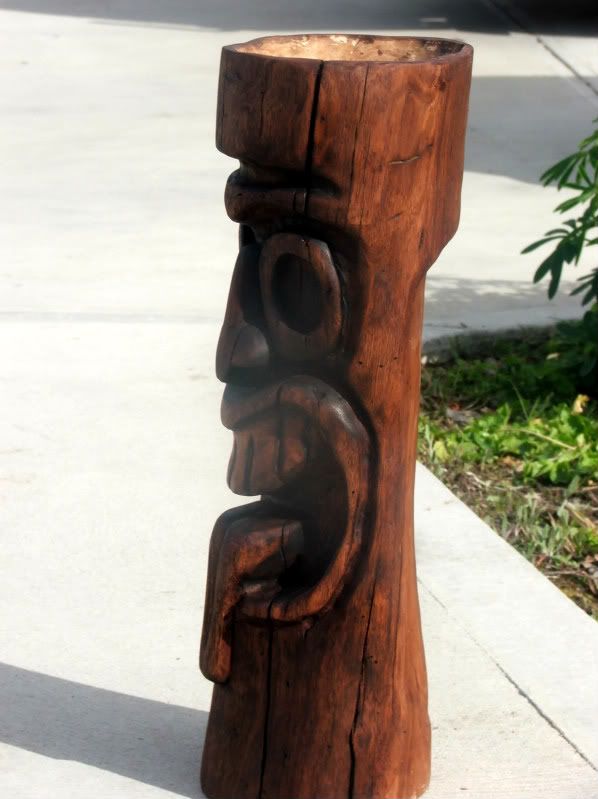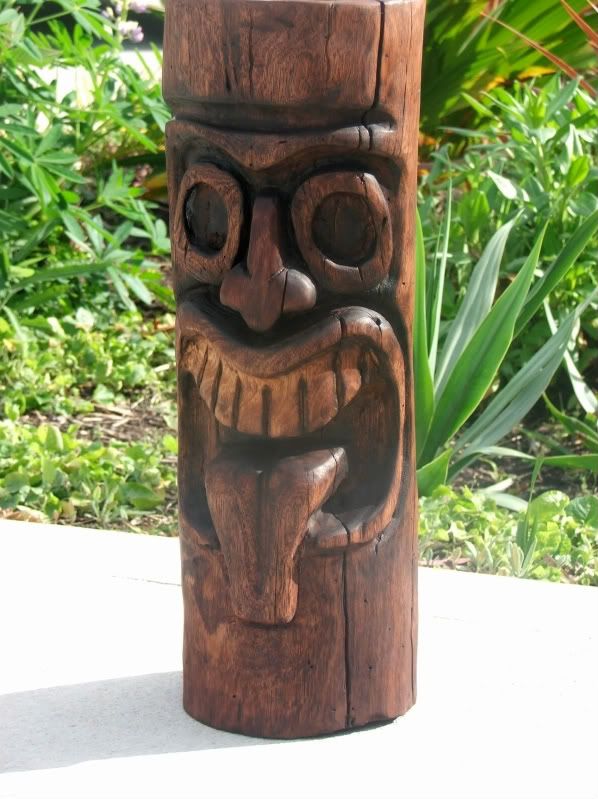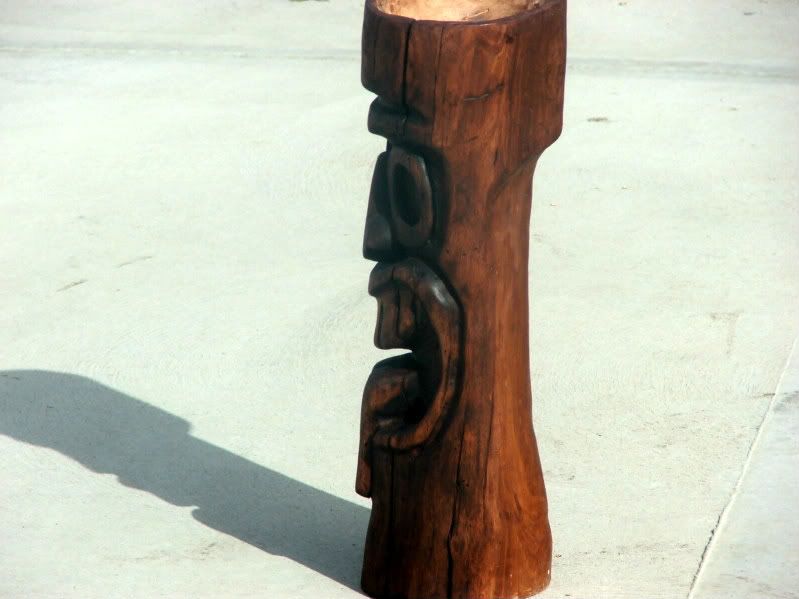 Nice first tiki keep them coming.
The stain really pulled everything together, good job! I'm sure you've already started to carve your next... so post pics already.
Kool stuff ya got goin here,and it's great to see another
Aussie chip'n away!keep em com'n.Cheers Watango
pjc5150
seeksurf - thanks will do
TikiMango - will start another soon - its so engrossing I don't do enough of my other tasks
Watango productions - thanks to fellow Aussie - are there many of us?