Pages: 1 28 replies
Yesterday morning I went to pick up my PNG Oratory table from the seller in Indiana. I was excited to see all his stuff, but I got much more than I expected. This post is very image heavy, but worth it.
I arrived at the house and the fellow was not feeling well, so we talked on the phone. He gave me the complete story of the piece. I then told him about Hukilau and after a bit he invited me his house to see his collection after I finished there.
On the lot are 3 sheds full of PNG artifacts. These are from the first shed which was mostly larger figures.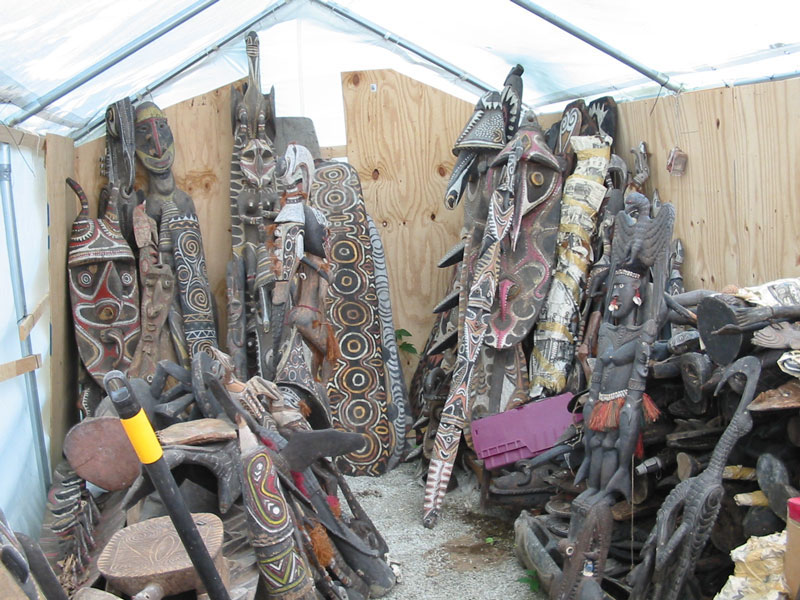 The second shed had more larger figures and shelves with masks, drums and all sorts of things.

The third shed had a small collection of masks, figures and more.


This jar was about 3 feet in diameter.

On the front porch were canoes and other items.

I looked around after loading the massive table in the car and picked a couple of other items quickly and went to his house.
We sat and talked about PNG culture and the significance of all these things. He told me of his 70 trips to Hawaii and his many trips to Polynesia over the last 40 years. It was incredible. Then we went to see his collection.
In the basement he has his choice items.


The instrument on the right was carved with stone tools, on the left, metal.

This is the inside of one of these woven head dresses. They are huge and you can see the intricate weaving involved. Yet they do not make baskets.

Various weapons


A stone carved club weapon. This is the sort of thing they carried when Captain Cook met them. It was incredibly heavy, but not iron wood. It was an unknown type of wood.


This is a later metal carved weapon.

These are highly prized tusks. They would put a pig in a cage with only its head sticking out and cut off the lower tusks. They would force feed the pig and the tusks would slowly grow in a circle. Only 1 in 10 pigs survived this process, so these tusks were extremely valuable.

These figures are pottery and not for ceremony. They are characatures for the people of the village.

More weapons and a costume.

This bowl is about 3 feet long and 18 inches deep.

More figures.
These are in his garage area.


This is a carvers chair.

A crocodile skin sheild.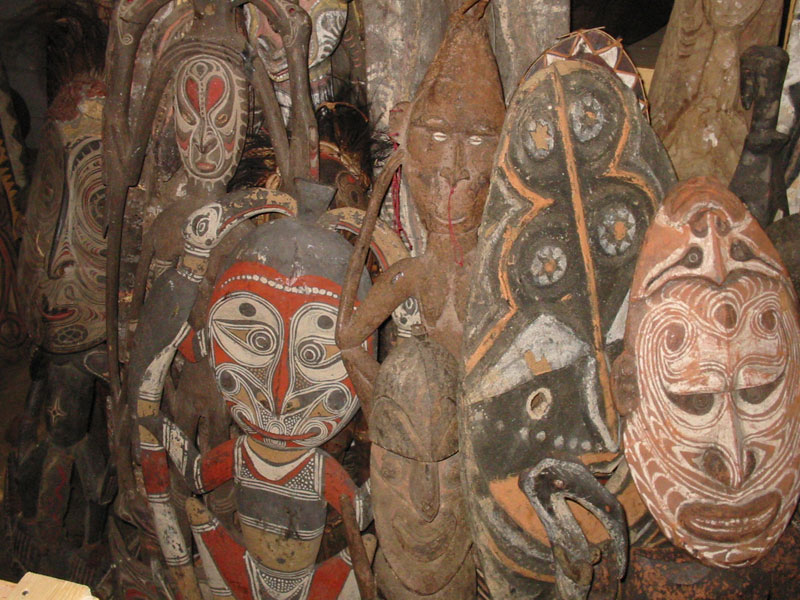 More items in the garage.

These are the lintels of a house. Turn your head to the right and notice the piece in yellow on the left.


Here is the piece as it was put together for a museum. The one in the garage is perhaps the only one in existense from an actual initiation ceremony.
Outside his house, in the front house were these lodge poles.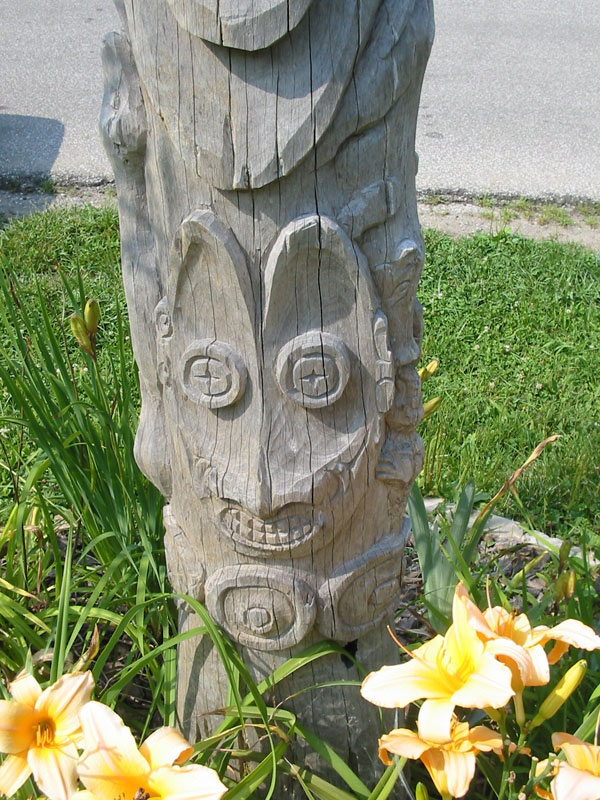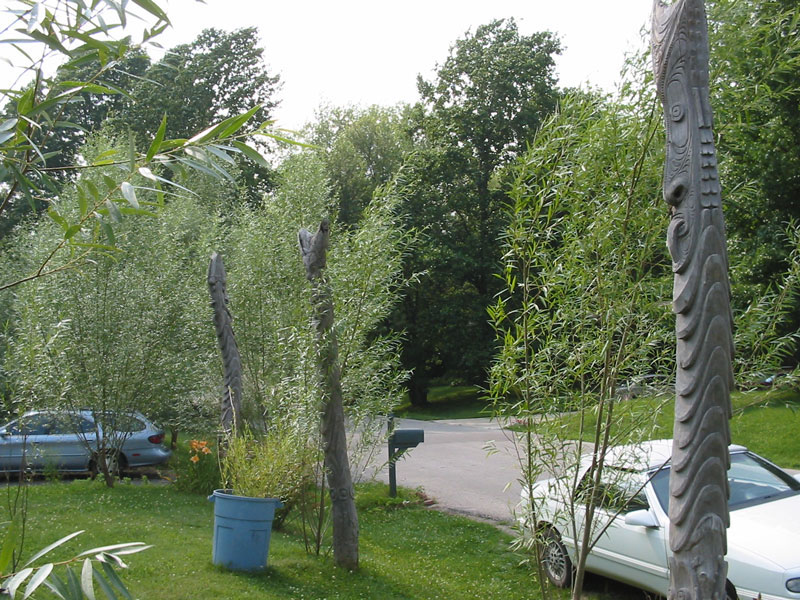 In the back yard were these massive poles from a cheif's house. He said they were the finest carvings he had seen.


This figure is 8 feet long.


You can see the size.
These poles were from a building that collapsed into a lake in 1970. In 1990, they pulled these poles out of the water. They are iron wood. They held up incedibly. Quite heavy.

More in the garage.


A top finial from a house.


A winged figure.


This jar is in his home. Huge.


This mask is easily 4 feet tall on his wall.


More items from his home.

Carved fish from Pitcairn Island in the 30's and 40's.

A carved comb.
So we had a great talk and he is coming to Hukilau to sell his items next year, and perhaps give a talk if you guys are interested.
Here is the extra stuff I bought.


His hair is feathers.


A great mask.
And the new big man in the bar:

---
The Swank Pad Broadcast - If it's Swank...
[ Edited by: Swanky on 2003-07-27 17:39 ]
[ Edited by: swanky on 2003-07-27 18:05 ]
[ Edited by: swanky 2006-04-19 14:31 ]
HOLY SHITE! Are there any artifacts left in PNG?
Holy sh.....these belong in another Oceanic Art book or a museum.....sweet swirling onion rings Swanky! Jeez!
I am at a loss for words, and that doesn't happen very often I can tell you.
agog,
emspace
This is 40 years of collecting.
He will be bringing this stuff to Hukilau 2004 to sell. Very reasonable prices.
Yes, some of his stuff is on loan to museums.
Are you guys up for a talk on PNG at Hukilau? Seriously?
Hopefully I'll make it there next year. I'm going to plan for it.
Excellent photographs. Well worth it, indeed!
The title of my Shag Print is the Septik River Cruise and I learned a few things about PNG trying to figure out where the Septik River is located and then seeing how easy it would be to take the cruise in real life.
PNG is a true living tiki cultural museum, where the indigenous peoples still participate in such dress and activities. The Highlands Festival is a great display of the culture. Most places on it are inaccessible except via river cruise.
However, one must land in the port city and then spend another night inland before taking the cruise, and again to leave, so traveling there requires some time.
Swanky, that was one excellent post. I scrolled through those pics with my jaw on the ground! 'Amazing' is what immediately comes to mind. You must have felt like Howard Carter when he first entered King Tut's tomb as you entered this guys house. Thanks for sharing the find!
Just incredible. Better get a bigger vendor room for Hukilau 2004. It would be great to have him talk about his exploring and collecting.
He also taught me the proper way for a man to dance. None of this hip swaying. No man would be caught dancing like that! It's more of a light stomping...
luv da pics! good job! if you live close to dat spot...wat you waitin fo??? go get some a dat fo your bar! cannot get mo authentic den dat!
On 2003-07-27 17:44, Atomic Cocktail wrote:
HOLY SHITE! Are there any artifacts left in PNG?
HOLY SHITE! Are there any trees left in PNG?
That's insane!!
So what ever happened to Indiana Jones? Did he make it to Hukilau despite the hurricanes and did the big artifact sale take place?
He didn't make it to Hulilau, but it was due to an unspecified health problem, not the hurricane. Christie and I have been in touch with him about coming down this year though.
I don't think I posted about this, but I also visited Jerry, in Ocober of 2003. He's a really nice guy, and he gave me some terrific deals on this stuff.
Health problems did prevent him. Right now I am planning to stop off on my way to Exotiica and bring stuff to sell there as a vendor.
Wow that is some awesome stuff,nice pics thanks for showing them
BUMP! Awesome collection!
I thought it was 2006 images. Thats a shot in the arm for sure.
I restored these images this moring if anybody was interested...
Wow, just WOW! What an amazing collection. Do you have any updates about what happened to this man and his collection? Is he going to open a museum or did he sell everything off?
On 2009-01-31 05:02, Swanky wrote:
I restored these images this moring if anybody was interested...
THANK YOU!!! I had not seen this thread before.
Thanks for bringing these great photos back Tim. What a spectacular collection. I'd be a kid in a candy store there. I wouldn't even know where to begin (or end).
Someone needs to pay a visit to the Jungle Outpost Gallery in Rapid City, South Dakota and report back here. Billed as the "largest selection of New Guinea art in the western hemisphere." And it's all for sale.
Never seen this thread
but MAN!
glad you reposted those Swanks!
beautiful...what a collection!
He needs to donate/sell those to a museum
they're way too awesome not to share!
Thanks Swanks!
is this jerry from indianas stuff? he vended at exotica several years back i think. great guy, super knowlegable. i still have his buisness card with email and phone number . if swanky confirms its him, ill let you guys have his contact info (if his card from several years ago is still current.)
I hadn't seen this thread either...Thanks so much for the bump. Mucho insperation here! ZOWIE!!
Thanks for the restoration work Swank. If a picture is worth a 1000 words, that's a bookful of artistic inspiration.
An astonishing post, Swanky, and generous of you to share such a fantastic discovery, twice.
One can only wonder at what incredible treasures were to be seen layers-deep among this treasure-trove (all those stacked masks on the shelves!). Wow. One hopes the most vulnerable of these authentic masterpieces have been saved from further weathering my now. Any word on the current status of this amazing collection?
Mahalo again for posting, and bumping this marvelous thread.
Pages: 1 28 replies