Online Tiki Bob art show in Tiki Marketplace here: http://www.tikicentral.com/viewtopic.php?topic=39610&forum=12&start=last&1
The original.
Artwork inspired by Tiki Bob. Any medium accepted, and the amount of pieces is limited to the space available.
When you bring pieces to the show, we'll include as many as we can. One night only art show. The next night we will start the online virtual art show, so if you had pieces that we couldn't fit into the show, you can put them online to show/sell. If you want to have artwork at the Tonga Hut on March 27th, and can't make it to the Tonga Hut, send it to a friend and they are responsible for hanging/placing it in the show. Don't send to GROG. GROG not responsible for anybody else's crap.
The online show will be open to all artists everywhere, and will be a separate thread that GROG will start on Tiki Central on March 28th.
Here are some examples of Tiki Bob inspired art that has already been done:
The original Tiki Bob Mug and and variations thereof. Plus, vintage Tiki Bob Salt and Pepper shakers

Hobbyist Bob mugs.

Eric October (Tobunga) plushy Bobs, and a keychain.

Bosko's Bobs

GROG' Salt and Pepper shakers and a Bob shot glass. Plus, Java Bob for your coffee.

Pdrake Earrings

Bai's Peanut Bob mug.

Squid's Baby Bob.

Notch's Roberto Loco.

Gecko's myriad of Bob incarnations.

MP's awesome Bob art.

Tshirt

Wendy Cevola Bob Bowl.

Tiki Bob Mirror Mosaic by Velvet Glass

Tiki Bob print by Peeler-Rose (on ebay now)

Wooden Tiki Bob purse (on ebay now)

Tiki Bob print by Dirk Yates

Hand carved hand painted Tiki Bob pendants by Lake Surfer.

Log Bob Tiki carved by BayPark Buzzy

mrsmiley and his Tiki Bob carving.

Tiki Diablo Bob carving for Aquarj.

Tiki Bub by PopTiki of Colorado

Still Life with Tiki Bob Mug by SHAG


GROG miss Tiki-Kate
[ Edited by: 2011-03-10 15:12 ]
[ Edited by: GROG 2011-03-28 17:38 ]
YESSSSSSSSSSSSSS! Grog always have great ideas!
cool idea Grog,
now Bob on this.
Jeff(btd)
On 2011-02-01 22:33, bigtikidude wrote:
cool idea Grog,
now Bob on this.

Jeff(btd)
Wow BTD, GROG not know you swung that way! Sorry BTD, GROG heterosexual, so leave GROG out of your sexual fantasies.
This should be a great show!
Ooga Mooga made it pretty easy to see where you stand on the Bob issue with these t-shirts:
I think it goes without saying that Team Bob would win, though.
Sounds like a fun art show! Here's some more to add to the above "examples" collection.
The infamous limited edition Tiki Bob pendants from Mojo. I think Pablus had something to do with the Grumpy Bob.
On 2011-02-02 03:10, GROG wrote:

On 2011-02-01 22:33, bigtikidude wrote:
cool idea Grog,
now Bob on this.

Jeff(btd)

Wow BTD, GROG not know you swung that way! Sorry BTD, GROG heterosexual,
so leave GROG out of your sexual fantasies.
You're bald head drives me wild Groggy.
:wink:
Jeff(btd)
Sorry BTD, GROG bald head just SO sexy, EVERYONE want to have sex with GROG. Men, women, some types of animals. It GROG' curse.
Thanks everybody who like GROG idea for art show. GROG looking forward to seeing what all the artists come up with. You've got two months people to finish your art.
And remember, even if you live out of town, out of state, or out of the country, you can still be in the online art show starting the next day in a new thread on Tiki Central.
Thanks Hakalugi for posting another example of Bob inspired art that has already been done. Here's a couple more:
"Bobolantern" mug by GROG. The damned orange underglaze kept flaking off, so GROG destroyed the piece.

A Tiki Bob oil pastel by Bai for the Tiki Magazine Planet Routh art show. These are the only photos GROG could find of it and they were tiny.

Grog does 180 on Tiki Bob???????? wow. who knew...
Hmmm...5 hour drive for a show featuring my favorite tiki icon of all time. I just may come back to check this dealio out .
Great idea for an art show Grog!
Great plan GROG. I, like everyone else, have pondered Bob inspired ideas. This is a good excuse to get them out of the sketchbook and into reality :D
Count me in on the web-post starting March 28th.
Like MDM above, I have several Tiki Bob ideas that I have not made into art projects yet. Hmm.
YES!!!!!
I've got some TIki Bob ideas I've been itching to get started... now's a good time!
Awesome idea, Grog!
been swamped with work, just checked in and saw this. would love to take a shot at the iconic Bob. Grog, great grouping of photos here! MP, our square Bobs kill me man, with i coulda picked one up when you had them released. Looking forward to seeing you all on the 27th!
P.S. Added some more Tiki Bob inspired art on the first post on the first page.
GROG, was just lookng at your Java Bob on my mug shelf... just posted concept sketches on my blog thinger http://junkhaulersjunk.blogspot.com/ , now to get some zzzssssssss
[ Edited by: oceaotica 2011-02-07 17:57 ]
Nice Cass. The "Tumbuna mug" PNG inspired Bob looks neat. Looking forward to seeing that baby finished.
---

GROG miss Tiki-Kate
[ Edited by: GROG 2011-02-04 12:56 ]
That was so much fun. I was scrolling and enjoying the art and ran into my own Bob Bowl. That was a surprise. I recently re-sculpted Bob and a bowl so that I could make these. So now the challenge is to see if I could do that while making all the mugs and statues for Forbidden Islands 5th anniversary party. Time To Work Work Work. Wendy
ps I am also making a Tiki Bob Decanter for the October Sacramento Crawl. It is a copy of a napkin used in the Tiki Bob restaurant which was in the Sacramento Inn which was across the street from the governor's' mansion. Here's the sculpt which I have finished in clay. Learning to mold it comes next.
---
[ Edited by: danlovestikis 2011-02-06 13:03 ]
Oooo, das nice, Wendy.
Little bump for the thread in case people have missed it that may want to participate.
Remember, we will be doing an online art show on March 28th for everybody who wants to participate but can't be physically at the Tonga Hut for the March 27th art show.
Grog and all the others, nice job on this thread, taking a look at all the Bob stuff takes me back a ways, I have not dialed into Tiki Bob for a while nice to see all the great art again. Can't wait to see what what turns up at the show. How bout more. Sneak peeks?
I'm in, and so's the wife. Thanks for this thread Grog. Already know what I'm going to do, at least just 1 piece. Maybe 2 if I can find the time between now and the week of the show...or hell, maybe a few more if things go my way.
Here's an idea for the show. It's Bob Bumatay.
Scrapped together from mug photos on the nets.
Now someone build this thing, sign my name on the bottom
and send it to the Bob show!


Cass, Im glad you like the Square Bob. There was never
a real release. Ill try to get one to you someday.
Das cute MP.
Cass, your Zombie Bob sculpt looks even better than the drawing. Looking forward to seeing the finished product.
Check it out at OceaOtica's' blog: http://junkhaulersjunk.blogspot.com/
Billy, looking forward to seeing what you and your wife come up with. It's going to be a fun show.
Can't wait Ern. Spent a few hours tossing and turning last night and came up with another idea for it, but fell asleep before I could remmeber all the details. Luckily I managed to remember a few minutes ago after thinking about it again, and wrote them down. Defiantely looking forward to this. Hell, I'm really excited about it.
Count me in Grog!
Starting brainstorm now...
I gotta 3' foot BOB to show...

GROG hope you guys are working on your Tiki Bob ideas. You got 'til the end of March.
Hi Grog, Today we finished our very first mold on our own. It is of a Tiki Bob sculpt that I did as a base. In a few days I should be able to pour one to see if the mold works.
On my craft thread I will show the steps we took to make this sculpt and mold.
Cheers, Wendy
The sculpt and the mold look good. GROG not think you'll have any problems. Let the mold dry sufficiently before you start using it and your mold will last longer.
Does anyone know who created Rum Barrel Bob and Suffering Bob? They're fantastic!
On 2011-02-17 02:53, ebtiki wrote:
Does anyone know who created Rum Barrel Bob and Suffering Bob? They're fantastic!
Those are the work of MP, Mikel Parton. All of his work is pretty awesome!
The birth of another revolution...
Just uploaded these to my facebook photos, but really just wanted to show them here. My Bob take on the "No Evils", with a brand new one. Taken with my cellphone, so please forgive the rather poor quality of these. Did 'em yesterday in my sketchbook, and will be transferring them to some watercolor paper my wife has, and hopefully have them all done before the show.
On to the work....
"See No Evil" Bob


"Hear No Evil" Bob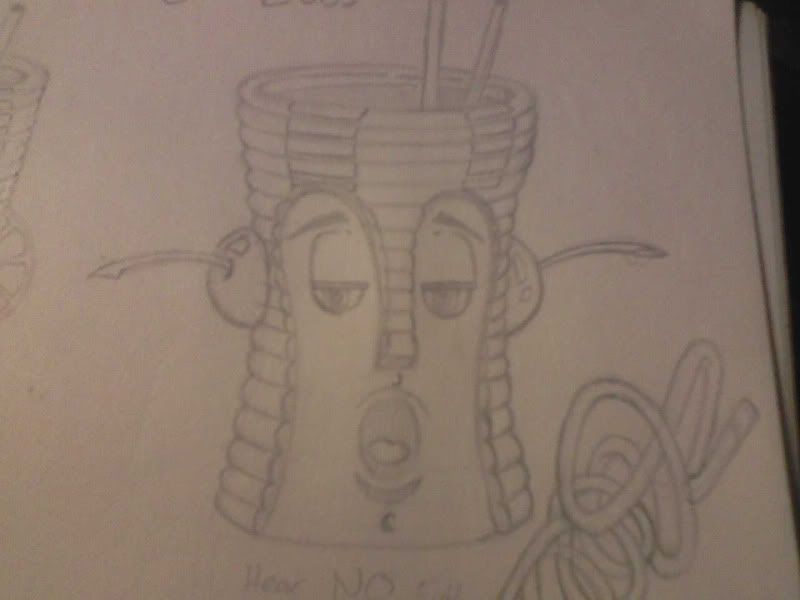 "Speak No Evil" Bob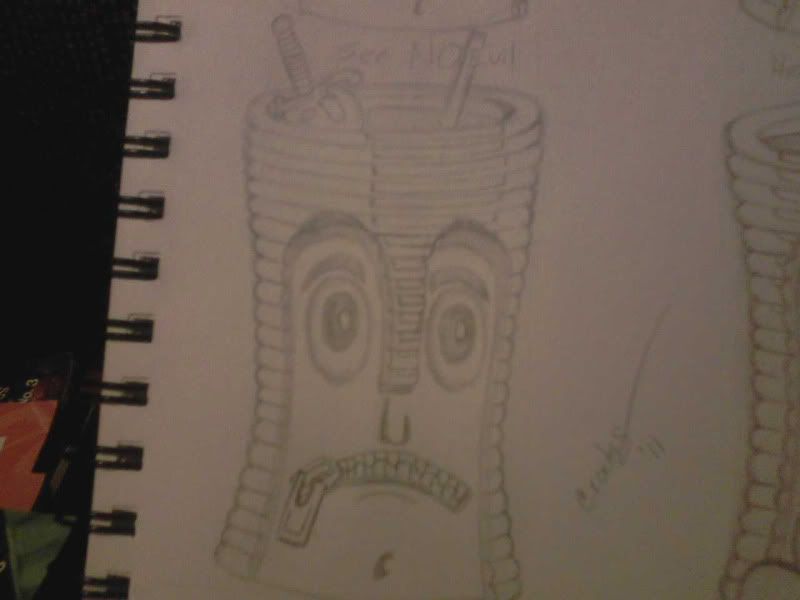 and the one my wife cracked up about...especially with the Crazy Straw
"Know No Evil" Bob.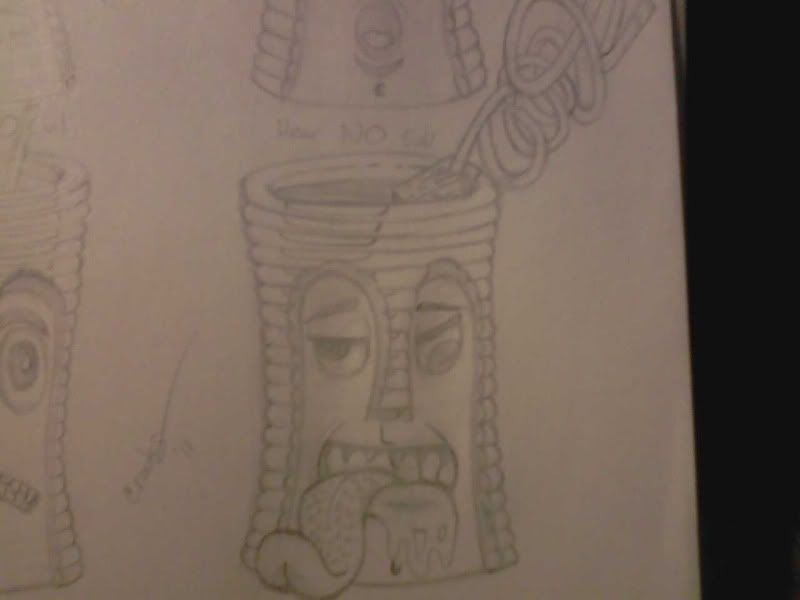 And all four...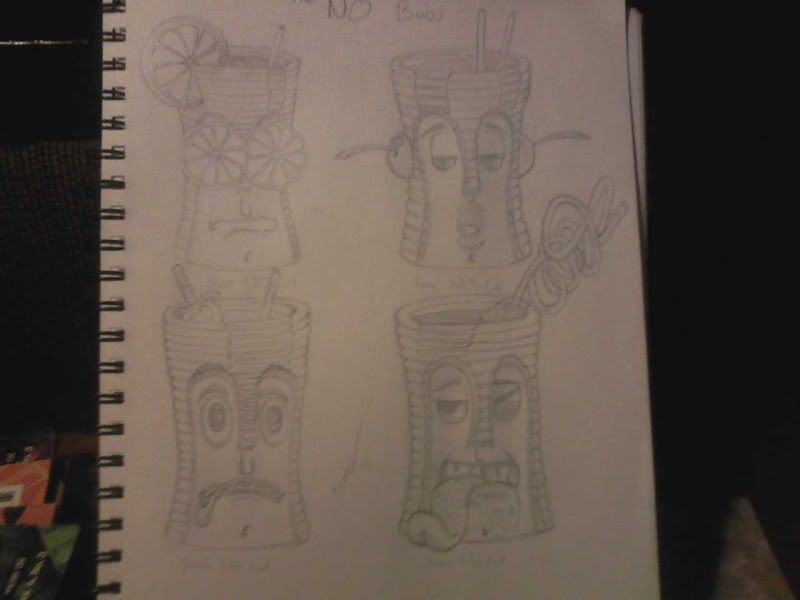 TiKiMaN77, These are fun, I love the fruit idea. I'm looking forward to seeing them in color. Wendy
i guess i'll whip up some earrings for youse guys.
PERRY!!!!!
TikiMan - love the cherries in the ears :lol:
Thanks Mike, and Wendy. I was gonna put a Kiwi or something in the mouth of the Speak No evil Bob, but remembered that the original idea that popped into my brain weeks before I drew these, was to have a zipper on his mouth.
I still love that "Bobolantern"!
Really fun sketches Tikiman77!
Im still finishing some other things off before I dig into
Bob Bumatay, but the other day I pulled out this old saved cylinder
and did a little fun carving. My son calvin and I played with clay for hours
and hours. Serious fun! The nose got a little skinny so I repacked a little
clay back on. Hes sorta like a Canary Island palm Bob.
Early on I did a few versions of Bob.
This was the first one.
I don't remember for sure, but it was probably cottonwood. I did get a little carried away with his "hat".
This second one was larger than the first and was indeed cottonwood.
He went to one of our friends in the northwest.
Then by special request I did one more king size for Helz and Rita. It is a little over 6' and now takes up space in their home.
These were fun to do, but a bit more challenging than one would think. It was fun to dig through the archives. Many memories. Thanks for the nudge.
On 2011-02-27 05:46, poptiki wrote:
... but a bit more challenging than one would think.
Yes, I'm finding the challenge to be changing Bob enough that looks different but yet keeping enough that he still looks like Bob.
Coming soon to an online Tiki Bob Show near you - BOB KONG and the Maiden Sacrifice!!!!!
I shanghai'd a wet Tiki Bob from Wendy's mold (thank you Wendy :D ) and am turning him into BOB KONG!!! :lol:
Oh my gosh that is so cool, the nose is perfect. This is wonderful to watch. Hugs, Wendy