Broken Links deleted
[ Edited by: badmojo 2007-10-29 16:44 ]
went to the "Jack-O-Lantern Spectacular" at the Roger Williams Zoo last night - about 5000 jackolanterns carved and placed along a walking path through the zoo - VERY cool. at one point they had a volcano set up in a lake with a bunch of tiki and hula themed jackolanterns around it, and "aloha oye" being piped in through speakers. sweet.
Those are, by far, some of the best looking gourds I have ever seen. Nice work!
Awesome, just awesome.
Mahalo,
Al
those are gourdgeous, seriously though nice work!!
Man, you one gourd carvin fool. Awesome!
EVIL HOMER !!!
too cool!
-Z
revivin' the thread (too early?)
badmojo could you repost your pix form last year? i recall they were way cool.
ima plannin on makin' a tiki pumpkin dis year - thought i might incite others to again too.
[ Edited by: badmojo 2007-10-29 16:44 ]
YO Mojo:
How about carving some pumpkins for Kahiki Moon? I just don't have any time for fun or enjoyment anymore.
[ Edited by: badmojo 2007-10-29 16:45 ]
Here is one I did for the boy last year...
I didn't very far into carving it before he says "It's a Tiki!"
On 2004-10-20 21:47, TikiGoon wrote:

I didn't very far into carving it before he says "It's a Tiki!"
now that there is a good kid :)
Jack O'Tiki was quite distraught over the fact that he wasn't nearly as attractive as BadMojo's carvings.
I always thought, always, that Tikis and Jack-O'lanterns had quite a bit in common. Whenever I place the two supposedly different items next to each other, they look like peas in a pod.
I was hoping Tpup would pop up on this thread...:)
Thanks, TraderPup, for the suggestion and step by step web page! I will be on Maui over Halloween this year, and was looking for something cool for outside our condo. This is perfect! And finding a tiki torch there should be easy.. probably easier than finding a pumpkin to carve. Mahalo!
broken links deleted
[ Edited by: badmojo 2007-10-29 16:46 ]
r0X0r!!!1 that is so cool. i gotta get goin on my punkin soon.
Badmojo, you are the bestest. Ok, seriously when is the wedding???
broken pics deleted-
[ Edited by: badmojo 2007-10-29 16:46 ]
BadMojo ----
PLEEEEEEEEEEEASE, come to Neptune Beach and carve our pumpkins! Those are AWESOME!!! We have no talent here at the Neptune villa!
Those are killer pumpkins Mojo, you should try wood for carving .Or do you only work with veggies ?
These don't quite have the 'Mojo'... but i did these guys for an Ape gig in '01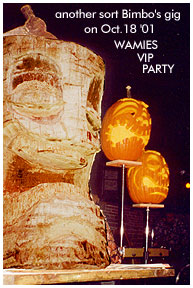 more pics here http://tikimania.com/docs/bt_20.html
[ Edited by: crazy al on 2004-10-24 22:42 ]
Oh my Gawd. Like a totally big Mahalo to Mojo for the pumpkin and castings. I'm freakin' at the coolness of these melon masterpieces. All the 'kins pictured above and Evil Homer, the quintessential representation of Halloweeniness. Mojo is the gourd god. Truly rad.
HEY TIKIGOON!
So I sent my mother a link to this post, to show here the differnt tikis, and she thought it would be a good idea to try to carve one of them in honor of me, since i haven't visited my family in awhile, and this is what she chose:
HAPPY HALLOWEEN!
[ Edited by: Hale Tiki on 2004-10-26 21:07 ]
[ Edited by: Hale Tiki on 2004-10-26 21:07 ]
Amazing tiki'o'lanterns! I was planning on doing a tiki-style-punkin, as well. I can't imagine mine coming out NEARLY as well as these; so if anyone knows where to find a tiki pumpkin carving stencil, please share.
Here is my attempt, I got bored and had some paint begging to be used

sweet man, i really like the combination of paint and carving.
this is what i intended to do last year, but did it tonite...
broken links deleted
[ Edited by: badmojo 2007-10-29 16:47 ]
Mojo, can you send me the one with the devil on it, I love it. thanks!
BadMojo-
I have have never seen anything like that! Now I'm inspired to carve a gourd or two myself!
Cheers!
TK
did you PhotoShop the Devil Eye... that's one awsome perfect pic! and sculpt!
broken links deleted
[ Edited by: badmojo 2007-10-29 16:47 ]
shee itt badmojo, do you live in a pumpkin farm? :) is each design shown in a separate pumpkin? how many you got going there? :)
beautiful work, as ever ~ i loved seeing them last year, and you've trumped yourself this year. style
Mojo the simpsons rock....the best...
Badmojo - you're pumpkins rock. Mine pale in comparison, but I like them.
The first one was supposed to be an actual jack-o-lantern, but when the nose broke off, I had to change to something else.

For the second pumpkin,I wanted to be a little more creative.
Happy Halloween!
broken links deleted
[ Edited by: badmojo 2007-10-29 16:48 ]
On 2005-10-14 10:13, badmojo wrote:
This year I splurged a bit and decided to add some carvable foam Pumpkins to my usual jack-o-lanterns. I picked these up at Michaels. They come in various sizes and carve fairly easily. My usual Xactos & Lino Cutters didn't work very well so I ended up used my cordless Dremel Tool.
OMG! These are totally amazing! Do you use a pattern at all or is this simply your incredible freehand talent??
I am doing some Funkins myself this year but had NO idea they would carve this well with a Dremel??
Just fantastic stuff! Thanks for sharing!
Wow! Wacko with the Exact-O!
Beautiful carvings all. APPLAUSE !
MOJO is de pumpkin carvin' BADAZZ
i love this time of year, now mostly to see your pumpkins :)
mojo,
those are top notch!
Last year I tried to copy your Evil Homer and couldn't even come close. More please.
-Z
OH those are great I was just wunnering about a TIKI-O-lantern.
kudos!