Pages: 1 17 replies
Name:Bikini Lounge
Type:bar
Street:1502 Grand Ave.
City:Phoenix
State:AZ
Zip:
country:USA
Phone:(602) 252-0472
Status:operational
Description:
This is a well-worn little bar that seems to be a watering hole for locals. There is some thatch decor and a string of plastic tiki lights along a wall. I'm afraid I can't judge the drinks as I'm a non-drinker. This is a view along the outside front.
COOL little spot! It opened in 1947 and has not changed, save the owners and a grass skirt added over the formerly-buck-naked hula girl (by some past gay male owners!). No good music - the TV was on an after-school special type show, with 3 old geezers drinking bourbon and scotch watching intently (?). But the bartender was friendly; she'd been there for 10 years, I believe.
The neighborhood is the catch. It is not a place I'd recommend you go at night, safety-wise. But daytime is fine.
One of these days I'll sit down and learn how to post photos!
Please do post some pics of the interior if you get chance. I know what you mean about the neighborhood. Why do some of the Phoenix motels, especially those along Van Buren, have chains across one entrance of the U-shaped driveway? Is that a drug trafficing deterrent? I left the area after a crack addict showed a great interest in my camera. I'll be back next year and will look things over in daylight.
This is a great place... if you're not in the mood for an exotic drink. The decor is musty yet beautiful with nice tikis, paintings, bamboo and lighting. When the bartender asked what we'd like, my buddy said, "So what are your house specialites in tropical cocktails?" Her raspy reply as she gripped both hands to her head: "Oh gee, I hate that! Boys, I pump beers." as she gestured a beer-tap pulling motion. She did say it with a wink and a bit of a smile. The beer here is nice and cold and cheap. Soak up the ambience, not the mai tais.
Here're some photos inside:

The Arizona Gang!

The bar

CultJam and CultJam-man

Yours truly
Aloha, Tiki Mates-
I want to extend my special thanks to WeirdUnc
for lighting the tiki torches under our dusty desert asses to get the week off to such an auspicious start and for posting the great pics. Also thanks to Cultjam and Cultjamman for being so motivated to come out and lend continued support to the AZ/TC effort-I had a blast. A note of interest(which I failed to recognize before); on the second to last Bikini Lounge pic-if you look close enough at the lifesize tiki at the right, you'll discover that our hero appears to be in quite a bit of pain, requiring an immediate need to relieve him/her self. Poor little tiki!!!! And so the adventure continues....~~CD
From a visit this past May:

My cousin lives close to the Bikini Lounge and, knowing of my love of tiki places, sent me these photos he shot of the immigration protest a few days ago. I love the historical context: a 1947 bar, still alive, and bearing witness to a 2006 political event. They serve as pretty good daylight exterior shots, too.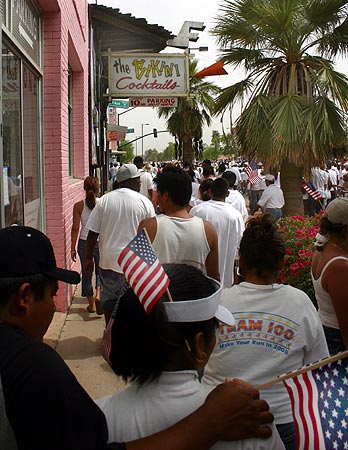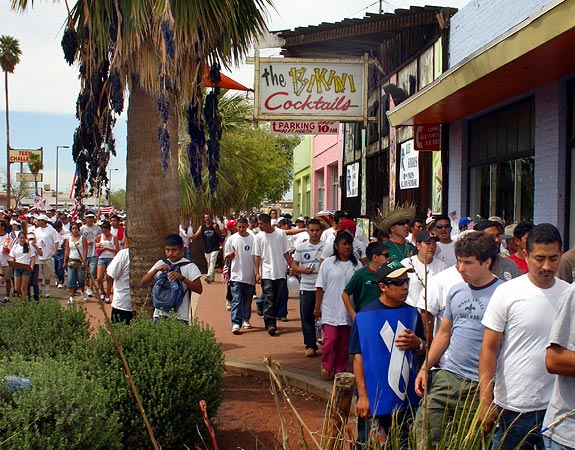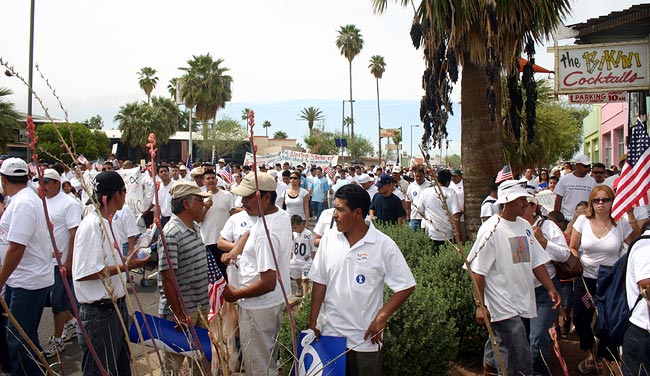 WooooHooooo! Talk about a Authentic Tiki "DIVE" Bar, this roadhouse style bar is a must see if you're ever in Phoenix. They even have a T-Shirt with a Tiki on it you can purchase . The night we were there the local Women's Roller Derby Team was having a Bake-Sale in front of the bar.
[ Edited by: woohoowahine 2006-08-08 10:48 ]
i like the little bar as its a great place to hang. Once bartender with her wise cracks and missing teeth made me a tasty drink.
This is my favorite bar in Phoenix! Any establishment that lasts over 50 years here is a rarity. The jukebox was great circa 2003-2007, lots of locally-made mix cd's until they got busted by ascap/bmi. The owners recently added more taps for some fancy brews (blue moon, stella etc). I love this place so much I made a mural for the empty space above the booths. Long live the Bikini!

[ Edited by: tomsartproject 2010-05-29 22:29 ]
[ Edited by: tomsartproject 2010-05-29 22:30 ]
As a sort of revival to this landmark (very biased) The Bikini Lounge is beginning to emerge of sorts. Embracing history/arts and all things TIKI! Since 1947, this long standing tiki bar is one of Phoenix's original and longest running. And the recent ownership change will breath new life to what we all love about it.
On the fringe of Phoenix's art district it has been the home of many thirsty local artists. Many of which will show their work as all things tropically Polynesian take hold. The pace-full and eventual restoration of the bar will include all things tiki and Polynesian. It is seeking out all artist in the world of tiki, local or passing through of all mediums, showings and demonstrations, from carvings to dancers that would love to show their work to a growing crowd of officianados!
We will update this thread with the upcoming showings as well the current running artist. And as time progresses a consistency of things to announce will be added to feast eyes on including more history and the future of a signature drink...
Thanks!
The Bikini Lounge
That is good news! The Bikini always had enough good "bones" to return to a full-fledged Tiki bar. I wish you much luck in your endavor, keep it true and Tiki will be with you. Long Live the BIKINI !!!
Where did this painting go!?!?
Inky and I visited this bar during our last trip to Phoenix. We usually have a quick drink or two here before we leave for the Airport( it is about 10 minutes away). It is now under new management (owner?) and they want to brink back the tiki-ness of it (see previous post by BikiniLounge). Maybe even add a mug. They want to work on tiki cocktails, too. They are hosting art shows from local tiki artists and the Dj's often play tiki-ish music (like Surf). I look forward to our next visit!

Tiki ATM graphic!

Note to management, the lights could be dimmer! Note to TC, my camera made the images a little lighter than is actually was-it wasn't as bright in there as my pictures make it seem. :)
[ Edited by: mrsmiley 2011-10-18 23:56 ]
nice pics Bruce. still havent hit that spot yet, but it looks good & I hear good things. next time hit me up when you are out this way!
Update,
A few months have passed since our last meeting; but been busy. Bruce, a million thanks for the post (concur, but those older folk have a hard time reading in the dark, that's why were not supposed get old!) great to see you guys at Tiki Oasis, appreciate the support!
We have had more artists come through will post some pics on "Other Events" and a first annual event for the bar coming up this weekend! Chiseling away at the to do list like a proud parent I have posted some photos for your viewing pleasure of our progress!
As for all the glorious awards we have shelved in this town; The New Times has awarded our longtime bartender "Phoenix's Best" (again), 27 years (she's counting) and some loyal lobbyists love her too!
Enjoy,
The Bikini Lounge

Difficult to see, but an image of the restored return of the old hanging bamboo lights along the bar..

Another angle, each booth has one as well..you just feel like your in a different world when you enter.

YES! The letters made their way back!! But this amazing archaeological find underneath the 1967 remodel show a great hand painted script to the original 1947 design. Although as dried up as Death Valley's desert floor and would need full resto, the city would be the bigger battle for re-doing...maybe someday?!?

We know it is all there still.

All in a days work! Thanks to Doug for his help. We really do have some good Peeps on board!

Wall-aah! Now it's time for all of the bamboo letter frames, and a restoration of the paintings!

Isn't she dreamy in this light...
Something else for your viewing pleasure. These are some 1966 architectual renderings to to how the Bikini became remembered most. More history to come, as well our web site TheBikiniLounge.com is getting better developed to include what we know and learn.
Cheers!

These masks would of been fantastic! Dig the ride, and a well dressed couple!

Back door ideas..something to aspire too??

Must of discussed this over a cocktail...
A correct login for the post would of helped from us for those following "The Bikini Lounge"!
Much better.
Great old renderings! ZAZZ!
Pages: 1 17 replies