Pages: 1 39 replies
Was in New Orleans last week and peeked in the door. There's still ALOT of interior construction they need to do (will be surprised if they make a month-end opening), but the big Bosko tikis were installed and looked great. Look forward to going back to NOLA and trying some libations and food there. Can't go wrong with the Bum!
:drink:

(Photo credit: Eater New Orleans)
The grand opening was Nov. 12, and early reviews are glowing, as expected. Here's a selection of press coverage, including lots of photos:
http://www.nola.com/dining/index.ssf/2014/11/7_facts_about_latitude_29_new.html
http://nola.eater.com/2014/11/13/7214027/scenes-and-coverage-from-last-nights-latitude-29-opening
http://www.nola.com/dining/index.ssf/2014/11/scenes_from_latitude_29s_openi.html
http://www.nola.com/dining/index.ssf/2014/11/jeff_beachbum_berry_latitude_2.html
http://www.theneworleansadvocate.com/news/politics/10717515-171/new-orleans-drinks-expert-jeff
Also, Tiki Diablo has a limited number of Latitude 29 mugs for sale. More info here:
http://www.tikicentral.com/viewtopic.php?topic=48517&forum=12&0
'Cmon TC, we're waiting for your reviews. I've seen lots of photos and comments on Facebook, but nothing here yet. Unfortunately, I'm not able to make it up to New Orleans anytime soon, so I'm hoping to enjoy Latitude 29 vicariously, and perhaps whip up a few drinks at home. The full menu, both food and drink, is posted on the homepage:
http://latitude29nola.com
There was a lot of speculation on what drinks would make the final cut. It's interesting that there are so few classics from the books, but I think that speaks to the level of talent Jeff has working for him. It looks like lots of reinterpretations and twists on what you might expect, which is great.
Here's the menu text ...
Jeff "Beachbum" Berry has spent the last two decades unearthing and publishing these "lost" exotic drinks, the best of which you'll find on this menu, along with some originals and new interpretations of old classics.
We also offer an extensive menu of standard cocktails, highballs, and straight pours.
SHORT HOISTS
PROFESSOR REMSBERG'S PUNCH
Fine old Guadeloupe rum, gently stirred with lime and a Caribbean spiced syrup discovered over 30 years ago in San Juan by the Professor himself $12
PANIOLO
Yee-haw and aloha: Kentucky bourbon and Hawaiian macadamia nut liqueur shaken with lime, our own cranberry syrup and a dash of molé bitters $10
OUTCAST OF THE ISLANDS
London Gin and Persian lime, caressed with cinnamon, ginger, almond and anise $12
OLD-FASHIONED RUM COCKTAIL
For those who take their kill-devil without fuss: A lot of rum and a little sugar, dashed with Abbott's and Tiki bitters $10
LONG PULLS
LATITUDE 29
Eight-year Demerara rum, passion fruit purée, our own Madagascar vanilla syrup, orange, pineapple and lemon. Served in a hollowed-out pineapple (while they last) $11
NAVY GROG
Frank Sinatra's favorite Tiki drink. A bracing blend of Jamaican and Demerara rums, perfumed with allspice and laced with lime and grapefruit $12
HAWAII 504
Chinese five-spice suspended in honey and shaken with Virgin Islands rum, ginger liqueur, lime and orange juices $10
NUI NUI
A smooth and silky rum punch by Don The Beachcomber, created in 1937 but lost to time until the Bum unearthed the recipe in the private papers of Don's maître d' Dick Santiago $10
BUM'S RUSH
Blanco tequila meets bonded American apple brandy, with hints of honey, lime and orange $11
ESPRESSO BONGO
Gold Jamaican rum bestirred by coffee syrup, pineapple, passion fruit, orange and lime $10
MAI TAI
Trader Vic's 1944 classic: Aged Martinique and Jamaican rums, Curaçao, lime, and a whisper of almond $12
MISSISSIPPI MERMAID
A siren's call of vodka, tamarind, allspice, lemon and banana $12
SUFFERING BASTARD
The drink that won the Battle of El Alamein: Dutch gin, French brandy, our own lime cordial and a barrage of bitters, topped with ginger beer. Concocted by Joe Scialom of Shepheard's Hotel, Cairo, 1942 $13
PONTCHARTRAIN PEARL DIVER
An "iced buttered rum": our honey-butter-spice mix blended with passion fruit, lime and Jamaica rum $11
AQUADESIAC
Gold Barbados rum and Blue Curaçao teased with lemon, almond, caraway and Bénédictine $11
ZOMBIE
Our only slightly less lethal version of Don The Beachcomber's infamous "mender of broken dreams." Light, dark and overproof Caribbean rums lengthened with lime, grapefruit, cinnamon, and a dash of our house Undead Mix $13
KEA COLADA
A Piña Colada and then some: Jamaica and Virgin islands rums swirled with coconut cream, lime and pineapple $10
COMMUNAL DRINKS
RUM BARREL
For 2 to share, or 1 thirsty pirate to hoard. A kill-devil's brew of 3 rums, 4 juices, multiple herbs, spices and sweeteners ... did we mention rum? $18
DAVY JONES' LAGER
For 2 or more. Gold rum from Antigua and pure malt beer from Japan, informed by Curaçao, lime, and our spiced cane syrup $24
LAPU LAPU
For 2 or more. Don The Beachcomber's "lost" unpublished 1964 recipe, recently discovered by the Bum and presented here for the first time in over 40 years $22
Correct me if I'm wrong, but it appears that the only previously published recipes are:
Bum's Rush (Intoxica, Remixed)
Espresso Bongo (aka Kiliki Cooler from Remixed)
Mai Tai (Grog Log, Sippin' Safari, Remixed, Potions)
Navy Grog (Grog Log, Remixed)
Nui Nui (Sippin' Safari)
The Aquadisiac appears to be a revamped verson of the drink that appeared in Remixed.
Several appear to be slightly different versions of Tiki classics:
Pontchartrain Pearl Diver
Rum Barrel
Suffering Bastard
Zombie
I'm excited about the newly unveiled classic recipes:
Lapu Lapu
Professor Remsberg's Punch
Of course, there are a few unique takes on some standards:
Kea Colada
Old-Fashioned Rum Cocktail
The rest appear to be Latitude 29 originals. FYI, Davy Jones Lager is a drink Jeff first introduced at The Hukilau in 2011 at the Kona Longboard room party. Looks like he's tweaked it a bit with Japanese beer and spiced syrup.
If anyone out there has sampled any of these, please share your thoughts (and photos).
The place looks great!
Good Luck Jeff "Beachbum" and Annene Berry!!
Plus it's really cool to see both Bosko and Tiki Diablo art works in on this one.
Love both these guys art styles.
Also worth noting: The signature Latitude 29 cocktail is a retooled version of Beachbum's Own, which first appeared in Intoxica! and later resurfaced in Beachbum Berry Remixed and the Tiki+ and Total Tiki apps.
I'll be in NOLA shortly and plan on visiting here. I will post photos if I make it.
There's now a happy hour menu, featuring creations by Latitude 29's talented bartenders ...
I love the Total Tiki app. Use it all the time.
I look fwd to returning to NOLA to enjoy Latitude 29. I got to peek inside while they were still building out while I was there in early October and it fueled my desire to return to the city already.
Just booked flights and rooms the 1st week in January for a quick trip to NOLA to visit Lat29. Looking forward to it!
Hi all,
I am in New Orleans for the weekend for a trauma course. I had to hit up L 29. I walk in, it's a very tastefully decorated tiki bar. Beautiful. I get seated at a table and have great view of the place. A lot of women here alone, but I'm married :)
First up I order a zombie and the pork ribs. I have been anticipating this for a while. I make the 1950 version at home and love it. I've tried the 1934 once and it didn't work out so well. So I get the version that Mr Beachbum is serving. It's phenomenal. I can't describe how good it is but it's exactly what I expected and yet something I couldn't imagine. As I start that I order a beachbum's own, as my goal is to try a handful of drinks. I have the liquor 43 (?34? I've had a few..) at home but haven't made one yet. The ribs come out, delicious.
A few minutes later a smiling man in a hat walks up and of course I know it's Jeff berry. He tells me I'm the first to order a beachbums own, and that they have an updated version called the latitude 29. He couldn't have been nicer. Talked rums and he schooled me on the zombie. Super nice guy.
The latitude 29 was delicious and the passionate fruit flavor was great. I settled up my bill, then got a copy of intoxica from my car and asked mr berry to sign it.
This place is great, and the drinks are just perfect. I'm going back tomorrow night because I have a handful more I want to try. You gotta be a fool to not come here.
[ Edited by: rockydog101 2014-12-12 21:35 ]
rockydog, would love to see some pics, if you got any.
Cheers!
:drink:
I made it here a couple of times and got to meet the Bum himself. The Navy Grog here is excellent but all drinks were good. Could not fit dining here into the schedule. Jeff told me that they will make other drinks from the books upon request so I got to have a Demerara Dry Rum Float. These are iphone pics, no flash, so not very good. The bowl is a Lapu Lapu for two.
Still, cool pics, jazzman. Thanks for posting.
Just got back from a 2 day trip to NOLA specifically to visit the Bum's place. Can't really say enough good things about this great new bar and restaurant. Jeff and his wife Annene are the most gracious of hosts, all the staff are super friendly and passionate about their jobs. The drinks, food, music, lighting, and décor are everything you'd want to experience. Just fantastic on all counts. Didn't want to leave. Just wanted to stay and soak it all in. Some snaps:
The classic Mai Tai:

A Happy Hour special, the Tokyo Daiquiri, created by Hadi Ktiri (formerly of French 75):

Another Happy Hour exclusive, the Steak Frites:

Mac & Cheese and Fries (I think the drink was a Nui Nui):

The ono Polynasian Ribs accompanied by a Latitude 29:

The Bum and a bum (I'm holding a Navy Grog):

Had several other drinks, all of which were stellar. I should have taken more pictures of the place, but was having too much fun! Can't wait to return.
[ Edited by: PremEx 2015-01-09 15:53 ]
Thanks for posting pics, PremEx. Those look like tasty drinks- and I'm sure they were given the source. It's great you got to meet "The Bum" too. Very cool.
Finally getting around to heading back to NOLA... haven't been since before Katrina.
What does everyone recommend for first cocktails?
For a moment, I'll skip over the obvious suggestion of Latitude... NOLA is the home of the Sazerac, so if you're into a good rye whiskey cocktail, I can suggest putting the Hotel Sazerac and their bar on your list. The Sazerac cocktail is a good rye whiskey sipper, and to have it at the place it was invented, would be cool.
Just off the top of my head-
Broussard's would be one of my first stops. Go when Paul Gustings is mixing. He's literally one of the best in the US and his mixology is amazing. Actually a pretty funny guy, too, if you can get past his initially "crusty exterior" persona.
Cane and Table down the east side of Decatur has some great drinks and had a huge stash of Lemon Hart still when I was there this time last year.
A little further west on Decatur is Tujague's. Great cocktails and beer. Old tine corner kinda place.
Amendment 21 makes some great neo-prohibiton style cocktails. Small place that often has live jazz. Surprised it doesn't get mentioned alot more.
Of course there's the standard Arnaud's French 75 but if you've been once or twice...
Hawaii 504 was my favorite at Latitude. Nice spice.
No service 10 minutes before closing! Bullshit! I own 20 bars and you take orders until closing! I've come 1000 miles and I expect basic service! I came 1000 miles... I was expecting to have a nice cocktail and to take home a mug. To hell with them! I travel a lot. Other places are about SERVICE! I'll give them my business!
On 2015-10-15 21:43, Bongo Bungalow wrote:
No service 10 minutes before closing! Bullshit! I own 20 bars and you take orders until closing! I've come 1000 miles and I expect basic service! I came 1000 miles... I was expecting to have a nice cocktail and to take home a mug. To hell with them! I travel a lot. Other places are about SERVICE! I'll give them my business!
You own 20 bars and never heard of last call?
Closing time in California (here it is 2am) means last call is anywhere from 15 to 30 minutes before 2pm
at 2pm the last customer is out the door and locked, it is the law here.
I'd add maybe an unnecessary note that Latitude 29 is an exotic, hand-crafted tiki cocktail bar, with complex multi-ingredient cocktails, with each drink using unique drink vessels, ice and garnishes. To have someone come in 5-10 minutes before closing (and after last call) expecting bartenders to make one of the Bum's cocktails under such circumstances is, I think, probably a bit much. As someone who has now been to Latitude 29 more than 8-10 times, I can say that it is a place of excellent service, well-trained, skilled and friendly bartenders and waitstaff, and is presided over and run by Jeff Beachbum Berry, one of the nicest, most generous and friendly tiki legends I've ever met.
Maybe the expectations were low because of Hacienda Fiesta's style of bar menu/drinks. Famous Frozen Margaritas, Frozen Long Island's, Strawberry Daiquiris, Bacardi and Malibu rums...
Alright, alright... I FULLY understand hand-crafted drinks and appreciate them as much as anyone here on Tiki Central. Look, I've been around. At my bars, last call comes AFTER the posted closing time. That's our culture and the way we take care of our guests. If you walk in at closing you will be served whether you order a simple frozen margarita from a machine, or a made-from-scratch, original recipe Mai-Tai. If this not common... it should be.
On 2015-10-19 18:36, Bongo Bungalow wrote:
Alright, alright... I FULLY understand hand-crafted drinks and appreciate them as much as anyone here on Tiki Central. Look, I've been around. At my bars, last call comes AFTER the posted closing time. That's our culture and the way we take care of our guests. If you walk in at closing you will be served whether you order a simple frozen margarita from a machine, or a made-from-scratch, original recipe Mai-Tai. If this not common... it should be.
When is your closing time? In Indiana you cannot serve alcohol after 3am, at least I think that's correct. In California the law is no onsite consumption of alcohol at bars after 2am. The typical 1:30 last call is essentially a courtesy to allow customers time to consume one last drink. By doing last call at 1:30 the bars can make sure they are in compliance with the law (no one still drinking alcohol) when the clock strikes 2. I take it you're not serving alcohol after 3am and that your closing time is well before then?
Hagalugi, we close our bars at 11 most days and midnight on weekends, so compliance with the law is never in question. Like Latitude 29, we are not interested in the business available at 3am.
BTW, I did return to Berry's place the next afternoon and enjoyed a Suffering Bastard and a Mai Tai. Having other members of family joining in, I got to sample the signature Latitude 29 drink, Navy Grog, Nui Nui and Outcast. All were excellent. Service was friendly.
This was just my second trip to New Orleans. (Now having a daughter living in Baton Rouge, I will return often.) On this trip I enjoyed, and recommend checking out, Napoleon House, Carousel Bar, the Blacksmith Shop. I enjoyed excellent cocktails at each.
My complaint with Latitude 29 is claiming to be accepting guests until 10pm, then turning guests away prior to that. I think they should stop it. And another guest focused habit they might pick up is to unlock their doors and accept guests ten minutes prior to their stated opening time. It's what my high volume businesses do and guests really appreciate it.
I'm just sayin'.
I think the issue here is that you're comparing Latitude 29 with your "high volume businesses"
I am pretty sure the quality of drinks & atmosphere is not even comparable.
ATP, really? A bar like L29, which serves fewer people each day, is the type that has the ability to make each guest feel special. It's the get-drunk-we're-open-til-3am bars that I would expect to be treated indiverentially and expect a last call before the posted closing time. Those places maybe need to let their guests sober up a bit before hitting the street. Last Thursday night L29 closed at 10:00-- that's different!
We are lament how many tiki bars have closed over the last 20 years-- especially ones that make great cocktails. It's sometimes small details like welcoming guests all the way until closing that grow a business. (Think of the attention guests receive at the Mai Kai!)
It would not surprise me if Berry would be shocked to know his staff turned our group away before closing. Were the chairs already up on the tables? Can't say, we didn't make it in that far. But Berry, because I'm a true tiki fans, because I'm a member of Tiki Central, because I've bought all your books, and because I'm in the restaurant/bar business... I cam back the next day.
Ask the Bum, next time you are there, I would like to know what he thinks?
but as I said earlier (as well as Karl and others) we don't have those expectations
due to very strict Liquor laws in our state & the universal practice of last call etc.
But from what you have said, as well as others, it sounds like Latitude 29 is carving out a more
high class cocktail lounge niche for it's self, that said, I would simply plan on getting there
at an earlier time, so as to have "more" time to really enjoy it.
I found out I'll be taking a work trip to New Orleans and our hotel is a short walk from here. So excited to be able to stop by. I talked my wife into going it should basically be better than any work trip ever. If any locals want to trade mugs or other tiki items (or records!), let me know.
gabbahey
The drinks are works of art!
DC
You can now buy the two Latitude 29 coconut mugs on Cocktail Kingdom.
http://www.cocktailkingdom.com/catalogsearch/result/?q=beachbum
DC
Additional details from Cap'n_Crafty_McGrim_II (also added to the first post in this thread):
Website:
http://latitude29nola.com/
Facebook:
https://www.facebook.com/beachbumberryslatitude29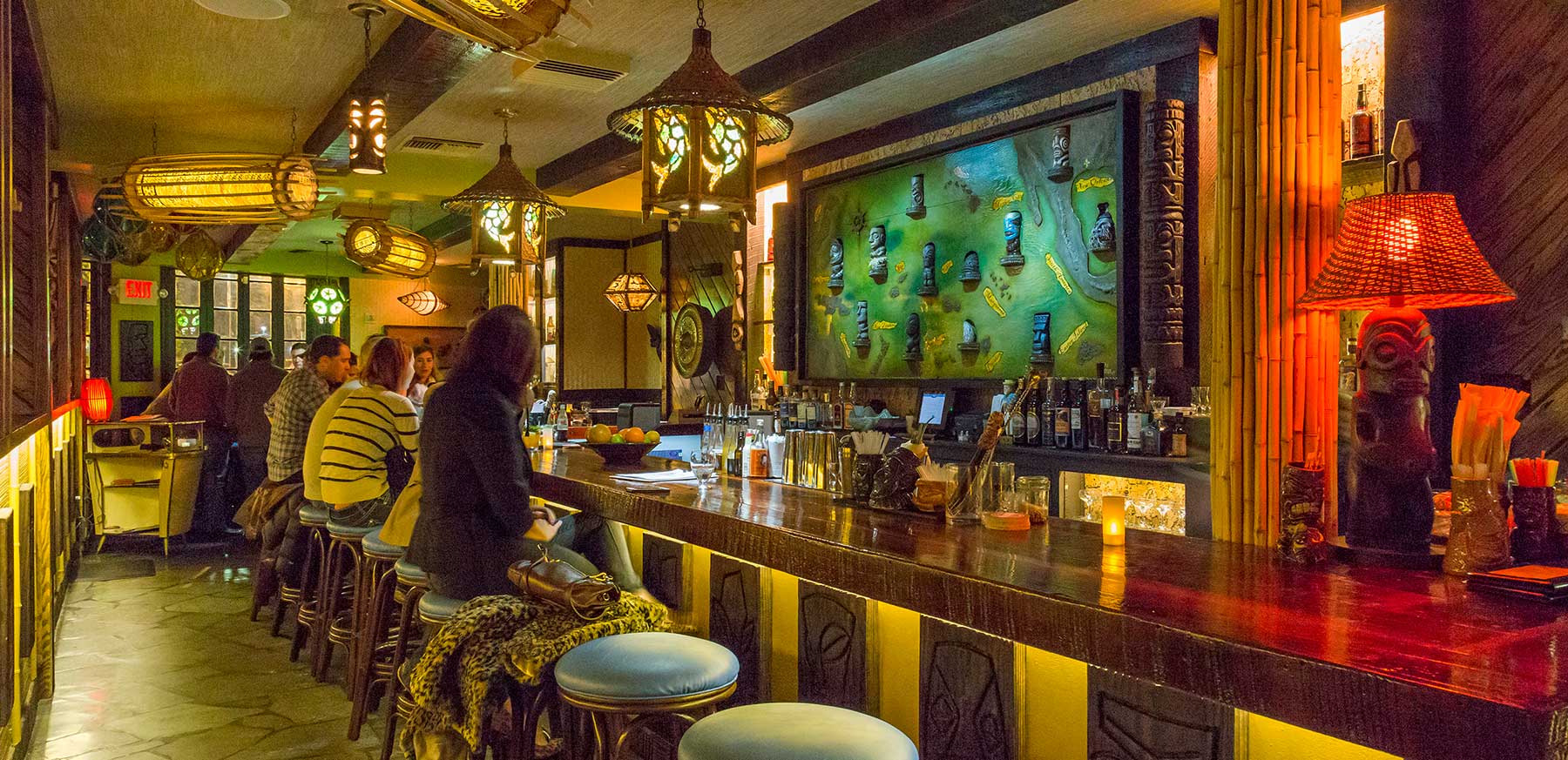 More Photos:
https://www.google.com/search?q=beachbum+berry%27s+latitude+29&source=lnms&tbm=isch&sa=X&ved=0ahUKEwilzd-q-aHVAhXMbD4KHScUCnAQ_AUIDCgD&biw=1152&bih=734#q=beachbum+berry's+latitude+29&tbm=isch&tbs=rimg:Cdr09Sn_1RC1lIjgD4Phb6CJVj3KzrIDqGVmjN0-ktUjeM67xge9c3o-eOrgbF8QqzZZGR9mpszmYBDs-IUi1QuReIyoSCQPg-FvoIlWPEco_1UTdmVSRSKhIJcrOsgOoZWaMRRBxwJw_1HUKwqEgk3T6S1SN4zrhHDbzzvIwmFkCoSCfGB71zej546EWMmvkvWEpNIKhIJuBsXxCrNlkYRaT7h4ijRAzoqEglH2amzOZgEOxHtIMyihhvbvyoSCT4hSLVC5F4jEVD5GoxRlSYa&imgdii=A-D4W-giVY9HFM:&imgrc=F40EVxsHxAzN0M:
[ Edited by: Hakalugi 2017-07-24 12:03 ]
Had the pleasure of visiting Lat29 about 3 wks ago . Dusty wrote that the "drinks are a work of art". He is absolutely right and I Think that the tiki experience at Lat29 is awesome. Went two week nights in a row. Met the BeachBum himself on the second visit. Chatted up the barkeeps ( Sam and Brad) and learned quite a bit about how the place functions. I like that you can't just walk in and stand at the bar and have drinks. Gotta have an empty chair at the bar or you don't get in. Have you ever been annoyed when some fool pushes his way to the bar and reaches between you and your guest and over your drinks? Apparently Jeff Barry has. His place, his rules. I love the place.
BTW, there are some great pieces by Bosco and Danny to be seen, especially the tiki map behind the bar by Danny (TikiDiablo) Sorry, no pix, I could not match those already posted.
P S, Ihad some ono Loco Moco there both visits.
[ Edited by: nui 'umi 'umi 2017-08-07 23:12 ]
Pages: 1 39 replies