Pages: 1 2 3 4 5 6 246 replies
dont miss this EPIC group art show that will feature original artwork from over 70 prominent SURF, HOTROD, TIKI and other "outsider" artists. The show opens MARCH 15 at The Light Gallery in Costa Mesa.
Please check out the flyer below and watch for show updates here!
Alohas, Tom (for Candy and Steve)
Some of the amazing group of surf, outsider and tiki artists who have committed so far:
The Pizz, Rick Reitveld, Jeral Tidwell, Drew Brophy, John Bell, Candy, Miles Thompson, Damian, BigToe, Mr.G, Doug Dorr, Grimb, Steve Caballero, Phil Roberts, Ken Ruzic, Dave Lozeau, Bamboo Ben, Fudemae, Max Grundy, Aaron Kraten, Fudemae, Squindo, James Mcleod, Keith Ciarmello, The mysterious 13:11, Dirk Hays, Buddy June, Scott Aicher, Atomic Kitty, Justin Barry, Von Poot, Dale Sizer, Nik Scarlett, Ernie Keen, Dark Vomit, Paul Torres, Joe Vitale, Bob Penuelas, Augie pagan, Mike Sosnowski, Tiki ray, TV-1, Ryzart and many more talented artists from all over the globe!
Ernie Keen?
Is that who I think it is?
On 2008-02-13 14:44, Swamp Fire wrote:
Ernie Keen?
Is that who I think it is?
Duuude, for seriously?
If that's the case, I HAVE to go... :lol:
fo' reals! Would i tease u with a line up like that??
i am predicting an insane event. miss it at your own risk.
I will try my best to make this. Looks like it should be a great show!
looks like!?!?
it WILL be a great show!
Reread that lineup of artists.....
it's like a Who's Who of the happenin artists on the planet!
this show will resonate thru your brains for years to come!
Please wear your space helmets to prevent making a mess when your heads explode
from all this mind-Blowing Art! :)
Way to go,TOE!
Can't wait for this show.....damn I have to get back to painting!!! Great stuff toe!
Don't remember committing to this, but GROG not remember alot of things.
On 2008-02-14 10:23, GROG wrote:
Don't remember committing to this, but GROG not remember alot of things.
GROG better!
Or i'll be sad :(
Don't worry GROG, you not in show. Toe dyslectic; he mean Gorg in show

Crud...now i gotta go buy a helmet???
From what i hear, there is a mano a mano surfboard painting battle going on between Lil'Lost Tiki and Clysdale! or at least thats the rumor I'M starting.
For the record, i didnt really get a confirmation from Ernie, i'm just not giving him a choice.
Seriously tho, We are completely stoked on the artists participating and the level of enthusiasm. in fact, i got a message about a package coming from Tok Tok in Europe with work from all across that continent.
And I've got my tiki pimp out harrassing some other big tiki names.
anyway, LET THE PREVIEWS BEGIN!!!!
This is a painting from my partner-in-crime on this show, Candy:
and here's a little sumthin from Dirk in Hotlanta. this one is on the way to us now:
Surfboard battle!!!! with the winner to be decided the night of the opening!!!!
Kind of like a breakdance battle from Breakin 2 Electric Boogaloo but not as classy!!

photo fixed...I could not see what was there before...
My art and goodies...
http://www.davidlozeau.com
[ Edited by: Clysdalle 2008-02-14 16:00 ]
Clysdalle!
ROFL
I totally opened this during class.
I am SO glad we're on break!
:lol: :lol: :lol: :lol: :lol: :lol: :lol:
that is sooooooooooo friggin wrong!
Is that a photo of yo mama Dave?
Did someone say Tiki-Pimp ? My stuff will be there for the beginning of the show but I have to pull out at the beginning of April to take the stuff to Vegas . We are all busy right now but Clysdalle MUST be the busiest . He has to bring home a weekly paycheck to everyone of those . Do they all say "Take out the damn trash " in unison ?

no kidding....it's like a chant when I come home....those damn breakdancing skeletons...
and Ray, you really turned a corner here with this tiki...your best by far.
Ummm, dude, you may want to have another look at that image you're leeching.... :lol:
just so nobody else gives me internet demerits...about that photo that showed up...that showed up was not what I posted....the photo I posted was blocked by a no-leech link that substituted something offensive for what I was trying to do...I had posted the photo that is there now of breakin 2 electric boogaloo....it's fixed now....so back to our scheduled programming.
:lol: poor clysdalle!
You don't wanna know what it was! tho i'm sure they told you.... :lol:
That WAS the scariest thing Ive seen on here ...hahaha. thanks for the props too .
Just imagine if H.P. Lovecraft worked for Hustler magazine....
Anyway, I'm glad to see the "Wonderwall" has now vanished back to its own dimension and everything is as it should be in the TC universe. Ray, that tiki is mindboggling, and your comeback to Clysdalle's misappropriated image had me :lol: ing too. Well done! On with the show....
Darn.
Missed out on the fun above.
Anywho, I'm carving up a Cow for this Stellar Show.
Old school Wood plank style.
It is 6'9 and is titled,
" Red Eye Surf".
Heres a pic
" picture deleated due to the request of Big Tiki Dude."
( was that a Zombie night?)
Still working on the finish. Will try to post pics of
finished product next week.
Must go away from computer now and work upside down all weekend. See you next week.
---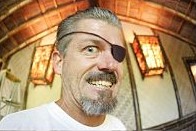 Bamboo Ben Custom Tropical Decor!
I build stuff for you!
Google search me and see!
[ Edited by: Little Lost Tiki boy 2008-02-17 19:54 ]
[ Edited by: revbambooben 2008-02-27 18:59 ]
Dammit Clysdale!!!
Why you gotta post up the crass gratuitous shots of girls' naughty bits?!!??
Ur gonna get us chucked off the forum!!!!
why can't you keep it clean and classy with artful nudity like Bamboo Ben!?!?!
posting naughty bits....it's what I do :wink:
ok...a new update that does not involve lady bits....
Starting to lay in some more layers of color, starting to block in some early line work of light and shadow. It doesn't look like much now, but wait till the black line work...it's really the money shot!
You can see here I got some of the jester's clothing worked out...

a bit closer...
Started to carve out a little detail on the skull pile...
have about ten hours in now....and still many ahead...
So we have commitments from Hinano Beer and Bacardi Rum so far to encourage our art collector friends to make alcohol-fueled impulse art buys. Wine and chow sponsors are still in clandestine negotiations. We are also haggling with some special guest DJs for your aural titillation.
Check the preview site: http://www.myspace.com/surfbeatartshow
Finally, here is the new postcard. One of the artists backed out of the show because he was worried that our show did not elevate his surf art to the more dignified place that he felt it should command. So i have removed him from the show, the postcard and all the publicity content. oh and i also set a small bag of canine excrement aflame, rang his doorbell and beat a hasty retreat.
Alohas, bT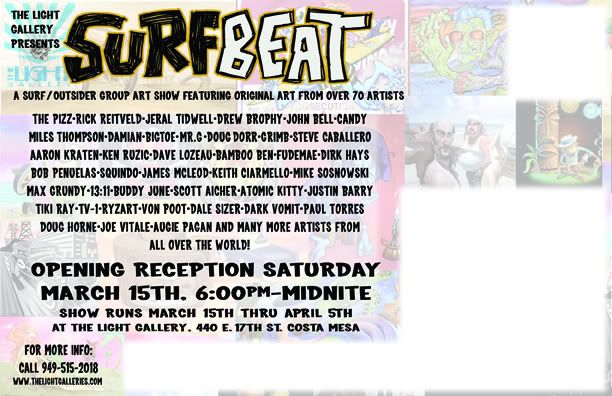 ok, the home stretch....I have almost all the colors slapped down....and ready to start the black line work which is going to take whole chunk of time itself. So here you are...
Damned bro! Who's gonna put that in the water! I wouldn't! Radical!
Thanks man....I don't think it's bound for the water anymore, just a hanger...
How about a sneak peak at more at Bigtoe???
Oh, that's one of the rules, Brudda Clysdale!!
Any1 that paints or carves a board (Ben!), needs to paddle it out in Newport that morning for the blessing of the boards!!!
Also, any1 from Tiki Central is welcome to join us for the morning surf and mana-blessing that morning.
I am practicing my "Mele Moana Kahiko", so come down and watch me stumble thru my haole-waiian!
alohas, bT
oh crap....my board is only a 6 footer....for my big ass I need a garage door with fins!
Kilgore: You either surf or you fight. ... Kilgore: If I say its safe to surf this beach Captain, then its safe to surf ... Kilgore: Charlie don't surf! ...
Screw paddling that 9 footer out at Newport!
Sounds like a great way to lose some patron's cash.....
Can't risk cracking it over the heads of one of you kooks!
Tho i will be there that morning...with my sniper rifle! :lol:
I lost the 9' er somewhere in my mess of a shop.
It's now a 6'9 Cow and is a lot brighter in person.
Mr. Toe, is there somewhere in the show that a black light
can be hooked up?!?
Charlie Don't Surf!
Dig?
alright!!! more boards!!!
ok here is where I'm at...ok, my eyes are bleeding now...been doing black line work for 3 hours....time to call it a night...probably 3 hours and finished....here are a few more sneak peaks of some partly finished sections...
Almost done!!!
Way Awesome Boards you two!
Black Light?
Gotta score me some shrooms for the opening! :lol:
Hey Ben! I got some fluro and glow-in-the -dark puffpaints
if you wanna come over and add some more Bling! to that beauty!
Mind if i throw this one into the mix?
total time put into it.....12 hours....


some details....


See ya in two weeks!
you guys are going OFF! those all look insane.
Ben, we will track down a strobing black light for that one!
tying knots and licking stamps this weekend to get my stuff off to the mainland! Super stoked to have a few of my humble pieces hangin' along side some of my favorite art heros.
This is sure to be RADICAL show I wish I could be there to hob knob.
see you in the spring for sure!
Chongolio
It´s all looking fantastic. I am really stoked to join this big event. Seems, like you all are very busy to get your things ready. I´d really love to be there when the show starts but I think, I can´t make it.
Well...
it´s time to introduce some stuff from across the pond, I guess. Bigtoe has done a lot to gather all these gifted artists and I started a little inquiry for him in Germany some weeks ago.
HAIKAI said he would send some statues, hopefully they have arrived now. You will be able to see "the Beatnick" and "the Grandfather" live and in person.
There is another guy called Krazy-Tiki who is carving some crazy-hodrod-monster-surf stuff for a couple of years now. Because we split the shipping charge I am able to present some pictures.
This is "Crossed Tiki" by krazy-tiki

Here, another called "Flaketiki" also by krazy-tiki

And for now, here are some pics of my available art.
"The Pineapple MOD"

"BUBBLEHEAD"

It´s all german workmanship, he he.
Some more will follow...
[ Edited by: tok-tok 2008-03-01 04:36 ]
She's f'in done!!!! Thanks everyone for all your support....25 hours and ready to be delivered to the show....
"The CarnEvil"
and a detail shot...
A bunch of folks have been asking about the sizes of these boards......
Clysdalle's is 6 foot... 25 hours
Kinny's is 9 feet 5-6 inches....12-13 hours
Being 5 foot 10, I used that as a reference to get an accurate height....
What a puny excuse for a surfboard! :lol:
My 9-footer eats little 6-footers for brunch!


I think Big Toe's is around the same size...
What a bunch of Midgets! :lol:

Visit http://www.kenruzic.com
and attain a Longer Life, Fuller Hair,and Bigger Boards!
[ Edited by: little lost tiki 2008-03-03 14:06 ]
So in case anybody was wondering who the dj's were gonna be.
:wink:
I talked to Big Toe, and he put me in touch with the guy at the Gallery, Steve I believe. He already had somebody, but hes gonna let me, share time with him.
so well either do 1 hour back and forth, or 3 hours and 3 hours.
I'm not sure what he's gonna play.
But I will be playing a mix of 60's 80's and modern surf.
Vinyl only.
Gotta really put my brain to the test, as I have thousands of cd.s
but only a few hundred 45's and about 100 LP's.
so I hope that ya'll dig the tunes im gonna spin for the event.
Cheers and thanks to BigToe and Steve,
Jeff(bigtikidude)
Well I should go since it is so near by .
Looking forward to it.
Seriously.
I really am.
[ Edited by: Bora Boris 2008-03-04 06:13 ]
outsider art lovers and salivating in antici-
pation of the imminent opening of our JUGGERNAUT group art show called SurfBEAT which will open on 3/15 at the Light Gallery in Costa Mesa.
over 70 artists, from world famous to just 'emgerging' from thier holes, will be presenting a carefully conflagrated combo of SURF, LOWBROW, OUTSIDER and TIKI artwork for your ocular pleasure.
to get you in the mood, go check out the updated show preview at http://www.myspace.com/surfbeatgallery
Mahalos, Tom (for Candy and Steve)