Pages: 1 2 3 4 5 6 7 8 9 10 433 replies
This thread will serve as a running log of all the updates to the The Mai-Kai Cocktail Guide on The Atomic Grog, including many upcoming new features, reviews, recipes and related minutia. Following this initial post, I'll outline some of the new stuff to whet your appetite and hopefully give fans of The Mai-Kai, its delicious tropical drinks, and my blog a place to easily find out what's new.
I'm hoping this also gives like-minded folks a central place to share comments, questions and feedback. I'd love to hear from you. But first, I realized that I've never told the whole story of my odyssey in chronological order. So sit back, relax and enjoy a Barrel O' Rum, Mutiny or Jet Pilot as we take off on this exotic journey ...
When I first launched the modern version of the Okole Maluna Society back in April 2011, shortly after starting TheAtomicGrog.com blog, I had no lofty ambitions. The goal was to post one review per week for one year of The Mai-Kai's legendary cocktails, taking advantage of my years of "research" and personal ratings that I shared with friends and first posted on Tiki Central in September 2008:
http://www.tikicentral.com/viewtopic.php?mode=viewtopic&topic=29713&forum=10&start=15
In preparation for this daunting task, I drove my wife crazy taking photos and notes while we enjoyed our cocktails on our regular visits. (To be fair, Susan supports my obsession 100 percent. We were engaged at The Hukilau in 2009 and married at The Mai-Kai in 2010. In short, she's a saint.) So I revisited all 47 drinks on the menu to ensure that my ratings were accurate, and to note flavors and nuances. Looking back on that original "Top 40," it's actually changed very little ... a testament to the consistency of those delicious drinks coming out of The Molokai and Mariano Licudine's famous back bar.

Hayward conducting research, April 2012.
If I could help others negotiate the daunting cocktail menu, I was happy. Whenever we would visit with friends, newbies and old-timers alike, the most common questions were always: "What does that drink taste like? Will I like it?" Many regulars admitted that they stuck with a handful of drinks they knew, rarely sampling anything different. What amazed me from my very first visit was the incredibly vast range of flavors and high quality of the majority of these cocktails, which I later learned were for the most part descendants of early Don the Beachcomber classics from Tiki's early days. I wanted to share this knowledge.
But I wanted the guide to be more than a simple rating of the drinks. Thanks to the inimitable Jeff "Beachbum" Berry, I learned something even more fascinating about the late Licudine and his cocktails. "Sippin' Safari" had lit a spark in me to research the history of these rum-laced concoctions and perhaps find a few recipes. By the time my blog came to fruition, I had identified the "ancestors" for most of the cocktails on the current menu. Jeff was extremely helpful, pointing me in the right direction and revealing some that I missed. I must also give props to Tim "Swanky" Glazner, unofficial Mai-Kai historian and fellow cocktail geek, whose SwankPad.org blog and Grogalizer.com Tiki drink database gave me many ideas and information to make my goal a reality.
Armed with a handful of official recipes that Jeff and The Mai-Kai had published, plus dozens of Don the Beachcomber "ancestors," I launched the guide and prepared my liver for the weekly challenge of posting reviews and recipes. Coinciding with the Master Mixologist Rum Barrel Challenge, a cocktail contest at The Hukilau in June 2011, the first published review was a close look at the iconic Barrel O' Rum.
http://www.slammie.com/atomicgrog/blog/2011/06/27/the-rum-barrel-the-rodney-dangerfield-of-tropical-drinks/
Along with it came the main guide page, which remains the central location of all the updates:
http://www.slammie.com/atomicgrog/blog/mai-kai-cocktail-guide/

An early Atomic Grog homepage tease to the guide.
As I began my journey, some very interesting and exciting things happened. As I researched each week's cocktail, I started coming across more and more recipes. I found a few authentic recipes, but even more importantly I started finding quite a few very good re-creations of Mai-Kai drinks here on Tiki Central. They weren't the actual top-secret, coded recipes that date back some 50 years and are still closely guarded secrets. But some of them were pretty damn close, and this provided another spark of inspiration.
As the weeks went by and my knowledge about how these drinks were put together grew, so did my ability to create my own tribute recipes. My first was the Mai-Kai Special, an original concoction that had no true ancestor. But bolstered by efforts by my TC brethren, I pulled it off nicely:
http://www.slammie.com/atomicgrog/blog/2011/07/06/cocktail-review-what-makes-the-mai-kai-special/
More and more followed, and what started as a goal of having a decent collection of around 50 (mainly ancestor) recipes has now grown to 86, with even more to come. The recipes page went up in June 2012:
http://www.slammie.com/atomicgrog/blog/mai-kai-cocktail-guide/mai-kai-cocktail-recipes/
Here's an handy tip: In most web browsers, the recipes page is "hidden" among the main links that can be found on every blog page. Just hover your mouse (or tap your finger) below the "Mai-Kai Cocktail Guide" link and it becomes visible and active (see below). This can be handy when you're sitting in The Mai-Kai, savoring a cocktail, wondering exactly what ingredients could be making it so delicious.
It also quickly became apparent that these recipes were becoming a nifty resource for home bartenders. So I tried to take particular care to ensure quality and accuracy. The guide gives people who may never have the opportunity to visit The Mai-Kai the chance to sample these fabulous drinks at home.
It became a challenge to tackle some of the more difficult tribute recipes, such as the Mai Tai or Zombie, and to hunt down the correct ingredients and glassware, such as the metal cup for the 151 Swizzle. It also gave me an excuse to purchase all the official mugs and scavenge thrift shops for unique finds. This exercise also gave me the opportunity to fine-tune my skills in both mixology and presentation, learning how to create ice cones, ice shells, flaming coffee grogs, and other distinctive presentations.
The discovery and search for unique ingredients became stories unto themselves. Bolstered by some of the research and discussion here on Tiki Central, I realized that fassionola was a small but key ingredient in some of the cocktails. I not only found a rare bottle, but also was aided by readers in coming up with a fine substitute.
http://www.slammie.com/atomicgrog/blog/2011/11/20/mai-kai-cocktail-review-cobra-kiss-is-an-exotic-taste-explosion-guaranteed-to-strike-your-fancy/
In November 2011, I was privileged to accompany general manager Kern Mattei on a memorable behind-the-scenes tour of the bars and kitchen, which I documented in this post:
http://www.slammie.com/atomicgrog/blog/2011/12/28/behind-the-magic-a-backstage-tour-of-the-mai-kais-mysterious-bars-and-kitchen/
My favorite stop was the secluded back bar, with its legendary rum collection and old-school vibe. We were there on a busy night, and the bartenders were swamped with orders. They were knocking out drinks with quick precision, passing them off to the servers to be garnished. There were no shakers in sight. Blended drinks went into traditional blenders, while most of the Tiki classics were prepared in top-down mixers (upper left in photo below), just as Don the Beachcomber did. I snapped this photo of a service station, complete with its unmarked bottles of mixes and syrups that ensure the recipes remain secret, another throwback to the early days of tropical mixology.

A service station in The Mai-Kai's back bar.
We also spotted a unique rum, Kohala Bay (upper middle in photo), which Kern told us was used in many of the classic recipes as a substitute for Dagger, the distinctive dark Jamaican blend that Donn Beach employed in his arsenal. When I realized that this was the secret weapon in many of The Mai-Kai's best drinks, I had to get my hands on some. This set in motion a series of events that resulted in my discovery of the only retail store in Florida that carried it. After sharing my discovery, my faithful blog readers lobbied their local liquor stores, and it's now available in several other locations across the state, plus mail order. Check out the full story of my adventure on the Kohala Bay thread:
http://www.tikicentral.com/viewtopic.php?mode=viewtopic&topic=45641&forum=10&start=15
The Hukilau blew through town with earlier-than-normal April 2012 dates, the same week as the Miami Rum Renaissance Festival. Before these festivities, I made sure to post what became some of my most popular tribute recipes - the Jet Pilot, Black Magic and Mutiny. At Swanky's symposium, "Mai-Kai: History, Mystery & Adventure," I provided a handout on the ancestry of the cocktails and their link back to Donn Beach's ground-breaking creations.
The rum and Tiki hordes returned home, and all was back to normal as I eyed the upcoming one-year mark and completion of my task. Or so I thought. A bombshell dropped in late April 2012, when The Mai-Kai brought back the legendary Lemon Hart Demerara rum after distribution once again became available in Florida. To those of us in the know, this was BIG. The Zombie and 151 Swizzle were already among the highest-rated drinks when they were made with the inferior Bacardi. With Lemon Hart 151 back in the mix in these and other classics, the bar was raised significantly.
After much more research, I wrote this full report on Lemon Hart, listing all the drinks that returned to their original recipes:
http://www.slammie.com/atomicgrog/blog/2012/05/08/rums-of-the-mai-kai-legendary-lemon-hart-returns-to-the-promised-land/
While I was at it, I also took at look at Kohala Bay and Appleton, offering quick links to all the drinks that likely contain these distinctive rums.

Lemon Hart 151 makes the deadly Shrunken Skull a much more flavorful potation.
Between the 15 drinks containing Kohala Bay and Lemon Hart, I jokingly blamed Kern for creating a lot of extra work for me to revamp my blog, but I surely didn't mind. On June 2, I posted my 52nd and final weekly review: a lost classic known as Big Bamboo. This was followed by a detailed wrap-up of all my research on the ancestry of The Mai-Kai cocktails, which I call the tropical drink family tree:
http://www.slammie.com/atomicgrog/blog/2012/06/05/mai-kai-cocktail-guide-discover-a-fruitful-and-delicious-tropical-drink-family-tree/
Little did I know that this page would continue to grow and evolve, with more updates coming in 2013 and 2014.
On June 9, 2012, we celebrated the end of the year-long journey and were treated to flights of Lemon Hart cocktails at The Atomic Grog's Mai-Kai Mixer:
http://www.slammie.com/atomicgrog/blog/2012/06/16/cocktail-flights-soar-at-mai-kai-mixer-reveal-revolutionary-use-of-rums/
My liver and I took a welcomed respite, but it didn't last long. I continued to tweak reviews, add new tribute recipes, and furthered my research of the mysterious cocktails that disappeared from the menu over the years. My wish to actually taste one of these "lost cocktails" was fulfilled in August 2012, when Kern treated us to a recipe from the vault at a small FOM event during the dog days of summer. The Demerara Cocktail was the start of another surprising odyssey.
I revised my earlier review, eventually posting a new tribute recipe in what would become a new series of "lost cocktails."
http://www.slammie.com/atomicgrog/blog/2012/01/08/mai-kai-cocktail-review-the-demerara-cocktail-is-a-throwback-to-another-era/
I had earlier posted the Last Rites (from "Sippin' Safari") and now had a plan to explore some more of these lost classics from the 1956-57 menu. Kern was more than happy to help. After I posted my interpretation of the Demerara Float and Impatient Virgin in September, he brought back an authentic Last Rites recipe for the annual Hulaween party on Oct. 26.
http://www.slammie.com/atomicgrog/blog/2011/10/29/mai-kai-cocktail-review-the-classic-last-rites-returns-from-the-grave/

The Last Rites at Hulaween 2012.
In 2013, reseach continued into the history of the lost classics. I took on the challenge of taking the Don the Beachcomber ancestor recipes for such drinks as the Doctor Funk and trying to step into Mariano Licudine's shoes and predict how he would have tweaked the recipe to fit The Mai-Kai's oveure. Doug of The Pegu Blog commented that this poses a challenge "kinda like putting flesh onto dinosaur bones."
But once again, Kern Mattei came to the rescue. His curiosity must have been piqued as much as mine, because in February he brought out some more retired recipes for a special event. Kern worked behind the bar in the 1980s, so he has first-hand knowledge of many of them. We were thrilled to be the first customers in decades to enjoy the Island Queen, Demerara Float and a big surprise: the Suffering Bastard. This one wasn't even on the menu, but Kern explained that it was a popular request, so The Mai-Kai had its own (very different) version of the iconic Joe Scialom mid-century classic.
http://www.slammie.com/atomicgrog/blog/2013/06/03/lost-cocktails-of-the-mai-kai-the-off-menu-suffering-bastard-was-just-a-mai-tai-with-a-kick/
Read Beachbum Berry's "Potions of the Caribbean" for a fascinating chapter on Scialom, who coincidentally retired and lived in obscurity for decades in Hallandale, not far from The Mai-Kai, before his death in 2004. I can't help but wonder if the master mixologist ever stopped by to sample a few libations at The Mai-Kai, especially during those few years when he lived nearby and Mariano Licudine was still behind the bar.

Classic "lost cocktails" make a comeback at The Mai-Kai in April 2013.
When VIPs stopped by in March and April, Kern again treated us with an assortment of lost classics. During Miami Rum Renaissance Festival with such Tiki luminaries as Beachbum Berry, Martin Cate, Stephen Remsberg, Joe and Nicole Desmond, and others in the house, he pulled out all the stops. On one quiet night in The Molokai, we enjoyed a smorgasbord of long-gone drinks, including (clockwise from lower left in photo above) the Demerara Float, Suffering Bastard, Last Rites, Demerara Cocktail and Island Queen (in its original glassware).
This provided the impetus for the "Lost Cocktails Party" held in The Molokai on the final day of The Hukilau in June. Three drinks from the 1956 menu (see photo below of the Impatient Virgin) were available all day for the packed house who enjoyed stepping back in time and savoring these blasts from the past.
For me, it seemed like I was finally at the end of a long journey. I had identified and posted reviews of 10 lost classics from the 1956 menu, plus one from off the menu. These included eight ancestor recipes and 10 tribute recipes. I covered the current menu quite extensively, with six original recipes, 33 ancestor recipes, and 25 tribute recipes. I took a much-needed break and found it refreshing to relax at The Mai-Kai with a cocktail and not whip out a notebook or camera.

Retired drinks from the 1956 menu return at a special event during The Hukilau in June 2013.
But as the months went by, little by little, I began to note little things here and there. My notebook began to fill up again with ideas and new features I wanted to add to the guide. I realized that some of my favorite drinks were still lacking a proper tribute recipe. Jeff Berry once called me a "completist," and I had a gnawing feeling that my job was not yet complete.
The other major motivator that rekindled my passion to revisit the cocktail guide was a growing interest from the Tiki community. Even though I've added very few updates, it seems to continue to gain readers. I'm particularly humbled by the folks here on Tiki Central (particularly the regulars on the "What Are You Drinking - Right Now?" thread) who enjoy mixing up the tribute recipes. And I was thrilled to find the Cobra Kiss tribute featured at Trader Vic's in Portland during last summer's Tiki Kon.
So as 2013 came to a close, I started to make plans for a big push in the new year to post updates, new recipes and special features that I had been planning but not yet pulled together. And, as fate would have it, another bombshell dropped in the waning days of the year that brings another major update to The Mai-Kai as well as my cocktail guide.

The Mai-Kai's new cocktail menu, which officially went into service on Jan. 17, 2014.
The Mai-Kai's beloved cocktail menu was in the midst of getting a complete overhaul, its first redesign in decades. At this point I'd like to thank two other very important folks at The Mai-Kai who have been 100 percent supportive and helpful with my ongoing endeavors: The Big Kahuna, managing owner Dave Levy, gave me a sneak peek at the menu in his office prior to its release. And Pia Dahlquist, director of sales and marketing, graciously gave me advance copies to post on The Atomic Grog.
A prototype of the menu was revealed at the 57th anniversary party on Dec. 28, and I posted it along with a full report on Jan. 4:
http://www.slammie.com/atomicgrog/blog/2014/01/04/historic-mai-kai-celebrated-new-cocktail-menu-unveiled-at-anniversary-party/
The menu is gorgeous, a much-needed update that brings it into the 21st century yet still maintains the old-school feel. The map of Polynesia and vintage photo of The Mai-Kai's owner and show choreographer, Mireille Thornton (Dave's mom and wife of late founder Bob Thornton), are a great touch. The traditional artwork that had illustrated each drink for the past 56 years, another one of those links back to Don the Beachcomber, has been replaced by modern photos. It's sad to see the old drawings go away, but the photography is so well-done it's hard to not like it. And I'm sure it will sell a lot more drinks.
The centerspread still contains 47 enticing rum-based tropical drinks, but for the first time in a decade you'll find one new creation to try. The Tiki Swizzle is the first new addition to the menu since another strong offering, The Hukilau, was added. To make room, the Mai-Kai Cappuccino was bumped back to the dessert menu. No big loss ... it's at the very bottom of the ratings. The Tiki Swizzle, on the other hand, makes its debut at No. 29, just below the Bora Bora. Give it a try if you're looking for something on the strong side, yet still sweet and savory that won't totally knock you off your bar stool. My review was posted on Jan. 20:
http://www.slammie.com/atomicgrog/blog/2014/01/20/mai-kai-cocktail-review-the-new-tiki-swizzle-is-a-sweet-and-savory-addition/

The latest Mai-Kai tropical cocktail, the Tiki Swizzle, in January 2014.
The Tiki Swizzle actually had a "soft debut" over the prior months after it was featured during The Hukilau in June. You may have picked up a sample in the Tiki Treasures Bazaar in the Yankee Clipper at the Kahakai Tiki Rum booth. It was featured on table tents in The Molokai, becoming popular enough to justify its inclusion on the new menu. Before scoffing at the addition of a spiced rum cocktail, give it chance. It also features the flavorful Kohala Bay, and it fits in nicely with all the other classics on the menu.
So now that we're up to date, the question remains: What comes next? Stay tuned, the next post will preview all the planned enhancements. In the meantime, Okole Maluna!
[ Edited by: Hurricane Hayward 2014-03-03 12:08 ]
[ Edited by: Hurricane Hayward 2014-03-03 12:13 ]
I completely understand how painful it is to be a completist and admire your endeavors.
Be assured, the world is a better place thanks to the work you are doing! I can't tell you how awesome it was to first discover there was a website with a collection of recipes for my favorite drinks at the Mai Kai, and since then it has become an indispensable part of my list of sacred websites.
Keep up the fight. Our livers can rest when we sleep. I believe Decartes said that.
Great work! Might've said it before, but the tribute recipes would make a great phone app.
Thanks for the great recap of your Mai-Kai cocktail guide Odyssey! I stumbled upon your fabulous work in progress just a couple weeks into the cocktail-a-week marathon year and Atomic Grog has been an indespensible resource for me ever since. Can't wait to see what's in store during 2014 and beyond. Mahalo!
Keep up the fantastic work! It's great you're willing to sacrifice your liver for such an worthy endeavor :wink:
Wow. What an incredible amount of work you've done on this. It's great to see someone so passionate about something! Although I imagine a fair amount of the "research" wasn't too difficult! :wink:
Can't wait to see where you go next with this.
Would be great to see all of this research and work in a book form. I know I would buy it. I always look forward to your posts in the tiki drink section.
Mai Kai seems to be filled with this Ron Carlos rum. Has anyone tried it? It's apparently a Florida rum.
Anyway, keep up the good work. Can't wait to try your new tribute recipes.
Destro100: Your attempt at completing your journey through "Remixed" is admirable. We're all counting on you.
Kill Devil and hiltiki: An app and/or book sounds like a fine idea. If anyone wins the lottery and wants to back such an endeavor, you know where to find me :>)
Sunny&Rummy, arriano and TikiTacky: I appreciate the kind words. I hope to share my plans shortly. But first ...
mamelukkikala: So glad you asked about Ron Carlos. This is the kind of stuff I can share here in excruciating detail, rather than on the blog. Though I do plan to mention Ron Carlos in an upcoming review. I guess you could consider it The Mai-Kai's well rum for mixed drinks. It's cheap and serviceable, but nothing special. I'm sure it keeps the costs down and helps keep the bar in business, so I won't complain :>)
When I saw it back there in the service bar, I sought it out and picked up the light, dark (actually a gold), "black label" (more like a traditional dark), and 151 ...

It appears that the Ron Carlos brand is owned by Cruzan and is bottled at the giant distillery near Tampa that also handles other Cruzan product:
http://rumconnection.com/uncategorized/florida-caribbean-distillers/
It sort of tastes like a poor man's Cruzan. When I bought it several years ago, I think the light and gold were just $9.99 a bottle. The Mai-Kai probably uses the light, gold and dark varieties as the base rum in many of the drinks, particularly the mild ones. The light and gold are pretty bland. The black/dark rum is probably the best of the lot. I've seen it used by a local craft cocktail bar of some repute, so I'm guessing it has some value.
The fact that such a low-budget rum is included in many of the drinks just makes them even more impressive, if you ask me. It makes the precise recipes, high-quality juices and syrups even more important. As for mixing at home, I recommend using the regular Cruzan or something a little better just to even the playing field.
[ Edited by: Hurricane Hayward 2014-03-04 12:38 ]
I appreciate reviewing budget rums - I am always looking to save $$$, Tiki is NOT cheap
Thanks for the review.
Personally I think mild budget rums definitely have their place in mixology. We don't always need to use the most flavorful rums, and honestly, I think we shouldn't even do that. When you're making a complex drink and you use only the most flavorful rums in it, it can easily result a messy drink with several intense flavors fighting for your attention to the point you don't know what the hell you're even drinking. Your hard work with fresh juices and quality syrups are gone. In these cases you need a mild rum that supports the heavyer rum(s), working together to create a balanced cocktail. As we all know, the most important ingredient in a tiki drink is the rum, but the mixers are what creates the character of the cocktail. Hide those flavors, and the cocktail is gone. You're left with good rums, but that is all there is. Nothing to distinct itself from all the other concoctions. But of course that's just my opinion. :)
You've hit the nail on the head, especially as it applies to The Mai-Kai and Tiki drinks with multiple rums. Those craft drinks with just one rum are a whole different story. I think that Mariano knew very well that he needed to use nondescript base rums that didn't compete with the Appleton, Dagger, Lemon Hart and other rums that added the flavor. Back in the day, Bacardi and other cheap Caribbean rums may have served that role. Today, it's Ron Carlos. That fact that it's cheap and helps the bottom line is a bonus, but probably just as essential.
Excellent work Hurricane Hayward! I enjoy reading about your through detective work. It is good to know that Mai Kai management is so open to sharing with you. They seem to appreciate your enthusiasm!
Mahalo again for the kind words. Bear with me as I ramp up these updates. I'd love to portray myself a carefree "bum" ala my mentor, but unfortunately it's actually a dreaded day job and other tedious tasks (not to mention other blog articles to write) that slow me down. But no worries, nothing can keep me from coming back to The Mai-Kai's cocktails.
So without further adieu, here's what I have planned for The Mai-Kai Cocktail Guide in the coming weeks, months and - let's just say "near future" ...
NEW AND UPDATED ANCESTOR AND TRIBUTE RECIPES
Sooner rather than later, expect to see three brand new tribute recipes for some of the top-rated current drinks that have yet to receive the tribute treatment. Plus one slight update to a highly regarded recipe. Interestingly, one key ingredient ties them all together.

And thanks to Beachbum Berry's "Potions of the Caribbean," I'll be posting two new Don the Beachcomber ancestor recipes for two lost cocktails from The Mai-Kai's original 1956 menu, plus a new ancestor and updated tribute recipe for a current cocktail.

Where were you in 1968? Many people were at The Mai-Kai drinking a Martinique Cocktail or Last Rites before they disappeared from the menu.
LOST COCKTAILS AND MENU ARCHAEOLOGY
I've been collecting menus, both print and digital versions, for a while in an effort to trace the history and figure out when certain drinks appeared (and disappeared) from The Mai-Kai. Even without this obsession, they're pretty cool to collect. Armed with menus from 1956-57, 1959, 1966, 1968, 1970, 1979, 1980s, and most versions from the 2000s, I plan to map out a timeline and do some drink archaeology. If anyone has any other menus that I don't have and would be willing to share digital files, it would be much appreciated.
I'll trace the history all the way up to the new 2014 menu and begin incorporating all the new photos into the reviews. I'll do this over time as I update each review with additional links and info. The first to receive the new photo was The Mai Tai:

http://www.slammie.com/atomicgrog/blog/2011/08/24/mai-kai-cocktail-review-trade-in-vics-mai-tai-for-this-classic/
But don't worry, as you can see I plan to also keep the vintage artwork from the previous menu. Some of these classic images date back 50 years and were created by the same artist who did Don the Beachcomber's menus.
There will also be a new "lost cocktails" page that pulls together all the old drinks and research in one place for easy reference.
REFRESHED DRINK REVIEWS, NEW RESOURCES
As mentioned above, I plan to add new photos to all the current drinks and freshen up the pages with new links, info and trivia that I've been gathering. For instance, we all know that the Black Magic is touted on the menu as "the owner's choice," but according to a 1977 article in The Miami Herald, original owner Bob Thornton's favorite was the Mutiny. The article added that the Black Magic was the favorite of manager Kern Mattei Sr., father of current manager Kern Mattei Jr.
As the reviews are being refreshed, I also have some cool new features planned:
Swanky has graciously asked if I'd like to add the tribute recipes to The Grogalizer, so I'll be working with him hopefully in time for The Hukilau to add dozens of new recipes to the database at Grogalizer.com. Since nearly every ingredient should already be included in the site's listings, these cocktails should fit in nicely with the existing archive of recipes taken mainly from Beachbum Berry's books.

You don't really need this many rums ... but it can't hurt.
Stocking your bar: Ingredient list and tips. Similar to the glossaries in the Bum's books, this will be a handy resource that will include detailed instructions on what to stock in your bar in order to make all 80+ recipes in the guide. While it won't be a database like The Grogalizer, I hope to include links to drinks that include each ingredient.

Breaking down the drinks: A list of lists. This is something I've wanted to do for a long time but will take some more brainstorming. Think of this as an expanded guide that breaks down drinks by category (top sour drinks, top sweet drinks) as well as many more creative categories (best drinks for newbies, top 5 drinks to impress a first date). I'm sure I'll ask for input when I'm ready to put it together.
Other ideas for special features include a primer for newbies, video and photo galleries, interviews and more history features. Of course, there likely will be some more tribute recipes along the way. Feel free to let me know what you think would be cool. This is the place to do that.
THEN WHAT?
When most of the above is completed, I'll start working on a fancy new landing page for the guide. At that point, it will be time to declare the launch of The Mai-Kai Cocktail Guide, v.2. My target date for this re-launch is June 2015. The significance of this date will become apparent soon.
In the meantime, I'll use this thread to alert everyone to any noteworthy updates, large and small. So stay tuned, and as always: Okole Maluna!
---
The official blog of The Hukilau



Featuring The Mai-Kai Cocktail Guide
[ Edited by: Hurricane Hayward 2014-03-29 10:39 ]
[ Edited by: Hurricane Hayward 2014-04-21 11:25 ]
"My target date for this re-launch is June 2015. The significance of this date will become apparent soon."
Not Soon Enough!!
Mahalo for the continued hard work you put into an already indispensable resource you have shared with all of us!
Hurricane, bravo and well done, as always!!!
Alright, let's get rolling. Here's one big update and several smaller ones. First up, a comprehensive update of the Samoan Grog review, recipes and history:
SAMOAN GROG
http://www.slammie.com/atomicgrog/blog/2012/03/22/mai-kai-cocktail-review-the-delicious-samoan-grog-wasnt-born-to-be-mild/
I've known for quite a while that the Colonial Grog, not Don's Own Grog, was the true ancestor recipe (Jeff clued me in back when he was writing the book). But I had to patiently wait for "Potions" to be published to see all of his handiwork, including that cool ice shell. So I worked all that great backstory into the review, along with the tribute recipe.
Armed with that recipe and some repeated tastings of the Samoan Grog, I was able to pull together a new tribute recipe. It really shoots down the old theory that blackberry brandy was used in this drink (ala Don's Own Grog). The update makes a lot more sense.
I also experimented with the Ron Carlos well rums discussed above, and this turns out to be a good example of a drink that tastes just fine with those cheaper alternatives. It's gonna taste a little better with premium rums, of course, but my guess is that a mild drink like this likely uses Ron Carlos at The Mai-Kai to keep the price point down. With the rum in such a small dose, along with the tasty juices and syrups, it really doesn't affect the drink that much.
COBRA'S KISS
http://www.slammie.com/atomicgrog/blog/2011/11/20/mai-kai-cocktail-review-cobra-kiss-is-an-exotic-taste-explosion-guaranteed-to-strike-your-fancy/
The new menu photo has been added, and I cleared up my confusion on the name by removing references to "Cobra Kiss." It's been spelled without the apostrophe on The Mai-Kai's online menu for years, but I decided to go with the preferred spelling on the printed menu. (On the other hand, I'm sticking with "Mai Tai" instead of "Mai-Tai" just to be consistent with all the other spellings.)
S.O.S.
http://www.slammie.com/atomicgrog/blog/2012/01/29/mai-kai-cocktail-review-patriotism-never-tasted-this-good/
Another one of the great mild drinks, this also now has the new photo. And the drink description has been changed to reflect the new menu's reference to Demerara instead of Martinique rum. I also made sure to mention Three Dots and a Dash in Chicago in the Bilge section, where it lists places to find the best versions of the original ancestor drink.
That should bring the guide up to date with the new menu, and gets me off to a good start on these updates. More will be coming soon. I've also added a link to this thread over on the main guide page, where I'll also be noting the major updates: http://www.slammie.com/atomicgrog/blog/mai-kai-cocktail-guide/
Okole maluna!
Hurricane,
Do you still prefer Fee's Falernum to other brands? I haven't used Fee's in years and my memory of it isn't fresh, but I've been using BG Reynolds of late and loving it.
Craig,
I have to admit that I haven't tried enough different brands of falernum to give a fair assessment. I do have a bottle of Velvet Falernum that I use on occasion, but I've primarily used Fee Brothers for years. Originally it was because the Bum recommended it in Sippin' Safari, then later because the company was a sponsor of The Hukilau. Free sample bottles aside, I've always found it to be a quality product. And I recall Jeff saying in one of his symposiums that the flavor profile comes very close to what Donn Beach would have used. So that's why I recommend it for The Mai-Kai's cocktails.
That being said, I am very interested in trying other brands, such as BG Reynolds, as well as making my own. It's on my long to-do list.
---
The official blog of The Hukilau



Featuring The Mai-Kai Cocktail Guide
[ Edited by: Hurricane Hayward 2014-04-02 00:07 ]
Just made the tribute to Mai Kai's Samoan Grog, followed the exact recipe. Great drink, thank you Hurricane Howard, great job. I will be making this drink again.
On 2014-04-01 21:29, CincyTikiCraig wrote:
Hurricane,

Do you still prefer Fee's Falernum to other brands? I haven't used Fee's in years and my memory of it isn't fresh, but I've been using BG Reynolds of late and loving it.
If you search around here, you'll find a thread from one of the early Hukilau's where we had a Falernum tasting. Tim Spears in ATL had a case of the original Sazerac and it was compared to the available offerings and as I recall it was the Fee and Taylor's mixed that was the most like Sazerac, but Taylor's was the prefered.
This is sort of a Catch-22 thing though. You can make your own and it will be "better" and an amazing flavor. However, it will also greatly change the drinks and was likely NOT what was used in the various places the drinks originated. When you are going through 12 cases of rum a night, you can't make your own!
I use Velvet because it is available. I make my own on occasion and like to use it in Rum Barrels especially.
Swanky, thanks for the link. I'll have do some experimenting with the 50/50 mix of Fee and Taylor's and try it in a few Mai-Kai cocktails.
The falernum seminar at this year's Miami Rum Fest will be interesting. We'll have to report back our findings.
There's always a lot of interest in the Black Magic, so I made that my next update:
http://www.slammie.com/atomicgrog/blog/2012/04/04/mai-kai-cocktail-review-the-black-magic-emerges-from-the-shadows-as-a-true-classic/
Along with the new menu photo, I included a bit of history and a theory that perhaps Mariano Licudine was influenced in creating this drink by a very old Don the Beachcomber drink from the 1930s that included lime, coffee and multiple rums. Revealed in "Sippin' Safari," the Jamoca is by no means a great drink, and I wouldn't consider it an ancestor recipe, but it's something to ponder.
More importantly, the update includes a tweaked tribute recipe. For much the same reasons as mentioned in the Samoan Grog tribute, I'm substituting Don's Spices #2 for allspice liqueur, resulting in a slightly richer, sweeter taste (a hallmark of Licudine's take on Donn Beach's drinks). This also accounts for the slight hints of vanilla that are sometimes detectable in the Black Magic.
There are also some expanded tips on coffee, one of the key ingredients in this cocktail. It's tricky getting the flavor just right, but I hope this additional info helps.
One other thing that I didn't have room for on the blog that I thought I'd include here. Note the odd-shaped snifter glass in this photo from August:
It's possible you may get your Black Magic (or Mutiny or Hukilau) in one of these, but don't fret. At some point last year, the traditional large snifter glasses were in short supply (and subject to lots of breakage), so these different versions were purchased to serve as a back-up. Other than the shape, I don't think there's much difference, and I haven't seen them lately, so I don't think it's a cause for concern as big as the crisis several years ago when Sidewinder's Fang glasses were temporarily unavailable. Now, if I could only find out how to get a Rum Julep served in the metal cup shown on the menu (ala the 151 Swizzle).
Okole maluna!
---
The official blog of The Hukilau



Featuring The Mai-Kai Cocktail Guide
[ Edited by: Hurricane Hayward 2014-04-21 11:19 ]
Great job as usual, but I think you posted the wrong link. :wink:
Great stuff!
[ Edited by: AceExplorer 2014-04-21 12:52 ]
Sorry about that guys, the link is fixed above. It turns out that Don's Spices #2 has been lurking in some other drinks as well. More to come.
Up next, a tribute recipe that's been in the works for quite a while. And after reading about the fascinating history of Planter's Punch and Don the Beachcomber in "Potions of the Caribbean," I was inspired to finish updating both the Planters Punch and Special Planters Punch recipes.
The regular Planters review got just basic updates, including the new menu photo:
http://www.slammie.com/atomicgrog/blog/2011/12/01/mai-kai-cocktail-review-this-planters-lacks-the-punch-of-its-special-cousin/
But the Special Planters got a major update, including a new tribute recipe featuring some secret ingredients (Don's Spices #2 again makes an appearance) that explain why it gets a 4 1/2-star rating:
http://www.slammie.com/atomicgrog/blog/2011/09/15/mai-kai-cocktail-review-special-planters-punch-is-tropical-drink-history-in-a-glass/
There's also some new background that looks back at the legacy of the Planter's Punch, plus some theories on how Mariano Licudine came to create this special twist on a classic.
Okole maluna!
[ Edited by: Hurricane Hayward 2014-04-23 20:44 ]
[ Edited by: Hurricane Hayward 2014-04-23 20:45 ]
Made a Samoan Grog for the first time tonight. I got the ice shell about 80% there, but I need to work on it some more. Great drink, it reminds me of a cross between a Three Dots And A Dash and a Navy Grog.
Did a better job with the ice shell today:
Looks great, Craig. It's certainly a very underrated drink.
Mahalo to Hale Tiki (Lucky the Painproof Man) and the crew at the Tiki Lounge in Pittsburgh for giving The Atomic Grog and The Mai-Kai some love with tonight's menu ...
Finally tried that Special Planters Punch recipe today. Thanks for the great recipe. Subbed out the Koala Bay for Havana Club 7 year. I hope that is an ok substitute.

I'm glad you enjoyed the recipe. A Jamaican dark rum is probably best, but Havana Club 7 is in the ballpark of Kohala Bay and won't change the taste much in this 1/2-ounce measurement.
I'm guessing that Cuban rum was common in the very early Mai-Kai cocktails. The Big Bamboo recipe in Sippin' Safari calls for it, and there was a Cuban Daiquiri on the 1956 menu. Owners Bob and Jack Thornton were known to take weekend jaunts to Cuba to enjoy the island's rum and nightlife.
Imagine how good even the most mild cocktails must have been with the original Havana Club or Cuban Bacardi as the well rum.
---
The official blog of The Hukilau



Featuring The Mai-Kai Cocktail Guide
[ Edited by: Hurricane Hayward 2014-05-10 00:26 ]
In my second one I Coruba and it tasted better. Thanks!
When the hordes of rum experts rolled into town last month for the sixth annual Miami Rum Renaissance Festival, The Mai-Kai rolled out the red carpet. There was a special event on April 22, with a complimentary cocktail sponsored by Don Q Rum:
You can click here to see my review and recipe, plus lots more on the Miami Rum Festival:
http://www.slammie.com/atomicgrog/blog/2014/05/25/cocktails-reach-new-heights-of-creativity-at-miami-rum-festival/#donq
This was a Mai-Kai creation, and it had a familiar taste ... but not something I could put my finger on. I had a feeling it was based on one of the lost cocktails from the 1956 menu, but it didn't seem familiar. As it turns out, that's because it's one of the several remaining drinks that have yet to be revived by manager Kern Mattei ... until now.
Later in the week, we were treated to a revival of the Liquid Gold, aka Beachcomber's Gold. You may remember this as the drink that confounded Beachbum Berry in "Remixed." He devotes five pages to three different recipes, and some great ice shells. I had posted a tribute recipe almost a year ago, when I got a little taste as we prepared for the Lost Cocktails Party at The Hukilau. Kern decided not to serve the Liquid Gold, and it went back into the vault. Until now.

Liquid Gold
It made a great comeback on April 26, and I was surprised by its timeless sophistication. A healthy dose of Pernod dominated the drink, which I didn't remember from my previous taste. So I've upped my rating to 3 1/2 stars and updated the review and tribute recipe:
http://www.slammie.com/atomicgrog/blog/2013/06/02/lost-cocktails-of-the-mai-kai-search-for-authentic-recipe-strikes-liquid-gold/#ancestor
With Otto von Stroheim and Tim "Swanky" Glazner in the house, Kern decided to roll out a few more lost classics. We subsequently enjoyed the Last Rites and Demerara Cocktail (pictured below).
Which brings us up to date and facing the news about a possible shortage of Lemon Hart Demerara Rum. I hope to have some more updates as this crisis plays out, and news on how The Mai-Kai hopes to deal with it. At the very least, I'm hoping they have enough supply on hand to get us through The Hukilau in two weeks.
Okole maluna!
For the record, here are my ratings of all the different Beachcomber's Gold cocktails and descendants:
Beachcomber's Gold (Hollywood and Palm Springs) circa 1930s to 1950s - 2.5 out of 5
Beachcomber's Gold (Chicago) circa 1970s - 1 out of 5
Beachcomber's Gold (Waikiki) circa 1980s - 3 out of 5
Liquid Gold (Mai-Kai) 2014 version - 3.5 out of 5
Don Q Cocktail (the Mai-Kai's Miami Rum Fest special) - 3 out of 5
A very long time in the works, the Yeoman's Grog tribute recipe finally makes its way online:
http://www.slammie.com/atomicgrog/blog/2011/12/12/mai-kai-cocktail-review-even-landlubbers-can-appreciate-a-strong-ration-of-yeomans-grog/#tribute
Among the many reasons it took so long to post: I was waiting to finish my review of Beachbum Berry's Navy Grog Ice Cone Kit, which features a head-to-head review of the mold vs. the old pilsner glass method (and the Yeoman's Grog facing off against Trader Vic's Navy Grog [photo above]).
http://www.slammie.com/atomicgrog/blog/2014/06/11/navy-grog-ice-cone-lost-art-is-revived-by-cocktail-enthusiasts-handy-gadget/
Worth noting: We find Don's Spices #2 again making an appearance in the Yeoman's Grog, perhaps the best combination of the Don the Beachcomber and Trader Vic's versions of the classic. And a big mahalo to Quince_at_Dannys, who actually came up with the recipe and spurred my further research into Don's Spices #2. Two more recipes are coming soon that also feature this sweeter and richer alternative to straight allspice dram.
Breaking news: As a Hukilau exclusive, old "retired" food and drink menus as well as a small amount of the new drink menu are being sold in the gift shop at The Mai-Kai. First-come, first-served tonight and tomorrow.
Important update to the Yeoman's Grog tribute recipe. One ingredient amount was posted incorrectly:
It's been corrected to call for 1/2 teaspoon of Don's Spices #2 (instead of 1/2 ounce). Big difference. The allspice flavor should be somewhat subtle.
Has it really been three weeks since The Hukilau? Decompression complete, here's a recap of my research efforts as well as a significant new tribute recipe:
Besides all the fun and frivolity, the annual bacchanalia in my backyard gives me ample opportunity to sample many cocktails in a short period of time. My regular schedule is very unforgiving, and I typically visit The Mai-Kai only once or twice a month (yeah, I know, woe is me). So hanging out there for extended sessions (this year I squeezed in three days and four nights) was a treat. As was the privilege of meeting up with out-of-town friends, old and new, talking Tiki and otherwise "geeking out." I also took a bunch of photos, which you can find on my flickr page: https://www.flickr.com/photos/[email protected]/sets/72157645008150739

(Photo by Hurricane Hayward)
My favorite is this one of Crazy Al Evans and Jeff "Beachbum" Berry in The Mai-Kai gardens during Sunday's finale, obviously still in great spirits. If you haven't checked out Al's Molokai Maiden mug yet, go to http://www.tikimania.com/docs/ALmug_Maiden.html for updates. It's an amazing sculpt. I also saw Tiki Diablo amid the revelry and checked out his own Mai-Kai inspired mug while I await delivery of my order (get info at http://www.tikidiablo.com/maikai/). Here's my story on both mugs:
http://www.slammie.com/atomicgrog/blog/2014/06/06/artists-pay-tribute-to-the-mai-kai-with-one-of-a-kind-mugs/

Backstage before his symposium, Beachbum Berry and his Latitude 29 head bartender, Steve Yamada, make sure the sample drinks are up to snuff. (Photo by Hurricane Hayward)
Beachbum Berry presented another great symposium in his ninth appearance at The Hukilau: "Tiki's Dark Ages: From Fern Bars To Rebirth." We got a sneak peek and tasted a cocktail from his upcoming bar, Latitude 29 in New Orleans, and the fun-filled presentation traced all the mishaps that allowed Tiki cocktails to hit rock bottom in the '70s and '80s. His documentation of its resurrection in the '90s up through the present included many first-hand accounts and photos, offering a peek into the Bum's wacky world. I'll be posting a full recap of the symposium shortly. Here's the preview, which also covered all of his recent activities in depth:
http://www.slammie.com/atomicgrog/blog/2014/06/11/returning-to-the-hukilau-jeff-berry-proves-hes-never-too-busy-to-be-a-beachbum/
I was also privileged to conduct two extensive interviews with Jeff and Steve over cocktails, appetizers and dinner. It was Steve's first visit to the hallowed ground, and Jeff made sure he sampled a wide variety of classic drinks over the course of the week. By all accounts, he did a great job in keeping up with his mentor. I'll be posting separate stories on my blog with all the details from the interviews. One will feature an in-depth preview of Latitude 29, while the other will look at the stories behind the stories in "Potions of the Caribbean."

Hurricane Hayward receives a surprise Mystery Drink.
So as I look back at my notes from the whirlwind week, here are a few bits of info I gleaned from the many cocktails:

Smuggler's Cove owner Martin Cate treats Pablus and Crazy Al (plus a few other folks) to a round of Rum Barrels in The Molokai during The Hukilau's main event on Saturday night. (Photo by Scott Tennant, from Facebook)
Quite a few Kona Coffee Grogs were consumed during the week, giving us the pleasure of watching the unique flaming presentation and also giving me a chance to re-examine the flavor profile. While my posted ancestor recipe is fairly close, I may be attempting a tribute recipe at some point to include Don's Spices #2. This ingredient is popping up everywhere (see previous posts above), and the distinctive allspice flavor is clearly detectable in this classic.

I also confirmed what I already knew about the bar's mixing techniques: Nothing is made with a shaker, even the new martinis. All the classics are made via a standard blender (for the frozen and creamy drinks), or a top-down mixer (for the flash-blended drinks). I learned that apparently the martinis are built in the glass. FYI, I've tasted a few of these, and they're quite serviceable as fruity martinis go. They serve their purpose in pulling in newbies, I suppose.

And last but not least, I finalized two more tribute recipes, one of which was my first post-Hukilau cocktail update: http://www.slammie.com/atomicgrog/blog/2011/09/21/mai-kai-cocktail-review-legacy-of-this-classic-drink-runs-deep/
The Deep Sea Diver recipe has been in the works for a long time, and it's among the others mentioned earlier in this thread that benefit from the inclusion of Don's Spices #2 instead of straight allspice dram. I also wanted to pick the Bum's brain about his take on the drink, which I know to be among his favorites. He said he's trying to figure out a way to use a mix similar to the honey-butter combo that makes the Deep Sea Diver so distinctive. It's just such a hard ingredient to work with, he's still not sure how to handle it. It's easy to detect in the drink not only by its taste, but also by the sticky residue it leaves:

I got a few quizzical looks and comments when I was seen photographing an empty glass.
Jeff and Steve also sampled the Gardenia Lei, the other cold drink that uses the mix traditionally known as honey cream. He said one old method was to keep a supply heated behind the bar, but adding a hot mix to a cold drink is sure to cause complications. In my home bar, I just make a small amount and keep it at room temperature while I use it. It's unclear how The Mai-Kai staff handles it, but they sure have the technique down pat. My tribute recipe comes pretty darn close, and it's one I'm very happy with. I made a few other updates to the review, including the new menu photo. And since they reference each other and also mention the honey cream mix, the reviews of the Gardenia Lei and Hidden Pearl were also updated:
http://www.slammie.com/atomicgrog/blog/2011/07/26/mai-kai-cocktail-review-the-mystery-of-the-gardenia-lei/
http://www.slammie.com/atomicgrog/blog/2012/02/16/mai-kai-cocktail-review-hidden-pearl-reveals-a-long-lost-craft/
There wasn't a whole lot of news regarding Lemon Hart 151 beyond what's already been reported here:
http://www.tikicentral.com/viewtopic.php?mode=viewtopic&topic=47455&forum=10&start=75
Everyone seems to be well-stocked and girding for the possible shortage. I'll have to follow up with The Mai-Kai to see exactly how robust their stockpile is. Among the experts, there was also some reservations about the wisdom of Lemon Hart cutting off its reliable supply lines to attempt a wider distribution effort. That seems to be the end game, but we've yet to see any reliable reports on that. Here's hoping it happens sooner rather than later, for The Mai-Kai's sake especially.
Sunday's after party included an exhibit of artifacts in the Tahiti dining room (above), including carvings, performer costumes, old scrapbooks and calendars, and the famous framed portrait of original owner Bob Thornton holding his silver Rum Barrel mug. On the table, you'll notice the mug along with an original Derby Daiquiri glass and decanter:
With The Hukilau in the books for another year, we now return you to the regularly scheduled programming ...
---
The official blog of The Hukilau



Featuring The Mai-Kai Cocktail Guide
[ Edited by: Hurricane Hayward 2014-07-03 12:43 ]
In honor of the "official cocktail" of Tales of the Cocktail, I came up with a tribute to the iconic Hurricane using ingredients found in some of the best Mai-Kai drinks. Manager Kern Mattei was gracious enough to serve me one ...
Don't look for it on the menu. I was just a fun exercise and challenge to see if I could come up with a worthy Hurricane when Tales announced its annual contest in April. I reviewed both the winning recipe and my Mai-Kai tribute on this new blog post:
http://www.slammie.com/atomicgrog/blog/2014/07/15/tales-of-the-cocktails-signature-drink-packs-a-wallop-but-can-it-tame-a-hurricane-inspired-by-the-mai-kai/
It's a sweet and potent concoction that riffs on such classics as the Special Planters Punch and Barrel O' Rum. I hope you enjoy.
[ Edited by: Hurricane Hayward 2014-07-23 00:02 ]
OK, this is interesting: I've updated the Cobra Kiss review to include another new fassionola sighting, this time in London:
http://www.slammie.com/atomicgrog/blog/2011/11/20/mai-kai-cocktail-review-cobra-kiss-is-an-exotic-taste-explosion-guaranteed-to-strike-your-fancy/#tribute
Scroll up slightly for the update, which includes links to the Portside Parlour in London and an article in The Telegraph that features a fassionola recipe from bar manager Sean Fennelly. It's similar to the earlier recipes that I posted, except that it features Monin syrups, which are more readily available in the U.K. Browsing the rum bar's site, I also notice that Sean uses fassionola in his Jet Pilot recipe, which I don't know if I've seen outside of The Mai-Kai. Sounds like a new must-do in the London Tiki bar scene.
While visiting The Mai-Kai on National Daiquiri Day (July 19) and enjoying Floridita and Special Reserve daiquiris, I chatted with manager Kern Mattei about old-school daiquiris and "Potions of the Caribbean." This inspired me to update all six daiquiri reviews with new menu photos and whatever else I could dig up.
Three got basic updates, including the menu photos:
Special Reserve Daiquiri (above): http://www.slammie.com/atomicgrog/blog/2012/05/02/mai-kai-cocktail-review-this-daiquiri-is-special-in-more-ways-than-one/
Banana Daiquiri: http://www.slammie.com/atomicgrog/blog/2011/09/28/mai-kai-cocktail-review-no-monkeying-around-this-is-one-fine-banana-daiquiri/
Strawberry Daiquiri: http://www.slammie.com/atomicgrog/blog/2011/11/08/mai-kai-cocktail-review-this-daiquiri-is-the-real-deal-thank-you-berry-much/
And from the ranks for the retired cocktails, the Cuban Daiquiri got a few tweaks: http://www.slammie.com/atomicgrog/blog/2013/06/02/lost-cocktails-of-the-mai-kai-short-lived-daiquiri-disappared-when-cuba-fell/

Mariano Licudine in Puerto Rico in 1959. (From Potions of the Caribbean, courtesy of The Mai-Kai)
In updating the review of the signature Derby Daiquiri, I pondered what may have inspired Mariano Licudine to create the orange-flavored classic. Was it Florida's state fruit, or his history with Don the Beachcomber, or perhaps his frequent trips to the Caribbean on behalf of major hotel chains? Did he stop by El Floridita in Havana to taste some of Constantino Ribalaigua Vert's classics?
http://www.slammie.com/atomicgrog/blog/2011/06/30/the-derby-daiquiri-the-mai-kais-100000-drink/
Finally, the Floridita Daiquiri review allowed me to delve even deeper into Beachbum Berry's great stories in "Potions" on Constante's remarkable career at El Florida, which included 80 million limes squeezed by hand and more than 10 million daiquiris poured. Of course, you can't talk about El Florida without discussing the 800-pound gorilla in the bar. Hemingway left his mark, undoubtedly, but as the Bum points out, he was not the best judge of a well-balanced cocktail. In the end, The Mai-Kai's Floridita Daiquiri is much more faithful to Constante's original than Hemingway's "boozy Frankenstein's monster."
http://www.slammie.com/atomicgrog/blog/2012/02/24/mai-kai-cocktail-review-the-story-of-the-floridita-daiquiri-rivals-any-novel/
[ Edited by: Hurricane Hayward 2014-07-31 01:10 ]
The Mai Kai Floridita is a staple at my home - at double the recipe per person its also a great way to get rid of some ripe grapefruits!
Indeed, fresh grapefruit is the way to go.
It's also interesting to note that the Floridita is the only mild drink that contains grapefruit. And there's only one medium (Mara-Amu). But eight drinks on the strong menu use the tart fruit to balance the strong rums, another throwback to Don the Beachcomber.
A couple special events last week spurred a few updates, one minor and one major:
It wouldn't be a proper Shark Week without a Shark Bite, so I freshened up the review with a new photo and the new menu art:
http://www.slammie.com/atomicgrog/blog/2011/08/17/mai-kai-cocktail-review-what-makes-the-shark-bite-so-jawesome/
I wanted to do something special for National Rum Day, so I rolled out a new tribute recipe for the Rum Julep, which has been in the works for quite a while ...
http://www.slammie.com/atomicgrog/blog/2011/10/14/mai-kai-cocktail-review-the-only-rum-julep-youll-ever-need-to-know/
I took the opportunity to analyze Mariano Licudine's re-imagining of Donn Beach's original, coming to the conclusion that he was a genius in creating a superior drink with lesser rums by employing some of his secret weapons .... rich honey mix, flavorful juices and yet another appearance of Don's Spices #2 (I think). It's a very rich and spicy drink, the allspice and honey playing off the rums perfectly. One of my favorites from the medium side of the menu.
This also marks a milestone: the 90th Mai-Kai related recipe now listed on the blog. This includes 7 current authentic recipes, 3 retired authentic recipes, 33 ancestor recipes for current drinks, 8 ancestor recipes for retired drinks, 29 tribute recipes for current drinks, and 10 tribute recipes for retired drinks.
http://www.slammie.com/atomicgrog/blog/mai-kai-cocktail-guide/mai-kai-cocktail-recipes/
Still to come: Two more ancestor recipes from "Potions of the Caribbean," plus who knows, maybe a few more tribute recipes.
Okole maluna!
As Ron Burgundy once said, "Boy, that escalated quickly." There was a flurry of activity on The Atomic Grog involving Mai-Kai cocktails over the past week. I'll try to recap everything here. I was already working on several new ancestor recipes, the last two I gleaned from "Potions of the Caribbean," when word came down of a special event set for Saturday featuring a special flight of cocktails from the book.
First up, the lost classic Last Rites, which was originally posted in October 2011. But this is one cocktail from the graveyard that never seems to die. Beachbum Berry's "Sippin' Safari" revealed an authentic recipe from Mariano Licudine, but when the drink was resurrected for The Mai-Kai's annual Hulaween party in October 2012, it was noticeably different. A tribute recipe was then added, slightly tweaked as we sampled the Last Rites a few more times over the past few years.
Then, before "Potions" even came off the press, the Bum told me, "You know, the Last Rites is based on Donn's Puka-Puka Punch." Said I, in my best Johnny Carson impression: "I did not know that." Fast forward to today, and the Last Rites review now includes ancestor, original and tribute recipes with the full backstory: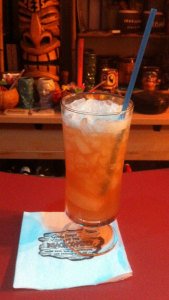 Puka-Puka Punch, the ancestor to the Last Rites
http://www.slammie.com/atomicgrog/blog/2011/10/29/mai-kai-cocktail-review-the-classic-last-rites-returns-from-the-grave/
One interesting thing to note in the Puka-Puka Punch recipe is Berry's shortcut for making small batches of simple syrup via "cold process" by simply hard shaking organic sugar with room-temperature distilled water. He says it yields a "crisper syrup with a lighter density, one that plays better in cocktails than a 'cooked' syrup."
The next review was a milestone, the 12th and final "lost cocktail" to be reviewed. See the full list:
http://www.slammie.com/atomicgrog/blog/2012/06/05/mai-kai-cocktail-guide-discover-a-fruitful-and-delicious-tropical-drink-family-tree/#retired
The ancestor recipe for the Martinique Cocktail published in "Potions" also brings the grand total of Mai-Kai recipes (including ancestors, originals and tributes) up to 92. Will there be more? Undoubtedly. I'm kicking around ideas for a few more tribute recipes, plus I've got at least one more ancestor recipe in my sights. It would be nice to hit 100 some day.
The Martinique Cocktail, aka Island of Martinique Cocktail, is an interesting story ...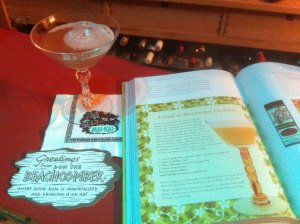 http://www.slammie.com/atomicgrog/blog/2014/09/19/lost-cocktails-of-the-mai-kai-take-a-journey-to-the-exotic-island-of-martinique/
Don the Beachcomber menus apparently used both names over the years, and the drink likely changed too (as Donn was always tinkering). The version published in "Potions" (circa 1948) also includes the first reference I've seen to "Don's honey," essentially the rich 2:1 honey mix that I'm convinced The Mai-Kai has always used. I also reiterate my preference for Fee Brothers falernum, based on Berry's discussion in the book that it most closely resembles the mid-century A.V. Stansfeld brand. Also included is some discussion of the new debate on the use of agricole rhum in the early days.
Mai-Kai GM Kern Mattei came up with the idea for a flight of cocktails from "Potions" while reading the book and mixing up some of the classics at home. Later, when the Gumbo Limbo Chapter of the Fraternal Order of Moai approached him about hosting one of their charity events and serving some special drinks, he knew what he wanted to do. But it was a challenge narrowing the field down to a flight of three. The lineup was kept a secret while Mattei worked with his bar to fine-tune the drinks. They made an attempt to not duplicate the flavor or style of any existing Mai-Kai cocktail, and the flight was designed to be enjoyed in a particular order, from mild to strong.
Here's the menu:

For cocktail geeks, it was a unique experience to hang out in The Mai-Kai drinking cocktails from Trader Vic's and the Tiki Ti. All were very well crafted, with my favorite being Ray Buhen's Virgin Island Kula, which I also rated highly after making it at home in the wake of the book's release. More of a surprise was Trader Vic's Myrtle Bank Punch, which I considered much inferior to the Don the Beachcomber version when I compared them side-by-side. They were the first drinks I made from the book, and I posted a photo on the "Potions" thread back in December 2013:
http://www.tikicentral.com/viewtopic.php?mode=viewtopic&topic=46323&forum=10&start=30
The Mai-Kai was able to smooth out the very strong drink's rough edges and make it much more balanced. And it was a good sign that The Mai-Kai's supply of Lemon Hart 151 is still apparently robust enough for them to include it in the flight. The one drink I had not previously tasted, the Queen's Park Hotel Super Cocktail, was the least appealing of the three but still worthy of inclusion.

The Virgin Island Kula, served at The Mai-Kai on Sept. 20, 2014.
My latest blog post includes more photos, recap and detailed review of all the cocktails:
http://www.slammie.com/atomicgrog/blog/2014/09/20/special-event-at-the-mai-kai-takes-guests-on-a-flight-back-to-classic-potions-of-the-caribbean/
Plus, if you don't have the book, I've included the Virgin Island Kula recipe.
Okole maluna!