Pages: 1 2 3 4 5 6 7 8 9 398 replies
Hooookay, we've done a couple of these before with great success, and Ive been stoked with the pieces Ive received. Its high time we did another one!
The basics are:
Participants all create an original piece of art by the due date (say a couple of months time?)
The art can be anything you like (as long as it is original, no prints/moulded pendants etc), so it could be a painting, charcoal sketch, pastel art, a carving, a one off hand carved mug etc etc etc.
Post your pics on this thread of the art you are making - to motivate everyone else to get involved!
Post pics of your completed piece by the due date!!!
All of the participants names will go into a hat, and be drawn out together. The list of swapping partners will be posted here. PM your swapping partner for postal details. Send your piece off and watch the mailbox like a hawk waiting for your art to arrive!
Note - there is a reasonable chance that your creation will be sent overseas! You are responsible for postal costs of the item you create, so dont enter a 6 foot carving unless you're prepared to cover postage!
Thats the basics. Any questions just ask. We need to confirm - what's the CLOSING DATE for art to be finished? And what THEME do we want to go with?
---
[ Edited by: hewey 2009-07-02 00:25 ]
[ Edited by: hewey 2009-07-28 21:16 ]
I'm on the list. Hope we all get on the list.
where do i sign up?
this can't be any worse than the Marine Corps...
I'm definitely interested, the other swaps have been incredible!
Sometime in June might be a good time frame - early June is still 5 weeks, or we could go late June and have a little more time.
I've liked the location based themes we've had, so PNG or Hawaii pop into my mind...
end of June
PNG!!!!!
pleeeeeeeeeeez?
Besides location, what have some of the other swap themes been?
I would like to enter if ok, I haven't been in one of these for a long time, but if there is an opening, let me know
Amy
PNG
or Dawn and I are walkin....
:)
GROG not do art swap because GROG afraid GROG have to swap with Kinny. If GROG ever do art swap, it with Paipo, or nobody!
Or maybe Bai.
---
[ Edited by: GROG 2009-04-23 10:28 ]
Ditto!
I've learned how to make Origami rocks myself!
No need for GROG....
erm.. newb Q...
PNG=???
Sounds cool.
PNG= PAPUA NEW GUINEA...
GOOGLE IT
THE STYLE OF THE ARTWORK IN THAT AREA IS VARIED
GRAPHIC PLAYFUL RAW AND SPOOKY
ALL AT THE SAME TIME!
:)
How big an art piece?.....any limits? or averages?
Sounds like something I'd be into as well!
Besides location, what have some of the other swap themes been?
Pretty sure we did a 'hot rod tiki' theme, or a 'surf tiki' theme? I cant remember exactly :lol: 'cause we also did some themes for just creating some art (not an actual swap). Other themes could be - tikid from the BoT, tikis inspired by vintage tiki bars (could be inspired by a tiki carving in a bar, a menu design etc etc). From memory, a few people have found it difficult to get involved in the more abstract themes, but the 'location' themes have always been popular. Have a think about what kinda themes you'd like in the future.
How big an art piece?.....any limits? or averages?
Sounds like something I'd be into as well!
There's no specific size limit, but as Ive said, you may have to post it overseas! In previous swaps a number of the carvers have done pendants, which are obviously pretty small (perfect for overseas postage) but still are awesome pieces of art. Someone like sophista-tiki might do a watercolour painting on paper, but that can be easily posted rolled up in a hard tube. It all depends on what medium you work in!
Also, when you contact your respective swap partner, let them know of any customs and/or taxes things they should be aware of (eg. in Australia, anything valued over $25 we're supposed to pay tax on!).
Okay, seems to be a few votes for PAPUA NEW GUINEA style, so we'll go with that. The deadline is the END OF JUNE. This gives plenty of time to get your artwork done! As Ive said, please post your progress pics and finished pics in this thread - to get everyone excited about what art is being created! At the end of June, I'll draw up a list of everyone who has posted a COMPLETED piece, and I'll people know who's swapping with who.
Please note - everyone enters this swap in good faith that you will actually send your piece to your partner. There is a risk you could send your piece and not get something in return. This is a risk we all take by participating, but the folks on TC are such fine people I dont expect this will ever be an issue :D :D :D
Some PNG stuff for inspiration. PNG is rich in culture and history, do a little googling and research, you'll find some awesome stuff!
That last photo is super SICK! Whoa!
Hi Guys
I'm up for it
Regards
Flynny
I arrive a little later, the initiative is beautiful, then I start!
Jérôme
Sounds fun. I would love to join in on this.
MP
As I'm typing this I'm organizing a visit to the house of the former PNG consul in Israel :)
stellar line up for this swap cant wait
I'm in :)
Here's a motivation pic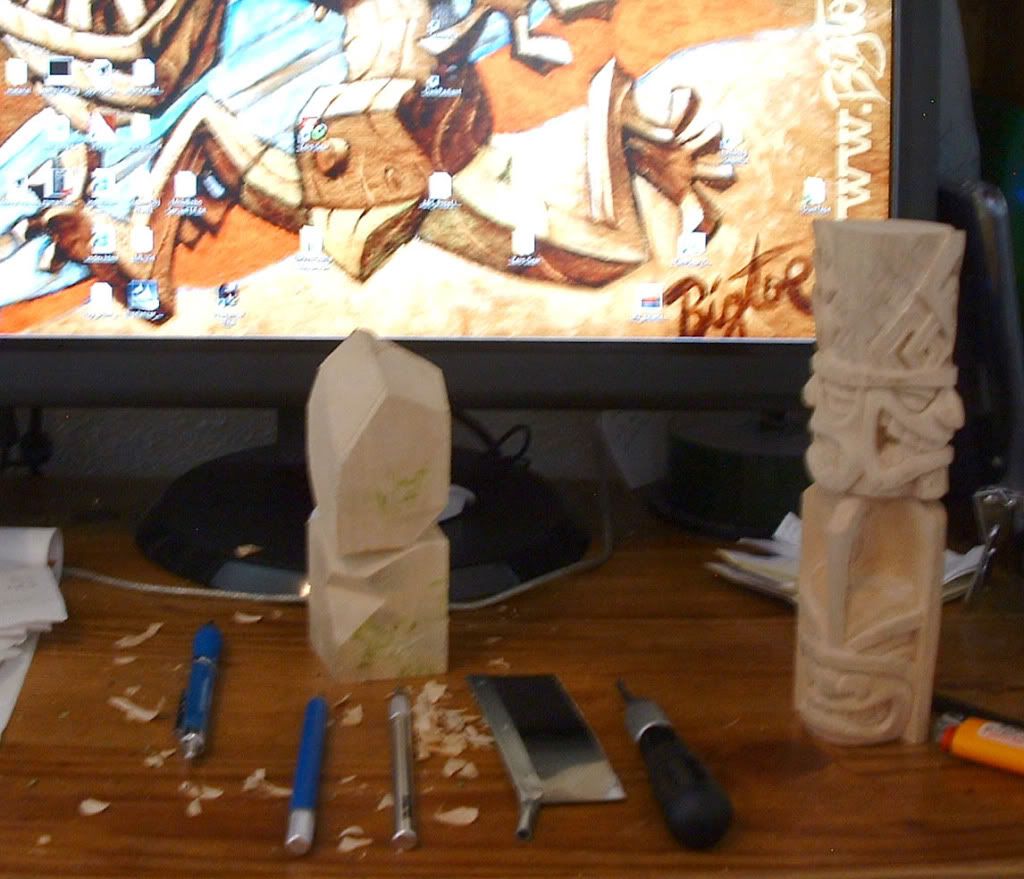 He's gonna be about 6" tall, 2 1/5 around. Saw a pic of a witch doctor carving yesterday. So I'm gonna try that but I'm not gonna look again, so it's png influenced but not copied :wink:
I found a craft store with good prices on basswood blocks and they had a sawblade to fit my new xacto handle. The sawblade works decently, you just gotta work around and try to cut against the grain so it'll bite, alot quicker than an #11 though.
Great line-up of artists already. I plan on participating too, sounds like great fun!
Count me in! I've been very into PNG lately... would be great to swap with any of these fine artists... only problem... someone will be saddled with a piece by me!
This sounds nifty neato!
Count me insville!
That's cause you're already blowing us all away!
Teaser!
some of us have dayjobs! :(
so we can't make perfect clay sculptures everyday! :)
like some people......
:lol:
actually,Boo Ben's nooner is this week
so next week you might get a better response
after everyone's recovered..
your piece is lookin awesome so far!
you ooze cute!:)
I think i know what that's gonna be! :)
(the area and tribe-not what you're gonna do to it!)
Let's get hewey to compile a list of who we got so far...
Looking cool so far, have no idea what it's gonna be though :wink:
I've got a pretty good start on my piece, I'll throw an updated shot up tonight. I don't know if it's gonna be the quality of everyone elses, but fun none the less.
---
On that topic, I have a Q.
My hair is pretty long at the moment, I need a cut for summer. I was thinking about trying to find some horse hair for my project.
Would it be creepy or strange if I just used my own hair?
Seeing as Hewey has gone AWOL I'll update you all :P
Tiki Art Swap 2009
Theme - PNG
Due Date - End of June
Participants so far:
Hewey
Sophista-tiki
wplugger
Little Lost Tiki
Mieko
Queen Kamehameha
Tikiville
flynny
laojia
mp
Tiki Bai
Badd Tiki
MadDogMike
tobunga
artosaurus
Paipo
VanTiki
nuKKe
TravelingJones
teaKEY
AlohaStation
TikiG
ZeroTiki
Congatiki
Krisdrama
Sneakytiki
tikimecula
Chongolio
ravenne
leleliz
Robb Hamel
Meheadhunter
4WDtiki
Awesome line up guys!!! I compiled that list from reading back through the posts and people that said they were definately in were put on the list. If I missed someone out or put someone on the list that wasn't meant to be there then let me know. This is going to be a very awesome swap!!! :D
[ Edited by: Liana 2009-05-13 01:45 ]
P.S. More participants would be awesome too :wink:
Nice duk-duk Bai!
I was inspired by Fugu's Baining Fire Dance Mask and saw several at the Met museum in NY. But they are an odd shape to make a mug from and I had reached a creative impassé. Then I decided I could fill the negative space with flames. Let's see if I can pull it off without it looking tacky.
"I don't know if it's gonna be the quality of everyone elses" Badd Tiki, I know how you feel. I guess they can pay Hewey not to be paired up with us in the "random" drawing :lol:
[ Edited by: MadDogMike 2009-04-28 16:55 ]
Seeing my theme suggestion totally killed the the last attempt to get one of these going, I will atone by throwing my name in the hat and making something cool this time.
Time to grab my pipe and slippers for an armchair journey down the Sepik river....
:tiki:
Hey that's a great idea.
If you think mine sucks donate to the site and get hooked up with a different artist :D (it could actually benefit Tiki Central)
But I'm gonna try to make it good enough to at least be presentable (don't want someone throwing in a closet :wink: )
Anyway, progress pic I promised. It somewhat morphed from a medicine man into , oh, maybe some kindof fertility goddess.

The saw blade helped ALOT in getting a basic shape down, I did get a bit carried away though and in one spot had to remove alot more wood than I wanted too.
Still wondering if using my own hair is creepy/tacky.
Paipo you have been added to the list :)
Badd Tiki - Creepy, yes.. tacky, I don't think so.. still creepy though :P
Count me in!
I was way too swamped to get involved in the last swap - but I am all revved up for this one. Lots of great artists already setting the bar really high for PNG swap 2009, I am feeling the pressure! Ahh, PNG - some creepy possibilities there!
Henrik
VanTiki you have been added to the list :D
Nukke has just joined the swap :D
Thanks Liana for doin all this..
Guess hewey fell asleep at the wheel..
Well I guess I gotta get used to picking up after him :P
I'm not sure that I qualify as an artist and I have no portfolio... but I would love a chance to play in the PNG with everybody! Can I play, huh? huh?? puhleeez???
I'm in! :D...if the tribe will allow?
:tiki: Ooga-oogah-shaka-shoootz! :tiki:
You're in TravelingJones :D
YAY!,Jonesy in the HIZZ-ZAY!